Some Considerations About the Colder Temps in Forecast for This Wed and Thur (9:30am Mon, April 14, 2014)
Find this article at:
go.ncsu.edu/readext?290611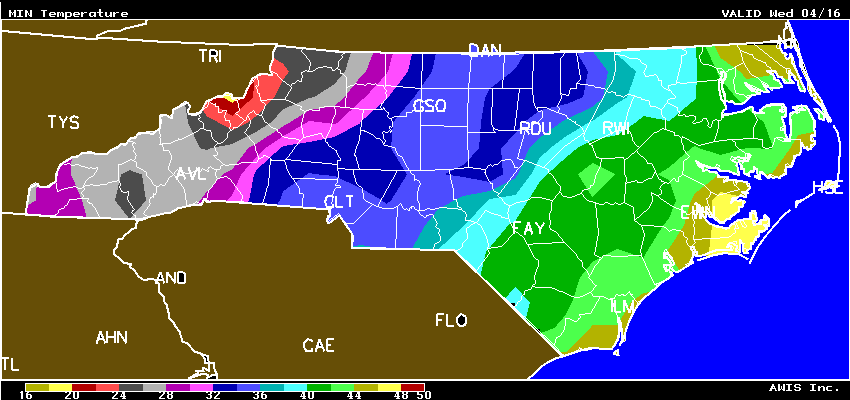 Fig. 1. This was the forecast for Wed morning (4/16) on Sunday
Fig. 2. This is the forecast today for Wed morning and you can now see the pink areas representing a 30-32 minimum have moved into much of the piedmont.
Here is the updated minimum temperature forecast from AWIS for areas throughout NC:AWIS Apr 14 to 21
Notice that areas in the pink band like Burlington, NC will now potentially have frost both Wed morning and Thur morning:
Table 1. On Wed morning in Burlington it will possibly FROST at 5 a.m., and the minimum will be 30 F (at weather shelter height). Then, there is chance of frost again on Thursday morning.
This is truly a borderline situation we face on both Wed and Thur mornings – if winds stay up, then a minimum air temperature of even 30 F is not going to cause bloom injury, but if winds die down enough for it "to frost", then blossom injury could occur.
Growers in areas where the winds may die down enough for a frost to occur (like Burlington) will have to consider frost protection measures IF they have a significant number of open blossoms.
Growers in areas where winds are expected to stay up all night should be ok, but I would still be prepared to do some sprinkling if the winds suddenly do die down – there is no way to know for sure how this may play out. So, even if you are not one of the areas expected to have frost on Wed and/or Thur, you do need to monitor the situation in your field(s) very very closely both nights for appearance of "frost crystals"
If you don't own sprinkler irrigation, then row covers will need to be applied in locations where frost is probable. The covers will need to go on in advance of any precipitation events for your area – row covers must be applied when dry. Some areas will be experiencing a fair amount of rain on Tuesday, so the covers would have to go on today. The covers will have to stay on until Thursday, as two nights of frost are now in the forecast for a number of locations like Burlington.
This is a very borderline situation we are looking at for Wed and Thur mornings in much of the piedmont of NC, and it does not lend itself to a simple set of recommendations. Each grower will have to decide an appropriate strategy that takes into account: 1) a detailed forecast for your location (Consideration 1);  2) an understanding that there is much uncertainty at this point about winds on both nights (Consideration 2); the strawberry blossom critical temperature (Consideration 3); and 4) crop stage(s)  (Consideration 4).
Consideration 1. Check the AWIS 5-day detailed forecast (below) to see if frost is likely (this will also be updated on Tue morning)
Please check your area of the state for potential FROST on Wed and Thur morning. Let's hope the winds stay up in most areas!
5-DAY DETAILED HOURLY WEATHER FORECASTS 
Consideration 2. Acknowledge there is a high level of uncertainty at this point about winds and be aware of some downsides related to row cover usage…

Table 2. Note how high winds will be through the day on Tue in Burlington, and will reach 24 mph at 8 p.m.
Becasue we don't know for sure what wind speeds will be on Tue night/Wed morning and then again Wed night/Thur morning, it does complicate making recommendations on the best course of action to take at this point. If you have only row covers, and do not have the option to use sprinkler irrigation, then you are faced with some additional complications related to RAINS on Tuesday, which will necessitate that covers go on todayt (Monday). And, there is a possible issue with row covers causing mechanical injury to the crop if winds become very high on Tuesday afternoon and evening. For example,  winds could be in 20 mph range for much of Tuesday night  in the Burlington area (Table 2). In fact at 8 p.m.  they will be 24 mph, and that could possibly cause come mechanical injury to the plants and blooms because of  row cover 'flapping.'   It could be the case that winds will not be this strong, and then the  mechanical injury from the covers would not be an issue. There are several factors associated with wind flapping injury to a strawberry crop, including the wind speed, tightness of the covers, and stage of the crop. At winds of 30 mph and strong row cover flapping, I have seen actual blossom losses of as much as 10% to mechanical injury in past seasons! It is really shocking to see just how much damage a row cover can cause, especially at a more succulent plant stage (like we are in right now). In late winter, the crop can better handle this flapping problem, but when the crop has been in the 80s (like it has been), it is not as tolerant.
Consideration 3. Be aware of the minimum temperature in your area (both nights) 
Frankly, unless your area is going to have minimum temperatures of 28 F, or below, the open blossom stage is going to be ok. That's right! The open blossom can tolerate temperatures down to 28 F (and slightly below), provided there is not a FROST. So, If winds stay up nicely all night Tuesday/Wed morning, and the minimum temperature in your area is not going to go below 28 F, then you will come through this ok. My experience tells me that winds will remain up Tue night/Wed morning, but where I think we can have some issues is with an actual FROST on Wed night/Thur morning. Typically, on that second night we do see winds die down in the early morning, and with clear skies and air temperatures in the low 30s, there is an excellent chance for frost. So, keep in mind that we are really not going to be experiencing temperatures that are that threatening in many areas of NC this week to the open blossom stage, and our real concern is really more with the winds, and if they do die down on either night, we could see a damaging frost occur.
Consideration 4. Be aware of what is truly at risk right now and take into account whether you do really stand to lose that much?
If your crop is just now coming into open blossom stage, like growers of Sweet Charlie are up in Maryland or northern VA are right now, then a frost event is a very serious concern. But, if your crop is mostly now "set" and you are looking a green berries and ripening fruit with only a few blossoms per plant, then I would be less concerned about these cold events. This cold event is a threat to the open blossoms, and not much else! Small green berries  are few degrees more tolerant to cold than open blossoms.
IN SUMMARY, THERE IS A LOT TO BE TAKEN INTO ACCOUNT WITH REGARD TO THIS NEW FORECAST TODAY. I WOULD EXERCISE CAUTION AT THIS POINT ABOUT NEEDING TO "DO SOMETHING" RIGHT AWAY, LIKE PULL A ROW COVER OVER THE CROP TODAY. GROWERS IN MORE NORTHERN REGIONS AND IN THE MOUNTAINS ARE THE ONES MOST AT RISK, AND SO PULLING ROW COVERS BACK OVER THE CROP TODAY BEFORE THE RAINS COME DOES MAKE SENSE TO ME. BUT, FOR GROWERS IN LOCATIONS WHERE YOU ARE WELL PAST PEAK BLOOM, I SUGGEST THAT YOU TAKE INTO ACCOUNT THAT YOU MAY NOT HAVE THAT MUCH CROP AT RISK FOR THE TEMPERATURES NOW IN THE FORECAST FOR WED AND THUR MORNINGS – IF WINDS STAY UP, BLOSSOMS CAN HANDLE TEMPS DOWN TO 28 F. IF WINDS DIE DOWN ON EITHER EVENING AND YOU SEE "ICE CRYSTALS" THEN USE SPRINKLER IRRIGATION FOR FROST PROTECTION – IN MANY AREAS YOU WILL ONLY NEED TO RUN THE SYSTEM FOR A FEW HOURS AT MOST. THIS IS A MORE CHALLENING DECISION FOR ROW COVER USERS, AS THERE COULD BE SOME RISK OF CROP DAMAGE ASSOCIATED WITH THE ROW COVERS IF WINDS ARE STRONG ENOUGH ON TUESDAY – THE WORST LOSSES I HAVE SEEN FROM SEVERE ROW COVER FLAPPING ARE ABOUT 10% BLOOMS DEAD.
GOOD LUCK!
Dr. E. Barclay Poling
Interim Executive Director, NC Strawberry Association Inc.
& Professor Emeritus (Strawberry Plasticulture Researcher)
Department of Horticultural Science
Campus Box 7609, 162A Kilgore Hall
NC State University
Raleigh, NC 27695-7609
A pessimist sees the difficulty in every opportunity, an optimist sees
the opportunity in every difficulty.
Winston Churchill, Prime Minister of England