Multi-State Roundup on Strawberry Weather for the Week (Sunday Evening, April 6, 2014)
Find this article at:
go.ncsu.edu/readext?289135
Multi-state roundup on Strawberry Weather for the week ahead:
General comments:
Good evening! The weather has definitely c o o l e d down today in Raleigh after a beautiful spring day on Saturday. Heavy rains expected tomorrow! And,  then more clouds on Tuesday. We are then hoping for some sunshine on Wed before a potential frost on Thursday morning. Hard to believe we were issuing heat advisories last week on Thurdsday April 3rd. And, we are paying close attention to this FROST ALERT for Wed night and Thursday 'cause we are full of open blossoms in the Central Piedmont of NC right now (Fig. 1)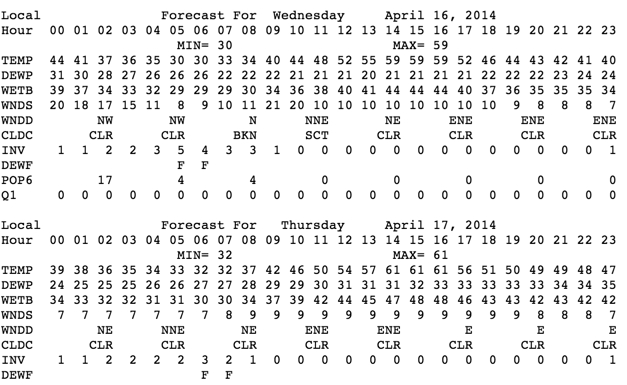 Fig. 1. This is just a sampling of what I saw yesterday in Central Piedmont region of NC (Burlington). These plants had been under row cover since last Nov (came off end of March). Obviously, we are concerned "down in NC" about the crop being this exposed, and that is why I am giving top priority this week to the NC situation, as we are truly at our most critical point in the season!
South Carolina growers are really 'far along' and they are just as concerned as we are in NC about ANY hint of frost this week. Truth of the matter, I don't think SC growers have that much to be concerned about (at this point), but we all know that things can change quite rapidly. For now, here is the AWIS minimum temp map for SC on Thursday morning (April 10):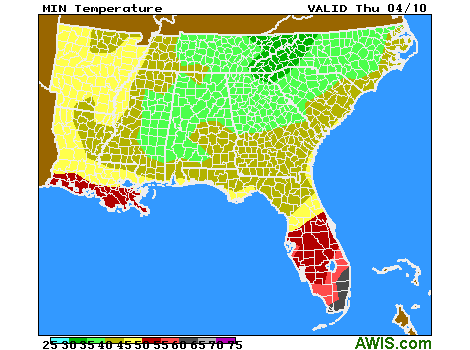 Fig. 2. I really don't think there is a much to be concerned about in SC this Wed night/Thur morning with FROST, except maybe in the northwestern section where you can see that dark green color (30-35). I strongly advise setting frost alarms in the lighter green areas on Wed night – just in case!
AWIS minimum temp forecast for SC: SC AWIS Apr 6 to 13
SC 5-day detailed:
5-DAY DETAILED HOURLY WEATHER FORECASTS 
TENNESSEE – I was "just checking" a number of the 5-day detailed forecasts for TN locations that AWIS produces, and here you can see FROST for Wed morning (April 9) in Dyersburg, TN where it will FROST at about 6 a.m. In general, TN is looking fairly safe this week. Here is the AWIS minimum temp table for Tennessee growers and agents: TN AWIS Apr 6 to 13

TN 5-day detailed:
5-DAY DETAILED HOURLY WEATHER FORECASTS 

KENTUCKY – Things will start to get interesting in Kentucky Tue night and Wed morning, and there will be FROST in locations like Lexington.
Here is the AWIS weekly minimum temp table  KY AWIS Apr 6 to 13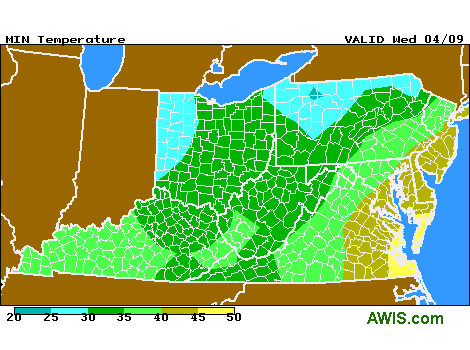 Fig. 3. Temperatures will be cold enough for frost in some areas of KY on Tue night/Wed morning, but the issue is with the winds? As you can see in Table 1 below, the winds will remain very high (9-10 mph) according to AWIS, and if that holds true, NO FROST. As I told a Va grower today, I do put a lot of confidence in the AWIS wind forecast information, so I am inclined to think NO FROST in Lexington.
KY-5 day:
5-DAY DETAILED HOURLY WEATHER FORECASTS 
VIRGINIA – I HAVE BEEN GETTING A LOT OF COMMUNICATIONS OUT OF VA GROWERS THIS WEEK, and for the growers in the southeastern Tidewater region of VA, the crop is quite a bit more advanced – especially where row covers were used this winter. Tidewater growers, like the father-daughter team of Tom and Amanda Baker, are paying extra close attention to any FROST forecastright now for their farms in Pungo (VA Beach) and Chesepeake. In fact, I just had this communication from Tom today (we had concern about frost in VA this morning)
"Barclay, No frost last night.  By the time of the lowest temps, the wind picked back up enough to stir things up. The only thing lost last night was "sleep" keeping an eye on conditions! :-/ " Tom & Anne Baker and Amanda McCann
I did learn from Tom that he would def. like to get his row covers out of the field now, and I looked at the extended forecast for VA Beach on AccuWeather and it does not show anything of special concern (like the Easter freeze event of April 7-8, 2007), so having sprinklers for frost protection should be fine for frost control.
I also shared this advance  'tidbit' from our VA-NC-SC-TN 30 Day Outlook (that I will be posting later this evening):

"Temperatures for next 10 days look to be mostly on the mild side of average. Expect only occasional periods of light rain showers for about a 7 day period after the upcoming significant rain event expectedSunday night through Monday night. The next significant rainfall after that not expected until the 8- 10 day forecast period. It looks like the second half of April will see a temperature pattern of somewhat cooler than the seasonal average temperatures, but no extreme events seem likely at this time."

Though VA growers may have dodged frost this morning, I think that Wed night/Thur morning is looking quite interesting across their state (similar to NC). For example, take a look at this Central VA location Farmville where AWIS is forecasting frost for 5 a.m. on Thur morning. Note that the minimum air temp will only be 36 F! That's right, you can get frost at air temp of 36 F at the weather shelter height of about 6.5 ft, but down at the canopy level LOOK OUT!

Table 2. Farmville, VA. Note frost at 5 a.m. Thur morning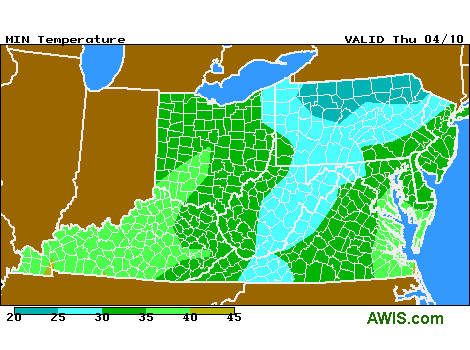 Fig. 4. Va min temp map for Thur – the dark green areas (30-35) will be very prone to frost.
But, what is worth pointing out for VA and other states like NC with so many different growing regions and climates, is that a radiation frost event which is a big deal for growers in Tidewater VA (with many open blossoms) is of less interest to a grower in Locust Grove, VA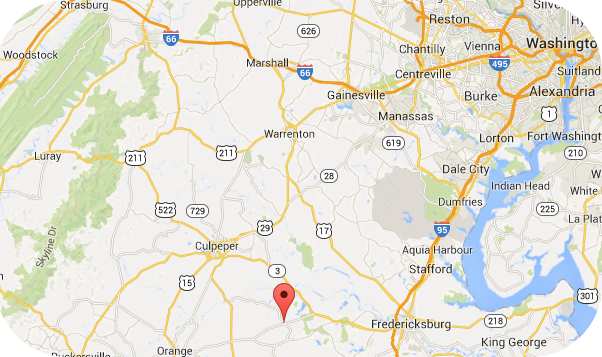 Fig. 5. Locust Grove is in north central VA, and directly west of Fredricksburg. The crop in this area is not very far along (see next comment).
VA grower in Locust Grove:
Barclay,




We have maybe 100 blooms scattered over 3 acres. Everything else is tight buds or no bud's at all. No popcorns either. So I'm thinking we can just leave them uncovered?




Thanks!




Ben Miller




Locust Grove Va. 22508

Response:  Ben, sorry I did not have time to reply to email sent to my university email address (barclay_poling@ncsu.edu), and the problem with that address is that I don't see it on my iPhone. I can actually read your emails if you send them to strawberrydoc@gmail.com. You can also send a text message to:  9194189687, but please be advised this 'complimentary' service is ending 5/31/14!
I received another email last evening from a grower in Delaware who is not any different that Locust Grove, VA.
Barclay

We are still in newly emerged leaves/tight bud stage. Is there reason for concern with frost at this stage? Your prior research shows that stage can handle mid 20's? Need some reassurance. We are still uncovered.

Thanks

Bobby Fife, DE

Response (B. Poling):  Yes, the tight bud stage is incredibly hardy relative to popcorn and open blossom. You do not need to be worried! The advisories I am sending out now primarily address the issues we are facing in North Carolina. Tight buds emerged from the crown are susceptible to injury at temperatures that are several degrees colder than open blossom, as indicated in this table:
So, let's summarize for VA.
1) Here is the VA Minimum Temp Table for next 7-days: VA AWIS Apr 6 to 13
2) Please note it will be cold tonight up VA but it will also be raining, so these minimums should not be of concern. I would stay focused on Thursday morning in VA, especially if your crop has transitioned into popcorn and early bloom stages!

Table 3. Central VA will see some pretty cold temps tomorrow morning, but there is not any real concern with these temps as it will be raining in the morning.
Here is this evening's SkyBit for a farm west of Richmond:
Fig. 7. Even though the minimum may only be 37 in the canopy on Thursday at this location west of Richmond, I would still be prepared to frost protect that morning!
Here is the AWIS 5-day detailed forecast for these VA locations:
5-DAY DETAILED HOURLY WEATHER FORECASTS 
Maryland – I am now I am jumping around here a little bit, but let's take a quick look at MD for this week. AWIS MD Apr 6 to 13 and if you click on this pdf you will see it is going to be quite cold up in MD even this evening! I am assuming their crop is not that far along, so I don't believe forecasts of relatively light FROSTS really have any meaning there? I have had minimal information from anyone in MD, so correct me if I am wrong? My assumption is that the MD crop is still tight bud? Anyway, I know veterans like Bob Rouse are pretty expert at "gauging" our NC information.
MD 5-day:
5-DAY DETAILED HOURLY WEATHER FORECASTS 
Have a good evening!
Dr. E. Barclay Poling
Interim Executive Director, NC Strawberry Association Inc.
& Professor Emeritus (Strawberry Plasticulture Researcher)
Department of Horticultural Science
Campus Box 7609, 162A Kilgore Hall
NC State University
Raleigh, NC 27695-7609
A pessimist sees the difficulty in every opportunity, an optimist sees
the opportunity in every difficulty.Winston Churchill, Prime Minister of England