Morning Update on What Happened? (4/17/14)
Find this article at:
go.ncsu.edu/readext?291587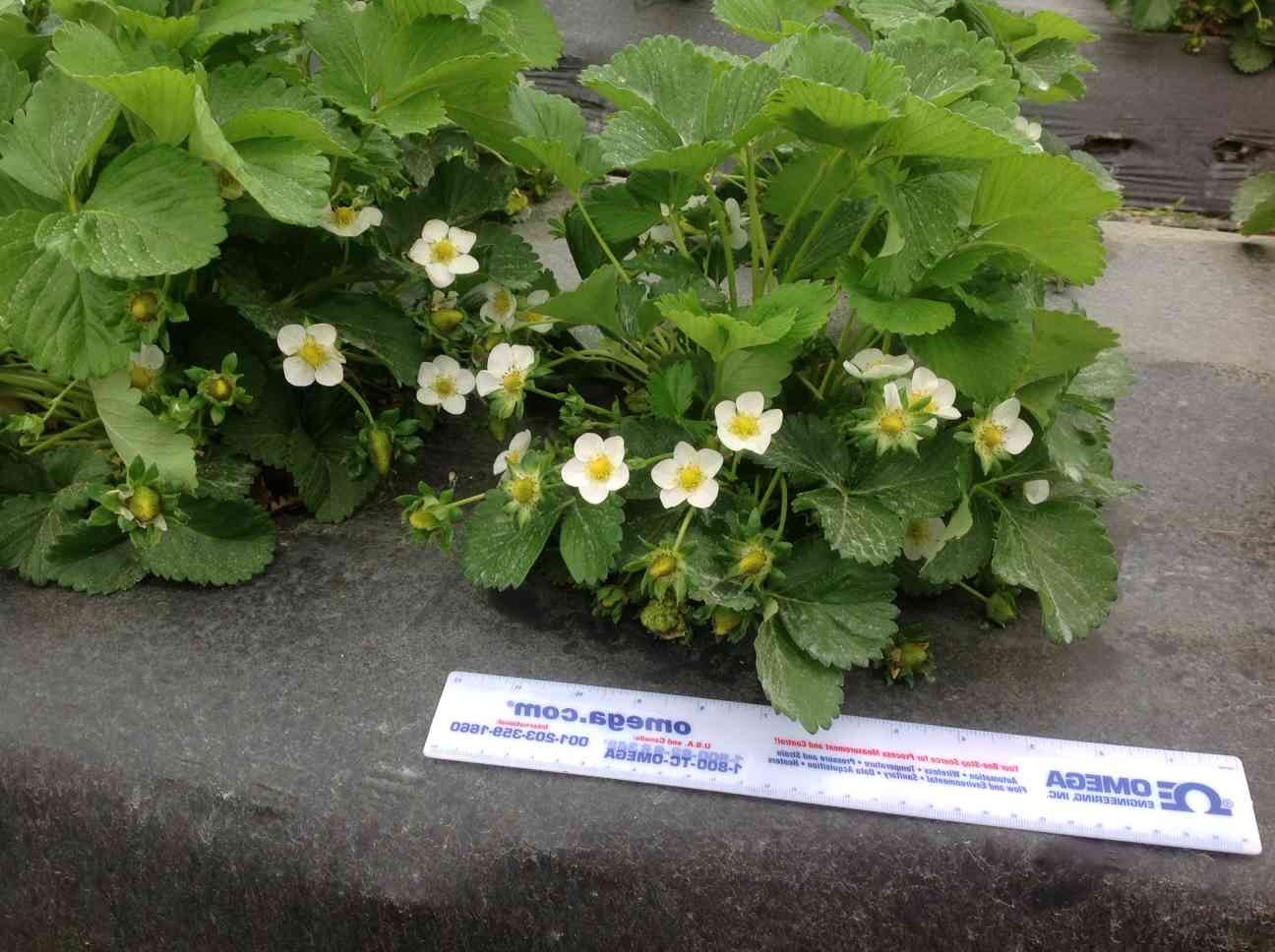 Figure 1. Some areas in the Coastal Plain last night had no frost this morning. In Kinston, we were suppose to have a pretty good frost at the Cunningham Research Station, but in checking a few minutes ago with Charles Barrow, Hort. Crops Mgr.,  there was no frost this morning. In nearby Seven Springs, Curtis Smith reported "no frost", as well (he has now been picking since last Friday). Ron Cottle, in Faison, just sent me an update at 8:17 a.m.: "We made it (with) no frost on the ground, but on top of houses and cars. Wind blew all night. Thanks."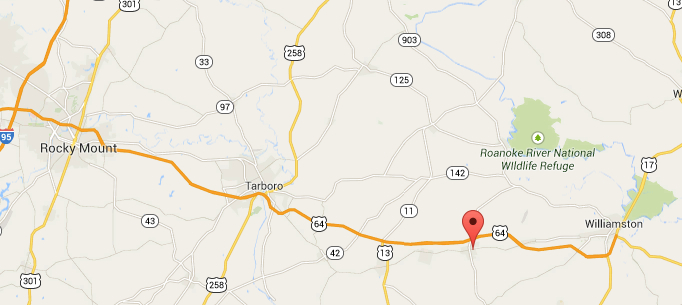 Fig. 2. Robersonville (red marker) – no real frost this morning in strawberry field (grower used drip to be on safe side)

Robersonville, NC
I had a very similar report from Josh Roberson (Robersonville, NC):
"Dew fell around 3 a.m. and the temp got down to 35 in robersonville. We ran the drip and so far so good. Lots of frost on the houses and cars but yet to see any in the field."
At 9:57 a.m. he wrote:  "There were ice crystals on some layflat in the lowest portion of the field away from the actual strawberry field about the same time that I started the drip. I never found any in the actual strawberry field. It's hard to say if the drip caused a difference or not but It definitely didn't hurt."
Editor – I just asked if Josh had row covers on, and this is what he said (noon today): Just drip. I had the overhead set up and ready to turn on. We had already rolled up the covers. With the frost chance being marginal and a soaked field we decided the sprinklers were a better bet.
But, coming back towards the Clayton area, there was some light frost this morning, according to Cathy Herring, Supt., Clayton Central Crops, who said, "a light frost just before sunrise."
Well, let's deconstruct this a little bit. Afterall, it looked like Kinston area was very likely to have frost this morning, but in looking at the minimum temperature for the Cunningham Research Station, we only had a minimum of  37.2 at 4 a.m. (Fig.2)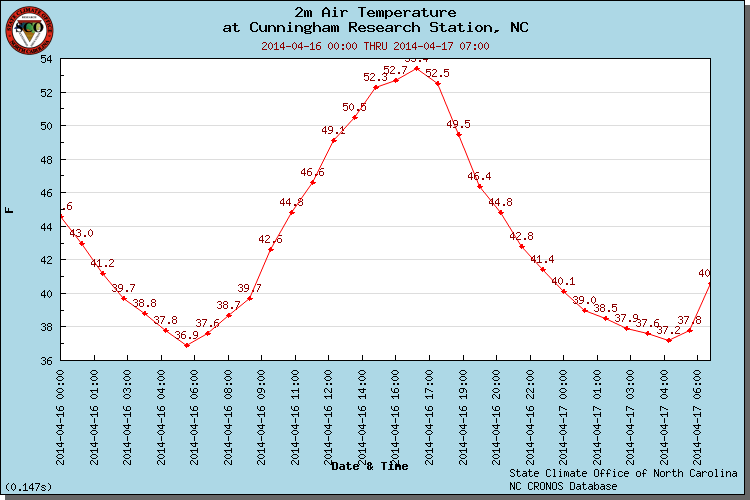 Fig. 2. With a minimum air temp of 37.2 F, we did not see frost at Cunningham (Kinston) this morning. Our dewpoint at 4 a.m. was 33.2 (above freezing). So, we never did get the 'perfect storm' conditions where you can actually have a frost under the cover when the air is super saturated.
(A quick detour into VA — a very odd thing happened in Rustburg, VA, the night before last —> frost under cover)

However, I just received this remarkable report from a VA grower who apparently did, but it happened yesterday morning, not this morning.
Good morning sir.
I didn't get your e-mail yesterday, but unfortunately this is what I found under my covers under my covers yesterday (4/16). Frost under the covers?
I don't think our air temperature ever got below 28 and winds stayed up all night. I did have some damage to a few that weren't covered as well. I don't understand how the row covers wouldn't have provided enough protection to keep temps above 28 under the covers, so that's why I wondered about frost under the covers. Row middles were soaked from all the rain. Wish I would have run my drip, but I wasn't really thinking about what could be happening underneath. Thoughts?
Thanks. Lowell Yoder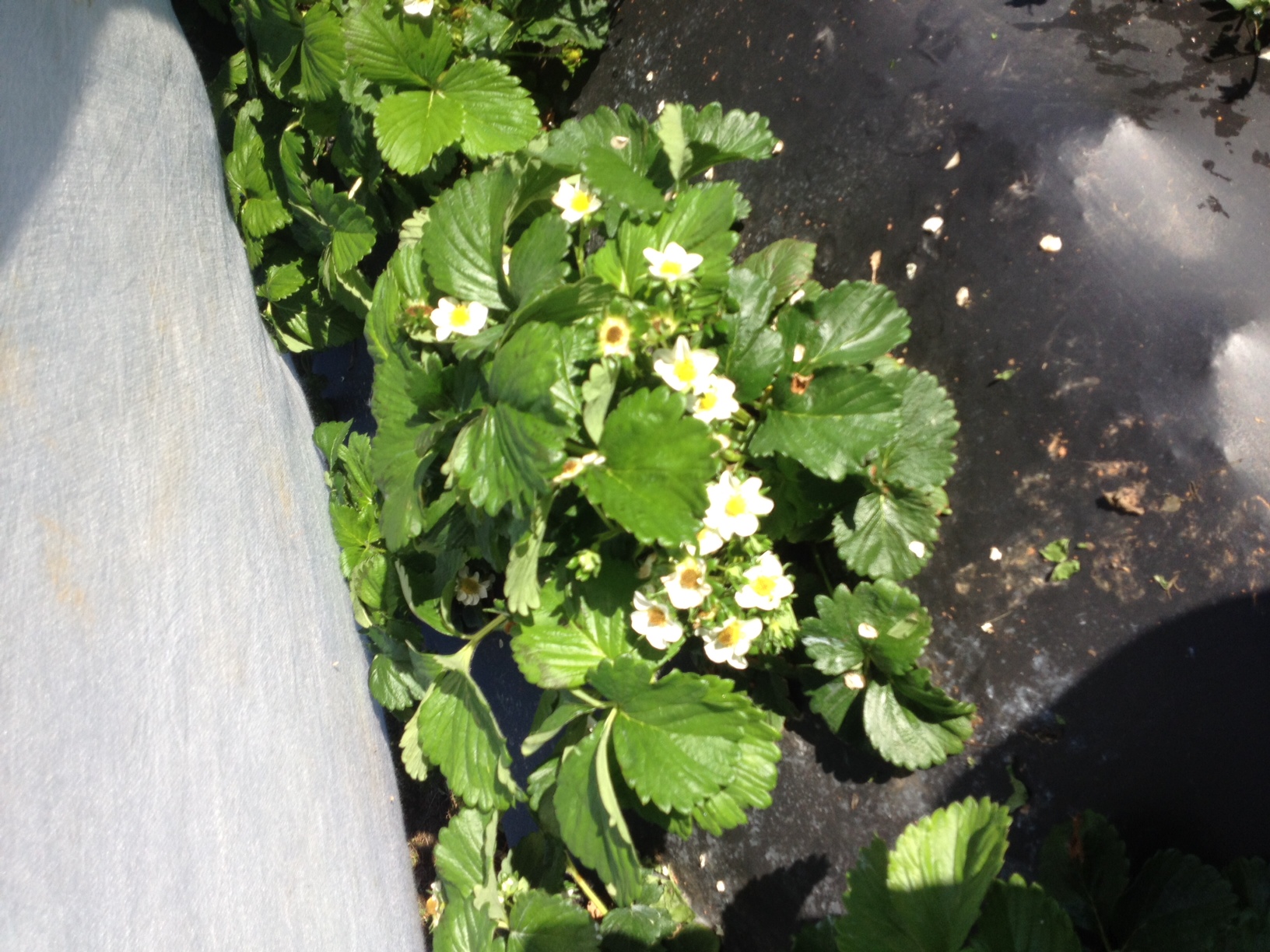 Fig. 3. This is definitely it! A frost under the cover occurred in Rustburg, VA. Had the grower run the drip, this might have been avoided.
Caught between a rock and a hard place in Delaware
Over in Wyoming DE this week, Bobby Fifer (a supporter of this advisory) was about 10% bloom on Chandler, and faced with forecast of  27-28 and high winds, he went with row covers. He does not regret the decision, but he has shared with me photos of what we believe show mechanical injury to his crop from row cover flapping. The wind was up all night on the first night but the covers were wet from rain. And, these wet, flapping covers could have caused this (Figs. 4 and 5).
Figs. 4 & 5. Apparent mechanical injury from wet row covers flapping in high winds.
More DELAWARE details – Weather station height lows for both nights were 32. The temp probe under the covers was always at least 2-3 degrees warmer than the weather station height. So, it is hard to attribute this injury to cold damage. I indicated to Bobby that I thought it was mechanical, and he reported back, "I feel like it was mechanical too, especially the way it's not the whole flower that is discolored."  He further said, "Just never happened. I knew I would have loss but thought that it would be less than if I didn't cover. When I saw the low on Tuesday morning, I knew I had done the wrong thing. Problem is, I probably would do the same thing again with the same available info. Flat out just between a rock and a hard spot Monday night."
Basically, it has been one tough tough week all over!! Including North Carolina, and I am sorry to report that we have one more night of FROST issues in NC tonight for a number of locations! But, I will get to that in my next advisory. I have time to do just a few more testimonies.
Returning to NC
Ramseur, NC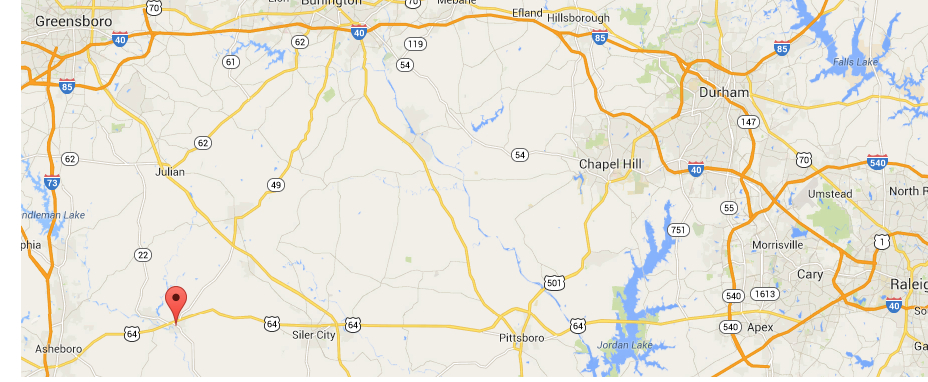 Fig. 6  In case you don't know, Ramseur (red marker) is one of our colder spots in the central piedmont (Randolph County),  and whenever there is a pretty good chance of a frost, it almost always happening in Ramseur! It is close to Siler City, and I am able to pull down some pretty good weather information from the CRONOS system that relates well to Ramseur.
Michael Beal, former President, NC Strawberry Association, sent a txt msg at 8:30 a.m. this morning, saying "I'm going to bed now."  (this has caused me to stop saying Good morning to you all when I open up an advisory the morning after a frost…now I will say Good night)

But, he gave me this report just before going to bed: " OK, quick report. Turned on at 1:30 a.m. Light to no wind until sunrise. Nice white frost on cars and grass at field. Low temp of 30 F at canopy, Turned pump off at 8:15 a.m."
and Seven Springs, but other locations
In  Michael's scenario, I thought we would good to include some information on minimum temps over in Siler City (airport) as well as DP and winds (Figs. 7-9):
Pungo and Chesepeake, VA
Good News:  No forecast product was entirely accurate last night.
Bad News:  No forecast product was entirely accurate last night.
Good News:  "Watching our donkey" (observing our own, actual conditions), we were "on the ball" about 10 p.m. last night (3 hours before AWIS indicated "F").
Bad News:  …would have been reported this morning had we not been "watching our donkey."
Good News:  Daughter-Farmer Amanda turned on overhead irrigation at Chesapeake at 10:24 p.m. after finding light frost on hoses, row covers in row middles, and a wee bit on strawberry plants. Observed conditions: temp 38, dewpoint 33, zero wind. (AWIS had predicted wind of 6 mph from 11 p.m. through 4 a.m.; had wind stayed up, we might not have needed to irrigate?).
Bad News:  We had hoped not to need to run water last night; everything was already soggy from rain on Tuesday, 4/15/14.
Good News:  Daddy-Farmer Tom did not need to turn on irrigation at Pungo. We were "right there" but never crossed the line! Pungo's wind did stay up all night and actually increased about 4 a.m.
Bad News:  Because we were so close (see below***), Tom didn't get much sleep last night, "checking the donkey" every 30 to 45 minutes.
Good News:  Mama-Farmer Anne turned off the Chesapeake water about 6:40 a.m. Daughter-Farmer Amanda and Daddy-Farmer Tom stayed in their beds J.
Bad News:  She turned it off while returning home from taking "Joy" (our deaf, nearly blind, rescue Dachshund) to the all-night emergency vet in the wee hours of the morning. L
Good News:  Pungo's field stayed dry last night and the strawberries are fine.
Bad News:  Chesapeake's field is more soggy than it was, but the strawberries are fine.
The Best News:  No strawberries were harmed in the events described in this narrative!
***Because we were already soggy from "too much" rain on Tuesday (1.85" Pungo, 1.65" Chesapeake), I believe we could have been in a frost-under-row-cover situation had our covers been deployed last night. I say this because I did observe light frost on the pulled-to-the-row-middles row covers at Pungo last night, but no frost on hoses, etc. and absolutely no dew on the strawberry plants (!). The covers were pretty much flat-to-the-ground from Tuesday's rain and were somewhat "protected" from the wind by the tall strawberry beds and canopy. Had our covers been pulled over the crop, I think soil moisture would have been "trapped" in with the crop, the wind would have been excluded, and frost likely would have formed. Never before have I seen frost on pulled-back row covers without also seeing dew on the strawberry plants.
Tom
Tom & Anne Baker and Amanda McCann
Brookdale Farm
2060 Vaughan Rd, Virginia Beach, VA  23457
2133 Mt. Pleasant Rd., Chesapeake, VA
Easley, South Carolina – very significant revelation about 1.5 oz cover!
"We came out of the past couple of nights in pretty good shape. Our lows were around 26/29 (away/home) on the first night and 28/31 (away/home on the second night. We did have frost in both locations on both nights, although it was much less severe here at our home farm. The interesting thing I found was that on our fields where we had 1.5 oz. covers (3.5 acres), we had very little losses where the blooms were touching the fabric. On the portion of fields that we had 1.2 oz. covers (maybe a half acre), we had significantly more damage to blooms touching the fabric. Matter of fact, because we are in such heavy bloom, it was almost impossible for covers NOT to be touching a fairly large amount of blooms – and on those 1.2 oz. sections, some plants lost 25% or more of open blooms. Had the entire 4 acres been under 1.2 oz. covers, we honestly could have seen some really significant damage.  I can see where late season row cover frost protection is far less superior to the overhead. Also, we had a few plants here and there that were not covered for whatever reason – and those plants suffered 100% bloom loss.
In hindsight, the covers did very well, but had we known the winds were not going to materialize we would have just relied on our overhead. Our losses would have been virtually zero no doubt.
Thanks,
Eric
In conclusion, I need to do some advisories for tonight! So, let me leave you with a humorous exchange that occurred this morning when someone called me (thinking I was still in Extension), and she asked me about growing dayneutrals for spring and fall fruiting,  and, I just blurted out, "Why  would anyone want to go through all this (e.g. 6 straight weeks of frosts and freezes) for 2 seasons each year, isn't one (season) enough?"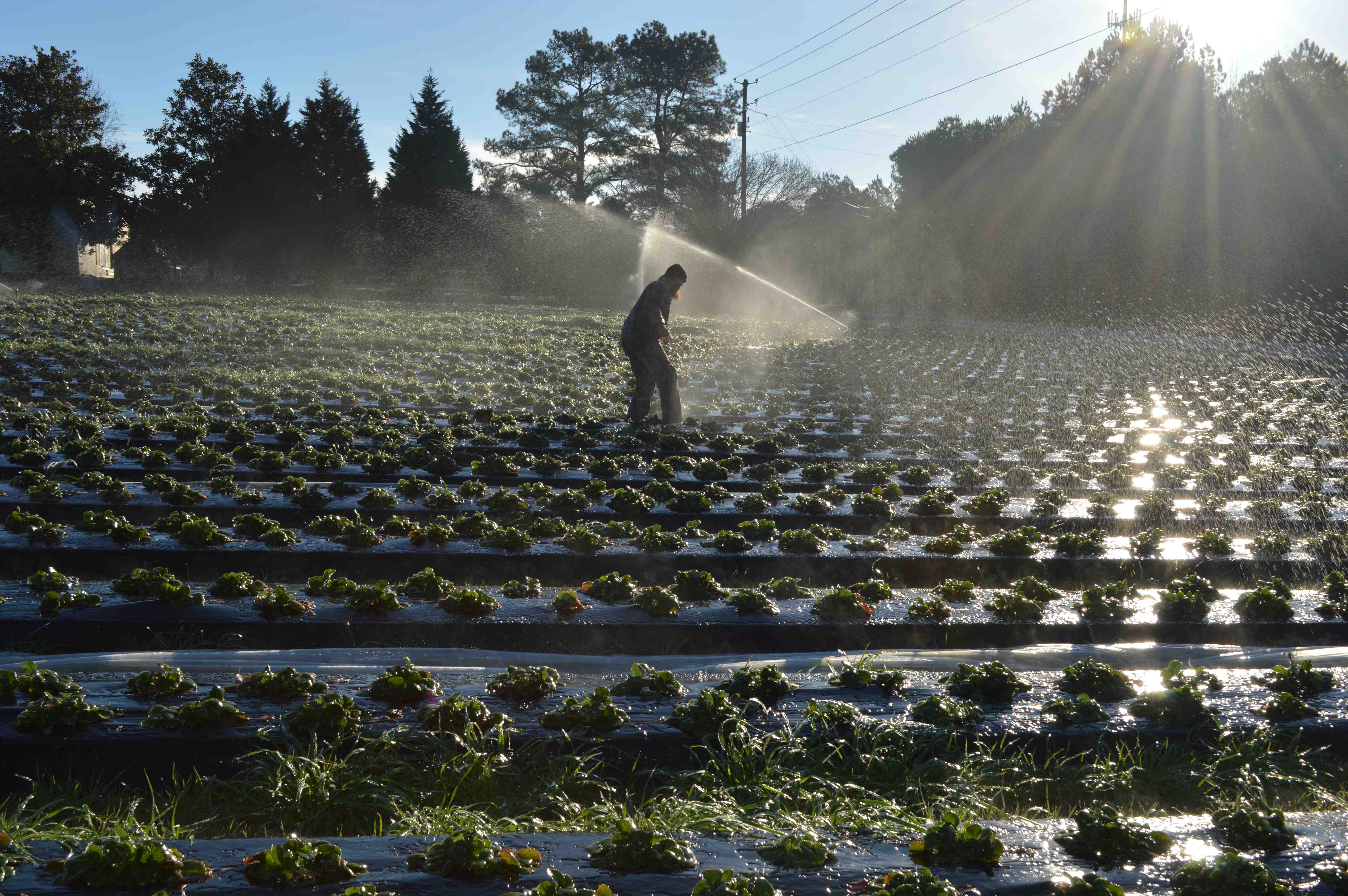 Figure 10. Many growers have been frost protecting with irrigation this season since early March – this is a photo of Ashley Porter, Willow Spring, NC, running his sprinklers on the morning of March 8th. Most of us have lost count by now of how many times we've had to do this in March, and then right up to Easter weekend!
Dr. E. Barclay Poling
Interim Executive Director, NC Strawberry Association Inc.
& Professor Emeritus (Strawberry Plasticulture Researcher)
Department of Horticultural Science
Campus Box 7609, 162A Kilgore Hall
NC State University
Raleigh, NC 27695-7609
"When everyone is thinking the  same…  someone isnt   thinking …."  —  George S  Patton