Multi-State Strawberry Weather Update (Written at 10am, Thur., 4/3/14)
Maximum Temperatures Today (Thur) and Friday by State (Maryland will have FROST issues this weekend)
Please note potential for FROST in Maryland on Sunday morning! I am not making this up! Here is the AWIS 5-Day for Aberdeen, MD, at 4 a.m. I must share that AWIS has been 'deadly accurate' so far this season on frost forecasting! Obviously, this one is still a little ways out, and things can change, but MD folks better keep a close watch on things this weekend! Just below I have included a number of MD locations for closer examination on FROST potential. Good luck!

5-DAY DETAILED HOURLY WEATHER FORECASTS 
North Carolina Maximum Temp Maps for next 2 days: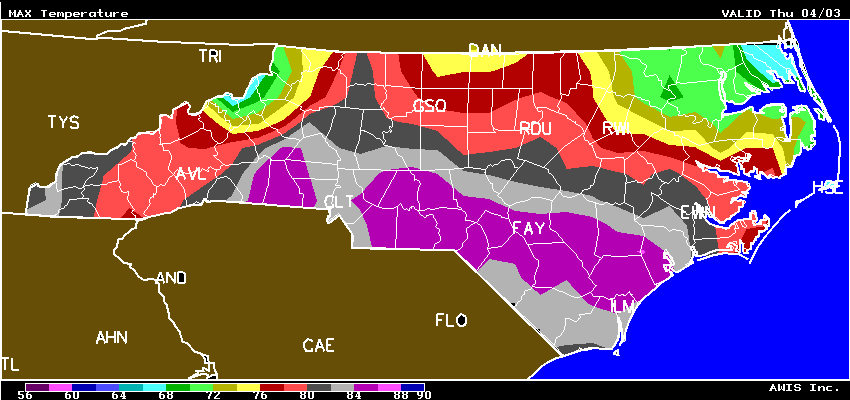 Fig. 1. Maximum temps in the purple area today of 84-86 should not present a problem for heat damage to open blossoms.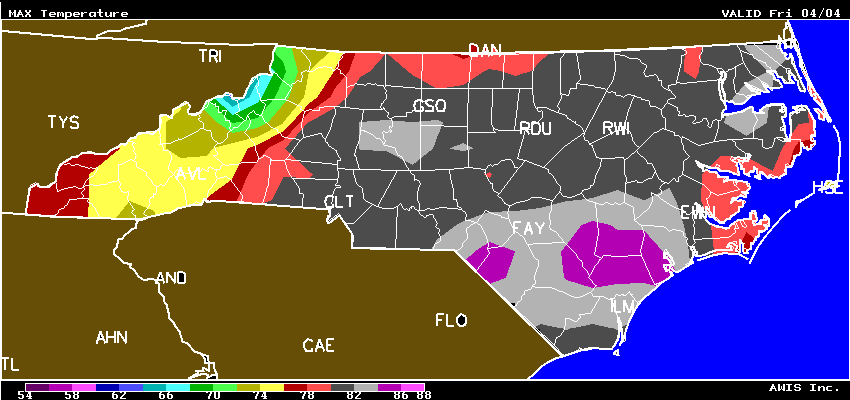 Fig. 2. Likewise, the maximum temp map for Friday afternoon is not indicating any real threat of heat damage, but growers in purple zones (84-86) are well advised to monitor blossom temps closely. I would be concerned if  air temps of perhaps 86-88 for Friday were indicated for any locations,  but right now that is NOT the case…
Good morning,
We have a lot of overcast in Raleigh this morning and some possible showers coming – no issues with excess heat today. Tomorrow (Fri) will be warmer. This is our Clayton Skybit from this morning, and you can see a high of only 82 in canopy (well below the threshold for possible heat injury).
Friday will be somewhat warmer, and SkyBit for Clayton shows a canopy temp of 90. That still does not conern us.
Not even close to heat damage thresholds:
I would be concerned if it said maybe 93-94 canopy and air temp of perhaps 87/88 for Friday. But, we are several degrees below those thresholds (93/94 in canopy and 87/88 at weather shelter), so I think it is a pretty safe bet that no "heat mitigation" with sprinkling is justified for tomorrow in this location.
On a final note, don't you find it rather shocking that we are focusing on heat extremes in early April in just less than a week after battling near record cold last week on this very day!
Dr. E. Barclay Poling
Interim Executive Director, NC Strawberry Association Inc.
& Professor Emeritus (Strawberry Plasticulture Researcher)
Department of Horticultural Science
Campus Box 7609, 162A Kilgore Hall
NC State University
Raleigh, NC 27695-7609
A pessimist sees the difficulty in every opportunity, an optimist sees
the opportunity in every difficulty.
Winston Churchill, Prime Minister of England