Homeowners Have Concerns About Freeze as Well! (11:55am, 4/15/14)
Find this article at:
go.ncsu.edu/readext?290862
Question forwarded to a retired,  over-the-hill, former strawberry specialist from Scott McCollum, Extension Communications, NCCES (10:16 a.m., 4/15/14)
Barclay,
We received the following timely question from someone in McDowell county this morning. I've forwarded it to the county, but didn't know if they'd respond in time. Do you have an answer that I could share with them? Here's the quesion:
Hi, We're suppose to have a freeze here in Northern McDowell County tonight. My strawberries are blooming and I need to know how to protect them. My husband said to go purchase a roll of heavy duty plastic to cover them with. Is that worse or better than purchasing a Jobe's frost blanket from Lowes? Or, should I be doing something else?
Thanks,
Scott
Scott,
Clear plastic can possibly help, but I would strongly recommend the use of a ROW COVER like photo below: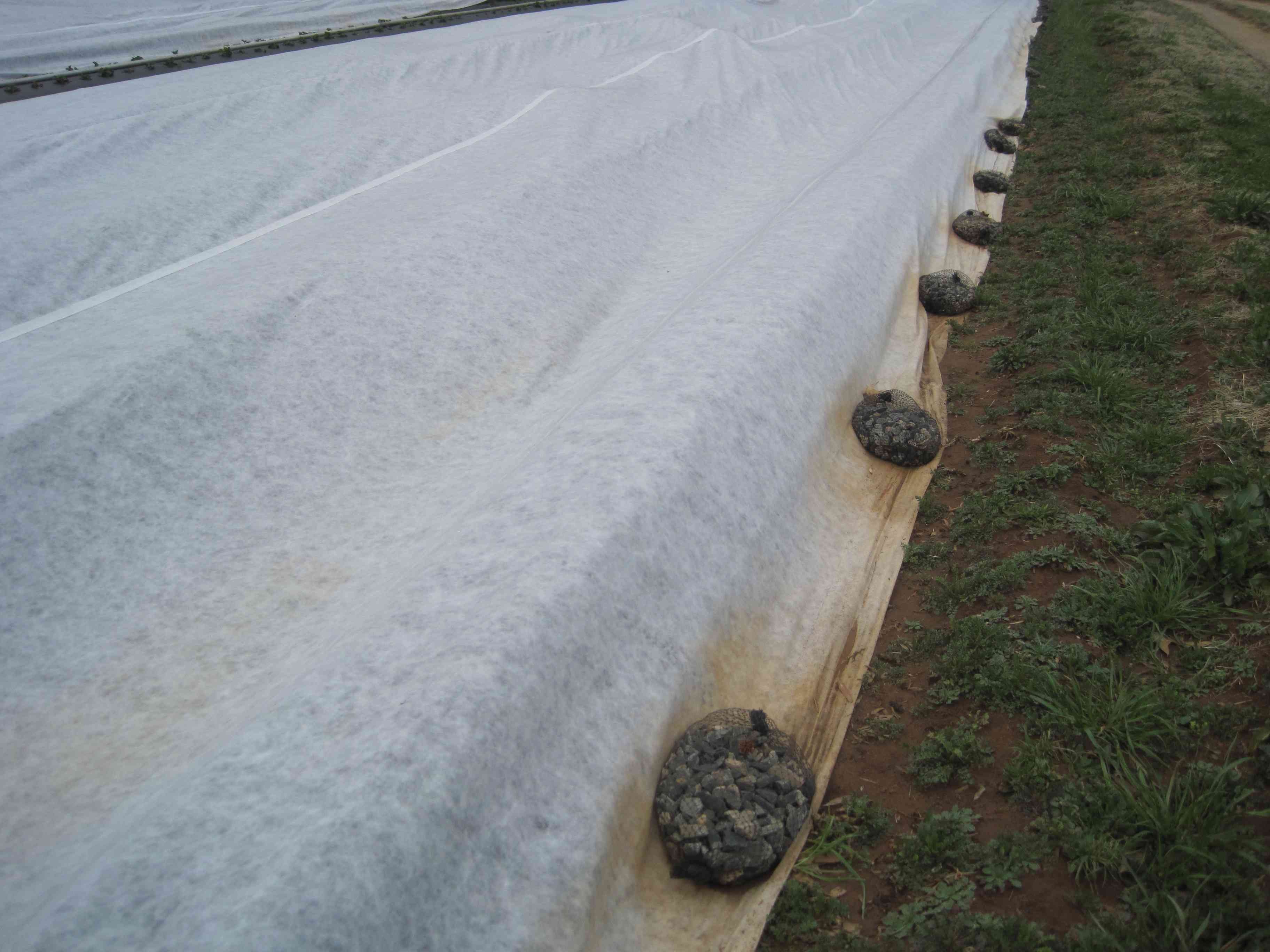 Fig. 1. I am not familiar myself with the "Jobe's frost blanket from Lowes", but if it looks anything like this strawberry row cover, it would be a better purchase to make than heavy duty plastic.
Further discussion:
They can use a row cover for excellent protection against the freeze expected over the next 2 days in this area and across the western part of the state and piedmont. Actually, the minimum temp for tonight that is expected in Marion is 30 F, and even though this is below freezing (32), this temperature will not  harm strawberry blossoms. Strawberry  blossoms will be killed at temperatures of 28 F and below under these dry air conditions where it will be difficult to 'make frost.'  So, in the absence of frost it is well to know that from NCSU research and experiences with growers, a strawberry blossom can tolerate temperatures a few degrees below the freezing point. Also, tonight it will not frost in this area of the state because of very high winds.
Minimum temps in Marion (from AWIS):

Table 1. The minimum in Marion will occur at 6 a.m. tomorrow morning (30 F), and then on Thursday morning it will be 35 F at the same hour. But, as explained below, there is not really any threat from a temperature of 30 F to a strawberry blossom under the windy, dry air conditions we will have tonight. The real issue is tomorrow morning, and even though it will only reach 35 F, there is HIGH RISK of ice crystals forming on blossoms and killing them on Thursday morning!
Further discussion:
Where I see a real benefit to buying a true strawberry cover, is for the cold event in the forecast for tomorrow night. In my opinion, there is risk of FROST tomorrow night in this region because there will be more humidity in the air, which is needed to generate a frost event. And, very importantly, the winds will be significantly lower. Whenever winds drop below 5-7 mph, as I expect they will in Marion tomorrow morning, and the skies are clear, there is chance of frost even at  35 F. A lot of people wonder about how a frost might occur when the air temperature is going to be in the mid and upper 30s?
The answer is that the minimum air temperature in the forecast is actually for 2 meters up in the air (about 6.5 ft).
Remember, the strawberry is down at ground level. At ground level the temperature can easily be several degrees colder. Thus, if the air temp is 35, the canopy level temp could easily be just below the freezing point (32 F).
Even though Marion, NC will have an official minimum of 35 on Thur morning (Table 1), the truth is that it will several degrees colder at the ground level – no one really reports this temperature, except a professional weather forecast service known as SkyBit – they actually produce a daily forecast that tells strawberry farmers how cold it will be at the strawberry plant level. Here is an example of a SkyBit for a farmer in the foothills of SC (Easley):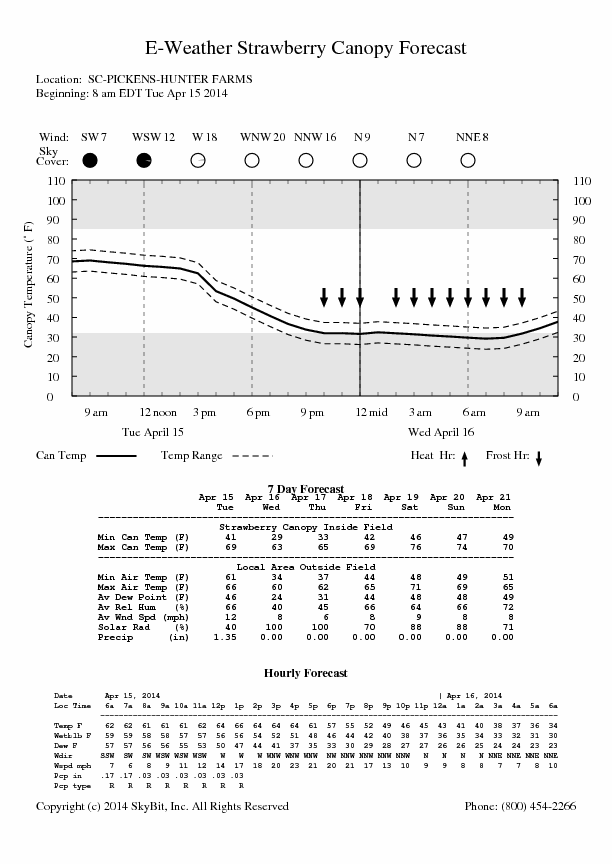 Table 2. Professional strawberry growers subscribe to SkyBit to get strawberry canopy temperature information (down at the ground level). Notice that the air temp minimum will be 34 F tomorrow morning (Thur), but if you look at the canopy level temp it is 29 F. Thus, it will be below freezing (32) at the ground level, and if the temp drops below freezing, and ice crystals form on the blossoms, you get damage! The author has seen damage from ice crystals in just 10 minutes!
Marion areas is 'prime' for frost Thur morning:
With calmer winds and relatively humid air conditions tomorrow night (dewpoints in upper 20s), the Marion area is 'prime' for frost to occur on Thursday morning, and this type of cold event can be very injurious to open strawberry blossoms. I can't tell you how many times we have had forecasts of even 39 and 40 F, and have had very damaging frosts at the ground level!
So, check around this early afternoon, or tonight,  to see if you can locate a true row cover, and don't waste you money on buying plastic film. You will not need the cover until tomorrow, and you can apply it at about 2 p.m. to build up a heat reservoir just beneath the blanket in late day – this will provide warmth to the plants through the early morning. And, the row cover does a good job of preventing 'ice crystals' from forming on the blossoms – provided it is not too humid under cover! We have had some experience with frost forming under the covers, but I don't see that happening tomorrow morning. The air is too dry!
You can also go to the NC Strawberry Association website and find some more information on row cover suppliers. That website is: http://www.ncstrawberry.com/index.cfm
The actual resource list: http://www.ncstrawberry.com/docs/2012FrostProtectionList.pdf
Good luck
E. Barclay Poling
Prof. Emeritus, Dept Hort Sci, NCSU