Strategy Using Row Covers and Irrigation (March 3, 2014)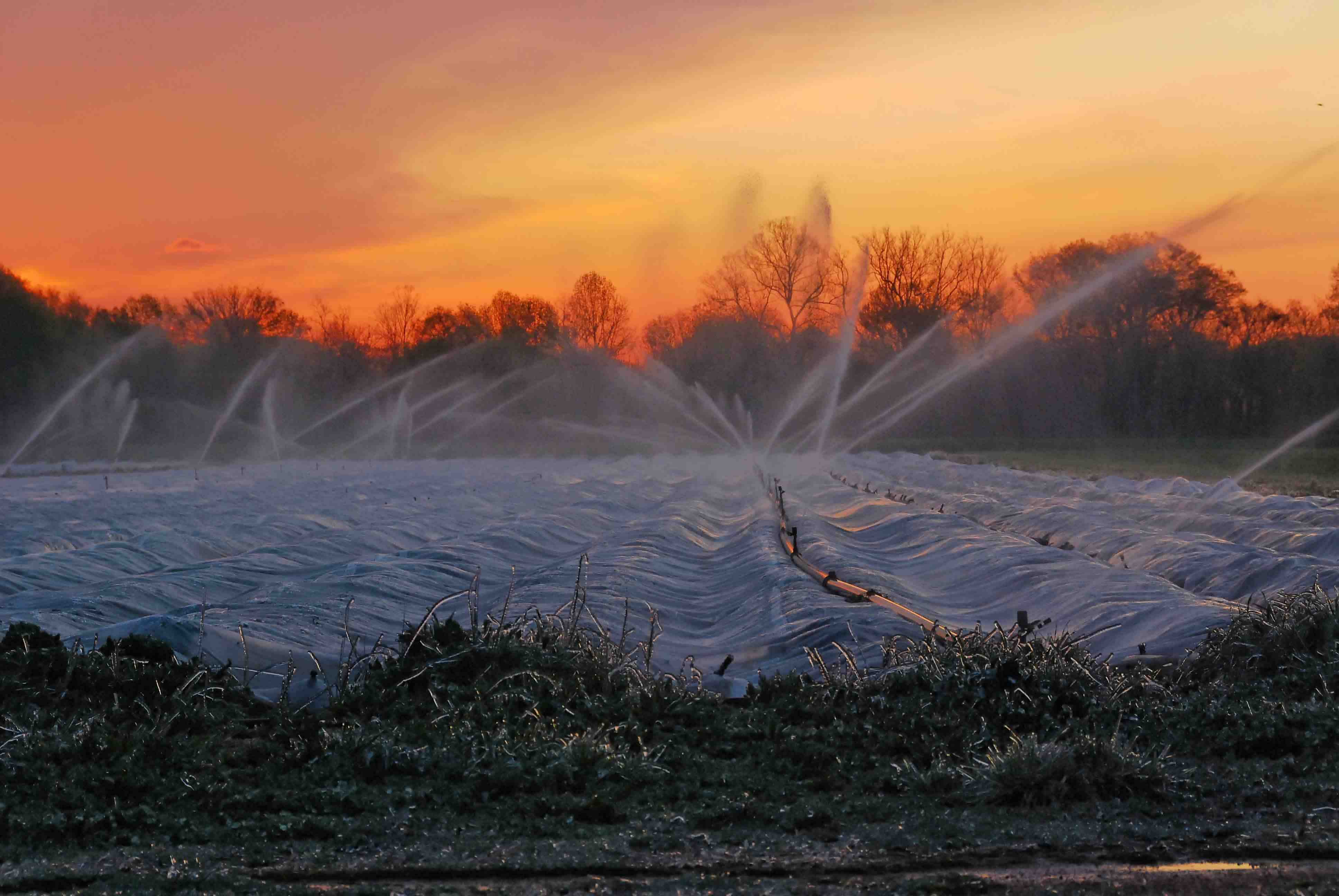 Fig. 1. Photo taken during Easter freeze 2007 showing sprinkling on top of row covers. this approach can save strawberry blossoms and buds from temperatures in the teens. For growers who have seen their crop "race ahead" in development over this past weekend (70s yesterday), and with so many "popcorn" stage blooms and emerged flower buds at risk tonight, there is a "strong case" for trying to make the "ice blanket" to trap the ground heat in the early evening, and then to try to re-wet the ice with sprinkling at critical juntures through the night so that bud temperatures stay above 27-28 F. The alternative in this immediate area (not doing anything) may not be a good one, as saturated covers will likely freeze to the plant canopy tonight (we are going below freezing before sunset), and with high winds and low dewpoints, we may see temperatures of the flower buds and popcorns fall below 27-28 F early in the evening, and if these plant tissues eventually get below 20 F, that's it! There goes the first 7-10 days of picking. In other words, it may be worth trying sprinkling on top of row covers tonight to save these emerged flower buds and popcorns!
Figure 2. Row covers can work wonderfully under windborne arctic clipper freeze event conditions if the covers are DRY, but we are having some very bad luck today as the covers became soaked in the morning hours, and THEY MAY NOT DRY DOWN BY  sunset. Frozen covers confer minimal (IF ANY) cold protection.
For a row cover to be effective in cold protection of strawberry, it must be dry…
Unfortunately, this could be one of those nights when the row cover by itself is not helping much – if they are frozen all the way through to the strawberry canopy beneath.
A very concerned grower in Willow Spring just called me now, and we talked about how his first 10 days of crop could be at risk tonight if the covers freeze through, and nothing is done to restore heat to the plants tonight. If we get real lucky, the covers will dry down this afternoon, and with the very low dewpoints and high winds this afternoon, maybe, just maybe these covers will dry out!!
What sprinkling on top of 'already frozen' covers may accomplish…
By sprinkling over top of covers, you are effectively adding heat back into the ice blanket system. Without adding some heat back, it is quite possible that ice encased flower buds that have emerged from the crowns, and even some popcorns, will drop below what is called a critical temperature.
The critical temperature for a popcorn that is already encased in ice, is about 27 F. If that same popcorn were not already encased in ice, it could successfully cool under the covers to a colder temperature (this is called supercooling). But, when the covers are frozen solid to the the plant canopy, and its floral parts, you can forget the supercooling phenomenon. Losses occur at higher temperatures when the bud or blossom is encased in ice, as they might be going into tonight.
Thus, if your cover fails to dry out this afternoon because of all the rain today, then the real worry is that your buds and blossoms are encased in ice. If that is true, then we will see these become damaged at higher temperatures, than if these flower parts had stayed dry. With sprinklling on top of covers, we can actually add some heat back into the ice blanket system. The goal is to keep the emerged flower buds about 25 F and the popcorns above 27 F. When you sprinkle on top of a frozen ice blanket, which is what you might have going into tonight (thanks to some really bad luck with the weather today and all these rains), you will actually see the bud and blossom temperatures immediately "pop up" (usually to about 38 F after a short while). The reason the temperature actually rises this much is because there is a lot of ground heat – especially after yesterday's temperatures in the 70s. When water freezes there is a beneficial release of heat (called heat of fusion), and as long as you can keep sprinklers turning tonight, you will be able to maintain temperatures of the floral tissues above their critical temperature.
The problem with this strategy of sprinkling on top of the covers on a tough night like tonight, with winds in the teens and temperatures possibly plummeting into the upper teens, is with keeping your sprinklers turning. Many sprinkler systems will freeze up rather quickly, and it could be very hard to get them running again. I would have to say that if you don't have a lot of confidence in your sprinkling system, you are probably better off not even thinking about trying to run water tonight. Also, if you do not own a digital thermometer for taking blossom temperatures directly in the blooom, you should not consider this technique. Without a digital thermometer you really have no idea how the patient is doing?
The goal is to not allow the popcorns to get below 27 F tonight, and the emerged flower buds need to be kept in the mid-20s. The only way to determine whether or not your plants are getting enough heat (from the sprinkling) is to have a hand-held digital thermometer with a thermocouple wire that inserted right into some blossoms beneath the row cover(Fig. 3).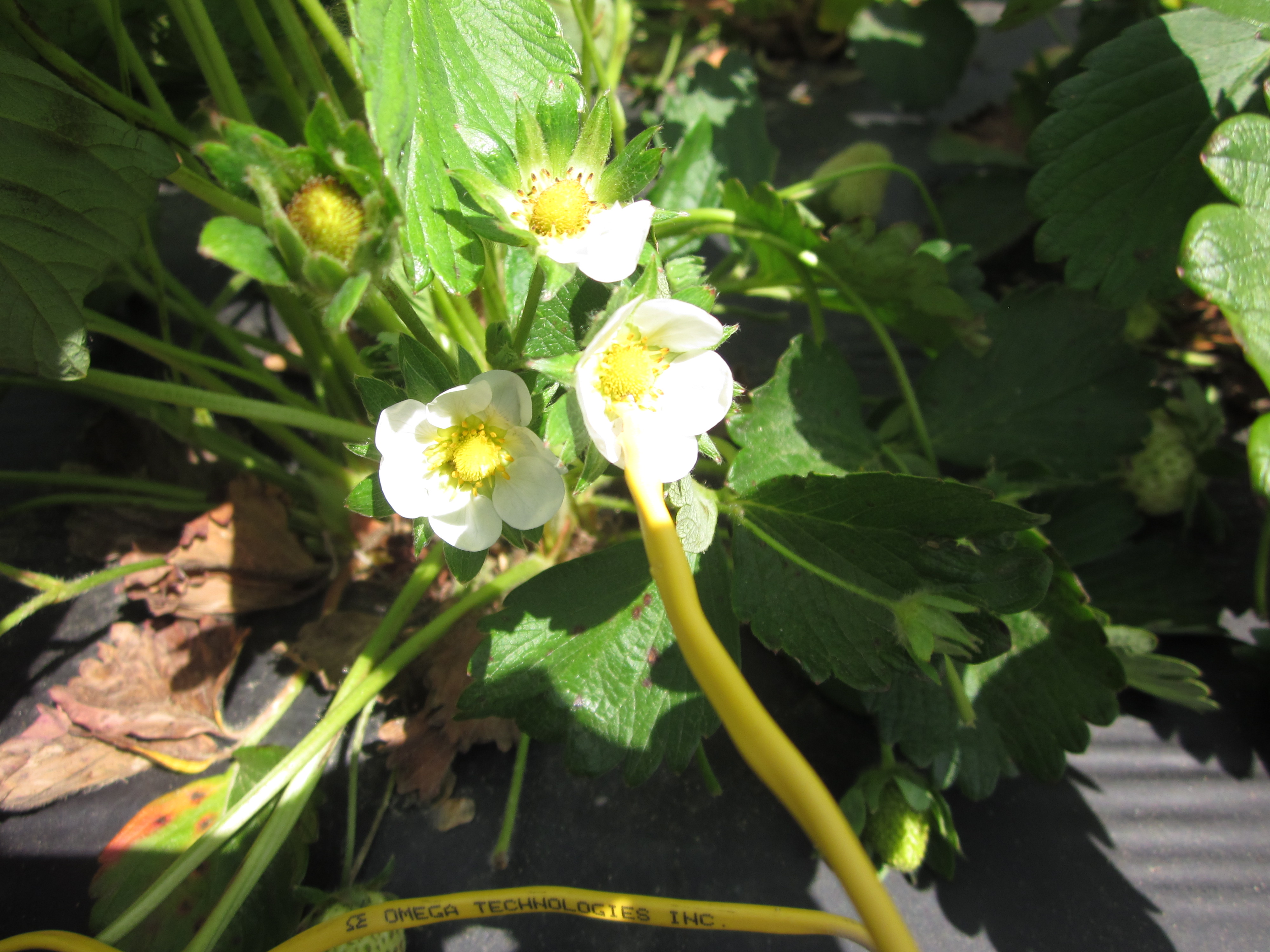 Fig. 3. The temperature reading on the digitial thermometer from this bloom can guide ALL OF YOUR CRITICAL DECISION-MAKING WHEN RUNNING SPRINKLERS ON TOP OF COVERS. WHEN THE POPCORN STAGE GETS BELOW 27 F, THERE IS A GOOD CHANCE IT WILL BE KILLED IF IT IS ALREADY ENCASED IN ICE. THE EMERGED FLOWER BUDS MAY BE KILLED IN MID-20s. By inserting the thermocouple wire into flower buds, you can personally monitor "the patient" tonight, and when the temperature starts going below these critical temperature levels, there is a good chance you will lose the patient. Sprinkling water on top is an effective way to return heat to the system. With row covers on top of the crop, the fact that winds will distort the distribution pattern of the sprinklers is really not as big a problem as when sprinkling without row covers.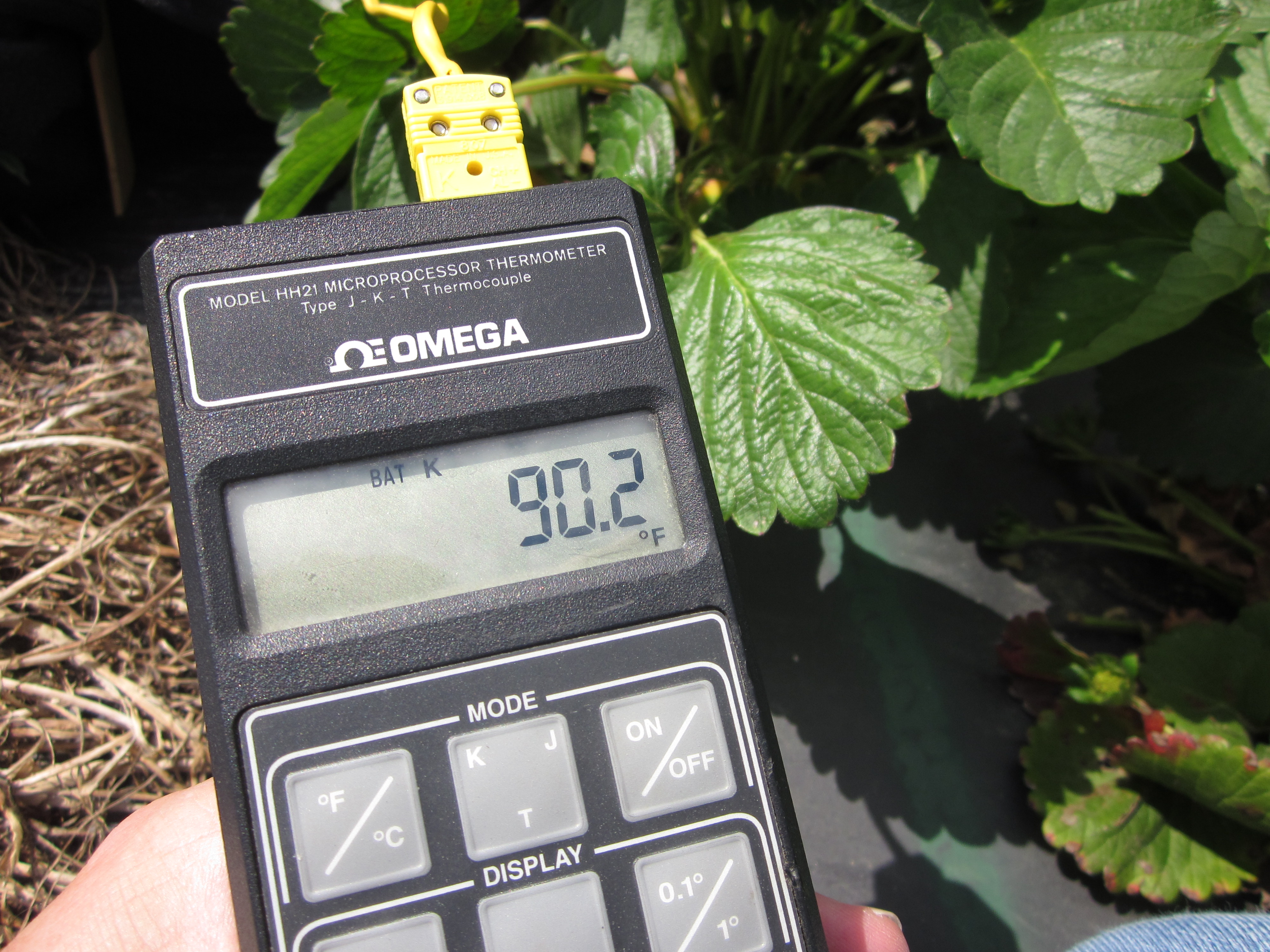 Fig. 4. This is the Omega Digitial Thermometer Model HH21 that has been used by seasoned strawberry producers for both cold and heat protection – this technology has been talked about at numerous meetings over the last 20 years. It is nothing new. By monitoring the blossom temperatures with this instrument tonight, you will know whether or not you are winning or losing the battle! In this photo, we are using this instrument for evaporative cooling. Tonight, this instrument is essential to monitor the temperatures of buds and blossoms beneath the covers.<apologies for not locating a photo with the Dig Therm not showing a freezing temp – this was done in early May this past year during an evaporative cooling cycle>.
Bottom line:
If popcorn blossom encased in ice fall below 27 F, they will be killed. SO, you must run enough water through the night to make sure that doesn't happen. Yes, cycling of irrigation can be very effective. I am aware of times when growers have "lost" their sprinkling system for periods from 1 1/2 to 2 hours, and they were still able to save their crops. That is one of the great things about the ice blanket protection system – you don't lose your crop instantly, like you would with just irrigation alone on a cold windy night like tonight (sprinkling alone is absolutely NOT RECOMMENED – IT WOULD PRODUCE DISASTROUS RESULTS UNDER THESE CONDITIONS).
IN SUMMARY

I have been having some very serious discussions with growers around my region (Raleigh-Willow Spring- Clayton- Smithfield) TODAY, and we have concluded that tonight it may be worth sprinkling on top of the row covers, like you see being done in Figure 1, TO PROTECT NEW POPCORN STAGE BLOSSOMS AND LARGE EMERGED FLOWER BUDS. IF THE POPCORNS AND FLOWER BUDS BECOME ENASED IN ICE TODAY AND DON'T THAW OUT BEFORE SUNSET, THEN YOU ARE BASICALLY DEALING WITH A FROZEN ICE BLANKET. In this situation, you may be have been better off with no row cover at all! A wet/frozen through row cover is pretty useless! For row covers to work, you need to have a DRY COVER.
What to do? You can sprinkle on top of the cover to add heat back into the ice blanket system, as we did for the Easter freeze of 2007. This technique can be very successful in windborne freeze conditions.
For the ice blanket approach to work, you need a top notch sprinkling system, and you also need a digital thermometer to closely monitor bloom and bud temperatures all through the night. You really cannot tell if the sprinkling is helping or not with a digital thermomer and thermocouple wire that is inserted right into the blossom or bud.
When an ice encased popcorn drops below 27 F, it will be killed
When an ice enclosed tight flower bud gets below mid-20s, it may be killed
With temperatures going into low 20s tonight, and colder, both ice encased popcorns and ice encased larger flower buds will likely be killed
Saving the popcorns and larger tight buds can keep your crop on schedule – losing them will reduce your yield and your opening could be delayed by 7-10 days.
You will definitely need extra labor to work with you tonight to knock ice off nozzles, as there is an excellent chance they will freeze up.
I have seen growers come through a situation like this as long as they could get their sprinklers "going again" – you may have up to 1 1/2 – 2 hours to get the irrigation running again — monitor bud and blossom temps with your digital thermometer to know how critical the patient may be
Good luck!
Barclay Poling
p.s. I once heard an extension specialist I worked for as a graduate student at Cornell in the 1970s say, "We're only as good as our research," and I often remember that remark in times like these. This whole approach of using row covers with sprinkling was developed at the Clayton Central Crops Research Station a number of years ago by Wallace Baker, John Earp and myself. We were very pleasantly suprised to learn how well we came through a severe arctic clipper (like this one), by using this technique of sprinkling on top of the covers. I am aware of growers in TN who have used this approach in temperatures that fell into sigle digits. Sadly, if you don't own a digital thermometer to monitor the blossom temps under the row covers, you cannot be very precise in managing this already very tricky program. Maybe this experience will finally convince you to get one?
p.s.s. The question always comes up when to start under a situation where the row cover is already frozen at sunset, and I would say go by the digital thermometer reading!! If an ice encased popcorn is approaching 27 F, you are already in trouble. I just spoke with a grower about starting his first irrigation cycle tonight around sunset to make a good ice coating (trap as much ground heat as you can), and to keep it running until the winds and cold "freeze up" his irrigation system. Go ahead and get your crew together to knock ice off the nozzles and try to the sprinklers running again withing 1 1/2 – 2 hours at the most. ALWAYS KEEP THE SPRINKLERS RUNNING AS LONG AS YOU CAN – I AM NOT A BIG FAN OF CYCLING.
SUNSET IS ABOUT 6 p.m. TONIGHT, BUT YOU WILL NOTE THAT AT THIS LOCATION, THE AIR TEMP WILL BELOW FREEZING BY 7 p.m. HOWEVER, THE WET BULB WILL BE ONLY 26 AT THIS HOUR, AND THAT IS DANGEROUSLY COLD. BY MAKING YOUR FIRST IRRIGATION RUN AT 6 p.m. YOU WILL NOT RISK DAMAGING THE FLORAL TISSUES AT THE OUTSET (CALLED THE COLD JOLT). THAT'S RIGHT, YOU WILL NEED TO START IRRIGATION AT NO LATER THAN SUNSET AT THIS LOCATION.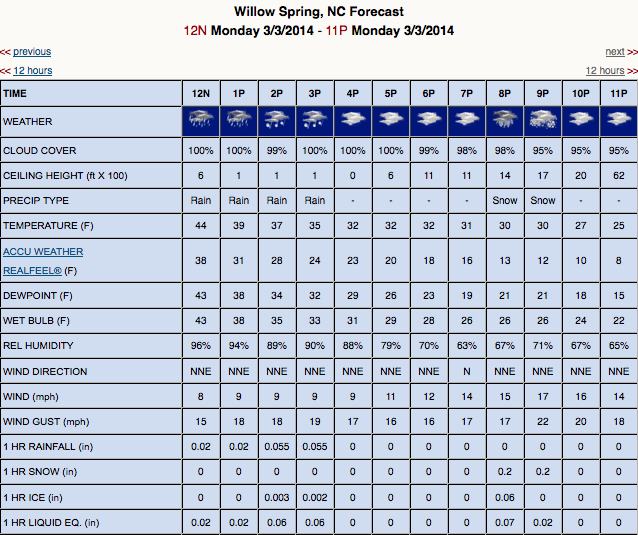 IN THIS NEXT TABLE YOU CAN SEE ON AN HOURLY BASIS WHAT MAY HAPPEN. THE ABSOLUTE LOW IS 14 F – THAT WILL DO EXTENSIVE DAMAGE TO EMERGED FLOWER BUDS FOR SURE. WINDS ARE GOING TO BE A SERIOUS CONCERN TONIGHT, BUT THESE WINDS ARE NOT REPRESENTATIVE OF WHAT WINDS WILL BE DOWN AT CROP LEVEL, AND A GROWER MUST BE VERY CAREFUL TO NOT PUT TOO MUCH STOCK IN THESE WIND SPEED TABLES. IT MAY BE AT CANOPY LEVEL THE WINDS ARE MUCH LOWER. SPRINKLER DISTRIBUTION PATTERN IS NOT A BIG ISSUE WITH THIS COLD PROTECTION APPROACH BECAUSE OF THE ROW COVER. THE KEY IS TO USE YOUR DIGITAL THEMOMETER TO MONITOR FLOWER BUD AND BLOSSOM TEMPS BENEATH THE ICE BLANKET. YOU WILL BE SURPRISED AT HOW WARM IT WILL BE UNDER THE COVER TONIGHT AND TOMORROW MORNING IF YOU CAN KEEP THE SPRINKLING RUNNING FOR AS LONG AS POSSIBLE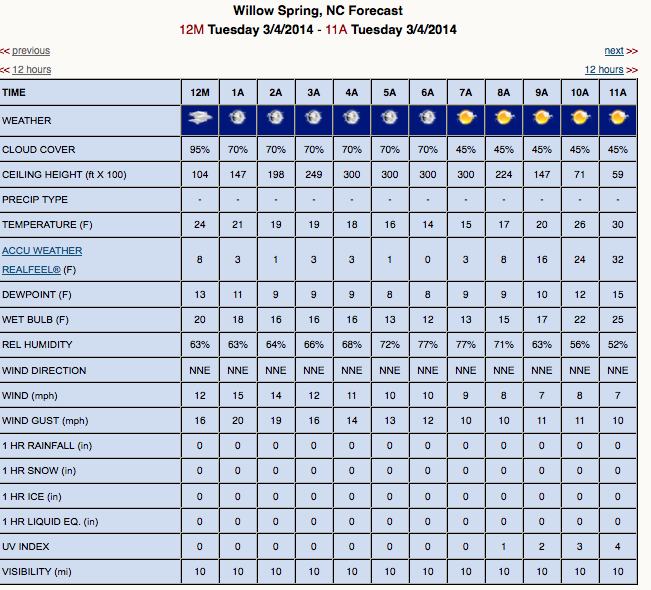 More reading on cold protection:
Dr. E. Barclay Poling
Retired Small Fruit Extension Specialist
& Professor Emeritus
Department of Horticultural Science
Campus Box 7609, 162A Kilgore Hall
NC State University
Raleigh, NC 27695-7609