Just a Few Quick Notes on Field Sanitation, Botrytis Program, Etc. & Grower Reports (March 4, 2014)
In this issue…
1. More reports from last night's freeze

Mike Wilder, Agronomist, NCDA & CS
Report from Tom Baker, VA Beach (row cover only)
Ashley Porter, Willow Spring (row cover only + row cover and irrig)

2. Growers resume clean up chores
3. Probably well to keep cover on for one more day!
4. Have you sent your 'dead blossom' sample to Clemson?
Good morning again,
Several of us have been up since pretty early this morning, but I just spoke with a grower in Sandhills who was renewing his NCSA membership (for a short period of time, you will reach me if you are renewing), and he has had his covers on since Thanksgiving (Camarosa). So, we discussed when he should remove the covers? Please see the section, PROBABLY WELL TO KEEP COVER ON FOR ONE MORE DAY. But, I took a quick look at his AccuWeather this morning (Carthage) and I noted he could be down around 28 F tomorrow morning, so we decided to leave the covers on until Wed. morning (tomorrow) –  then the covers will finally come off, as they have a lot field sanitation work to do, including pulling branch crowns from out under the covers!
More Reports from Last Night:
Barclay,
Here in Bunn at 6 a.m. my thermometer at 5′ (open area, relatively high elevation) read 15 degrees. I hope row covers plus supercooling protected the popcorns as you mentioned. I'm committed to several meetings, conference, other duties throughThursday. I have blocked out all of Friday to visit as many strawberry fields as possible. I'll let you know what I find – hopefully good news!
mike
Editor's note:  our CONGRATULATIONS to Mike Wilder for his recent election to the NC Strawberry Association as an ADVISOR!
Maybe not so bad??
Morning assessment time!
Our low last night at Pungo was 22.1 about 2 a.m.; near the same, perhaps a fraction of a degree colder at Chesapeake (WUnderground observations).
"Wet row covers?"  I'm not so sure they were wet!
We had very, very little "liquid rain" yesterday before the air temp dropped below freezing. AT NAS Oceana (11 miles north), the precip was recorded for three hourly readings as "mist", not even "drizzle," zero amount in the gauge. The 1 p.m. observation was "rain/sleet," temp 31F. "Snow" was the observation for the next eight hours with temps falling slowly to 23. I'd say it was about the same, precip-wise, "down" here at Pungo.
At Chesapeake Regional (little tiny) Airport, CPK, about 11 miles WSW of our Chesapeake farm, it was similar:  10 a.m. "drizzle," 11 a.m. "rain," (zero recorded in their rain gauge), noon "wintry mix" temp 32, then snow and colder, colder, colder.
So I think we dodged the bullet and our row covers were, at worse, a little damp but not wet! I know many others were not so fortunate.
Tom
Tom & Anne Baker and Amanda McCann
Brookdale Farm
2060 Vaughan Rd, Virginia Beach, VA  23457
In case you missed it, Ashley Porter, Willow Spring (low of about 15 F)
8:27 a.m. – Ashley Poter, Willow Spring, NC (grower ran water on top of covers)
Before starting to irrigate yesterday (late afternoon), the tops of his covers were frozen by the sleet..about 2/10 inch
Ashley primed his pump at 4:30 (a good practice the night before any cold event), but what happened next was sort of surprising – ice was being made almost right away…and noted that ice was being made almost right away, so he elected to just keep it running. Fortunately, he never lost the system! He saw the blossom temp under the cover rise to 38 F almost right away
8:30 p.m. digital thermomenter report (thermocouple inserted in bloom)- row cover only 30.5 F; irrigation on top of cover – bloom was a still as toasty 36.0 F; 25 F air temperature at 8:30 p.m.
He irrigated on top of covers all of last night (1.25 oz cover. During the middle of the night he had to beat ice off the nozzles about every hour, and he said, "I never saw ice like that before (while irrigating)".
1 a.m. – readings were 27.1 under cover; 37.6 row cover + irrig; 19 F air (Editor note: that's a nice 8 F protection under the 1.25 oz cover)
The air temp. minimum for Willow Spring this morning at 5 a.m. was 16.2 F
At 8:45 a.m. he  shut down the irrigation on top of covers because the reading was 44.1 F; the blossoms under the row cover and no irrigation were 33.7 F
He will have to keep running irrigation this morning on 3 outer rows where he did not have row covers (irrgation only), as the wet bulb is dangerously low this morning –
TOAST:  Ashley said he could see the open blooms beneath the covers were toast; but no loss with sprinkling on row covers
THESE WERE REMARKS I MADE YESTERDAY ABOUT DOING SPRINKLING ON TOP OF COVERS:

You can sprinkle on top of the cover to add heat back into the ice blanket system, as we did for the Easter freeze of 2007. This technique can be very successful in windborne freeze conditions.

For the ice blanket approach to work, you need a top notch sprinkling system, and you also need a digital thermometer to closely monitor bloom and bud temperatures all through the night. You really cannot tell if the sprinkling is helping or not with a digital thermomer and thermocouple wire that is inserted right into the blossom or bud.
When an ice encased popcorn drops below 27 F, it will be killed (that is what prompted our interest in doing the sprinkling on covers – as it turned out the covers were not frozen to the plants last evening before sunset). When an ice enclosed tight flower bud gets below mid-20s, it may be killed
With temperatures going into low 20s tonight (actually went to 15 F and broke all records), both ice encased popcorns and ice encased larger flower buds will likely be killed (in addtion, all open blossoms will also likley be killed at these very low temps, but if they go into the night dry, it is possible to see open blossoms that are not in direct contact with the row covers survive)
Saving the popcorns and larger tight buds can keep your crop on schedule – losing them will reduce your yield and your opening could be delayed by 7-10 days.
You will definitely need extra labor to work with you tonight to knock ice off nozzles, as there is an excellent chance they will freeze up. You may be up every hour "knockig off ice"
I have seen growers come through a situation like this as long as they could get their sprinklers "going again" – you may have up to 1 1/2 – 2 hours to get the irrigation running again — monitor bud and blossom temps with your digital thermometer to know how critical the patient may be. Fortunately, the grower did not lose his system during the night, and I respectfully submit that a power outage can cause a serious setback whenever using irrigation for cold protection…the advantage of using row covers and irrigation both is you have a grace period to get the system running again that you don't have with straight irrigation…some growers in NC actually use covers and irrigation both in the early season b/c of fear of power outage with sprinkling! (apprecation to Clyde Gurosik for that excellent pointer)
In case you are interested in getting a hand held digital thermometer..https://strawberries.ces.ncsu.edu/2009/12/mauris-sed-leo-aliquam-aliquam/

Additional information about the digital thermometer (prices are not current – call them)


Manufacturer:  Omega Engineering Inc., 1-800-826-6342

Model and components required:

1. Handheld digital thermometer Model HH 21 (a quality unit that can handle Type T thermocouple wire), about $165.

2. Miniature connectors, SMPW-T-M, $1.75 each (Get  5 or 10 of these, depending on how many blossoms you wish to sample.)

3. Type T teflon-coated thermocouple wire (Allow about 10 feet for each blossom sampled. Ten blossoms require 100 feet of wire.)

~ TT-T-24-50 — $34 for 50 feet of 24-gauge wire.

~ TT-T-20-100 – $67 for 100 feet of 20-gauge wire.
So, how did your crop fare?
–> Just heard from Rudds:  "Probably about 17 degrees here at the Hicone Road farm."  (Greensboro)
–> very happy that Ashley Porter could share such valuable information with us all on a very challenging evening! I will be out to visit his farm and assess on Thursday this week.
2. Growers resume clean up chores ASAP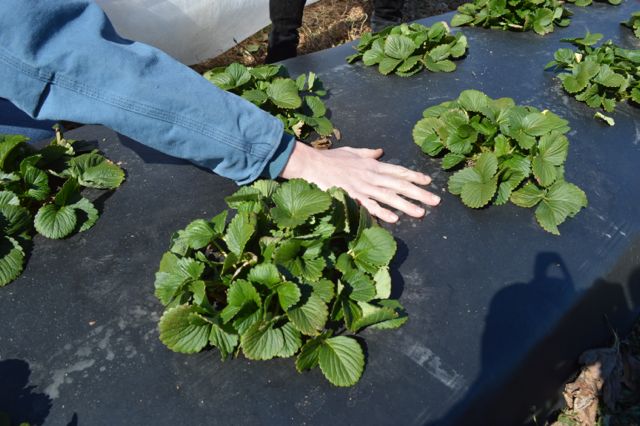 Fig. 1. This is a very nice Camarosa plant that has been recently "cleaned up" – these plants had 7-8 branch crowns (VA Beach – this was under row cover since 1/7/14 until time of this visit on 2/27/14)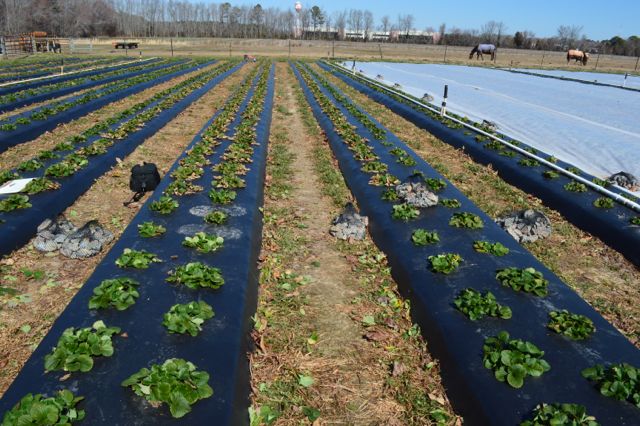 Fig. 2. In the foreground you can see the row covered Camarosa plants that had also been "sanitized";  to the rear of my camera bag are Cams that have not been "sanitized" as of the 2/27 visit (Pungo, VA)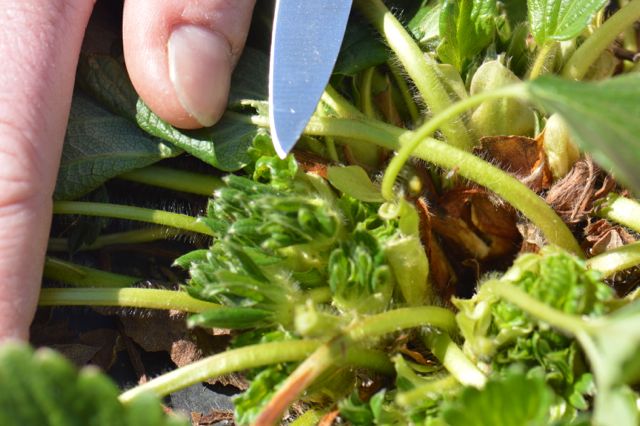 Fig. 3. Growers are really lucky the crop has been delayed somewhat this year vs. other years when it was much much further along, and a freeze like the one we had this morning would have been absolutely devastating!! Remember March 2009? We had a similar weather scenario like this one, except the crop was way ahead of where we are now. so, while you are doing your field clean up today and tomorrow, you can also use this as an opportunity to check your crop out for cold damage. Just "pluck out" some of those "tight flower buds" at just the top of the crown. And, then use your thumnail to check out the inside of the bud…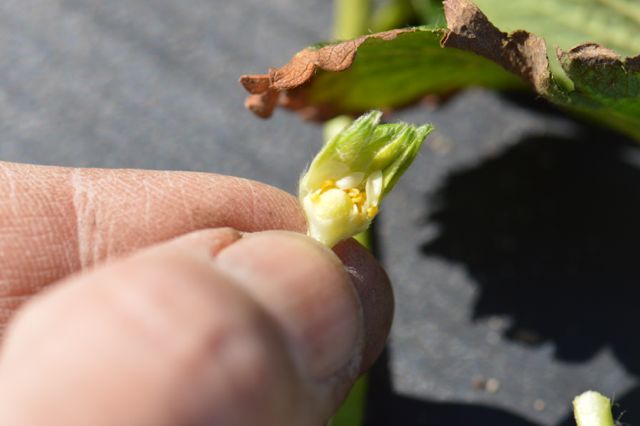 Fig. 4  If you see bright yellow in center, that's a sign of SUCCESS. This tight flower bud will go on and "make a berry"…one technique I use to instantly tell if a flower bud is alive or not is to simply squeeze the base of the bud between thumb and index finger, and if it feels firm and turgid, it made it. If the tissue "gives way to a little pressure" its dead. Don't believe me, go ahead and cut it (is it brown inside??).
Delaying row cover removal by one more day? Yup! A good idea, especially if the covers have been on for a very extended period…you don't want "jolt" the crop.
If you came through last night with live blossoms and popcorns, it may me a good idea to have row covers on for one more day with 27 F in canopy tomorrow morning. ….With some below freezing conditions again tomorrow morning (Wed), it may be well to leave covers on for tonight. Here is my 6:45 a.m. SkyBit for Clayton this morning – it shows a low of 19 F in canopy and that it will be 27 F tomorrow morning!!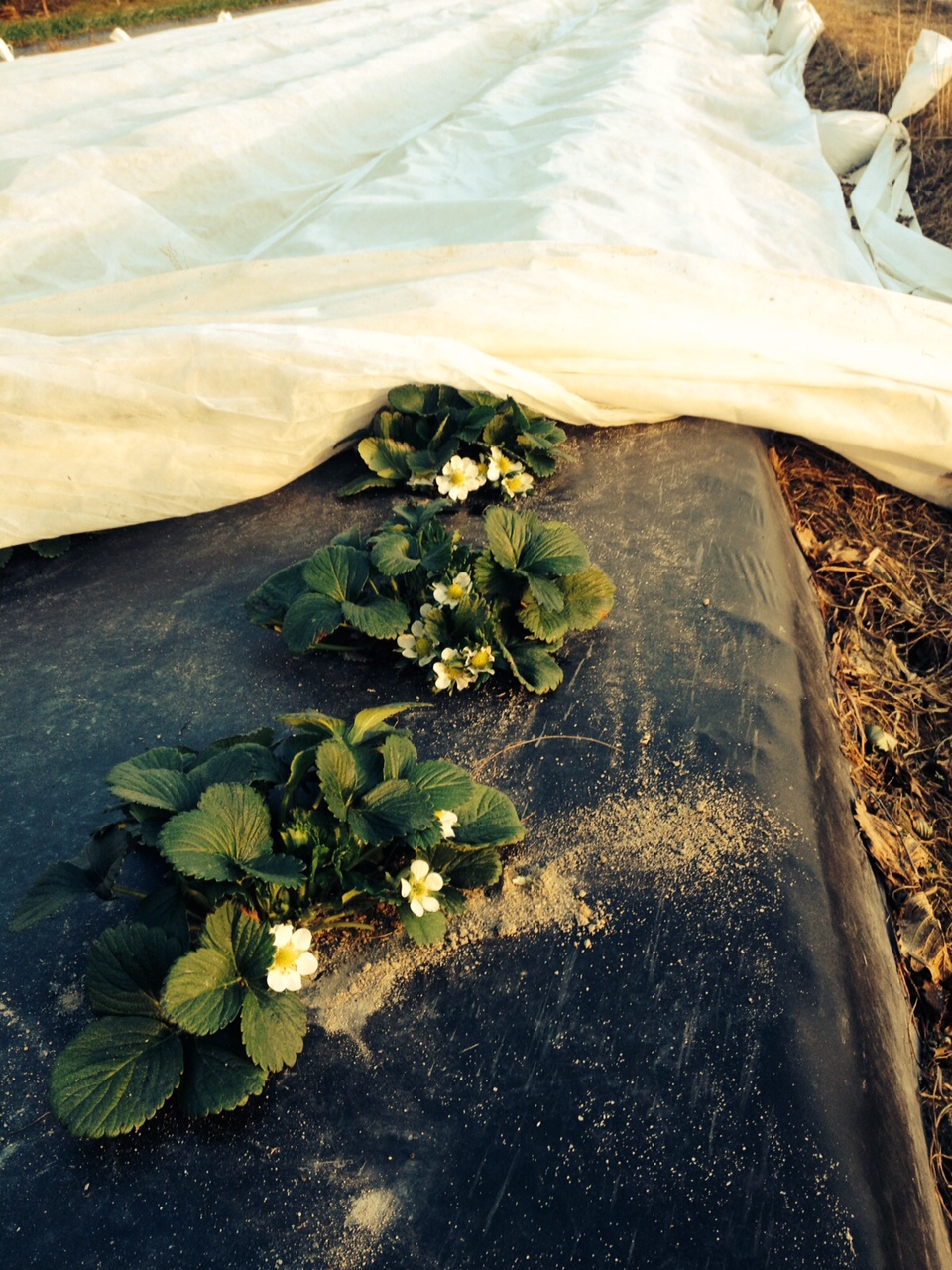 Fig. 5. If your blossoms look like this today, CONGRATULATIONS. Whatever your protection system, it worked! But, there could be one more night to go!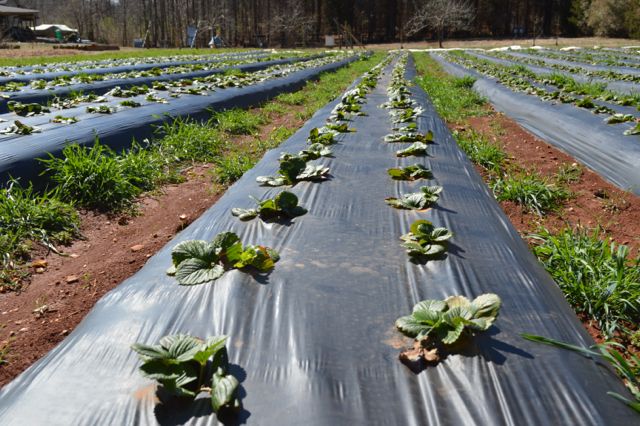 Figure. 6. Time has almost run out to pull up branch crowns "stuck" beneath the black plastic – see those bumps in plastic, that's a stuck crown!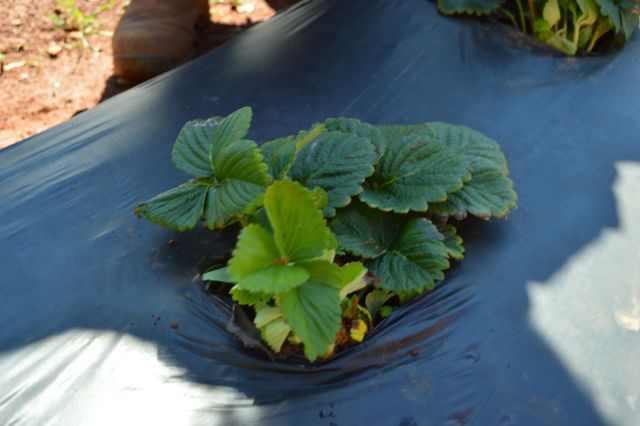 Figure 7. A newly rescued branch crown (2/23/14, Burlington, NC)
Figure 8. Agent Mark Danieley assisting Alamance County grower on a recent Saturday in February.  336-570-6740 or mark_danieley@ncsu.edu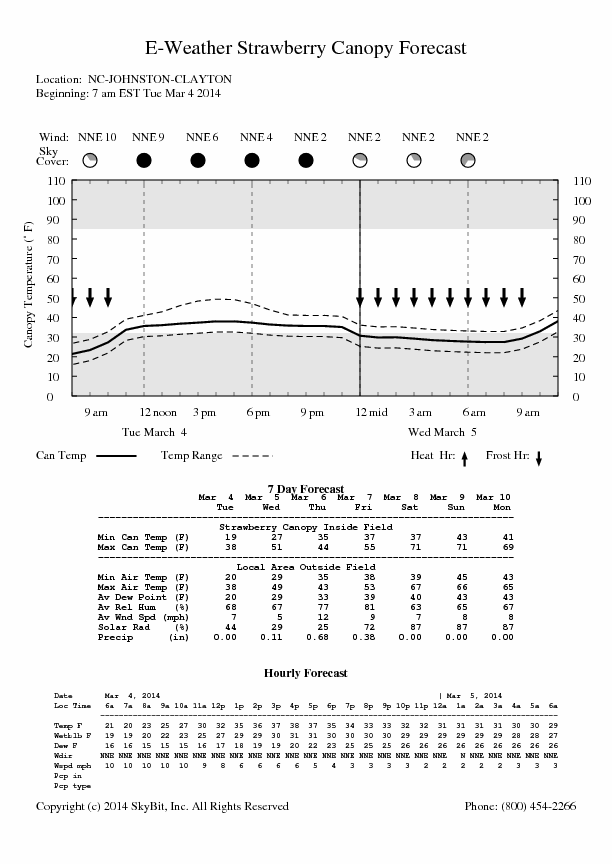 Rains?
At Clayton we will be partly sunny WED, increasing clouds overnight,and RAIN in forecast for Thursday – maybe close to an inch. While temperatures are still going to be cool over much of the next 2 week period, the covers should not be needed for FROST. However, it is still up for discussion about how row covers may be needed in this early March period to get this crop growing again! More on that later. For now, I would plan to get the covers off to complete winter sanitation chores. I will run some GDD calculations later today and see what kind of track we may be on. The long range OUTLOOK issued this past Monday for NC-VA-TN-SC indicates, " below average temperatures for March. Still expect frequent passages of low pressure systems and cold fronts through the region."
(p.s. I'd like to say it again, how much our industry appreciates all the growers who chipped in to keep these advisories going…I also "get"
that a lot of growers are very stretched this season due to an unprofitable season last year b/c of bad plants, rains, etc. I have had two calls in last day of folks who are not renewing their NCSA membership b/c they have given up on strawberries! It is becoming more obvious to me by the day how LOW PROFITS associated with this crop over the last few years is a really BIG ISSUE. One thing for sure, we all need a good season. I am happy to say that there are NO disease issues in this year's crop like last year). 

Starting up N injections?
Yes, now is def. the time to get underway! Here is something I wrote up few years ago with help of David Dycus. Also, I agree with Mike Wilder on the point about feeding rates for Camarosa being less than Chandler (
berry mg-fertilityMarch 17 2009-update31111
Botrytis resistance issues…
I am really really surprised as to all the resistance that Dr. Schnabel's lab is finding this year. Here is a quick sampling of recent reports (truly amazing):
Hi,
Attached is the fungicide test results for your farm.
According with the samples you sent us we found that Topsin M, and Rovral were ineffective, so please, don´t use them for a period of time (especially Topsin M).
If you want to use Scala, I recommend you to tank mix with captan.
Elevate, at the moment, should work well, but I recommend you to use Captevate instead of Elevate. Captevate has the same active ingredient of Elevate and it is combined with captan.
The rest of the fungicides (Switch, Pristine, and Fontelis) should work well in your farm.
Topsin M was totally ineffective in all samples tested (weak plants, camarosa, and camino real) so please, don´t use this product any longer.
-For weak plants samples: We detected few isolates resistant to Elevate, so if you want to continue using this active ingredient, it is better as Captevate. The rest of the fungicides should work well.
-For camarosa samples, all fungicides should work well.
-For camino real samples, Elevate and Rovral are starting to be ineffective, so please, use the rest of the fungicides as Switch, Pristine, and Fontelis that should work well. I recommend use Scala in tank mixes with captan.
Sending your "dead blossom" sample to Clemson NOW: 2014 collection instructions (1)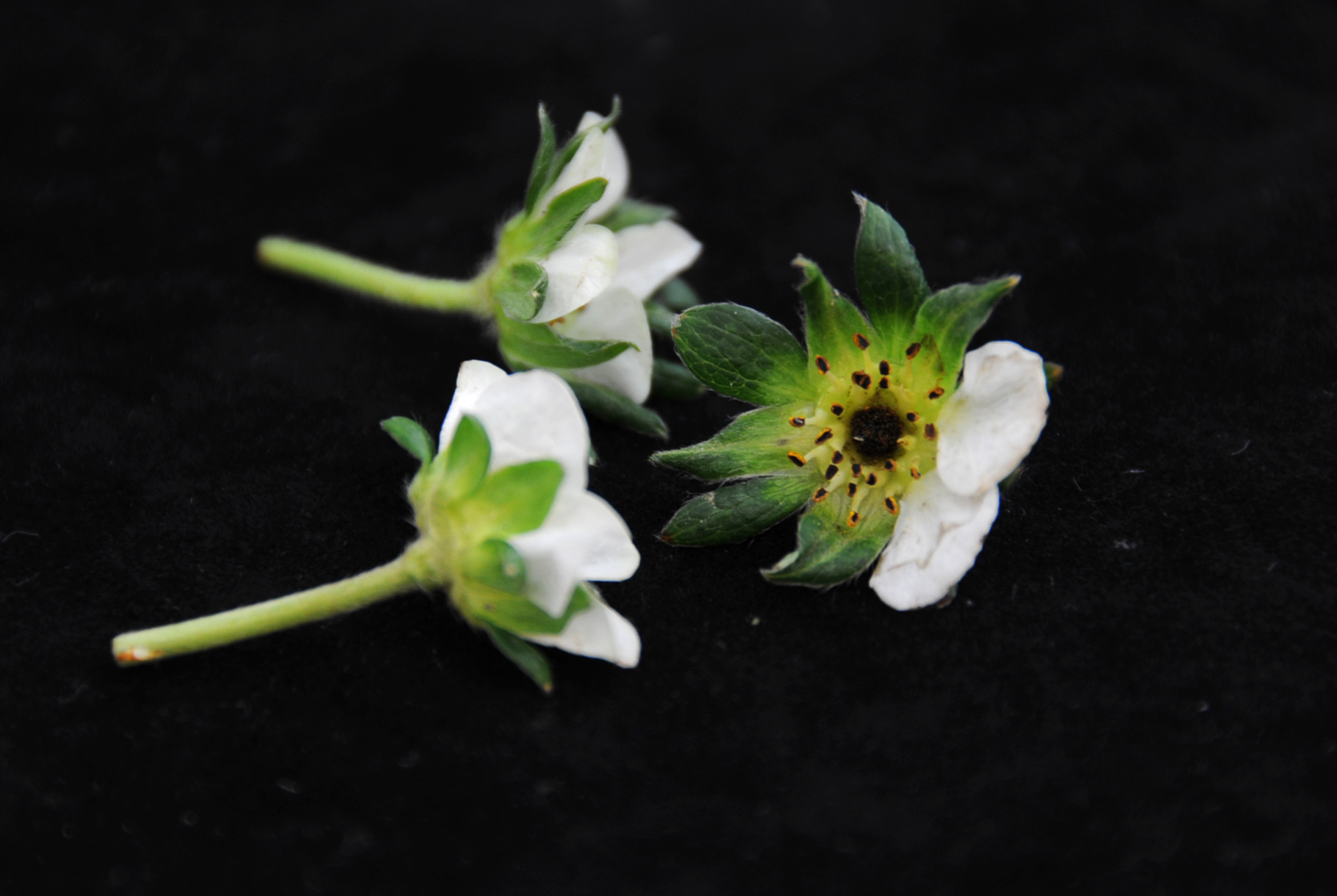 Weeds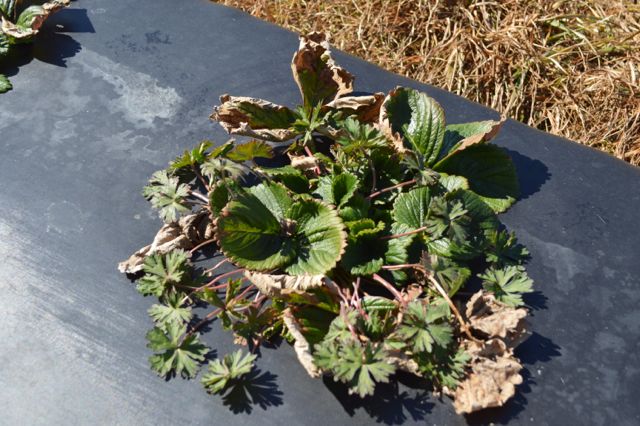 Fig. 6. Unfortunately there are few options other than hand removal for weeds at this point in season. If you have vetch, you can investigate possible use of Stinger in states with label.
For assistance on weed related questions:  kmjennin@ncsu.edu
Dr. E. Barclay Poling
Executive Director, NC Strawberry Association Inc.
& Professor Emeritus (Strawberry Plasticulture Researcher)
Department of Horticultural Science
Campus Box 7609, 162A Kilgore Hall
NC State University
Raleigh, NC 27695-7609