Getting Row Covers on in Advance of Rains on Wednesday? Some Growers Will Wait Until Thur. afternoon(March 11, 2014)
Quick update at 5:18 p.m.:  I was asked today about pulling the covers over the crop today in advance of rains tomorrow (Wed) in anticipation of a cold event Friday morning, and I answered in the affirmative (that it would be ok to get the covers on today). But in looking at the rainfall amounts for Wed (light) and the need for many growers to still get a lot of field work done  (mostly last-minute leaf sanitation, pulling through 'stuck' branch crowns, weeding around the plants, killing back the annual ryegrass in aisles, applying 1st funigicide, injecting fertilizer and pulling leaf tissue samples), it may be fine to simply wait until Thursday afternoon to pull the covers back over the crop.  Row covers will be needed for the cold event coming Thur night/Friday morning.
Good afternoon!
It climbed to 80 F today in Raleigh, and the crop just seems to be leaping ahead today! The highs may be around 78 F tomorrow in Raleigh area. We will also see light rains tomorrow. But, at Clayton we are only looking at  0.1 inch. Some areas will get more rain – maybe 1/3rd inch? Nonetheless, my feeling is that even if a rolled up cover gets up to 1/3rd inch tomorrow, it should be dry enough for handling on Thursday afternoon.

We once had a rolled up row cover at the Salisbury Research Station get about that 0.3 in. while it was rolled up, and by the next day it was dry enough to handle. If this was going to be a soaking rain tomorrow, then I would consider getting the covers on by this evening for the cold event Friday morning. But, as I said, we are probably only dealing with light amounts of rain tomorrow. Nonetheless, many growers did "cover up today" in anticipation of Thur night/Friday morning cold event, and Eric Hunter in Easley, SC, did take the opporunity to cover up today. Here is what Eric wrote earlier this afternoon:

Hey Dr. Poling,
I am astonished at our plant development over the past week. Of course, this all goes back to having the row covers on for 10 days a couple of weeks ago. A week ago, after uncovering, I wrote and told you that I suspected we are at 5% bloom. Since then, we are easily at 10% or more. We have some plants with 8-10 blooms. And again, we have some plants with just one or two. The Chandlers have just grown mightily the past two weeks. We made our first fertilization this past weekend, and I made the first spray (Captan) this morning.
My plans were to cover today ahead of some rain tonight and tomorrow, followed by 2-3 nights of mid 20s with high winds. Our temps are suppose to reach 80 degrees today. I am afraid that if I cover too early, we may see some seriously high temperatures under the covers (1.5 ounce covers) that could be damaging to the blooms as well. So, we are going to wait until late afternoon/early evening to begin covering. No worry about trying to trap heat in this afternoon.
I can't remember having such a roller coaster with temperatures.
Thanks,
Eric

GDD accumulation – warm weather is helping a lot!

| | |
| --- | --- |
| Easley SC | |
| | Jan 1-Mar10 |
| 2014 | 91.5 |
| 2013 | 99.5 |
| 2012 | 187 |
| 2011 | 122 |
| 2010 | 45 |
| 2009 | 201 |
| 2008 | 71.5 |
| ave | 116.8 |
I checked the GDDs for Eric's farm through yesterday (79.5 GDD), and then added 12 GDD for today, so he is now at  91.5. This is very close to last year! That is good news.
A special feature of SkyBit is hourly wet bulb temperature in table at bottom – this is helpful for growers who will be using sprinkler irrigation this Thursday/Friday for cold protection.
I am including these SkyBits as a reminder that this product now features an hourly table at the bottom with information on Wet bulb temperature. You will need to know the wet bulb on Thursday afternoon (March 13) if you are planning to just use sprinkler irrigation (without a cover), for cold protection on Friday morning. We are dealing with a somewhat unusual cold event on Friday where dew points will be quite low and winds will be very high at the beginning of the night. This means that growers using sprinkling will "have to start early". I know it sounds ridiculous to have to start irrigation up when the air temperature is only 39 F or 40 F, but on Thursday late afternoon and early evening we have a definite problem with dry air and winds, and to offset issues with 'evaporative cooling' (related to the dry air and winds), you must start sprinkling up before the wet bulb gets below 30-31 F. A new table will be published on Thursday morning (3/13) that will allow you to see exactly when the wet bulb will hit 30-31 on Thursday evening (it could be as early as 5 p.m. in some areas). Do not stop watering until the wet bulb is above 31-32 on Friday morning.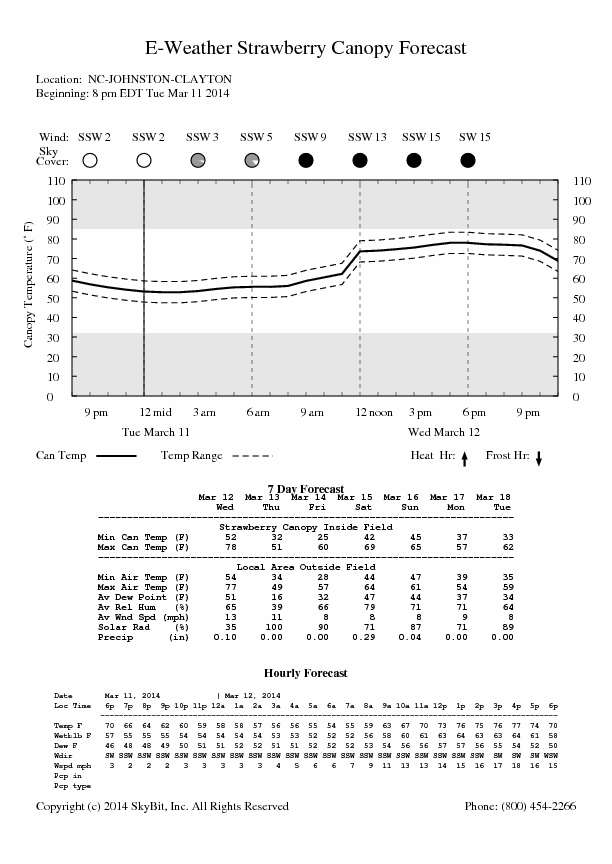 Favorable reaction to SkyBit (and advisories) so far…
Skybit has been working well for me this year. Using Lat. and Long. plus elevation has greatly improved it. The last 3 years have proven that there is no such thing as a average year. Even us old dogs[growers since 1966] have had to learn a few new tricks.Your advisories are just as important to us as Skybit.Thank you for all you do. Scot Luton       Roper,NC
Editor's note:  It has been a true challenge for me to keep up with all the changes we have seen in weather this season, and this week is no exception. Tomorrow I hope to have a little more time to re-visit the overall GDD situation for our region, and to make some further projections on possible crop ripening dates. We also have some important feedback on botrytis spray stategies that I will be sharing tomorrow.
——–
Have a great evening!
Dr. E. Barclay Poling
Interim Executive Director, NC Strawberry Association Inc.
& Professor Emeritus (Strawberry Plasticulture Researcher)
Department of Horticultural Science
Campus Box 7609, 162A Kilgore Hall
NC State University
Raleigh, NC 27695-7609
A pessimist sees the difficulty in every opportunity, an optimist sees
the opportunity in every difficulty.Winston Churchill, Prime Minister of England
cc