Crop Forecasting Paper From "Way Back" in the 1980s – B. Poling (3/17/14)
Crop Forecasting
Edited from articles by Aaron Goode, Chesterfield Berry Farm, and Barclay Poling, NCSU
Crop forecasting will help you know when to open and when the crop peak is likely to hit. This will help you target your advertising and other consumer outreach. The whole process is very easy and will require a small amount of your time every 3 to 4 days during the first few weeks of bloom.
By watching the development of the crop from the early bloom stage, you begin to get an idea about the size of the bloom itself and what fruit size to expect. This can be important in estimating your weekly production and fruit size. You will be more in tune with the crop as a result of these frequent field visits and it is more likely you wil detect any problem with a disease, insect, or mite pest at an earlier stage for best control.
After doing this for several years, says Aaron, he has been able to get a pretty good idea about whether the fruit production will be uniformly spread over a 6-8 week season or if 1/3 of the crop will ripen in a 10-day period.
Select 10 plants from an average part of the field that is in the open and not shaded by the woods. The plants should not have been injured by deer during the winter. If you have fields with different varieties or distinctly different conditions, you will want to treat them as separate blocks and do separate counts and recordkeeping on them.
Tag the plants. You can use any type of tags or markers to number your group of plants from 1 to 10. Aaron Goode likes to use small survey markers and just number them 1 to 10 with a permanent magic marker. Stick the numbered markers into the plastic right next to the individual plant hill. He recommends using 5 plants on each side of the row (east and west side of the bed on N-S running rows). If your rows are running E-W, it could be even more important to have 5 plants on each side of the bed to average out the effect of the winter sun's differential lighting of the north and south sides of the bed. He has found that a 10-plant block can be very representative of an entire field, and no more than one block is really needed unless it is a long field which is known to be warmer on one end. In this situation take bloom counts at both ends of the field (10 plants at each end).
Start counting and recording when your plants begin to show 1 or 2 healthy blooms.
Count the newly open blossoms every 3 to 4 days and record them on your worksheet. It is very important to stick with this schedule. I prefer every three days. Sometimes, depending on weather conditions, it is more difficult to identify the new blossoms from the old ones. To avoid this difficulty, touch a white petal on each blossom that you count with a black marker (my favorite is a RED FLAIR pen) When you come back in 3 days, it will be easy to separate the new from the older marked blossoms (see worksheet from Eric Hunter – at bottom)
Continue to count and make recordings as long as you have new blossoms opening that are healthy and will produce viable fruit (later in the spring, for example, in mid-May, blossoms may not be viable due to heat stress, botrytis, or powdery mildew. These fruit of these last blossoms is typically unmarketable because fruit size is less than 12 grams, 0.42 oz)
Next, project your harvest dates. Berries take about 30-35 days from flower to ripe fruit. They take longer when the weather is cool (early spring) than after it warms up. Collecting data for several years will help with this.
Estimate your expected harvest quantities. If you have an idea of the average size or weight of berry to expect, you can calculate an estimate of your harvest quantity. Collecting this information over several years will be very helpful. For example:
 3 flowers/plant x 15,000 plants = 45,000 berries
45,000 berries at 20 grams each (average berry weight in early season),  or 0.7 oz each. Thus, 45,000 x 0.7 =31,500 ounces or 1,968 lbs of fruit.
Or, you could figure the number of berries it takes to fill a quart, eg. if 25 berries to a quart, then 45,000 divided by 25 is 1800 quarts. Use whatever measure is most useful to you, whether pounds, quarts, baskets, buckets, etc.
Estimating labor needs
Berry size, plant habit, and fruit detachability influence how quickly and easily pickers can harvest the fruit. It takes longer to pick the same weight or volume of berries when the berries are small. It also takes longer when the picker has to hunt for them, usually early or late in the season, or if there are lots of overripe or diseased fruit on the plants
 The experience, skill and motivation of the individual picker also influences picking performance (lbs harvested/hour). Dr. Poling estimates that an excellent picker can harvest 8 flats (about 94 lbs) of Chandler in one hour provided that the Chandler fruit is large (greater than .75 oz) and plants are not overgrown with too much foliage. A picking performance of 4 flats/hour is common when berry size is smaller and fruit quality is less.

*If you want to calculate a different container, you can work from the Lbs/hour, e.g., to calculate buckets/hour
Typically berries are picked twice a week. It is generally ideal not to have workers picking for more than 6 hours/day. Below are some sample calculations for different harvest amounts and two different speeds of picking. If you picked 3 x week, but weekly quantity was the same, each picking would be smaller and fewer workers would be needed (though may be a bit slower because of hunting more)

                        The last line reads:  Number of Pickers Needed
From a Blossom Count done today by Eric Hunter, Easley, SC
Now is the time to get started if you are seeing several nice blossoms on most plants.
Eric started his counting today, and this will need to be done again in 3-4 days (do this for about a month). For each variety you need to 'flag off" a small section of 10 plants (5 on each side of the row), and stick with the same plants once you start this up! Try to select a group of 10 plants that is representative of the crop.
Note that not all the plants that Eric recorded today had blossoms – this is very typical.
It was interesting to note that Chandler had an average of 1.7 blooms/plant (uncovered) vs. 2.4 blooms/plant (uncovered) for Camarosa. If we assume there are about 60 "good blooms" per plant, this would represent about 3% bloom in Chandler and 4% bloom in Camarosa. The covered Chandler have an average of 4.1 blooms/plant, and Camarosa 4.9 blooms, or 6.8% bloom and 8.1% respectively. The GDD accumulation (base 50) for this location was 110.5 GDD as of March 16th vs. 131.5 GDD one year ago. On this cold rainy day, it may be worth reviewing this Blossom Count and Crop Forecasting Information to see if this is something you might like to try this season? Maybe there is a young person in your family that would like to take this project on for the next month? I would definitely drop the information into an excel spreadsheet to help you assess when the crop will be coming and how much labor you will need?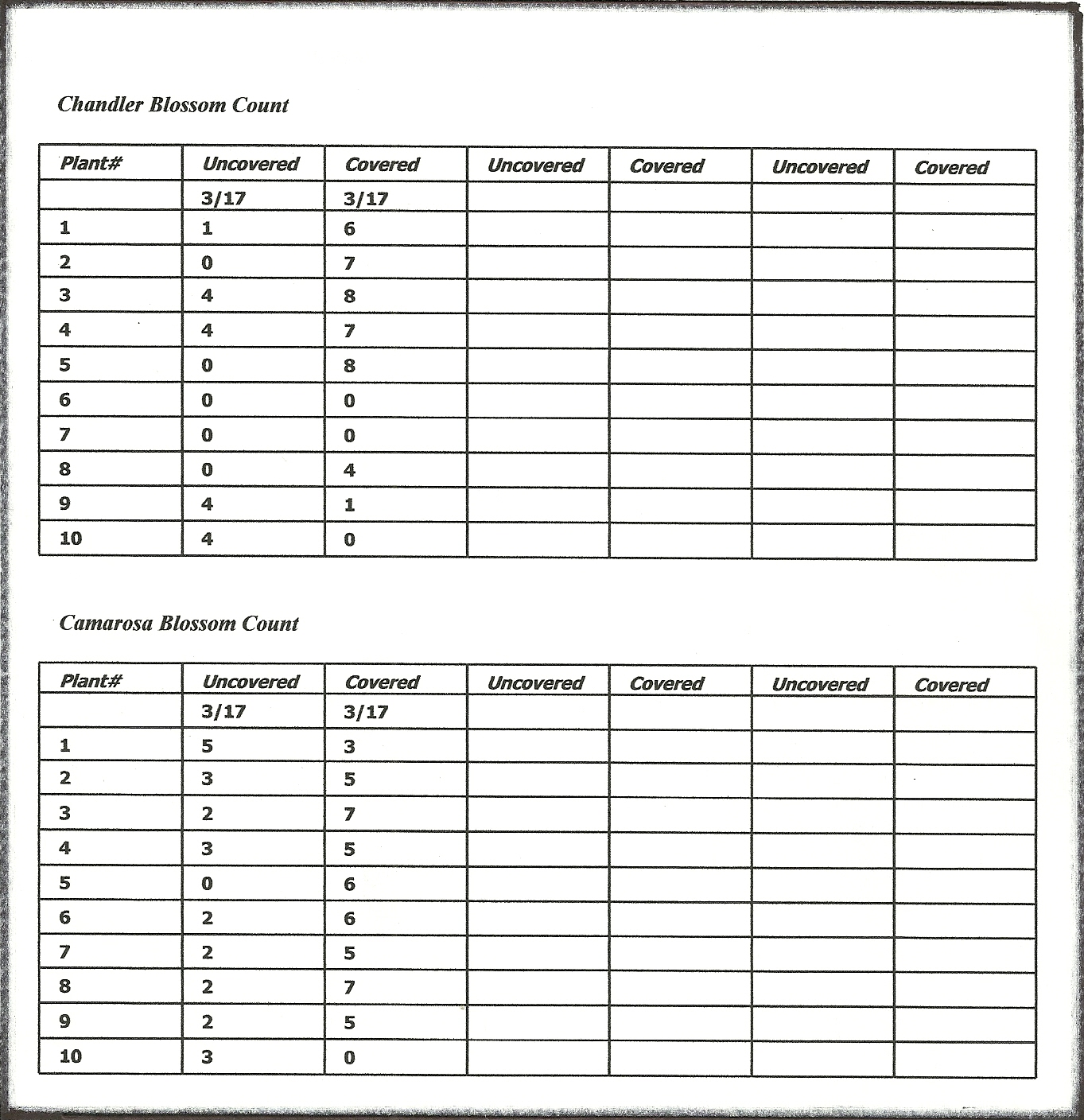 Converting the bloom data to practical estimate of fruit volume and picking labor
I went ahead and ran an example from Eric's Chandler data how this might play out in 30 days, or so, and learned that he might be harvesting about 2,700 lbs per acre on the block that had row covers (in about a month) vs. 1,116 lbs/acre for the block with no covers in Feb/Mar this year. If you workers can pick 50 lbs/hr, then you will need 22 hours to pick the crop of 1,116  lbs (uncovered) and 54 hours to pick 3,000 lbs (covered). With Chandler you want to try to keep this variety closely picked (it does not hold well compared to Camarosa), and so over a 2 day period with your average picker working 5 1/2 hours/day, or 11 hours over 2 days, then you would need 2 pickers to harvest the Chandler (uncovered), and about 2 1/2 times more labor to pick the covered Chandler in the covered areas.
Bloom Counts
10 Plants
Uncovered
Covered
Chandler
17-Mar
17-Mar
1
1
6
2
0
7
3
4
8
4
4
7
5
0
8
6
0
0
7
0
0
8
0
4
9
4
1
10
4
0
Sum
17
41
Ave
1.7
4.1
Ave berry weight (oz)
0.7
0.7
Ounces/pl
1.19
2.87
Plants/acre
15000
15000
Ounces/acre
17850
43050
Lbs/acre
1116
2691
Lbs Pick/hr
50
50
Hours pick
22
54
For Camarosa you will need even more workers! I also assume a larger average berry size for Camarosa (0.8 oz) vs. Chandler (0.7 oz). This is based on an assumption that the early season berries will be larger for both varieties. Recall that:  28.35 grams = 1 ounce. Early season Chandler may average 20 grams, or 0.7 oz. Later they drop down into the 16 gram range, or about 0.56 oz/berry. With Camarosa you can plan on generally larger average berry size — the 0.8 oz berry relates to an ave. berry weight of 22.68 grams, or 20 berries per 1 lb clamshell (16 oz, or 454 grams). If your berries are smaller in size, then be sure to adjust accordingly.
Bloom Counts
10 Plants
Uncovered
Covered
Camarosa
17-Mar
17-Mar
1
5
3
2
3
5
3
2
7
4
3
5
5
0
6
6
2
6
7
2
5
8
2
7
9
2
5
10
3
0
Sum
24
49
Ave
2.4
4.9
0.8
0.8
Ounces/pl
1.92
3.92
Plants/acre
15000
15000
Ounces/acre
28800
58800
Lbs/acre
1800
3675
50
50
Hours pick
36
73.5
One thing that I keep harping on is how you want to use this blossom counting technique to identify when you may be seeing the dreaded "crop peak"?
I usually associate this with blossom counts in range of 15-20/plant. I could see a scenario where Eric may find that he has an average of 15 blooms for one visit for the uncovered, and maybe 20 for the covered. If this occurs, he is needing to anticipate more than 9,800 lbs/acre in the uncovered block (in about 30 days) and more than 13,000 lbs/acre in the covered (meaning it had those 8 extra days of covers in late Feb ad early March). By having done the 8 days of row cover application, he will have beneficially "staggered" his crop so that all fields don't hit all at once. For a crop of 9,800 lbs that will ripen over 3 days, thats' about 3,260 lbs each day. If your pickers average 50 lbs/hour, that means you will need about 65 hours of picking/day/acre to keep up (65 hours x 50 lbs = 3,250). That could represent 10 pickers working 6.5 hours each (if it is your labor). You will need about 60 U-Pickers harvesting 50 lbs each to harvest 3,000 lbs/day. For every 1,000 lbs you need to get picked each day, you will need 20 U-pickers assuming 50 lbs each, and 40 U-pickers assuming 25 lbs each (per acre).
| | | |
| --- | --- | --- |
| Ave Blossom Count/visit | 15 | 20 |
|  Ave berry weight (oz) | 0.7 | 0.7 |
| Ounces/pl | 10.5 | 14 |
| Plants/acre | 15000 | 15000 |
| Ounces/acre | 157500 | 210000 |
| Lbs/acre | 9844 | 13125 |
| Lbs Pick/hr | 50 | 50 |
| Hours pick | 197 | 263 |
Number of U-Pick Customers Needed
(Assuming 50 lbs each)
Amount of Fruit/Day
No people
500
10
1000
20
1500
30
2000
40
2500
50
3000
60
If you don't have your own pickers, it can be a real challenge to come up with enough U-pickers in inclement weather periods for any amount of crop  – a real good reason to get your own labor! Your pickers will keep you "caught up" during inclement weather and can help during the week (Mon-Tue-Wed), when U-pick might slow down.
What we are trying to avoid in 2014:
I just now went back in my records from last season when Eric Hunter wrote this on April 26, 213:
"Just wanted to show you what our bloom situation currently is. This picture was taken today (4/26), but we have pictures taken more than 10 days ago that look exactly like this. We are going to have a huge amount of berries to get picked in a short amount of time. Its a little frightening to look at."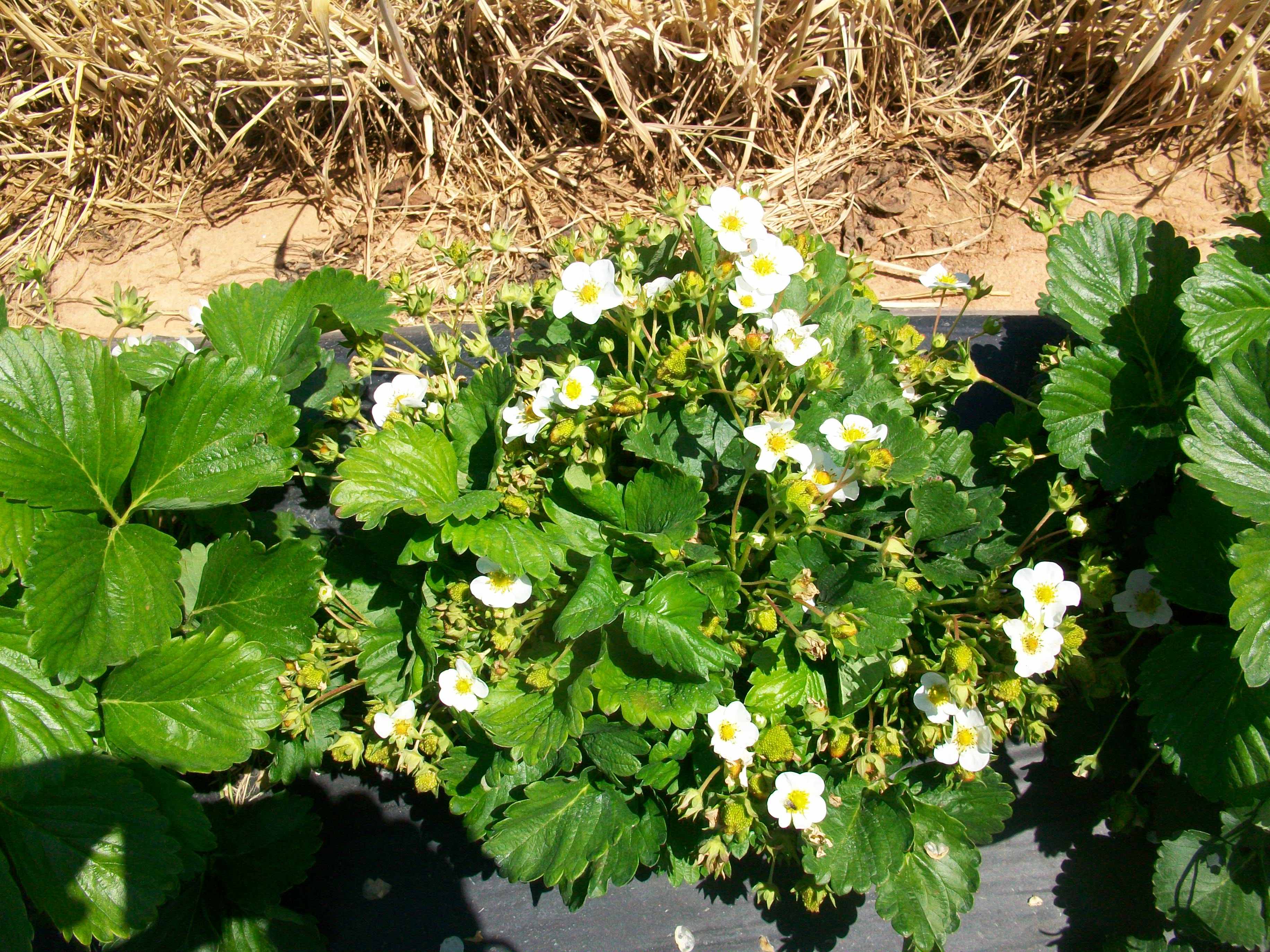 Fig. 1. Photo of Chandler on April 26, 2013 – showing over 20 open blossoms "at once."  This could result in an avalanche of fruit that will need to be picked all at once! Thus, it may not be such a bad idea to do a little "staggering" of your crop in mid-to-late winter with row covers, which can help to avance the bloom of some of your crop so that the entire crop is not on the same ripening schedule!
Dr. E. Barclay Poling
Interim Executive Director, NC Strawberry Association Inc.
& Professor Emeritus (Strawberry Plasticulture Researcher)
Department of Horticultural Science
Campus Box 7609, 162A Kilgore Hall
NC State University
Raleigh, NC 27695-7609