Coldest temperatures in almost 40 years! How will strawberry crop be impacted? (8:45 am; March 4, 2014)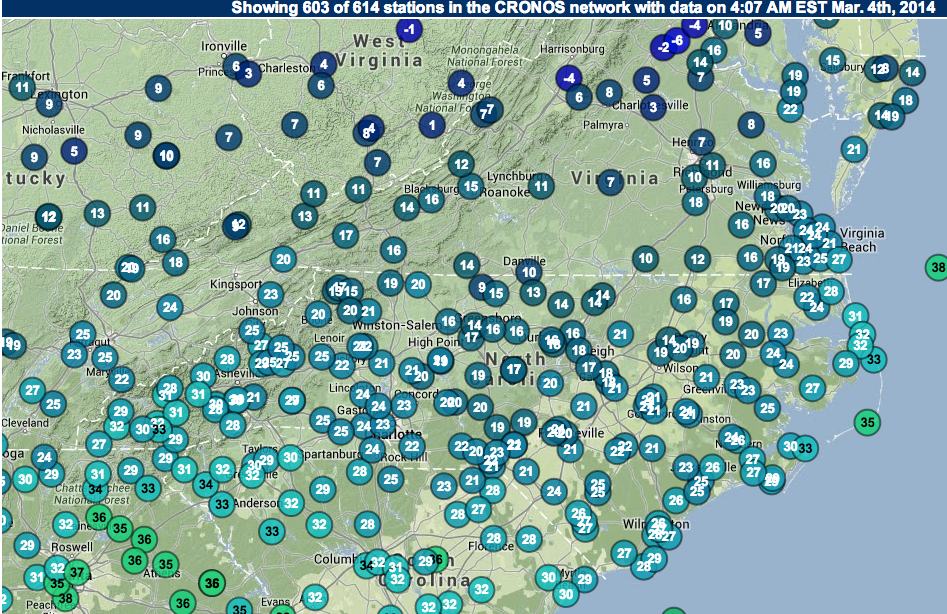 Fig. 1.  This figure shows numerous CRONOS network stations this morning at 4 am across the mid-south.  We saw bitter cold temperatures along the VA line this morning.  The north-central piedmont town of Yanceyville, NC, dropped to 10.9 F at 7 am, March 4, 2014. In Raleigh, the record low for this date of 19 F (1975) was broken, as we reached a low of 16.5 F was reached at 6 am.  These are the coldest temperatures seen in the Raleigh area for almost 40 years on this date.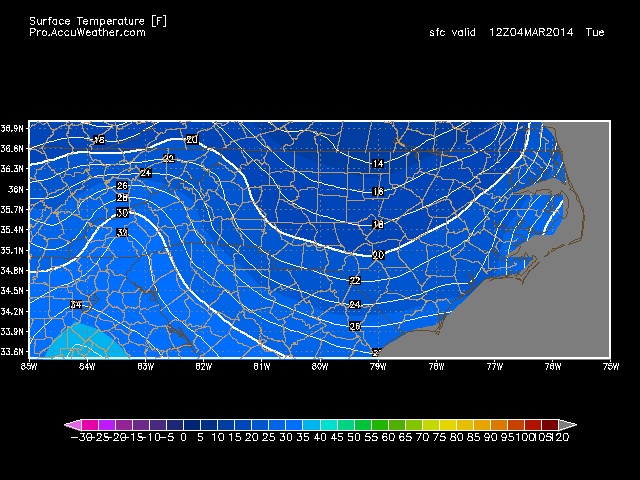 Fig. 2. AccuWeather surface temperature map at 7 am.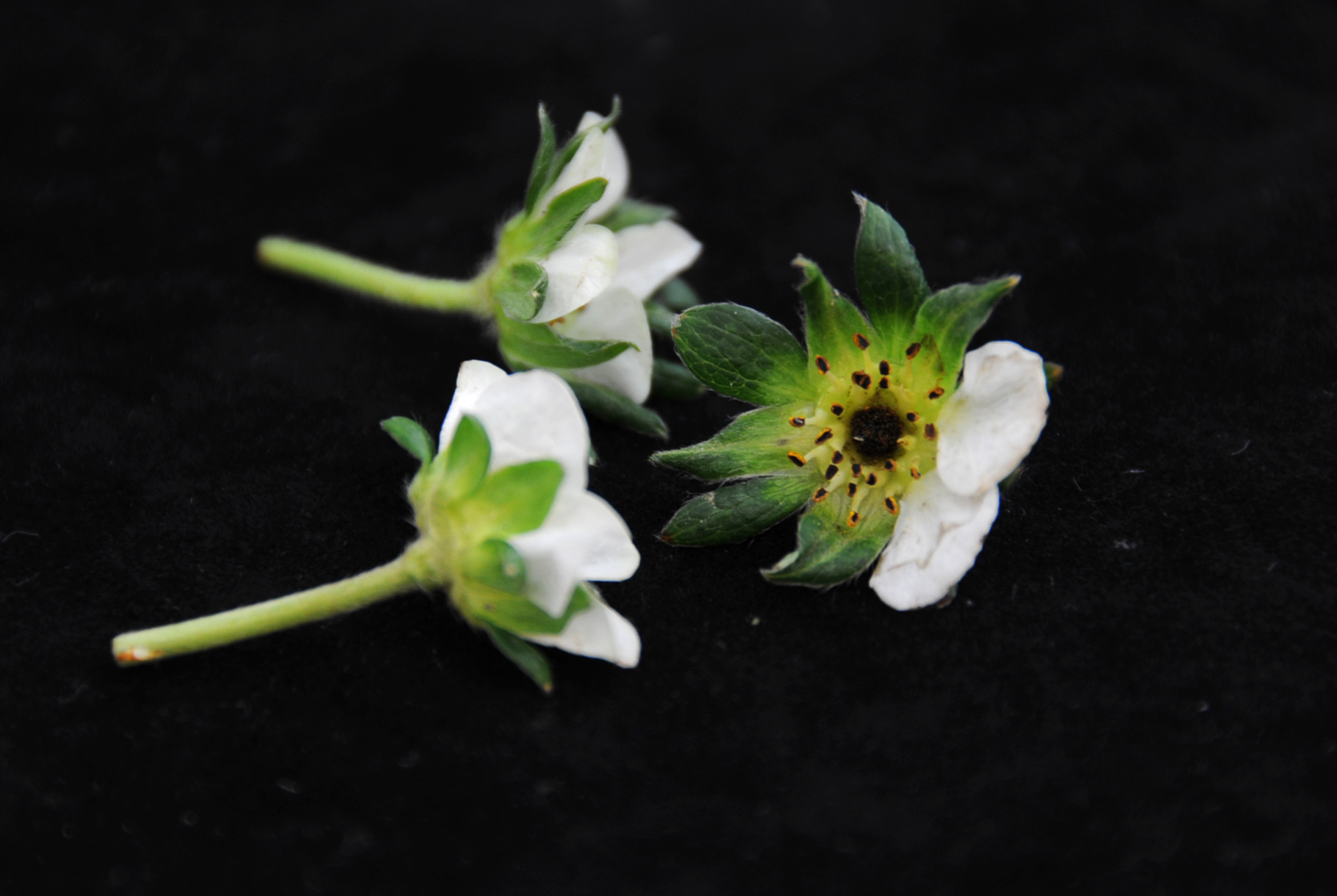 Fig. 3.  The real concern now is with whether these cold temperatures this morning may have damaged tight floral buds in such a way that the center part of the flower – that develops into the berry – will have this black-eye instead?
Our experience over the years has led to the development of a set of critical temperatures for each of the floral developmental stages.  For the early "popcorn" stage (in photo below), my work with Dr. Katie Perry back in the 1980s showed in the later spring that this flower stage could handle down to only about 26-27 F, but under the kinds of cooling conditions we had last night and this morning, my belief is that we had significant supercooling, and popcorns may have been able to survive even into low 20s?  We'll soon know!
Fig. 4.  This is an early season "popcorn" flower (photo taken on Sat. Feb. 22 in Burlington, NC.  The only reason we could see such an advanced floral stage as this in Burlington on 2/22 was because the grower had just pulled the row covers off on 2/18 (they had been on since 1/7).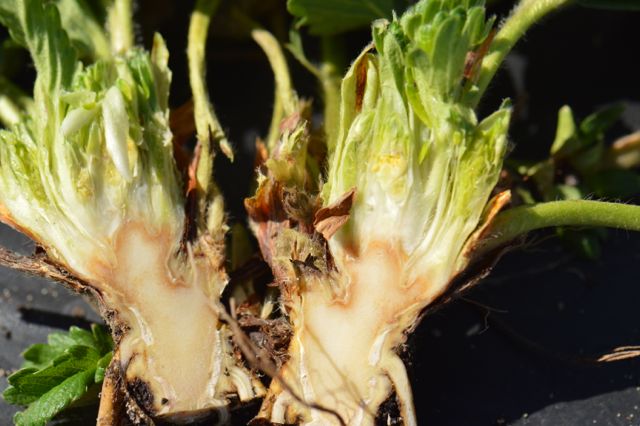 Fig, 5.  This photo shows a longitudinal section of a Camarosa crown that I cut last Thursday (2/27) in Virginia Beach (Pungo).  These particular plants had not been covered this winter with row covers, and you could see a fair amount of cold damage from a low temperature of about 9 F in this field back in January.  Uninjured crowns would have completely white centers (none of that browning you see).  But, what was exciting about this particular farm visit for me and the grower was to see that all of the floral tissues (above the browned tissues) were OK!   In the coming days, growers, agents and agronomists will have an opportunity to assess whether these floral buds made it through last night?
Reports from the field this morning:
8:27 am – Ashley Poter, Willow Spring, NC (grower ran water on top of covers)
Before starting to irrigate yesterday (late afternoon), the tops of his covers were frozen by the sleet..about 2/10 inch
The grower primed his pump at 4:30 and noted that ice was being made almost right away, so he elected to just keep it running.  The blossom temp under the cover rose to 38 F almost right away
8:30 pm – row cover only 30.5 F; irrigation on cover 36.0 F; 25 F air
He irrigated on top of covers all of last night (1.25 oz cover. During the middle of the night he had to beat ice off the nozzles about every hour, and he said, "I never saw ice like that before (while irrigating)".
1 am – readings were 27.1 under cover; 37.6 row cover + irrig; 19 F air
The air temp. minimum for Willow Spring this morning at 5 am was 16.2 F
At 8:45 am he will be shutting down the irrigation on top of covers because the reading he just took at 8:40 am was 44.1 F; the blossoms under the row cover and no irrigation were 33.7 F
He will have to keep running irrigation this morning on 3 outer rows where he did not have row covers (irrgation only), as the wet bulb is dangerously low this morning – will probably need to run until around 11 am.
Dr. E. Barclay Poling
Executive Director, NC Strawberry Association Inc.
& Professor Emeritus (Strawberry Plasticulture Researcher)
Department of Horticultural Science
Campus Box 7609, 162A Kilgore Hall
NC State University
Raleigh, NC 27695-7609
Was the information on this page helpful?
Care to tell us why? Send Explanation
This page can also be accessed from:
go.ncsu.edu/readext?278630