Because of Wet / Frozen Row Covers, Sprinkling on Top of Covers Is an Option to Consider (3:30pm, Tue., 3/25/14)
Find this article at:
go.ncsu.edu/readext?286181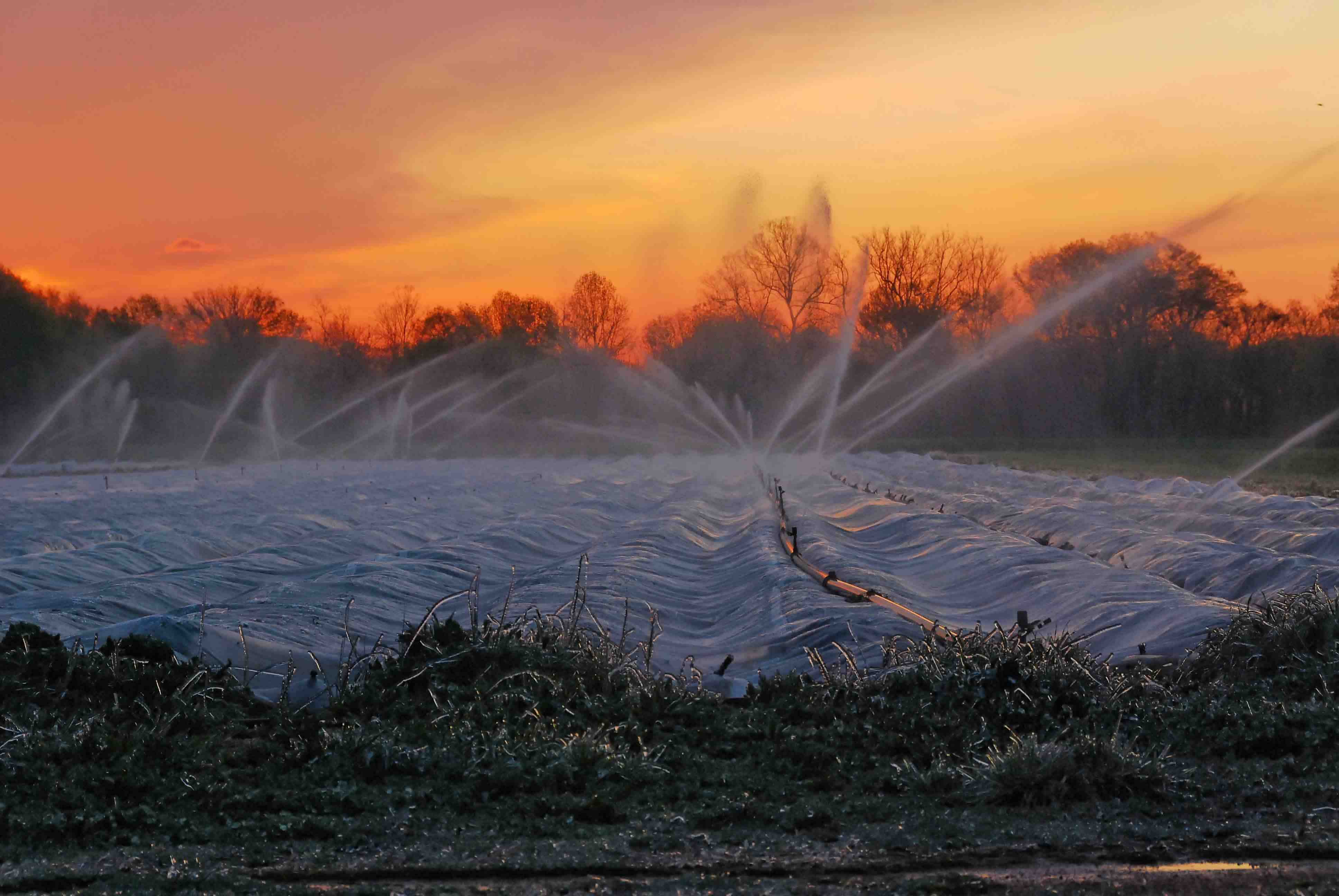 Figure 1. Rains in Central Piedmont today have soaked row covers, and it would now appear they will remain wet tonight and freeze up. Dry row covers provide very good protection, but when wet and frozen, they are of more limited value. So, I have been speaking with a grower in Greensboro who is now planning to irrigate on top of their row covers tonight. In fields with eastern and southern exposures, their Chandler and Camarosa plants have 2-3 open blossoms and some popcorns/plant. In other fields where the crop is less advanced, they are not as concerned. But, where the crop is more advanced, they are going to run sprinklers on top of covers tonight and into the morning to try to save the open blossoms and popcorns that not likely make it now under wet/frozen covers in direct contact with the plants. Minimums in this area will be lin ow 20s tonight, and under a "compromised" row cover, the open blossoms and popcorn stages will not survive unless the grower runs the sprinklers on top of the covers. They have a digital thermometer with thermocouple wires  already stuck in  open blooms out in the row covered field. They can stand at fields edge and monitor the bloom temperatures this late afternoon, and when they see the blossoms going to 32 F, they are going to start irrrigation up and run all night. They have extra workers to "break ice" off the sprinklers tonight, as the nozzles will likely be freezing up a lot this evening!
Hello again!
Received a call just now from a Greensboro grower who thought he might have read my earlier advisory today for the Western Piedmont and Central Piedmont as saying that irrigation cannot be used tonight because of these terrible winds. I wish to be very clear about this.
Spinkling ALONE is a terrible idea under windborne freeze conditions, which are expected tonight – all night!
However, a row cover, whether it is dry, wet or frozen, will eliminate the "wind factor,"  and this can change the "rules of engagement" quite profoundly. In the Easter freeze of 2007 we put the sprinkling on top of covers to the test, and it worked in extreme conditions.
Well, we are faced now with another "situtation" this afternoon in the Greesnboro area where I just learned that as of 3 p.m. Tuesday, it does not appear the  row covers will be able to dry down before night, and with tempertatures in this area going into low 20s TONIGHT, a decision was made to RUN SPRINKLERS ON TOP OF THE ALREADY FROZEN COVERS on fields with southern and eastern exposures where the crop is more advanced, and I suspect may look like these photos that I received earlier today (10 a.m.) from Walnut Cove, NC (near Winston-Salem). When I saw these photos of Chandler from Walnut Cove I was quite surprised they were this far along! Earlier in the day when I spoke to this grower, I thought we were talking about maybe 1 in 5 plants as having a blossom, but in our follow-up discussion early this afternoon, I learned from these photos that these plants are much further along! And, the moment I saw these photos, I knew what I would do, I would run sprinklers on top of covers tonight — but this grower doesn't have the covers (to remove the wind effect), so he will not attempt any irrigation tonight. However, if your crop is this advanced, and your covers are likely going to be frozen later tonight (compromised), then I do recommend SPRINKLING ON COVERS TONIGHT.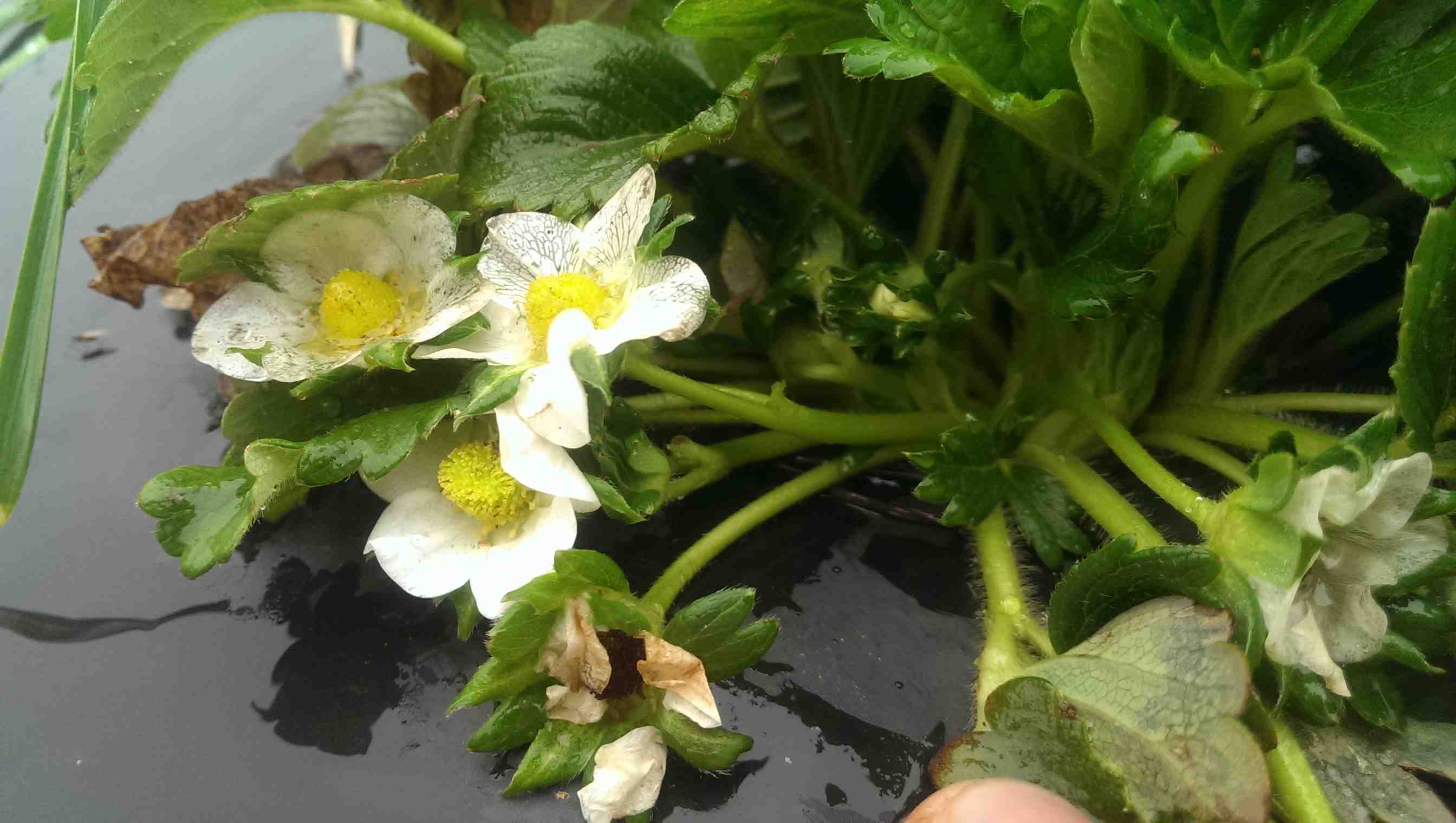 Figure 1. With temperatures potentially going in low 20s tonight (SkyBit said 21 canopy for this location), it is a given that all of these open blossoms and popcorns will be killed. But, if you only have sprinkler irrigation, it is better to lose these flower parts to tonight's windborne freeze than to foolishly attempt irrigating and risk losing many tight buds as well to evaporative cooling damage.
Figure 2. The grower who sent this photo decided not to try to use sprinkling on this crop tonight because of the risk of losing tighter buds as well. But, with sprinkling on top of row covers it is possible to save all stages – even in windborne freeze conditions.
What sprinkling on top of 'already frozen' covers may accomplish…
By sprinkling over top of covers, you are effectively adding heat back into the system. Without adding some heat back in, it is likely that all blossoms, popcorns and more advanced flower buds in the Greensboro area tonight will plummet into low 20s under the frozen cover.
With sprinklling on top of covers, we can actually add some heat back into the frozen blanket system. When you sprinkle on top of a frozen ice blanket, which is what you might have going into tonight (thanks to some really bad luck with the weather today and all these rains), you will actually see the bud and blossom temperatures immediately "pop up" (usually to about 38 F after a short while). The reason the temperature actually rises this much is because there is a lot of ground heat. When water freezes there is a beneficial release of heat (called heat of fusion), and as long as you can keep sprinklers turning tonight, you will be able to maintain temperatures of the floral tissues above their critical temperature.
The problem with this strategy of sprinkling on top of the covers on a tough night like tonight, with winds in the teens and temperatures possibly plummeting into the low 20s is with keeping your sprinklers turning. Many sprinkler systems will freeze up rather quickly, and it could be very hard to get them running again. I would have to say that if you don't have a lot of confidence in your sprinkling system, you are probably better off not even thinking about trying to run water tonight. Also, if you do not own a digital thermometer for taking blossom temperatures directly in the blooom, you should not consider this technique.  Without a digital thermometer you really have no idea how the patient is doing?
The only way to determine whether or not your plants are getting enough heat (from the sprinkling) is to have a hand-held digital thermometer with a thermocouple wire that inserted right into some blossoms beneath the row cover( Fig. 3).
The goal is to not allow the popcorns to get below 27 F tonight, and the emerged flower buds need to be kept in the mid-20s. The only way to determine whether or not your plants are getting enough heat (from the sprinkling) is to have a hand-held digital thermometer with a thermocouple wire that inserted right into some blossoms beneath the row cover(Fig. 3).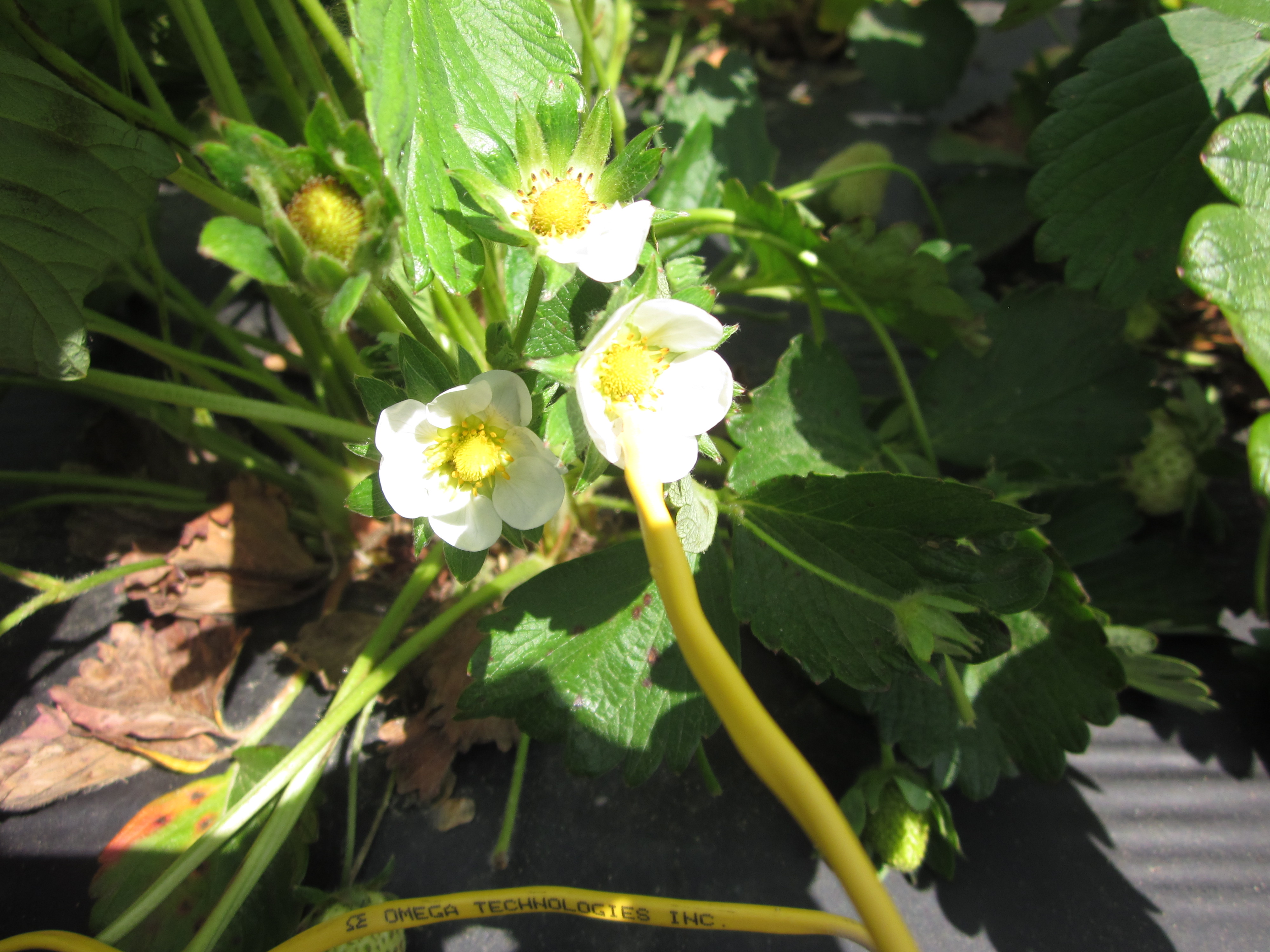 Fig. 3. The temperature reading on the digitial thermometer from this bloom can guide ALL OF YOUR CRITICAL DECISION-MAKING WHEN RUNNING SPRINKLERS ON TOP OF COVERS. WHEN THE POPCORN STAGE GETS BELOW 27 F, THERE IS A GOOD CHANCE IT WILL BE KILLED IF IT IS ALREADY ENCASED IN ICE. THE EMERGED FLOWER BUDS MAY BE KILLED IN MID-20s.
By inserting the thermocouple wire into flower buds, you can personally monitor "the patient" tonight, and when the temperature starts going below these critical temperature levels, there is a good chance you will lose the patient. Sprinkling water on top is an effective way to return heat to the system. With row covers on top of the crop, the fact that winds will distort the distribution pattern of the sprinklers is really not as big a problem as when sprinkling without row covers.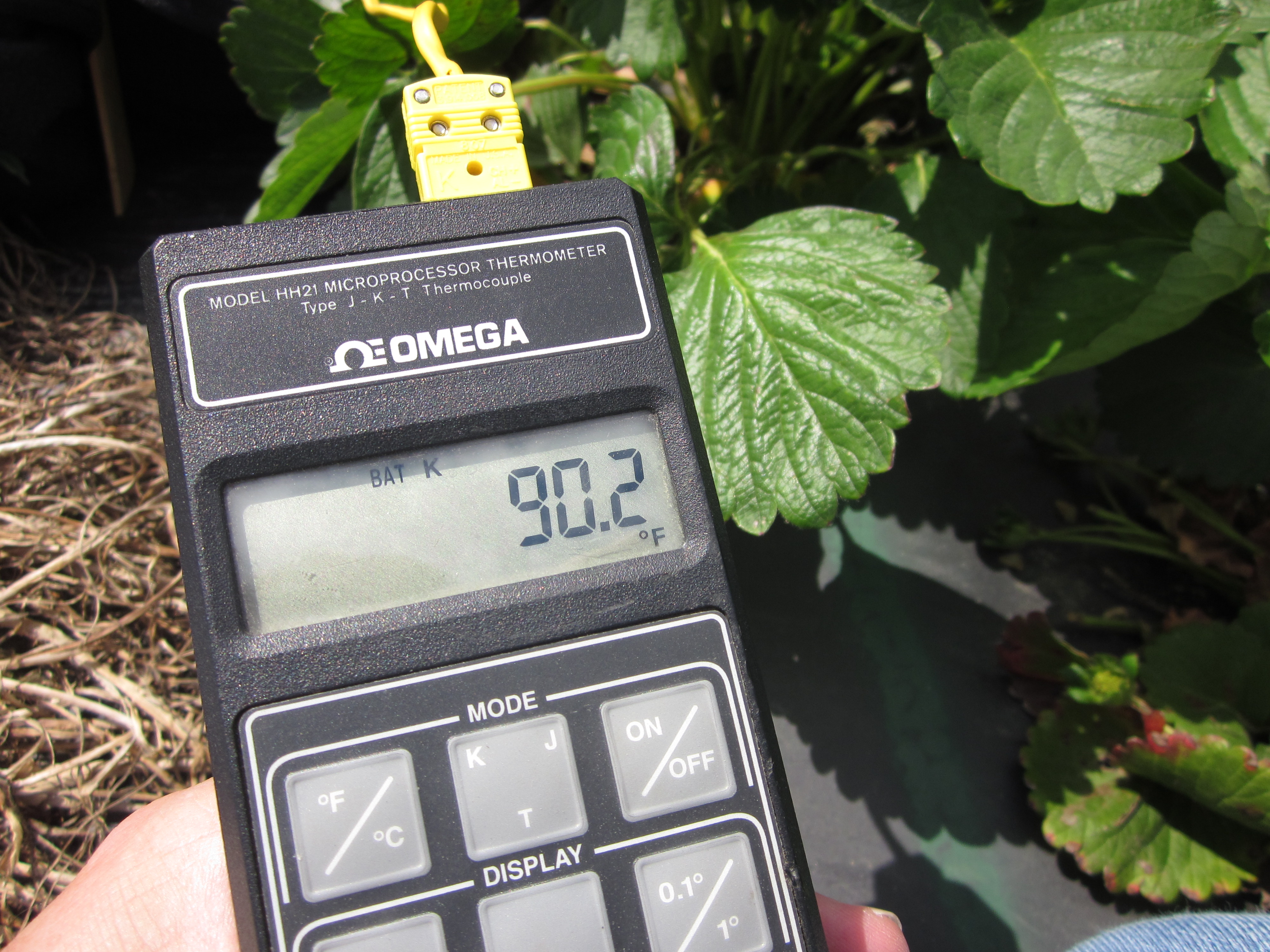 Fig. 4. This is the Omega Digitial Thermometer Model HH21 that has been used by seasoned strawberry producers for both cold and heat protection – this technology has been talked about at numerous meetings over the last 20 years. It is nothing new. By monitoring the blossom temperatures with this instrument tonight, you will know whether or not you are winning or losing the battle! In this photo, we are using this instrument for evaporative cooling. Tonight, this instrument is essential to monitor the temperatures of buds and blossoms beneath the covers.<apologies for not locating a photo with the Dig Therm not showing a freezing temp – this was done in early May this past year during an evaporative cooling cycle>.
Bottom line:
If the open blossom or popcorn blossom encased in ice falls below 27 F, they will be killed. SO, you must run enough water through the night to make sure that doesn't happen. Yes, cycling of irrigation can be very effective. I am aware of times when growers have "lost" their sprinkling system for periods from 1 1/2 to 2 hours, and they were still able to save their crops. That is one of the great things about the ice blanket protection system – you don't lose your crop instantly, like you would with just irrigation alone on a cold windy night like tonight (sprinkling alone is absolutely NOT RECOMMENED – IT WOULD PRODUCE DISASTROUS RESULTS UNDER THESE CONDITIONS).
IN SUMMARY

 POPCORN STAGE BLOSSOMS AND OPEN BLOSSOMS WILL BE KILLED TONIGHT UNDER WET ROW COVERS THAT WILL LIKELY NOW FREEZE TONIGHT (THERE IS NO DRY TIME LEFT IN THE DAY BEFORE FREEZING TEMPS ARRIVE). A wet/frozen through row cover is NOT VERY EFFECTIVE. For row covers to work, you need to have a DRY COVER.
What to do? You can sprinkle on top of the cover to add heat back into the ice blanket system, as we did for the Easter freeze of 2007. This technique can be very successful in windborne freeze conditions.
For the ice blanket approach to work, you need a top notch sprinkling system, and you also need a digital thermometer to closely monitor bloom and bud temperatures all through the night. You really cannot tell if the sprinkling is helping or not with a digital thermomer and thermocouple wire that is inserted right into the blossom or bud.

YOU NEED START SPRINKLING BEFORE THE BLOSSOM TEMPERATURE, AS MEASURED WITH YOUR DIGITAL THERMOMETER, GOES BELOW 32 F – THAT COULD BE AS EARLY AS 8 p.m. TONIGHT (TUE) IN GREENSBORO, AND 5 p.m. ON WED

Keep monitoring the open blossom and popcorn stage blossoms through the night – you need to "stick" these blossoms in the late afternoon, and make sure everything is working, and that you are getting sensible readings off of the digital thermometer. BE SURE TO DOUBLE-CHECK THIS INSTRUMENT BEFORE NIGHT TIME.
When an ice encased popcorn drops below 27 F, it will be killed. You should be seeing much higher temperature readings when running sprinkling on covers– we typically see temps of blossoms around 38 F
Saving the popcorns and larger tight buds can keep your crop on schedule – losing them will reduce your yield and your opening could be delayed by 7-10 days.
You will definitely need extra labor to work with you tonight to knock ice off nozzles, as there is an excellent chance they will freeze up.
I have seen growers come through a situation like this as long as they could get their sprinklers "going again" – you may have up to 1 1/2 – 2 hours to get the irrigation running again — monitor bud and blossom temps with your digital thermometer to know how critical the patient may be
Good luck!