Not Out of Winter's Grip Yet – Site Visit to VA Beach – an Idea for Row Covers in Early March (Feb. 28, 2014)
Find this article at:
go.ncsu.edu/readext?277896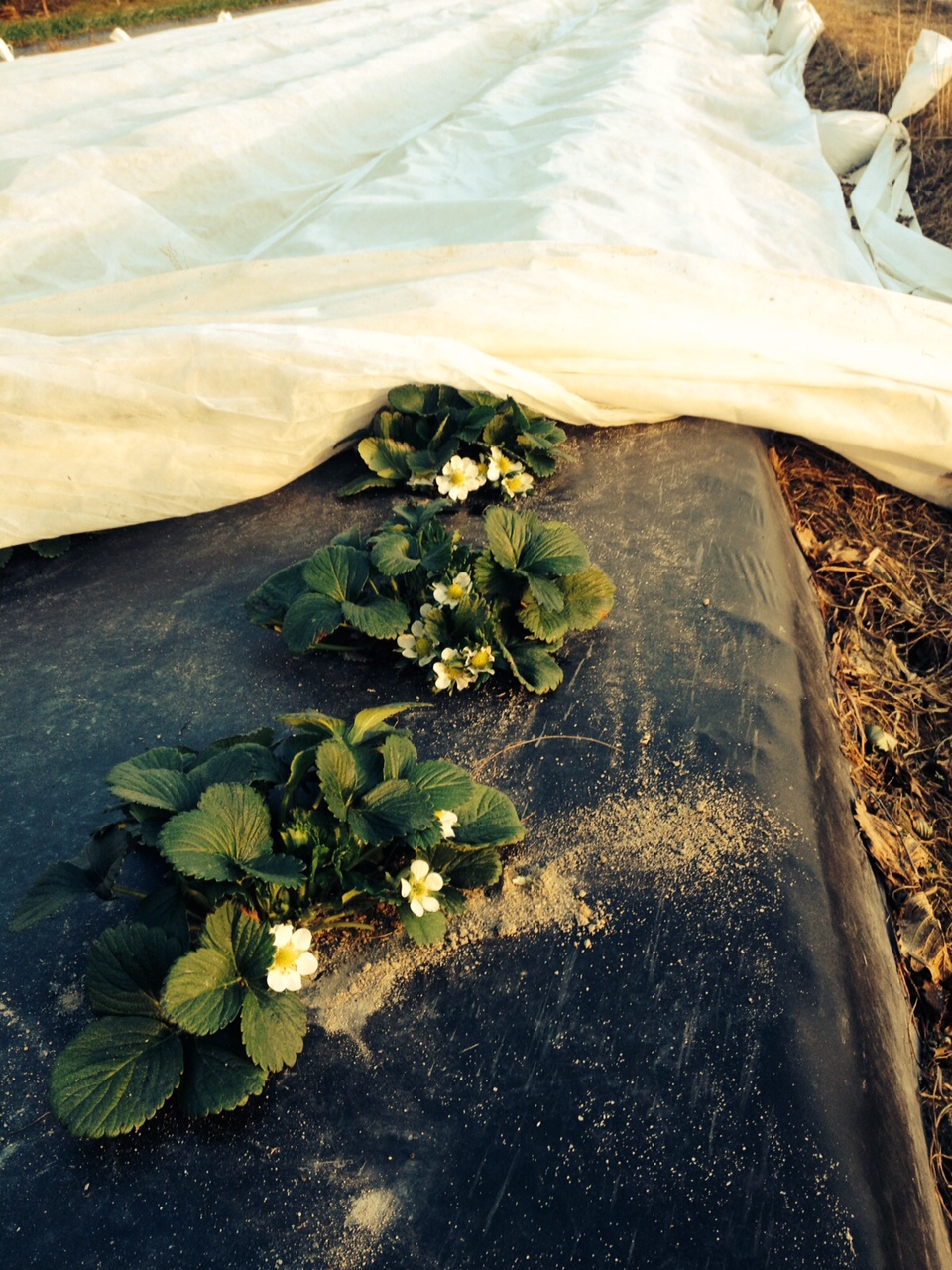 Just in! This photo was just sent to me by Lee Berry, Ellerbe, NC (Camarosa – with row covers) at 5 p.m. today…he states that he is at 2-3 blooms today…this is very interesting because he has only accumulated 54 GGD units (I am suggesting in last 2 advisories you need about 90-92 units to reach this stage), but what we have to take into account is that Lee has been using row covers!
A. What Growers Are Saying about Last Night/this morning (I can keep adding notes through the day, but Bobby Fifer in DE had this to say a few minutes ago:
a1. Locust Grove, VA
Barclay,
11 degrees here in Locust Grove. Skybit was calling for 14. Sunshine felt good this a.m. Very little wind.
Ben Miller
Locust Grove, Va. 22508
a2. Wyoming, Delaware
Barclay,
Interesting info on GDD's. I'll try to keep up with it here and see if it relates.
Just an FYI – had 8 F this morning. We are still dormant but that's a bit low for my comfort after last week's warm temps. If this keeps up, we will be picking our first berries for Memorial Day!! All kidding aside, I'm hoping we can get out of the winter rut soon. When was the last time we had temps this low this late in Feb?
Thanks,
Bobby Fifer, WYOMING DE
B. Additional Gower comments on GDDs and first bloom;  my site visit to VA Beach yesterday, and Bob Rouse talks about a modified GDD model

1. ERIC HUNTER, EASLEY, SC:
I went back last night and found some of your older advisories explaining GDDs. So, I looked at the forecast for March and have been able to estimate that if everything holds true, I should hit the 90 GDD mark (number of GDDs for first bloom) around March 15th– which ironically, would put me opening up around APRIL 15-20TH – and that's my average opening day week. So, what you have speculated in the previous emails of this possibly being an average opening day season seems to be true here. We'll see.
Editor's note:  for the period from Jan 1-Feb 24, at Eric's location in Easley, SC, they had accumulated on 53 GDDs, and for Feb 25-Feb 27, this area added only 3 more GDDs. The farm location mentioned in the last advisory added no additional GDDS for the period from Feb 25-Feb 27! I was in VA Beach (Pungo) yesterday and the crop shown below has stayed at 42.5 GDD since Feb 24.
Farm visit to Pungo yesterday -some photos from this visit follow below (location has both row covered plants and non-covered). The plugs were planted the last week in Sept. 2013. THERE WERE NO OPEN BLOSSOMS TO BE FOUND ANYWHERE. IT HAS BEEN TOO COLD, AND THEY JUST GOT A FORECAST THIS AFTERNOON FROM NOAA FOR MORE SNOW NEXT WEEK (the grower told me we need to say "NO" to NOAA…fed up with this winter RUT. I'd sent a note out earlier this week (when I was still in NORFOLK AND WATCHING IT SNOW OUTSIDE MY ROOM), about the importance of "covering up", and this is what Tom Baker wrote on 2/25:
"Okay, Barclay…
Please, PLEASE tell the folks at AWIS, SkyBit, and any others you have contact with, that enough is enough! We surrender. Whatever they want, we will provide (even strawberries), if they just give us a lasting period of spring, or at least something that faintly resembles spring!
While using the backpack sprayer to spot-spray a little vetch, Carolina geranium, clover, and chickweed (far too little to justify a broadcast spray) in the plant beds at Chesapeake this afternoon, I was attacked by several episodes of graupel. Yes, graupel, not sleet.
If you are unfamiliar with graupel, Wikipedia has a good explanation.
This was the second time in three years that we have experienced that phenomenon in Virginia Beach/Chesapeake.
Needless to say, it was bone-chilling cold out there! We pulled the row covers "on" before we left Chesapeake.
When this message and my much-to-small mug of hot chocolate-coffee are finished, I'm heading back out to pull the last two row covers here at home in Pungo. After that, I shall refuse to leave the house unless it catches fire, and then will do so with great reluctance!"
Tom Baker
——–
Well, we had a truly gorgeous sunny day for this field visit in VA Beach yesterday, but with the winds and cold temp, no one wanted to stay out there too long!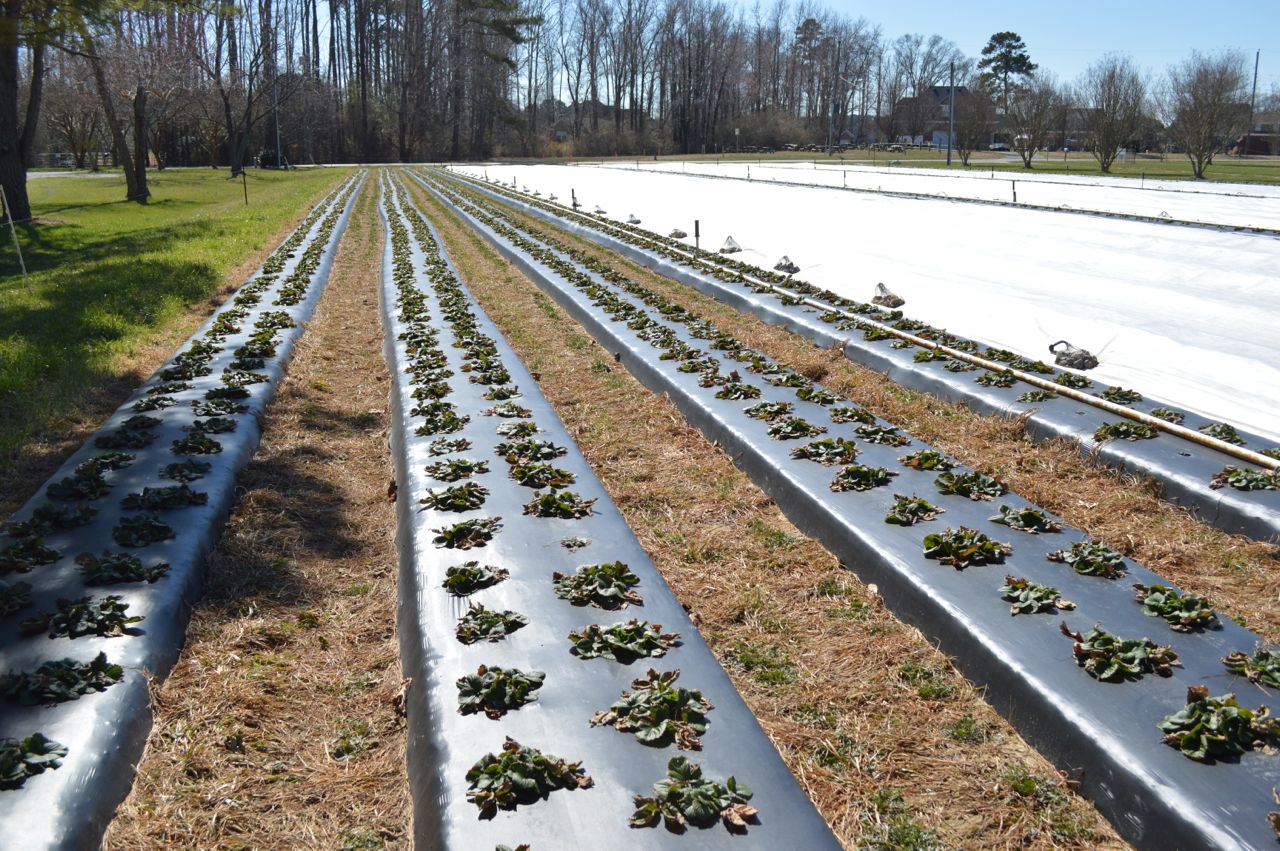 Fig. 1. Foreground area is Chandler planted end of Sept 2014 – the plants in the outer 4 rows had no row covers this winter.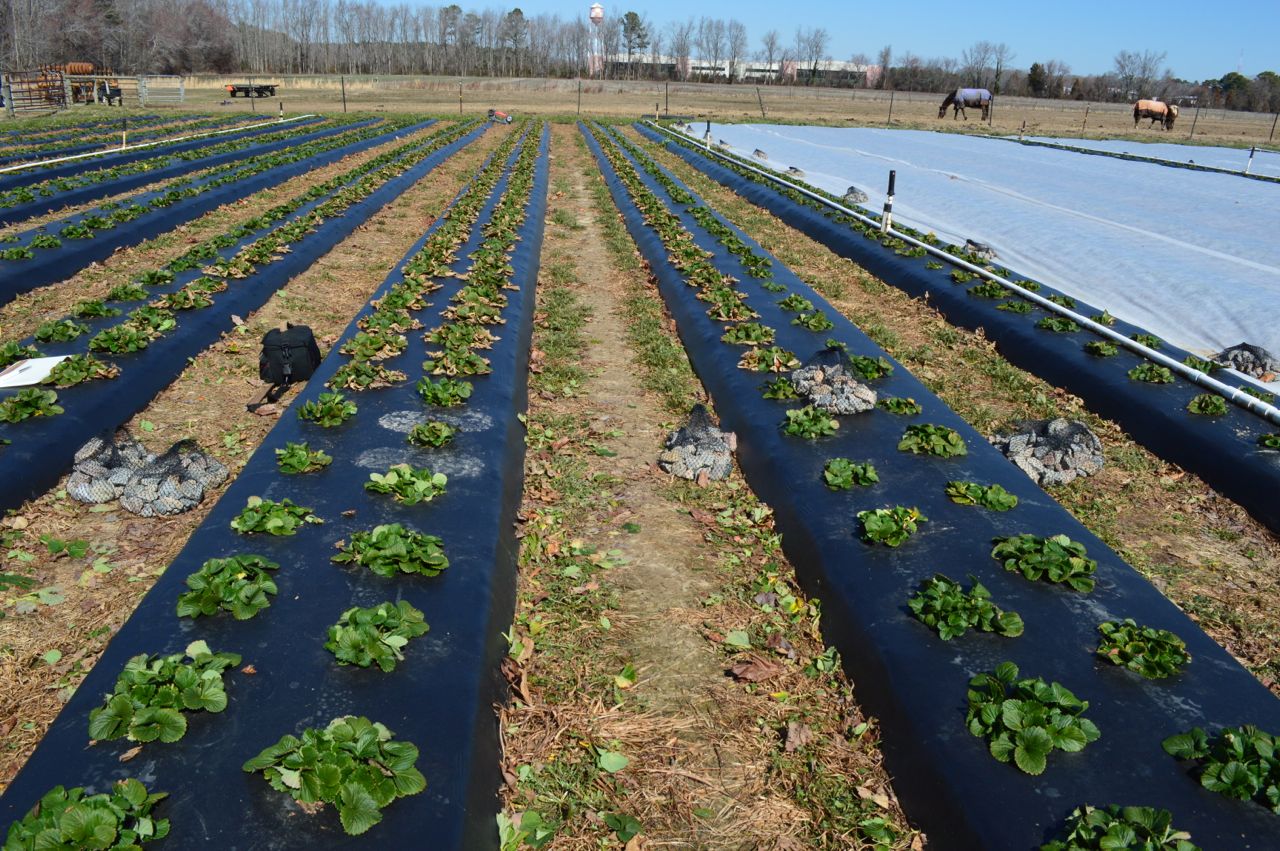 Fig. 2. Camarosa in foreground that has had row cover protection this winter, and you can easily see at about the 8th plant down the row where plants did not have row cover protection this winter.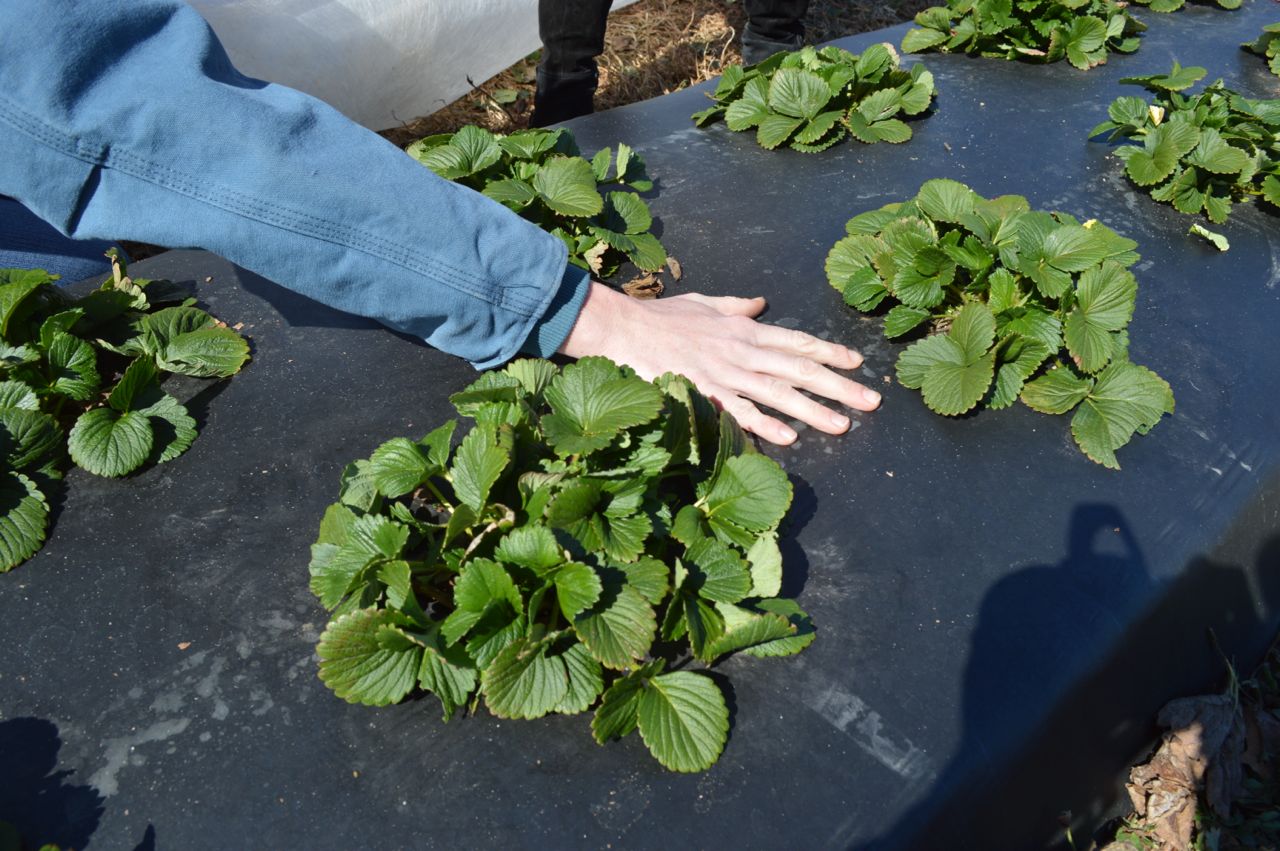 Fig. 3. In this photo you can see just how large the Camarosa plants under the covers have grown this winter. The grower has never grown Camarosa until this year, and has been surprised by how much larger the Camarosa plants look compared to Chandler.
Fig. 4. Here you can see the Camarosa plugs under the covers have lots of branch crowns this year (7 branch crowns shown here). Unfortunately, the photo I took of the interiror crown tissues of this plant were overexposed, but I can tell you that there was NO DAMAGE on plants that were beneath the covers in January 2014. We could see damage to Camarosa outside the covers. It is also important to note that these Camarosa plants that were beneath the row cover in Janaury and February, were also covered from Nov 17 – Dec 20, to improve floral development in the fall (part of a Walmart grant study for fall row cover usage). Could this be too many crowns? Time will tell.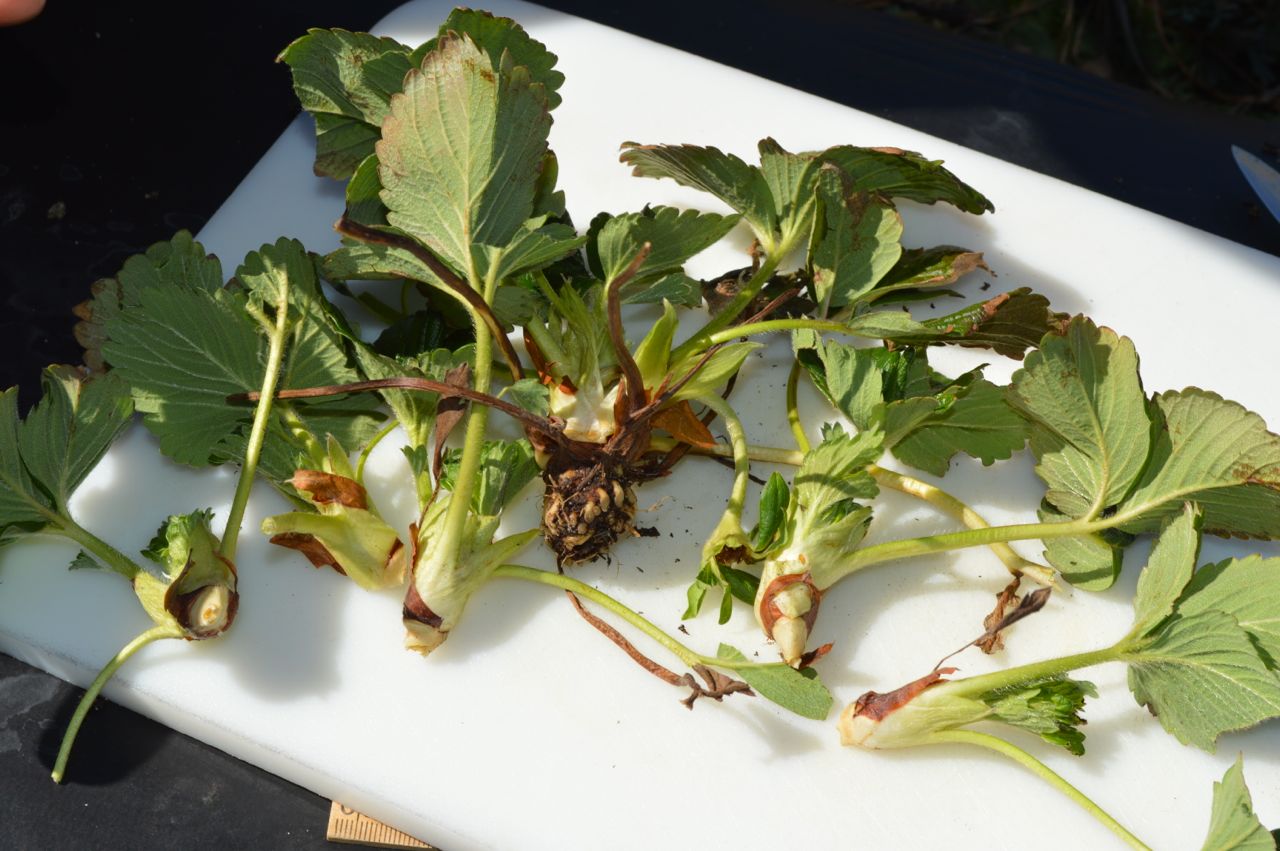 Fig. 5. Camarosa with no row cover protection this winter – 4 branch crowns (3 less than Camarosa with row cover). These plants were also not covered in late fall.
How many crowns are optimum? It depends on the weather in March-April-May

Personally, I prefer a plant at this time of year wiuh 3-4 branch crowns (like Fig 5), and I get worried about too much intraplant competition with 7-8 branch crown plants (like Fig. 4). In 2002 when it turned really hot in early April, very large plants had a tendency to "choke" – there was no way to ripen all the fruit on these plants in a "raced up" ripening schedule. And, we can have a similar kind of issue in a season that is running late. Last year we had an unbelievably cold March and early April, and the crop just stalled! Finally, it warmed up in April, but we were ridiculously behind schedule, and the unthinkable did happen –> a number of growers missed Mother's Day weekend! When they finally did open (2 weeks late), they found out that those really large Chandler and Camarosa plants were incredibly difficult to 'clean harvest' because they were so loaded! So, not only was the crop LATEbut it was impossibly concentrated. This kind of crop is very difficult to manage for a U-pick. Where you really get in trouble with Chandler and U-pick is with all the small berries. Camarosa has better size berries. However, please note in Figure 6 that these are Camarosa berries of good size, but the problem was really with the lateness of the crop, and its  extreme concentration – you definitely need your  own picking labor to keep up in these situations, especially when it also S T A R T S   TO  R A I N. U-pick folks pretty much disappear when it rains.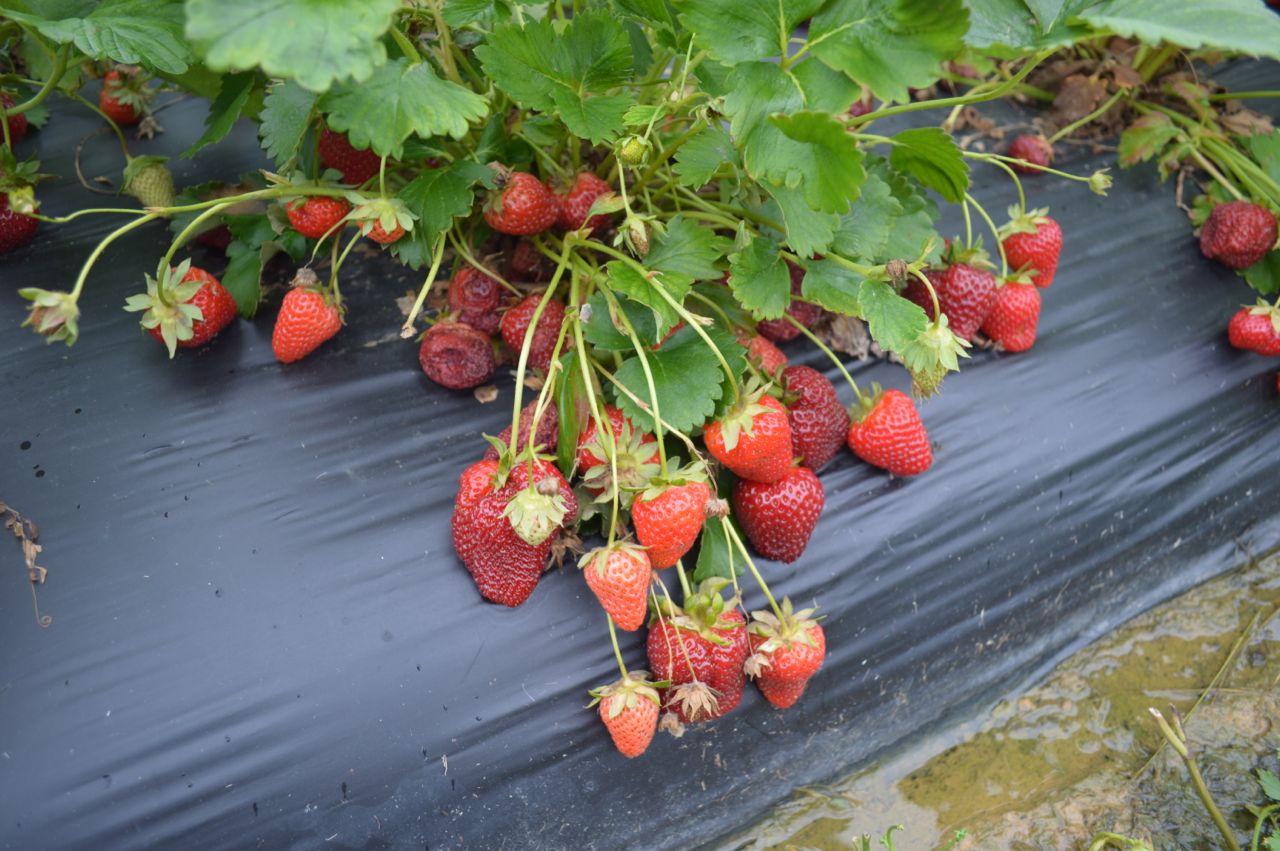 Fig. 6. Camarosa in the third week of May 2013 in Randolph Co, NC. The crop was about 2 weeks late, and it was so concentrated in ripening that it would have been difficult to manage in good weather. Unfortunately, it started raining soon after this crop finally began to ripen in mid-May, and it never really quit.
Repeat of 2013?
I sure hope we don't see the rains we had last year, but I am already seeing some possible issues right now with this cold weather pattern we seem to have locked into. The forecast in early March is for almost winter like temperatures that will cause this crop to really slow down in its development. I am concerned the crop could be late like last year. I am already seeing evidence of lots and lots of emerged buds pushing out of the crowns in late February, and this could mean some very big flower counts in late March – meaning this crop could be very concentrated. If we get  a late, concentrated crop, that is bad enough. But, if you have late, concentrared, difficult to harvest big plants in a rainy season (like May of last year) with no extra pickers, then its time to start thinking about planting sweet corn or pumpkins!
HIGH CHILL THIS WINTER
A real negative for this season's crop right now is the fact that we have had such an abundance of chilling this winter. This high chilling can over invigorate the plants. Truthfully, strawberries don't need that much chilling relative to peaches and blueberries. We already know this has been a very high chill winter for peaches and blueberries. This chilling could contribute to crop concentration issues. I hope not! But, be on the look out for exceptionally high bloom counts late this month in Piedmont NC.
One of my worst nightmares is going out in late March and counting at one time as many as  25-30 open blossoms at once. That means that all of those berries will pretty much ripen at the same time in another month or so (like Fig. 6). Ideally, you should not see more than a dozen open blossoms at one time in late March, but if you see 20+ blooms at once, it could be a really rough harvest season.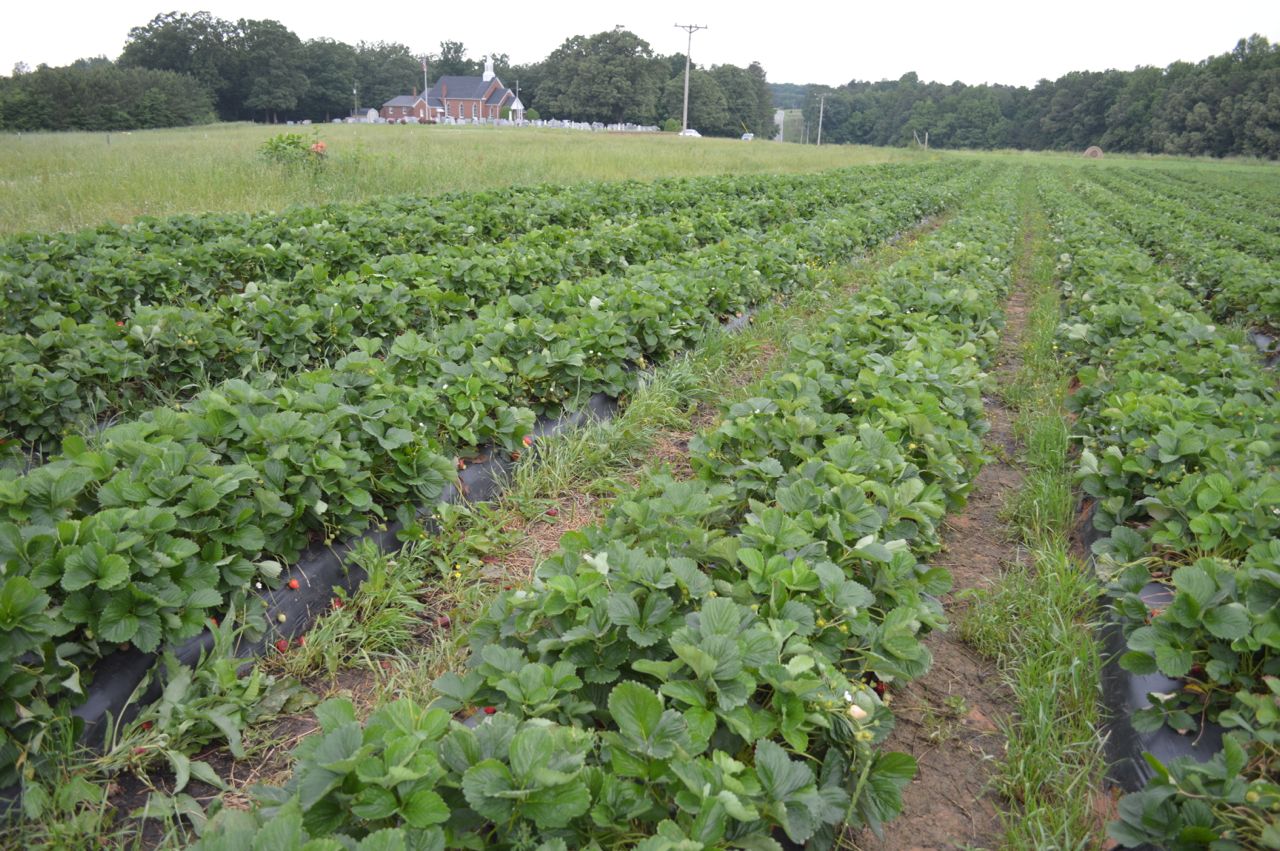 Fig. 7. These Camarosa plugs were planted exceptionally early in Sept. 2012, and also had late fall row covers. I am quite sure these were 7-8 branch crown plants (at the minimum), and due to very cold March and April in 2013, it was not even possible to get this planting open by Mother's Day. Around May 18th (weekend following MD) the rains set in, and never quit for the rest of the season. This is why I tell growers to be very very careful of early planting dates, as well as practices that may serve to further invigorate and increase plant size.
When the crop is "stalled" due to cold temperatures, extra early nitrogen won't help!
Be cautious about trying to "jump start" this 'cold crop' with nitrogen! I become very concerned when farmers start telling me that they need to inject the crop with N this early in the season when temperatures are this cold! Basically, as long as the average daily temperature stays below 50, the plants are not really growing that much! And, pouring the nitrogen to the crop doesn't do a thing about the real problem, which is quite simply a a "shortage of heat."  That is why I am becoming increasingly worried about the weather forecast for this next month — I hope they are wrong about it being this cold over the next 30 days. If it does stay this cold, the crop will basically "stall."
Row covers may help!
I know that the  cold temperatures that were in the forecast for this  morning did not materialize over in Va Beach,   but even if we did not need the covers to protect emerged flower buds, I am glad the covers are on now anyway. Not only do people need coats in these windy cold conditions (Fig 8), but so do horses (Fig. 9) and strawberry plants!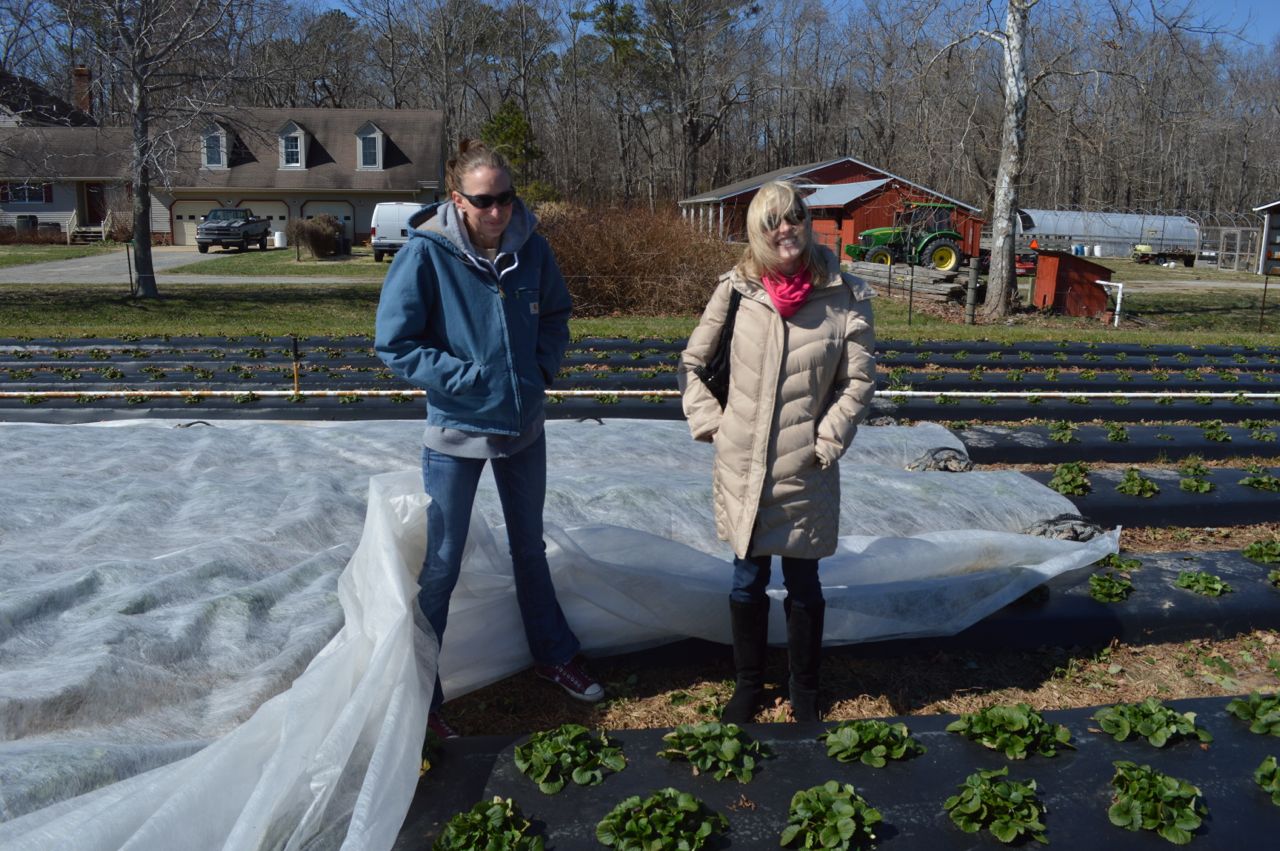 Fig. 8. In VA Beach yesterday t was only possible to tolerate about 45 minutes of field exposure – it was so windy and cold that the "crop sanitizers" stayed indoors.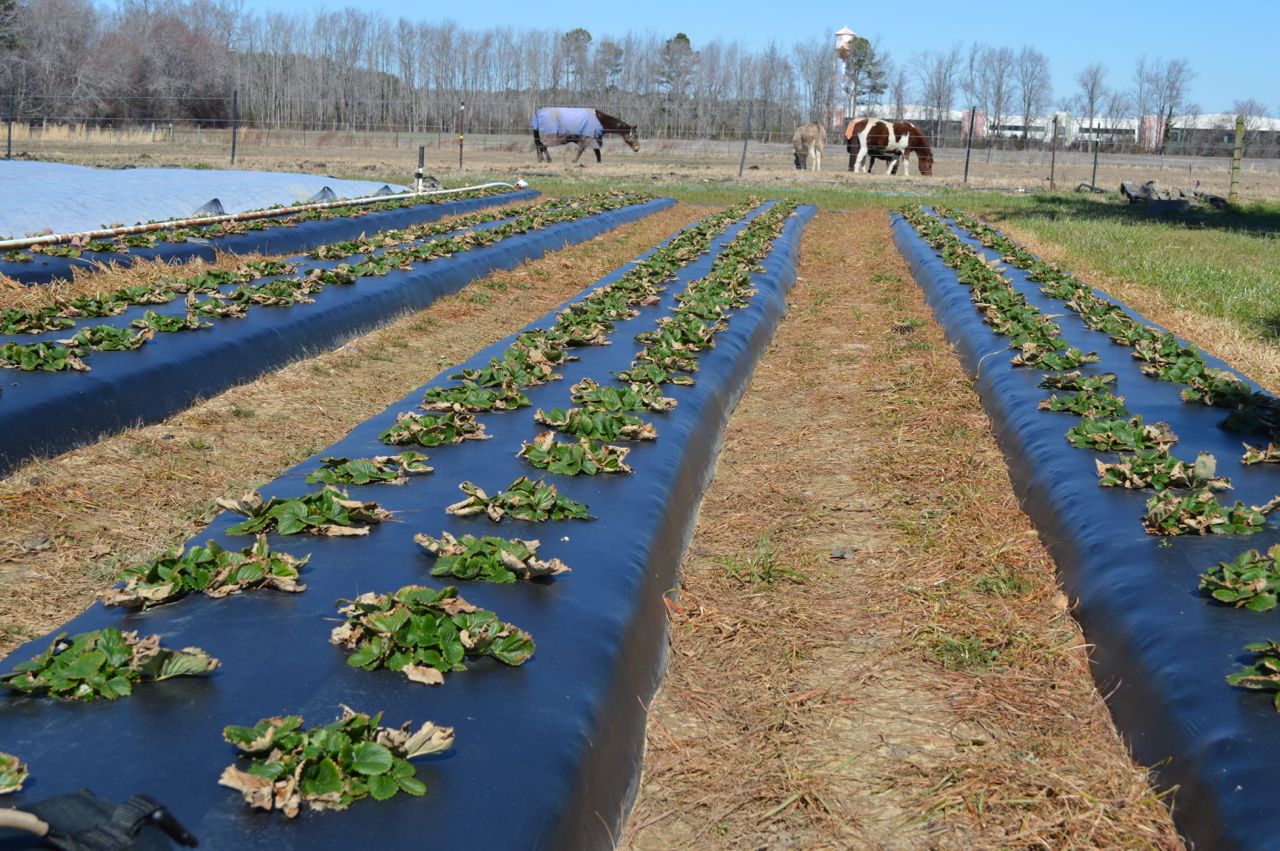 Fig. 9  Horses (in the background) needed blankets, too!
A real downside to too much N now..

We need to push this crop with "heat units" NOT nitrogen. As I said, the nitrogen does little good if we can't even get an average temperature for the day above 50 F. I came across on grower last season who tried to "jump start" the crop with a hefty dose of N early in the season, and I am concerned that you may even do some damage to the crop if you get a little carried away with trying to  "jump start" the crop in these frigid temps.
Row covers in early March – could be a beneficial strategy this year
I just got my Skybit for Clayton, and it is going to be cold through much of next week…Sunday and Monday will warm up, but then we are right back in the colder conditions on Tuesday and Wednesday…
An Idea – I have been on the road a fair amount since last Saturday, and I have been thinking a lot about this rather interesting strategy for row cover use during the first half of this next month…
A 3-part row cover strategy for the first 2 weeks in March…
1. Keeping row covers on in early March may be a very good thing if average daily temperatures stay below 50-55 F. This strategy applies to the first 2 weeks of March on days when he daily average is going to be below 50-55 F. On those days the covers will serve to elevate the temperature beneath the cover,  and this will "force" crop growth. Row covers will have the effect of adding heat and GDD units on days when you would  normally not accumulate any (i.e. average daily temp is below 50). The row covers will ADVANCE your first bloom date in March – that could be a very good thing this year, and by forcing growth on a portion of your crop in early March, you will increase the odds that at least some of your crop will be ready "on time"
2. Row covers can cause problems on warmer days, so the ideal stategy is to take the coves OFF on days when the highs for the day will be in the upper 60s or higher. Just roll them to the side  on sunny days that will be in mid-60s or higher — then you are generating too much heat beneath the cover.
3. Once you start seeing many early blooms, the covers will likley need to come off unitl they are needed for freeze and frost protection
DISCLAIMER:  Because this is a farily new strategy, and cannot be considered a recommendation, you should test it out on a portion of your crop. This strategy is designed  to help you  keep at least a portion of your crop on a regular development schedule if temperatures remain winter-like in March. It is desigined to make a portion of your crop earlier, and

let's face it, its a whole lot easier to sell an early berry than it is a late one.

..so, I urge you to consider this early March row cover strategy to minimize the potential of this whole crop "coming on" at one time!

Further report on Chandler plants, Pungo, VA
I was interested in seeing yesterday that Chandler did not seem to have as many branch crowns as Camarosa on the same farm in Va Beach (Pungo). After a point, I decided to not keep digging up any more plants for the sake of science – so I cannot say for sure that Camarosa had more branch crowns than Chandler, but it sure seemed that way.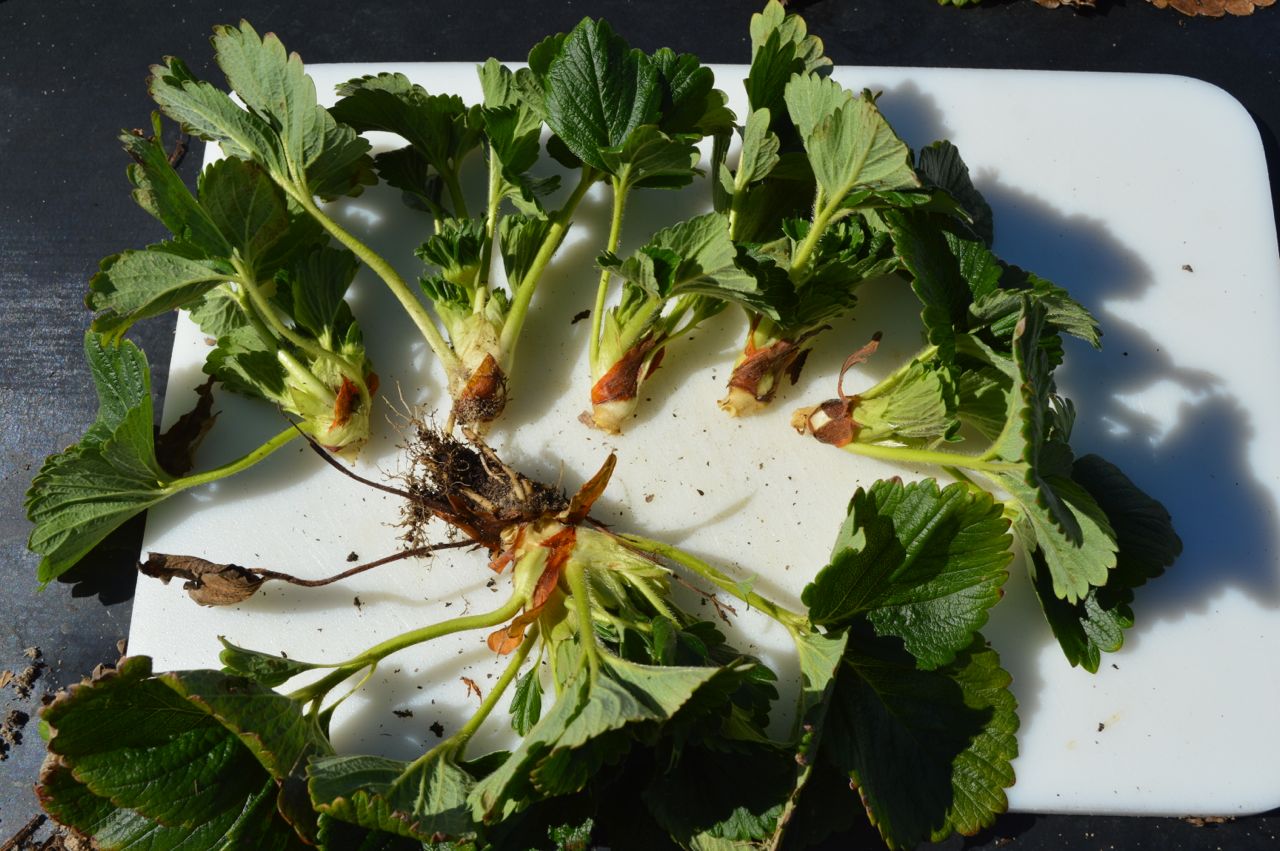 Fig. 10. Chandler with row cover this winter and had 5  branch crowns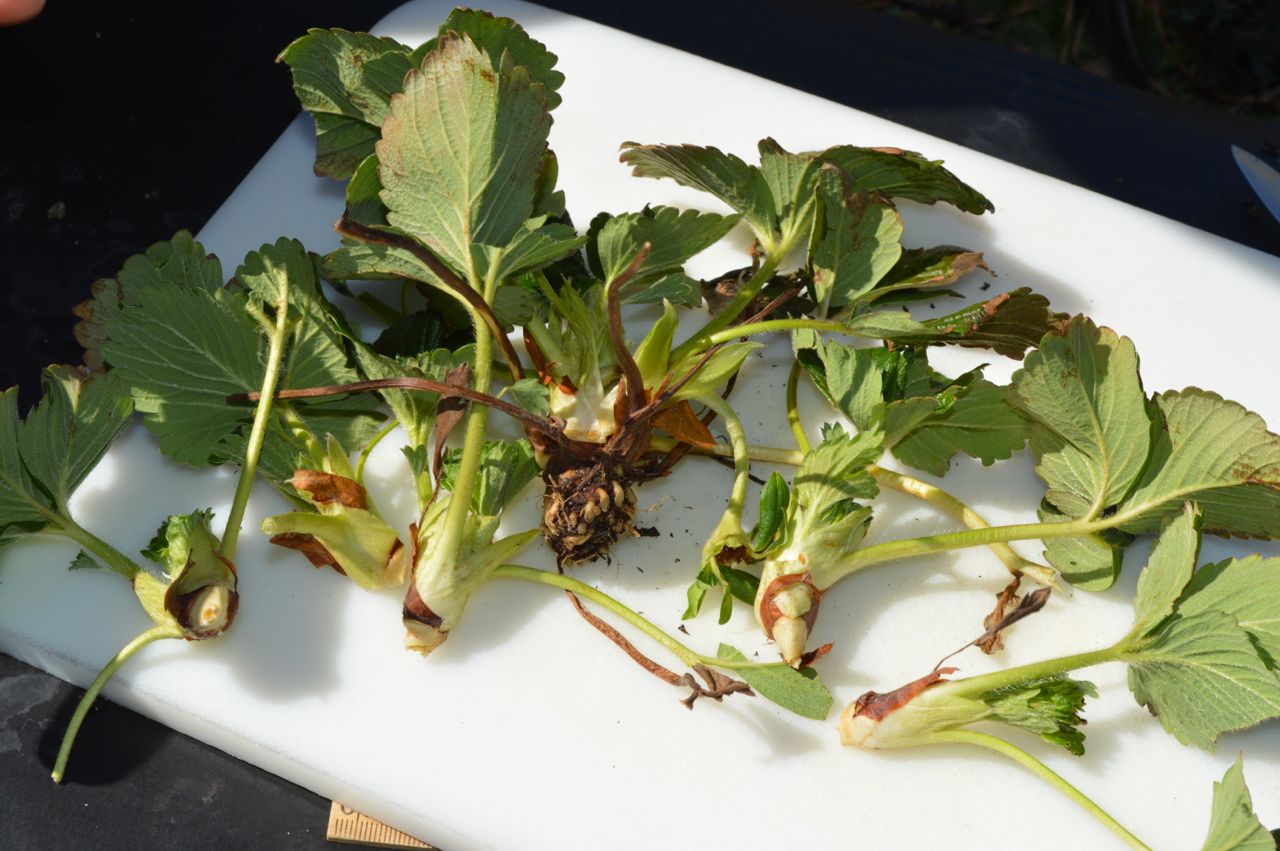 Fig. 11. Chandler without row cover were smaller and had 4 crowns.
In the next 2 photos you can see the winter injury in non-covered Chandler plants – the buds are fine, but you can see definite browning in pith. The row cover Chandler plants were PERFECT.  But, it is impressive that the flower buds made it on non-protected Chandler this winter as well as they did! The minimum in this field in Jan was 9 F.
3. BOB ROUSE on using a modified GDD method ( used by Dr. Jay Schlagel)

I received a note today from Bob Rouse about a modified approach for calculating GDDs, in which they essentially omit the actual low temperature, and substitute 50 F. For example, if you have a high of 60 and a low of 40, under the older method, you take the average of the high (60) and low (40), which is 50, and then subtract the base of 50 F, and get "0". With Jay's method, you use 50 as the Low Temp. And, in the example I showed yesterday of getting 58.5  GDD units for my NC site in Nashville (Table 1), you would now get 119.5 using this alternative method. An example of Jay's method:  if the high is 60 and low is 40, you actually use 50 as the low. Thus, (60 + 50)/2 = 55. And, you would accumulate 5 GDD (not zero). As I said yesterday, we need more research in this area. Maybe someone can apply for a nice Walmart grant to do this?
In future advisories I will be sharing what we have come up with (using the old GDD method) for number of growing degree day units associated with Camarosa 15% bloom, 50% bloom and first pick.
Table 1. Utilizing AccuWeather 30 Day Forecast to Generate GDDs – Old Way (POLING METHOD)
Hi Temp
Lo Temp
Ave
Base 50
GDD units
26-Feb
46
22
34
50
27-Feb
51
21
36
50
28-Feb
39
27
33
50
1-Mar
50
35
42.5
50
2-Mar
66
47
56.5
50
6.5
3-Mar
69
44
56.5
50
6.5
4-Mar
52
38
45
50
5-Mar
53
43
48
50
6-Mar
61
45
53
50
3
7-Mar
65
43
54
50
4
8-Mar
68
40
54
50
4
9-Mar
71
32
51.5
50
1.5
10-Mar
57
42
49.5
50
11-Mar
58
44
51
50
1
12-Mar
61
38
49.5
50
13-Mar
60
38
49
50
14-Mar
58
37
47.5
50
15-Mar
65
42
53.5
50
3.5
16-Mar
66
43
54.5
50
4.5
17-Mar
67
44
55.5
50
5.5
18-Mar
68
37
52.5
50
2.5
19-Mar
56
33
44.5
50
20-Mar
58
42
50
50
21-Mar
60
45
52.5
50
2.5
22-Mar
63
38
50.5
50
0.5
23-Mar
57
35
46
50
24-Mar
60
40
50
50
25-Mar
65
45
55
50
5
26-Mar
67
45
56
50
6
27-Mar
60
44
52
50
2
58.5
Table 2. Utilizing AccuWeather 30 Day Forecast to Generate GDDs – ALternative way
Hi Temp
Lo Temp
Ave
Base 50
GDD units
26-Feb
46
50
48
50
27-Feb
51
50
50.5
50
28-Feb
39
50
44.5
50
1-Mar
50
50
50
50
2-Mar
66
50
58
50
8
3-Mar
69
50
59.5
50
9.5
4-Mar
52
50
51
50
5-Mar
53
50
51.5
50
6-Mar
61
50
55.5
50
5.5
7-Mar
65
50
57.5
50
7.5
8-Mar
68
50
59
50
9
9-Mar
71
50
60.5
50
10.5
10-Mar
57
50
53.5
50
11-Mar
58
50
54
50
4
12-Mar
61
50
55.5
50
13-Mar
60
50
55
50
14-Mar
58
50
54
50
15-Mar
65
50
57.5
50
7.5
16-Mar
66
50
58
50
8
17-Mar
67
50
58.5
50
8.5
18-Mar
68
50
59
50
9
19-Mar
56
50
53
50
20-Mar
58
50
54
50
21-Mar
60
50
55
50
5
22-Mar
63
50
56.5
50
6.5
23-Mar
57
50
53.5
50
24-Mar
60
50
55
50
25-Mar
65
50
57.5
50
7.5
26-Mar
67
50
58.5
50
8.5
27-Mar
60
50
55
50
5
119.5
30 Day Outlook in Mid-Atlantic States:  Bob Rouse informs me that that ground hog must be in the witness protection program.
Jay Schlegel says the little bugger (ground hog) got it right but it was not for six week but ten weeks that winter will continue.
—–
Special thanks to Brookdale Farms in VA Beach for hosting my daughter, Ashely, and I, on our return from Norfolk to Raleigh!
Dr. E. Barclay Poling
Retired Small Fruit Extension Specialist
& Professor Emeritus
Department of Horticultural Science
Campus Box 7609, 162A Kilgore Hall
NC State University
Raleigh, NC 27695-7609
A pessimist sees the difficulty in every opportunity, an optimist sees
the opportunity in every difficulty.Winston Churchill, Prime Minister of England
cc