Discussion on Field Sanitation Cost and Misc. Comments RE: Crop Stage and Critical Temp Table (Feb. 17, 2014)
Good evening!
I have been getting a fair amount of feedback from the field today.
Let's start with Eric Hunter, Easley, SC:
Hey Dr. Poling,
Regarding your question about how much it cost per acre for sanitation, my final number comes out to be $515/acre.
This figure includes the removal of dead leaves, the removal of any weeds within the holes (this year was not bad at all with weeds), and enlarging nearly EVERY plastic hole that a plant is in. I think this part of the work (enlarging the holes) is as important as anything else we do. Our plugs are set out behind a water wheel transplanter and a significant portion of our plants are planted off center of the hole or a little deeper than preferred (just due to the hurried nature of planting) – and these two variables almost always involve a crown or two growing underneath the plastic.
Some growers will pull crowns out from under the plastic once their plants are growing larger and they see the crown "lifting" the plastic up. That hasn't worked for us – many times when the plastic is already being lifted up, its too late – typically we will see where botrytis has already attacked the crown, foliage and buds due to the warmth and moisture under the plastic (the lifted plastic acts like a small greenhouse).  Another issue is that the crowns underneath the plastic don't always grow and "lift" at the same time. Sometimes they are weeks apart, and the later ones cannot be easily seen once the plant canopy has grown larger. All of that to say that its a lot easier and economical for us to just tear open the plastic holes a little larger during this stage.
Regarding weeds:  this year we had very few weeds to pull. The past few years the weeds were bad within the strawberry holes (in particular vetch and Carolina geranium. The amount spent last year was over $600/acre for sanitation due to the amount of weeds that our workers had to extract from the holes.
Thanks,
Eric
From the Sandhills: Lee Berry sent these photos:
Lee wrote:  "Uncovered today and lots of popcorn fruit readt to be exposed with temps. this week."
Editor's remarks:
I can see  couple of leaves on the plant in the above photo that should be removed as part of feild sanitation.
If those blooms survive (which I doubt) they could possibly be red-ripe berries by third week in March. The bigger concern is with the tight buds that are now emerging, which will soon be the popcorn stage that Lee mentions.
We've been getting calls today on Stinger use at this time, and Dr. Katie Jennings mentioned to me that with the temperatures going into 50's and 60's, this week is a good window. NEVER tank mix Stinger and Poast — separate sprays always! Stinger is effective on vetch and clover. It will not work on henbit, chickweed, curly dock — sorry! I am glad Eric Hunter in Easley SC has had less of an issue with weeds with this winter.
Now is the time to starting scouting for mites when the covers come off.
This is also an opportune time to get a sample down to Clemson for botrytis resistance testing. Those dead blossoms in photo above can be sampled by Dr. Schnabel's lab. I spoke with a grower today who was all set to treat with Rovral, but I mentioned that I saw a recent sample back from Clemson for an Eastern NC grower where they found resistance for Rovral. The better decision is to get a sample to Dr. Schnabel's lab tomorrow!
2014 collection instructions (1)
A grower asked if it is ok to discard dead leaves, and plant parts in the aisle area, and I indicated that this is what many growers do. I am not aware of anyone who is actually removing them from field. The main thing is to do the basic sanitation now. Most growers feel the field sanitation does pay for itself with reduced disease pressure during bloom and better spray coverage as well.
With the popcorn stage not far behind, it is paramount to start thinking about your cold protection program for these flower parts.
Another grower was eager to start fert injections now, and I discouraged this piedmont grower — need to wait a few weeks. We are basically just coming out of dormancy. I saw some "issues" last season with growers who tried very early injection of N fertilizer when it was still below 50 F, and it backfired! At Clayton Central Crops we wait until 1st week in March to start fertilizer injections.
Now is a good time to line up your bee hives!
Have a good evening!
Dr. E. Barclay Poling
Retired Small Fruit Extension Specialist
& Professor Emeritus
Department of Horticultural Science
Campus Box 7609, 162A Kilgore Hall
NC State University
Raleigh, NC 27695-7609
P.S. The following 2 photos are from last season. The firs one shows a lot of emerged flower buds, and the next table indicates these can be killed at 20-25 F.  So, now is the time to get prepared for frost season. Usually we like to avoid using irrigation until we are into March. Rely on Row Covers at this time in late winter.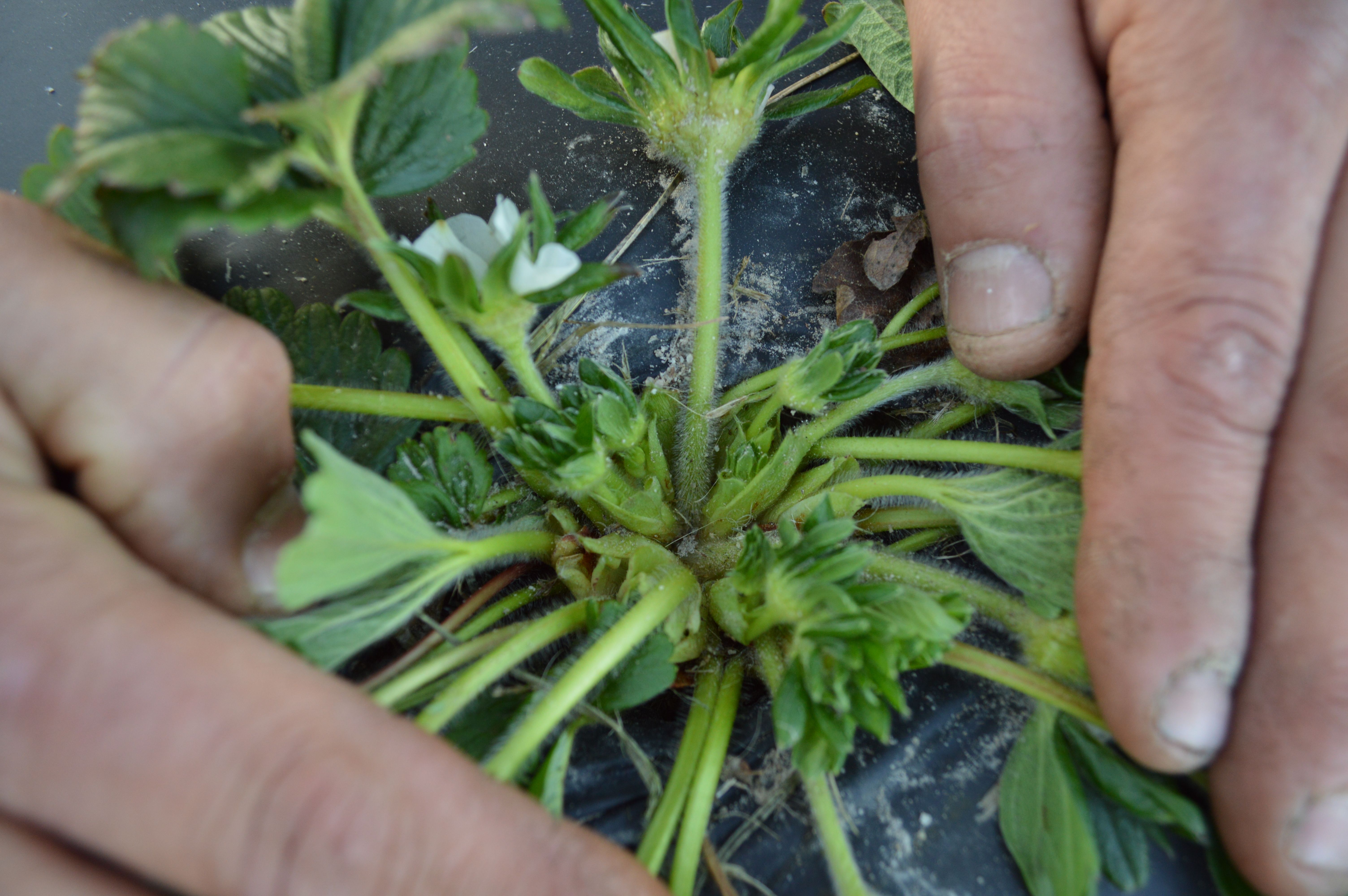 Was the information on this page helpful?
This page can also be accessed from:
go.ncsu.edu/readext?274841