Will 2014 Be Another Season of Weather Extremes? (January 10, 2014)
Will 2014 be another season of weather extremes?
I am in Savannah, Georgia, this Friday morning – after a late night arrival (around midnight). I have this crazy  internal alarm clock that always goes off at 5 a.m., so I just headed down to the lobby for a cup of the higher test stuff, and there I saw on the TV monitor that Savannah is going to be 70 today, and then 75 tomorrow!
That's warm enough for a strawberry crop to get grow'n again!
With these temperatures, you certainly don't have to wait any longer to do an assessment of whether your crop may have some internal crown injury – you can tell right now!
I have had only a few reports so far (one grower near Benson, and another in Foothills of SC). I would be happy to post some shots of your "dissected crowns" during the next few days of this meeting! I am interested in seeing whether you have any slight browning of the normally ivory white "pith" in the crown tissue?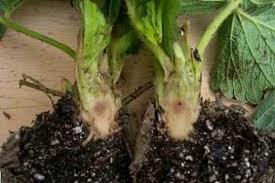 But, aside from "all that has happened" this week with weather, I am truly begining to wonder if this is part of a real pattern that we may have to live with for the rest of this season? Today (Friday) and tomorrow, we will enjoy some spring like temperatures. But, just a few days ago  new RECORD LOWS were set everywhere. At my home base in  Raleigh, it got to 9 F on Jan 7th – smashing the  old record of 15 F set in 1988.
Are new records of this kind a "good thing" for a strawberry crop? Not really. But, when the hotel bell hop informed my wife and I that  Savannah was really cold this week  (19 F), it gave me pleasure to let him know that it was fully 10 degrees colder in Raleigh. How could telliing someone this  give me pleasure? It was late at night, and I was dog tired. But, these are not things that I should be bragging about!
So, what kind of weather conditions can we expect this season?    I actually had "good intentions of  "polling" some of the climate experts I know for a New Year Weather Outlook at the end of last year, but that whole idea got trumped when I started reviewing some of the near term forecasts by AWIS just after Christmas. And, then  more I kept looking, the more worried I got. On the last day of the year (a Saturday), I got this note from Nancy Edwards, Wartrace, TN:
Dec. 31, 2013 (9 a.m.)
Hi Barclay,
Just got back from visiting a friend in southern Texas very early this morning. We are so very fortunate to live in such beautiful states as Tennessee and North Carolina!
I have a row cover question for you. I attached a copy of the 10-day Intellicast forecast. We have some nights ahead in the upper teens….a consistent history tells me we will be 8-10 degrees BELOW the forecasted temps which will put us in single digits. What is your best row cover advice taking into account the daytime temps and the time of year? Cover and uncover?
Best regards,
Nancy
Valley Home Farm
I did not really react to Nancy's email until New Year's Eve, as we had family with us and it was the holiday season! But, since when has Strawberry Weather ever cared about our holiday schedule? Anyone remember the Easter Freeze of 2007?
So, the Weather Hound got busy on New Year's Day, and our first Strawberry Weather Alert of the New Year was not full of speculations about what the year head in weather might look like. NOPE. It was all about some serious stuff that was starting to happen, and the new year was not even a day old.
Here is what I found for TN — I noted some areas of Nancy's state would be getting as low as 6 F on Jan 6-7, 2014. So, on New Year's Day, Nancy Edwards, got her row covers applied. These were here AWIS numbers on that date: TN AWIS WEEKLY Jan 1
I DID THE SAME FOR THESE OTHER STATES ON JAN 1, 2014 (Before we even knew whether we'd have funds enough to get this service running)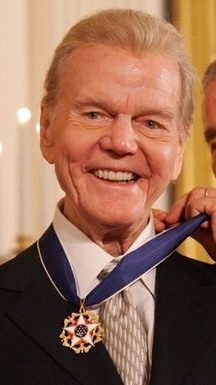 Well, we now know THE REST OF THE STORY as to what really happened in Tennessee earlier this week (and all over our strawberry growing region) – it was even colder than anyone anticipated on January 1st, including AWIS. Nancy Edwards was very glad they got busy on New Year's Day to cover their whole crop up – it got into low single digits this week. And, hey, we had lots of those single digits over in NC, too!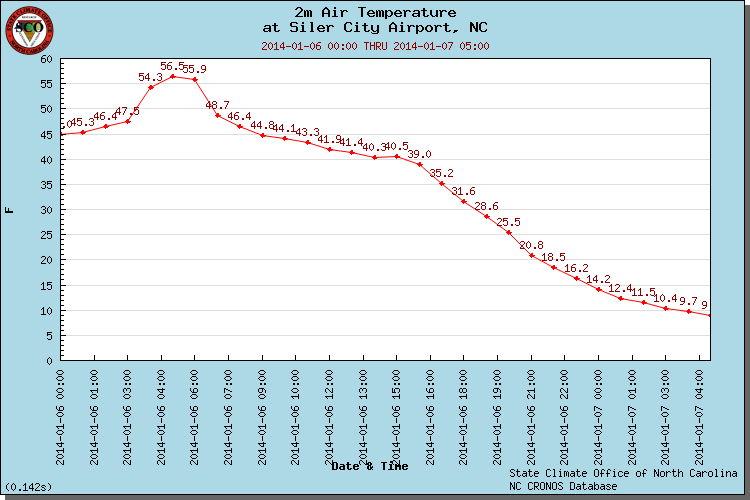 In Siler City (Central Piedmont NC) the mercury dropped about 47 degrees in 12 hours. At 4 p.m. (Jan 6) it was 56.5 F, and then at  4 a.m. this morning it was 9 F. At 7:35 a.m. it was 7.2 F.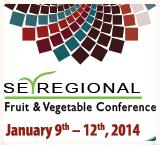 Well, I see its time to go over and register at the Conference. Before I leave, I wish to say that I do put a whole lot of trust in the excellent weekly maximum/minimum temperature forecast issued by  AWIS (and, everyone loves their maps):
1. NC Update: NC AWIS Jan 10 to 17
How warm will it be Saturday?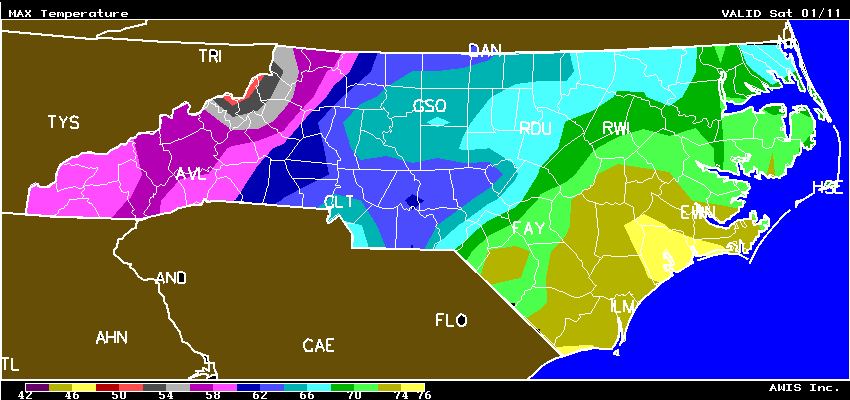 2. VA Update: VA AWIS Jan 10 to 17
How warm in VA in Saturday?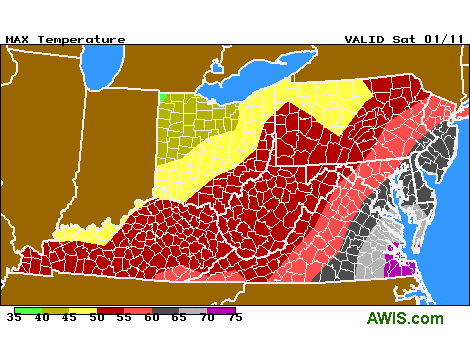 Here is this morning's SkyBit for the Amelia area –  (not far from Richmond)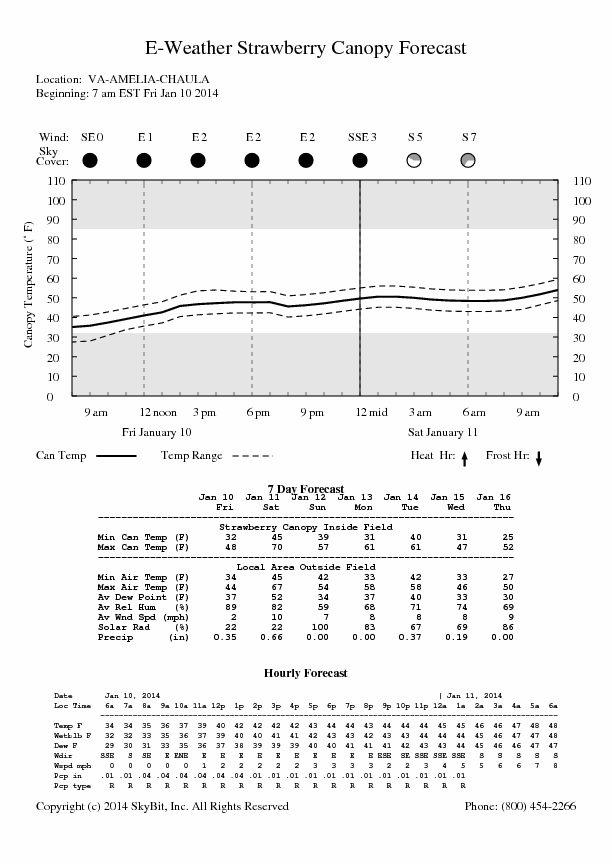 3. SC Update:  SC AWIS Jan 10 to 17
4. TN Update: TN AWIS Jan 10 to 17
5. GA Update: GA AWIS Jan 10 to 17
We now its going into low 70s in Savannah today and mid-70s tomorrow, but what about the rest of this state?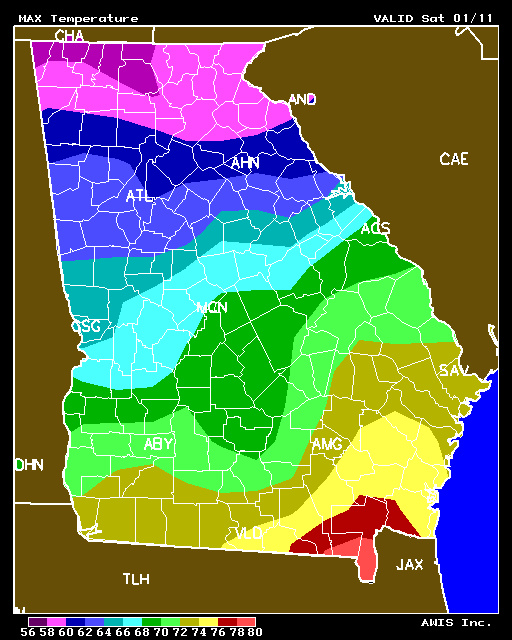 6. KY Update: KY AWIS Jan 10 to 17
7. AR Update: AR AWIS Jan 10 to 17
8. MD Update: MD AWIS Jan 10 to 17
9. MO Update: MO AWIS Jan 10 to 17
10. OK Update: OK AWIS Jan 10 to 17
11. OH Update: OH Jan 10 to 17
12. NJ Update (they are having a tough time up there, so I thought I'd add them today):NJ AWIS Jan 10 to 17
FINAL STRETCH OF CAMPIAGN TO SUPPORT ADVISORY – WE ARE JUST $2500 short…make a pledge and see your name on HONOR ROLL tomorrow!
And, if you would like to help us with the cost of doing this Strawberry Weather Alert, I will be wandering around the Exhibit Hall today and tomorrow, and I am more than happy to let you know how you can help. This is a new day folks! There is no state or federal funds for this sort of thing. As of yesterday, we collected just over of $12,500, but we still need another $2,500 to meet our goal of $15,000. These funds are needed to pay for the   weather service products that we have all come to know and depend on. Including the very unique  30 Day Ag Weather Outlook VA – TN- NC – SC (next one is coming out Jan. 13, 2014). I'd really like to add GA to this product.
As they say, you get what you pay for, and AWIS, SkyBit and the folks helping us with the 30 Day Ag Weather Outlook VA – TN- NC – SC,  stand ready to help you through "whatever weather" gets thrown at us this season. If  everyone does their part, I know we can meet our $15,000 GOAL. Make a pledge via email to me today at the Conference, and I will list you on our HONOR ROLL this Saturday of all the growers and industry members who supported the Strawberry Weather Alert program in 2014. You can send me a text message with your pledge to 919-418-9687, or I can get email from you at:  strawberrydoc@gmail.com
Individual grower donations have been from $75 to $500
State Grower Associations have been giving $500, like the VA Strawberry Growers Assn!
Industry gift giving has been from $750 to $1500
The Honor Roll gets published tomorrow!
1. Checks can be made payable to:   NC Agricultural Foundation
2. A letter from you is also needed: 
A simple letter must be included that states The enclosed check for $??? is an unrestricted gift to support Dr. Poling's strawberry weather advisory program.  The letter should not include anything else. BUT, I DO NEED YOU TO SIGN YOUR NAME ON THE LETTER OR NOTE.
3. The address for mailing your check and brief letter:
Dr. Barclay Poling, Professor Emeritus, Dept. of Hort. Sci., Campus Box 7609, NC State University, Raleigh, NC 27695-7609
So, if you made a commitment, kindly mail it in to us!! Don't forget that one sentence letter, or we will have to get back in touch with you.
REMEMBER YOU CAN TEXT ME YOUR PLEDGE:  919 418 9687
Dr. E. Barclay Poling
Professor Emeritus
Department of Horticultural Science
Campus Box 7609, 162A Kilgore Hall
NC State University
Raleigh, NC 27695-7609