Weekend Update on Cold Weather Next Week…better Safe Than Sorry! (Jan. 18, 2014)
Good afternoon!
Even before getting back to Raleigh last evening I had several grower updates through the day on Friday while I was still down in Florida, including this one from Tom Baker, VA-Beach (8:44 a.m., Friday)
Hello Barclay,
Still watching AccuWeather Premium, our forecast for next week continues to get colder…
Lows for next Wednesday (Jan 21), Thursday (Jan 22), Friday (Jan 23) mornings:
Chesapeake, now forecast for

17, 15, 20 F
Pungo, now forecast for

21, 18, 24 F
The temp in Chesapeake fell to 27.6 this morning. We were pulling row covers late yesterday afternoon in Chesapeake but had to STOP about 30 minutes before sunset (after pulling 5 of 6 covers) because the covers were starting to freeze.  The car thermometer said 39 when we left, but the (rain-dampened) covers that had been pulled off the plants, into the row middles, were freezing and would not pull out completely without tearing (ice is stronger than row cover fabric!). No wind at all, so (if the car thermometer is accurate), we had at least a 7-degree differential from ground (row middle, not canopy) level to car level (no, I have no idea where the car's outside temp sensor is).
Tom
Editor's note:  I just took a look at AWIS minimums for the Williamsburg, VA areas and they are looking at lows of 15, 11 and 18 F on Wed, Thur and Fri mornings. Here is the AWIS minimum temp table for VA for the period from Jan 18 (today) through Jan 24:
Following up on what Tom is saying for the Tidewater region re: forecast temps getting colder for next week, I thought it might be well to see if we can see if there has been any change in forecast made yesterday for next Wed  (Figure 1) vs. forecast made today (Figure 2) for next Wed (Figure 2).

1. VA Update (cont'd).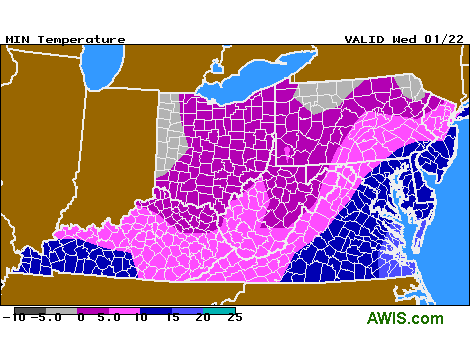 Fig. 1. VA minimum temp forecast for next Wed (made on Jan 17)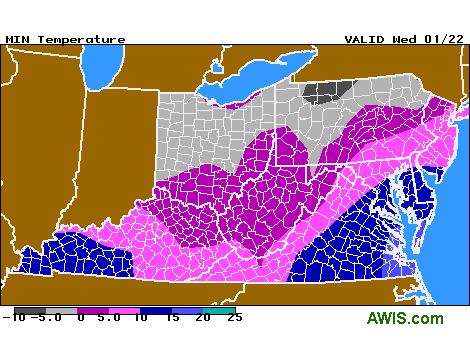 Fig. 2. VA minimum temp forecast for next Wed (made today). The main difference really is with the broadening of the GRAY area in PA (represents temperatures below 0 F), and so I am inclined to agree with Tom that we need to keep a careful watch on this!
Looking at Central VA today we can see winds have been pretty stiff much of the day and dew points are really dropping this late afternoon and evening. We will see a similar rapid drop in dewpoints next week on Tuesday:  Ashland 5-day
Ashland will be going to a low of about 11 F on Wed morning; Charlottesville will be 12 F, and Farmville 10 (Farmville will be 9 F on Thur morning). Here is the VA minimum temp map for next Thursday: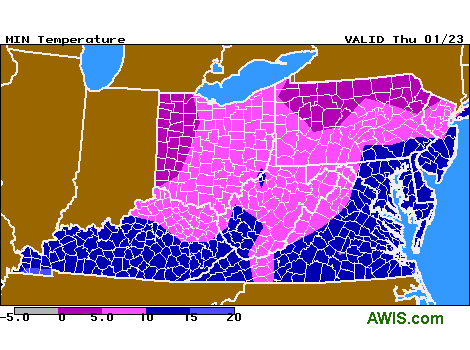 Fig. 3. Min temp map for Thur (Jan 23) as of Sat. (Jan 18). We cannot rule out that tempertures could  even go lower next week than what is being indicated in this minimum temperature map for Thursday morning in VA.
What about FRIDAY morning in VA?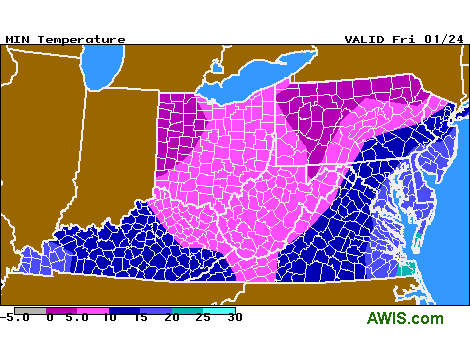 Fig. 4. If VA growers re-apply row covers, the covers will not need to come off for a while. Friday morning will be very cold in VA as well. As soon as you get the row covers back on, you may wish to work on building up your wood pile 'cause it is going to be really cold for several days next week.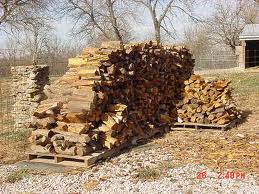 2. NC Update NC AWIS Min Temp Jan 18 to 23 (afternoon update on Jan 18)

It will be getting very cold across the border in NC as well this next week.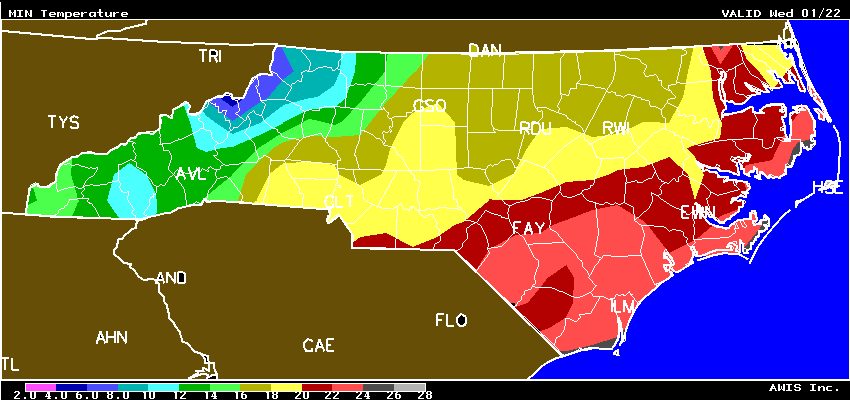 Fig. 5. Minimum temps on Wed morning – the western piedmont will be in the low teens by Wed morning. The strawberry crop should be able to handle low teens without any problem.
In an exchange of comments between John Vollmer and Dr. Jeremy Pattison this past week, I was able to glean these comments from Jeremy about his observations on cold injury this winter:
"I have seen several fields across the state that experienced single digits and have been pleasantly surprised. I'm very glad that it was a fairly short event. One grower was taking temperature measurements throughout the night and into the morning (Monday through Tuesday) <Jan 6-7> and recorded a low of 3F above the plastic and 20F directly near the crown of the plant. This field was uncovered and had very little to no damage. I think what happened was the bed, even though frozen, was significantly warmer than the ambient air and had some "heat" to share to the plant. We are calling it "cold heat"! After all, water has a very high specific heat and it takes a lot of energy to change its temperature (either up or down). IF this was a week long event, we may have seen much more damage but thankfully everyone seemed to pull through with minor damage which I think will not be impacting yield. We will see."
During this previous freeze episode in January, it was amazing to see how just how warm soil temperatures remained, even on the coldest of days! Fortunately, we have also been blessed with good rainfall this winter (a moist soil is very effective for building up your heat reservoir). This is in contrast to CALIFORNIA where they are desperatey dry this winter!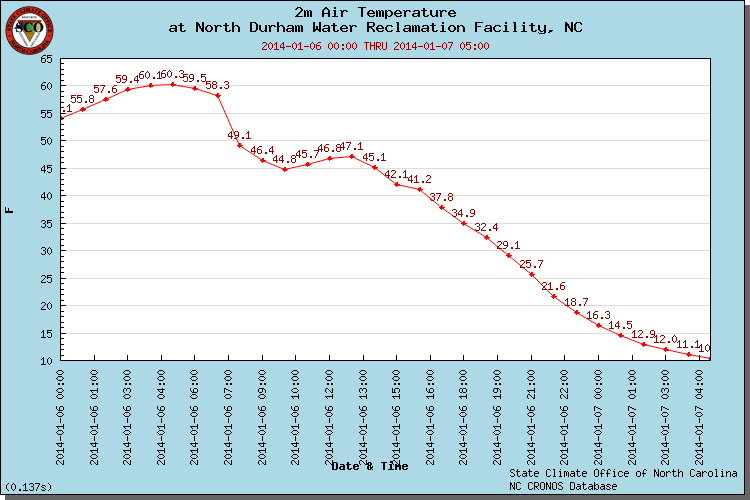 Fig. 6. NOTE HOW COLD IT GOT BY 4 a.m. on JAN 7 AT THIS DURHAM, NC, LOCATION (10 F). ALL OF MON JAN 6 THE TEMP "JUST DROPPED" – AT 6 a.m. WE WERE ALMOST 60 F, AND THEN IT WAS BELOW FREEZING AT AROUND SUNSET. AT 7 p.m. IT WAS ABOUT 29 F, AND BY 9 p.m. IT WAS IN THE LOW 20'S. THE RAPID DROP WAS EXPLAINED IN PART BY VERY LOW DEWPOINT THAT NIGHT.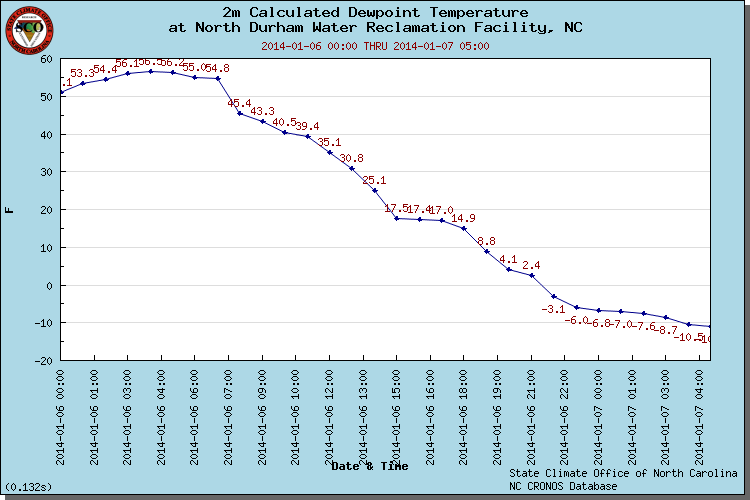 Fig. 7. INDREDIBLY LOW DEWPOINTS!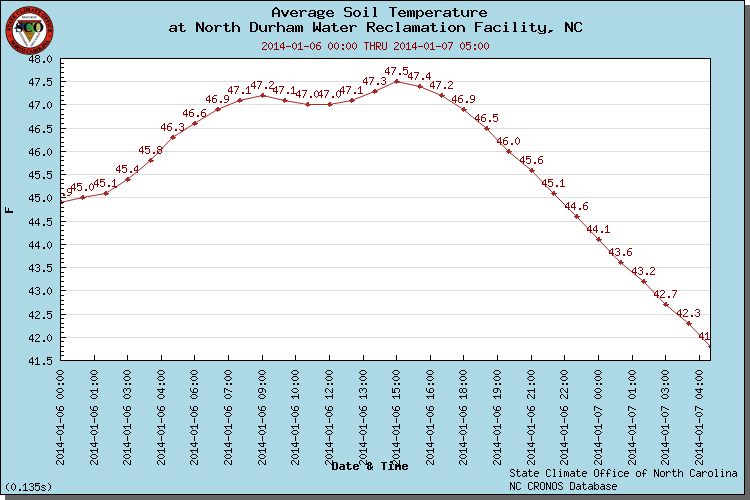 Fig. 8. Note how much warmer the soil temperature remained all night and morning! At 4 inch depth, the soil remained above 40 F at 4 a.m. (vs. -10 air temp). That's why ROW COVERS can be such an amazing tool – they help to trap heat during the day beneath the cover, and then keep temperatures from dropping so quickly at night.
Well, just how long a cold event will this be in NC this upcoming week? Here is a new tool I located this Saturday afternoon that gives us a quick idea of how many hours we will be below 20 F on Wed, Thur and Fri next week: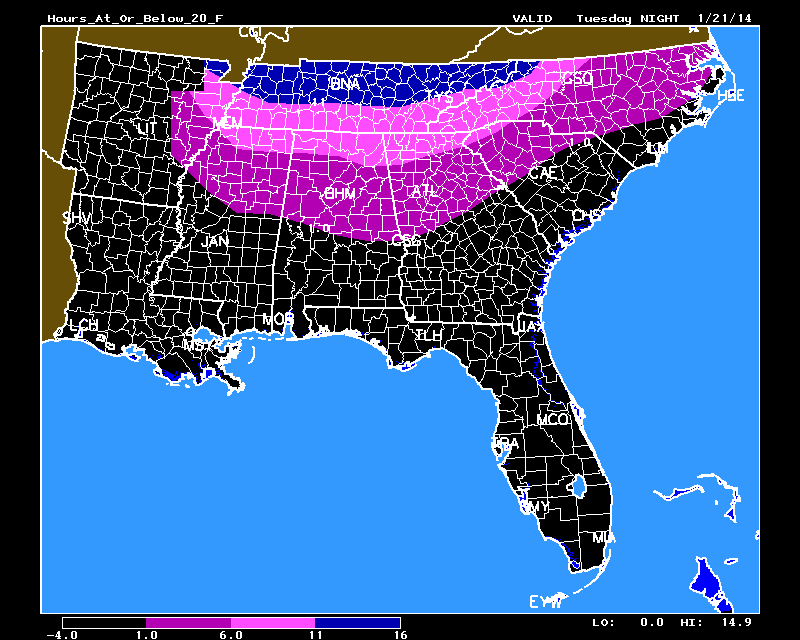 Fig. 9. On Tue night/Wed morning, an area like Greensboro will accumulate about 11 hours below 20 F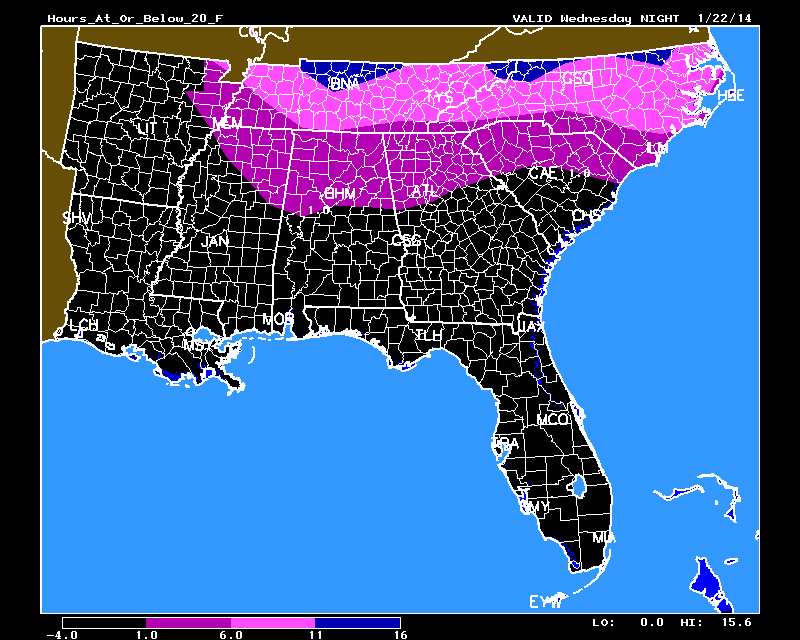 Fig. 10. On Wed night/Thur morning, GSO (Greensboro) will accumulate another 11 hours below 20 F, and in blue areas north of GSO it will be even more.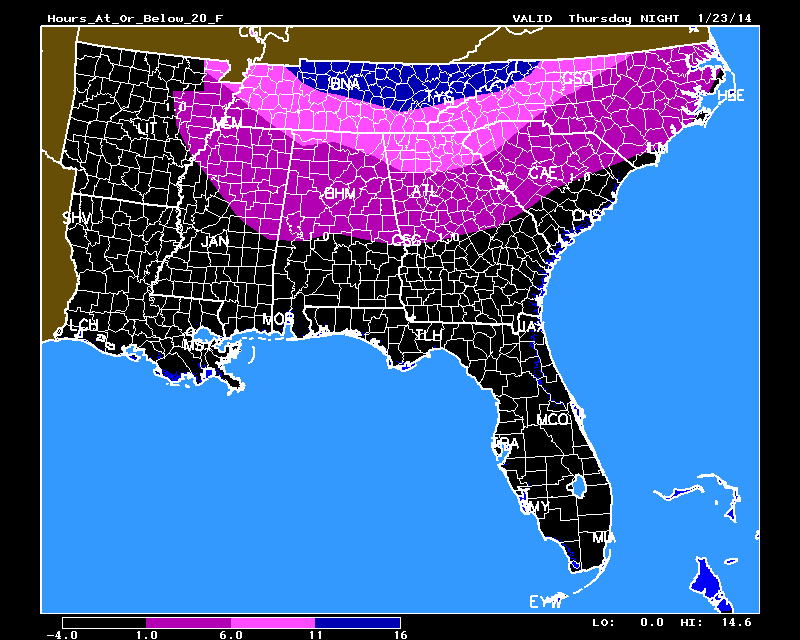 Fig. 11. On the "third" night of this freeze event, another 11 hours of temperatures at or below 20 F will be accumulated. For the 3 nights, there could be more than 30 accumulated hours below 20 F. Hmmm. I wonder how a freeze of this duration will affect strawberry crowns and flower buds? Do you recall that little warm up right after the Savannah meeting? Can we safely say a plant on Jan 21-22-23 has the same hardiness as the same plant did on Jan 6-7?
Fig. 12. NC Min Temp Map for Jan 23 (Thur). GSO will be in 14-16 F range.
I did note Dr. Pattison's comment in the Jan 2014 SRSFC newsletter that,
"As a rule of thumb, if temperatures during  the winter are forecast to be in the mid to
lower teens (<15oF) the best course of action is to cover the planting with row
covers. Under some conditions, this temperature may or may not cause
winter injury, however, at this point of the season (early January) approximately
80% of your yield potential has been made and the minor labor expense of
row cover deployment is well justified."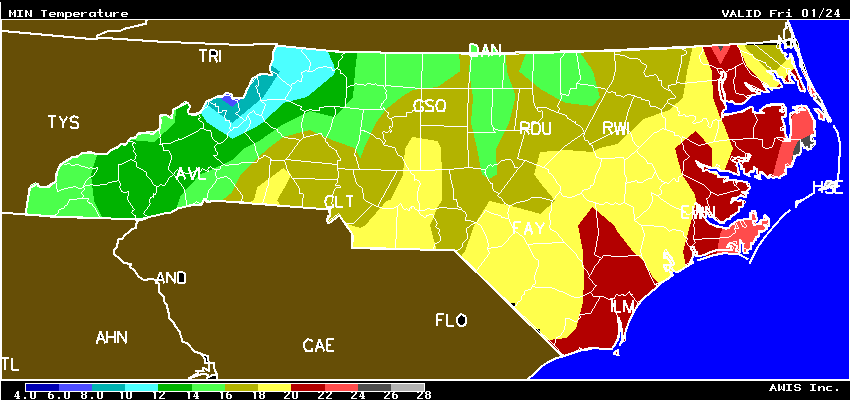 Fig. 13. NC Min Temp Map for Jan 24 (Fri). GSO is in the olive zone (16-18). This is the forecast as of today (Sat. Jan 18), and lots can change between now and then! But, given the very long duration of this freeze, the minimums going below 15 F for part of the time, and the fact that it is now getting into late January, applying a row cover this weekend or very early next week is probably more desirable than risking a bad resul for areas that will be in the mid to lower teens, or colder, next week. 
3. SC Update – SC AWIS Jan 18 to 23
4. TN Update – TN AWIS Jan 18 to 23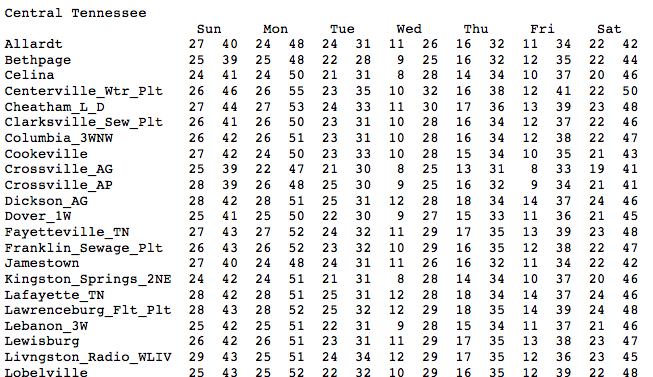 5. KY Update – KY AWIS Jan 18 to 23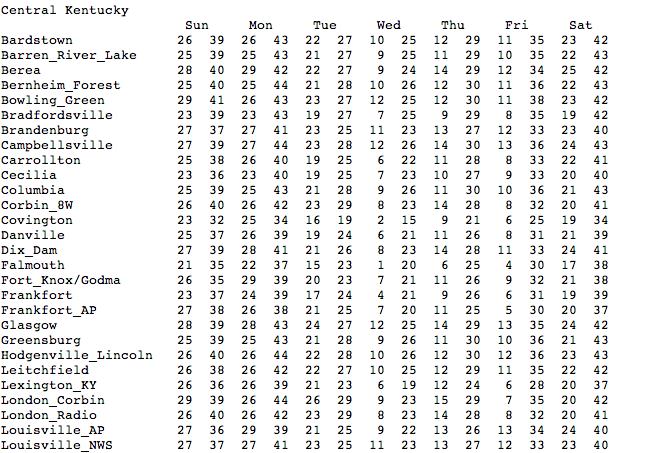 Have a good weekend!
p.s. How I wish I could go back to FL next week! The Radiance berries were spectacular!!
Dr. E. Barclay Poling
Professor Emeritus
Department of Horticultural Science
Campus Box 7609, 162A Kilgore Hall
NC State University
Raleigh, NC 27695-7609