Some Changes in NC Forecast (2pm Sunday, Jan. 19, 2014)
Find this article at:
go.ncsu.edu/readext?266919
Summary for NC:  While temperatures from this Arctic clipper are now going to be somewhat colder on both Wed and Friday this week, the absolute minimums are not nearly so threatening as the freeze the state experienced Jan 6/7. If the forecast for your area is for temperatures in the low teens, or colder, it may be good insurance to re-apply row covers by this Tuesday, or sooner.
And this is an interesting option…
The one unknown with this freeze is how the duration of freezing temperatures below 20 F may impact the crop. Ideally, I would be able to access another table showing the duration of temperatures below 15 F and 10 F, but maybe next year AWIS will have those additional thresholds available as well. In the meantime, it would beinteresting to note how many hours your area will be below 20 F this week, and later we can cut some crowns and examine the condition of the flower buds to see if there was any damage? Please be sure to leave an uncovered section of row for  a good comparison. 
The economics of re-applying covers?
If you already have row covers ON the crop now, then you have nothing to do this afternoon except watch the football game, and maybe at half-time you can double-check  your row covers to see that they are well pinned down. I asked a few growers last week how much labor is required for them to pull a cover back on (from being rolled up in the field), and the answers I got were from 2-3 hrs/acre. For a row cover re-application costing maybe $30-$40/acre for labor, it might be a good insurance investment to make in areas that will be dropping into the low teens and single digits, and will also be having a pretty significant number of hours below 20 F from Wed through Saturday, like Louisburg ( 36 hrs).
The change in the forecast from yesterday…
The forecast has changed! For example, Asheville will now see a minimum of 6 F on 1/23, whereas it was only heading for a low of 9 F in yesterday's AWIS forecast for 1/23. Also, it will now be even colder on Friday. In Greensboro it will likely be 15 F on both Wed and Fri morning. Previously, Thursday  was going to be the low temp for the week ahead.
Table 1. While you were sleeping – change in forecast from
January 18 forecast to January 19 forecast for several locations
Minimum Temperature by Date
Location
Forecast on:
Jan 22 (W)
Jan 23 (Th)
Jan 24 (F)
Jan 25 (S)
Asheville
18-Jan
9
8
8
12
19-Jan
6
13
6
16
change
-3
5
-2
4
Greensboro
18-Jan
18
18
16
21
19-Jan
15
20
15
24
change
-3
2
-1
3
Siler City
18-Jan
16
14
14
16
19-Jan
13
17
13
20
change
-3
3
-1
4
Louisburg
18-Jan
15
13
13
16
19-Jan
12
16
11
19
change
-3
3
-2
3
Kinston
18-Jan
23
15
19
19
19-Jan
20
16
19
21
change
-3
1
0
2
Here is the AWIS state map for NC on Wed and Fri: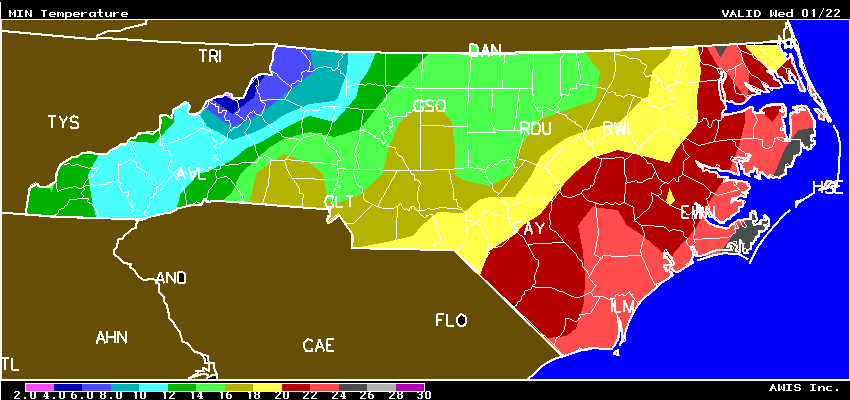 Figure 1. Min temp map for Wed (1/22). The light green indicates 14-16 F.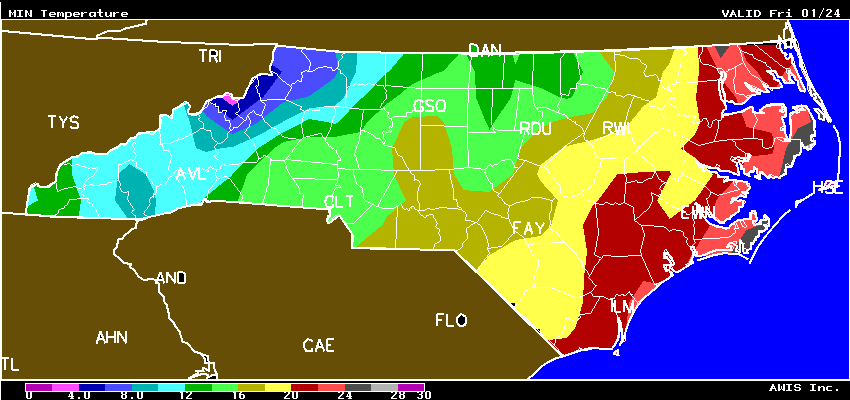 Figure 2. Min temp map for Fri (1/24)
How many hours will the temperature be under 20 F this week in NC? Just click on this pdf to see how many hours of temperatures  at or below 20 F will accumulate in your location:  NC HOURS BELOW 20 F
What really caught my attention in this next table is how Louisburg (Franklin Co – piedmont) will have more hours of sub-freezing temperatures below 20 F this week than Asheville!
Table 2. Temperature duration forecast for 5 NC locations
Hours at or Below 20 F
Location
Jan 22 (W)
Jan 23 (Th)
Jan 24 (F)
Jan 25 (S)
Sum
Asheville
13
5
13
0
31
Greensboro
9
2
9
0
20
Siler City
10
9
10
1
30
Louisburg
11
11
12
2
36
Kinston
1
10
2
0
13
AWIS Temp Mins for NC this week: NC MIN Temp Jan 19 to 25
Good luck!
Dr. E. Barclay Poling
Professor Emeritus
Department of Horticultural Science
Campus Box 7609, 162A Kilgore Hall
NC State University
Raleigh, NC 27695-7609