NC Update: Near Record Breaking Low Temperatures on Wed / Thur (January 28, 2014)
Find this article at:
go.ncsu.edu/readext?269171
Last chance to apply row covers to strawberry plasticulture beds!
Dear NC Growers, Agents, Agronomists and Others,
You already know that near record breaking cold temperatures will be invading our region Wed night (1/29), and by early Thursday morning (1/30), we may see a number of new record lows. In my location (Raleigh), the record is 7 F set in 1977. Right now, Accuweather Pro is forecsting 8 F for Thur morning, and AWIS is saying 9 F for Raleigh-Durham. That's pretty darn close to the 1977 record of 7 F. Surely, if we go by SkyBit's strawberry canopy low for Thursday morning, it's a sure bet the record will fall. Please note that SkyBit is now forecasting a canopy low of 3 F on Thu (at Clayton). Clayton is about 20 minutes southast of Raleigh. The air canopy at Clayton will be 7 F, according to SkyBit. Let me repeat that, 3 F in the strawberry canopy!! I sure hope that Rocco has applied his row covers at Clayton! I know that Charles Barrow has us covered up in Kinston at the Cunningham Research Station.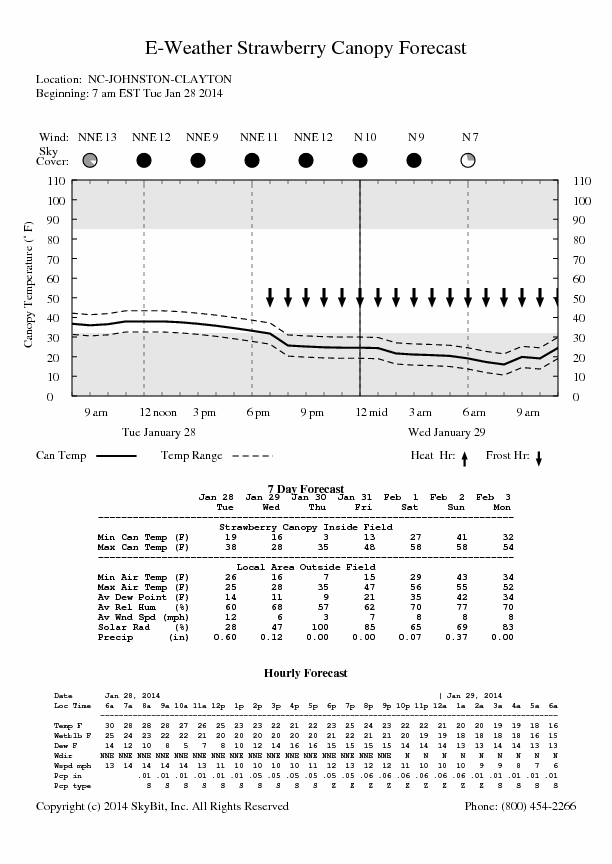 Closer look at Eastern NC…
Of course, Eastern NC is the land of "I don't need row covers."  Well, some of the growers in this midler section of the state need to take a look a this forecast for their region on Wed night/Thur morning. At one Kinston location it may drop to 8 F.
Statewide AWIS MAP for Thursday: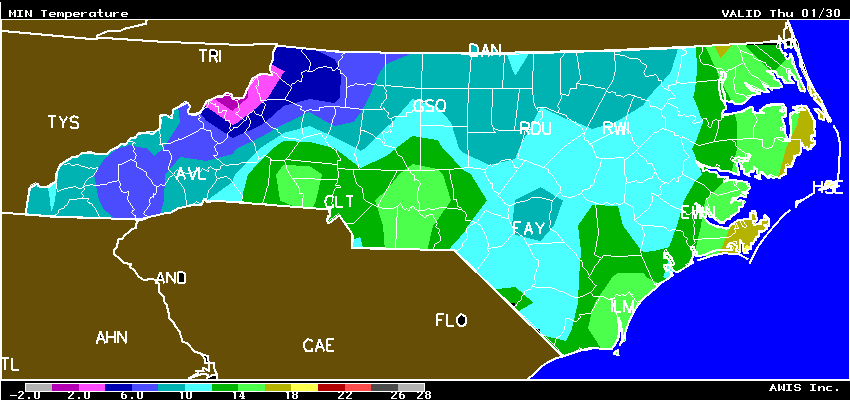 Fig. 1. Minimum temps on Thur morning may set new record lows. Note the cold air in the FAY (Fayetteville) area. At Kinston we may hit 8 F. SkyBit says Clayton will hit 3 F in the strawberry canopy!
Statewide AWIS Min Temp Table (click to download): NC AWIS Jan 28 to Feb 4
With the snow coming today, you are going to have to move fast to get a row cover on (if you can find one).
The snow will likely be in Raleigh area by about 3 p.m. today. The snow on top of the cover will enhance overall protection (ice would not).
Signing off!
Dr. E. Barclay Poling
Professor Emeritus
Department of Horticultural Science
Campus Box 7609, 162A Kilgore Hall
NC State University
Raleigh, NC 27695-7609
cc