Virus Reports in July / Aug Newsletter and Further Comments on July 11, 2013 by Barclay Poling, Professor Emeritus, NCSU
Dear Agents, Agronomists, Growers and Others,
Yesterday, July 10th, my wife and I celebrated our 37th wedding anniversary, and I also think it was some very good news to receive this communication (via the NCSA July/Aug newsletter) from Joe Cooper (reprinted below), Balamore Farms Winning Virus Battel.  I am taking this opportunity to simply add some photos so that you can better see what Joe is talking about. He sent these photos to me back in May. I think a lot of us are "visual learners," and it can help to actually "see" what is being discussed in this article that appeared in yesterday's newslettter, The Strawberry Grower. I will be visiting his nursery operation this weekend with Dr. Guido Schnabel (Fig. 1).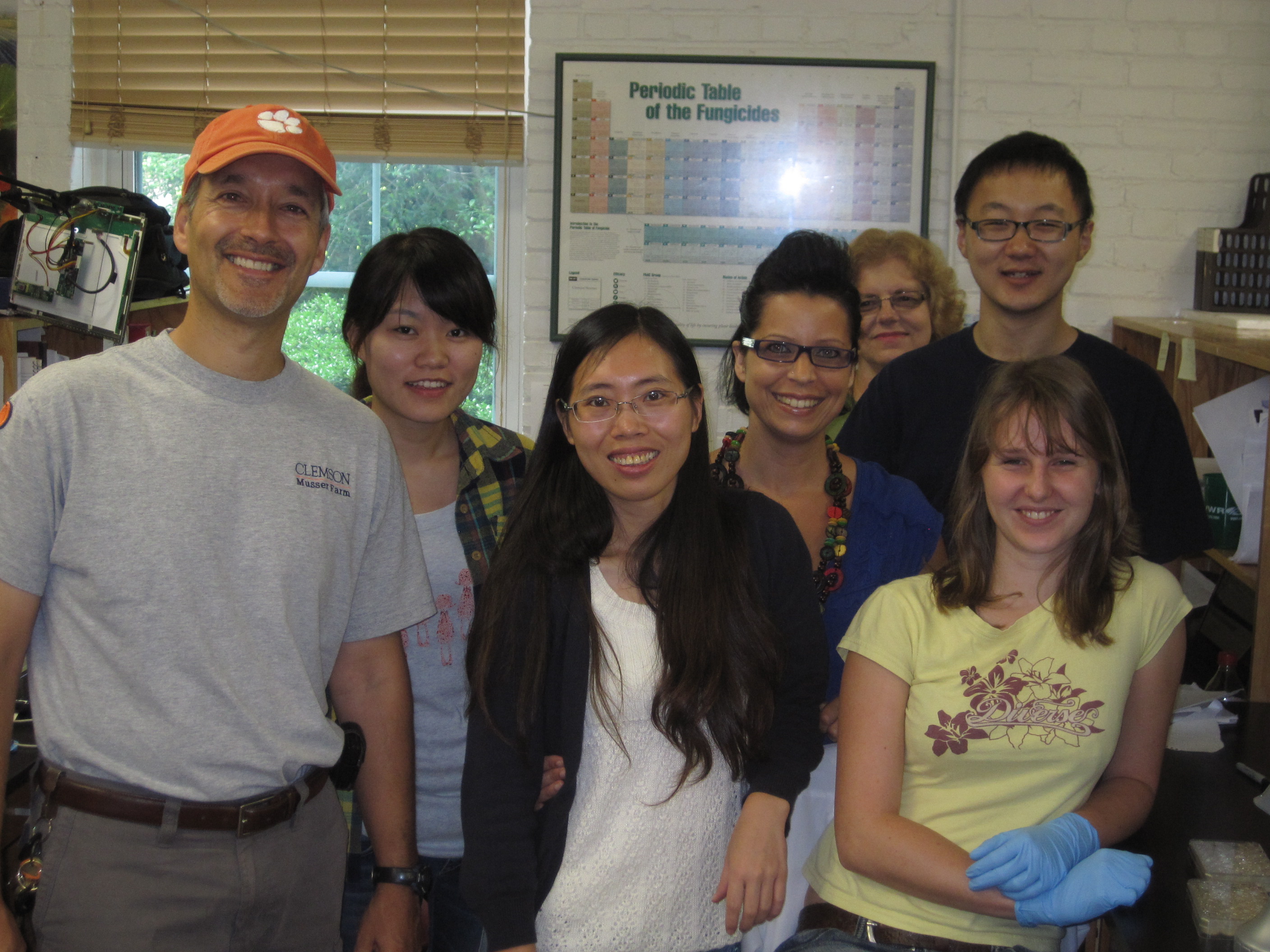 Fig. 1. Dr. Guido Schnabel, left, and his laboratory team at Clemson University (June 14, 2012). Guido was  a speaker at the Southern Region Small Fruit Consortium's Plant Health Mini-Symposium held on March 27, 2013 in Raleigh, along with Dr. Bob Martin.
Dr. Schnabel and I will "start "walking Balamore's  rather vast nursery acreage (82 acres) on Sunday afternoon, but I am quite sure we will need  all of Monday July 15th, to get through it all! Prior to this visit, I have  been in touch with Dr. Bob Martin with a few questions, and we will be sure to pass on our observations to Dr. Martin next week when we get back into the States.
BALAMORE FARMS WINNING VIRUS BATTLE- Joe Cooper

We are all glad to put the 2012 plant crop to bed and look forward to a successful and profitable 2013-2014 season. I, Joe Cooper, wanted to write this article to outline the steps I have taken to prevent a repeat of last year's virus event.
"My neighbors and I made the decision in March to destroy 165 acres destined for June/July 2013 fruit production in Great Village, Nova Scotia. After the crop destruct was completed we waited three weeks to replant with the goal of eliminating the viral source and waiting for the infected strawberry aphids to die before exposing new plants to potential risk.
Before we plowed the dead foliage under, we looked for strawberry aphid eggs on the wintered strawberry plant leaves and couldn't find any (Figure 1). This means that we had great aphid control from July 2012 on, giving us great confidence that we can eliminate the strawberry aphids from our fields with a good spray program.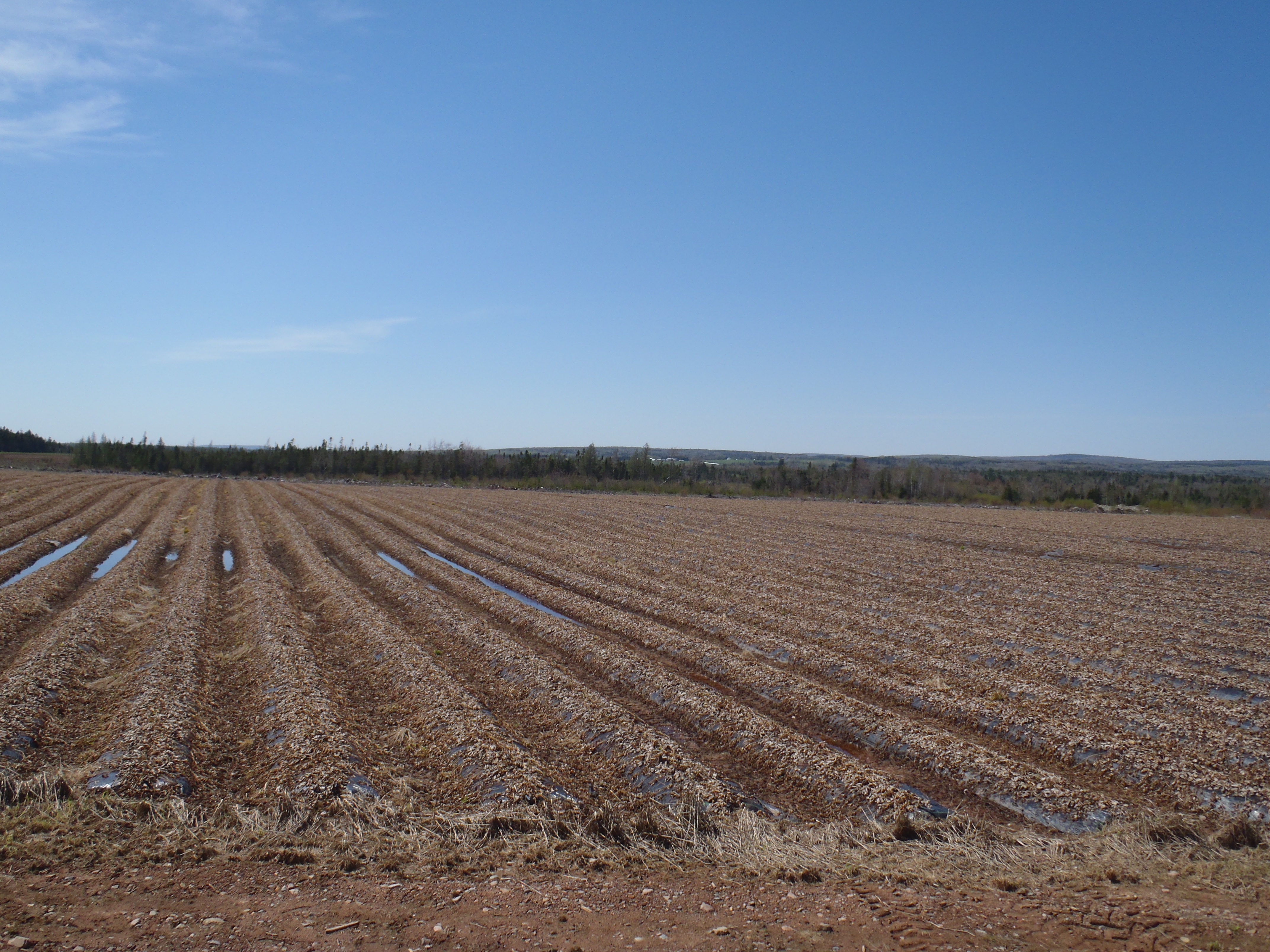 Figure 1. Carryover plasticulture bed that was destroyed before planting in mid-May. The practice in Nova Scotia in the past has been to produce a fruit crop the 2nd year on beds that produced runner tips in the previous summer. The field you see here was part of a "crop destruct" in Great Village, NS, involving 165 acres! Before this field was taken out in April 2013, it was checked out for presence of strawberry aphid eggs (C. fraegaefolii, several other Chaetosiphon species). And, according to Cooper, they "couldn't find any."
When we replanted this spring (Figure 2), we set up yellow sticky traps around the fields so we could monitor populations of the aphids. In the five weeks since planting we have found no aphids in the fields and have only picked up three aphids on the traps.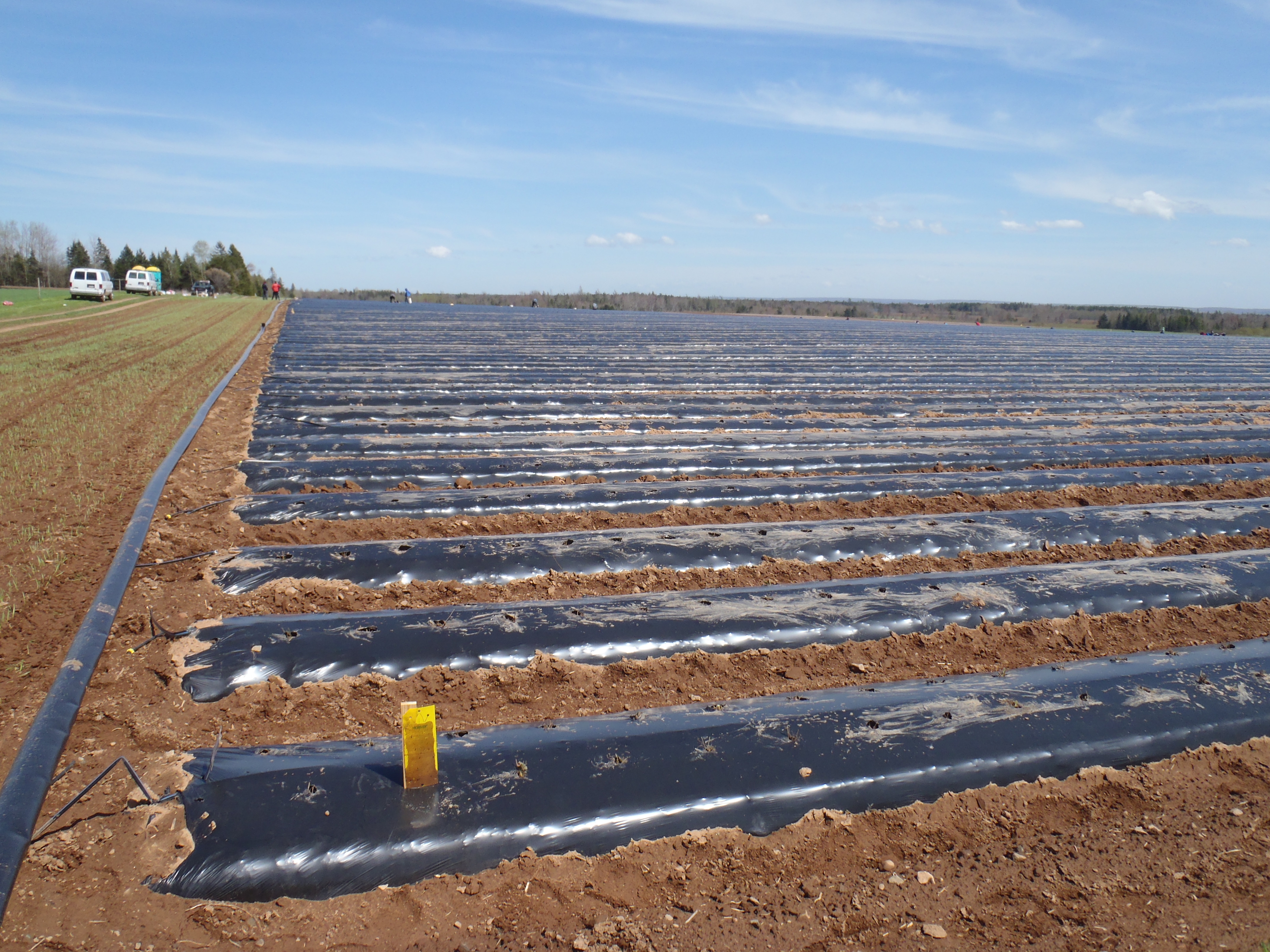 Figure 2. Yellow sticky traps have been paced around all of the runner tip fields so that the Balamore Farm team of trained scouts can monitor populations of aphids. The fields were planted in mid-May 2013,  approximately 3 weeks following the massive crop destruct that took place in Great Village region. All nurseries in the region destroyed carryover plantings that would have normally been fruiting in June/July.

In June we sampled all our varieties in a randomized, statistically developed protocol with Elisa testing to see if we perhaps bought a virus or if we had contracted the viral complex in some unknown way. All the tests have been negative to any virus. <Editor's note: here is the 8 page report:   Test Results hppscan5>
<Editor's note: Phyto Diagnostics lab is located in British Columbia. This is the lab that Balamore has been utilizing since last year to test for both SMoV and SMYEV. In the June 25th report from Phyto Diagnostics you can see that 234 leaf samples submitted  were negative for SMYEV for every variety in all of their commercial fields (using Elisa method). The only positive was a wild berry sample, which they anticipated would be positive. As Joe VanVulpen, Manager, Balamore Farms wrote to me on June 30th, "Very good results.">
The spring aphid flight (aphids hatched from eggs have wings but subsequent generations do not develop them except in overpopulated situations) should be over by now and our aphid worries should be reduced to a few "fence jumpers". Our vigilance will not decrease, and we will continue with a heavy spray program to help us prevent a repeat of 2012.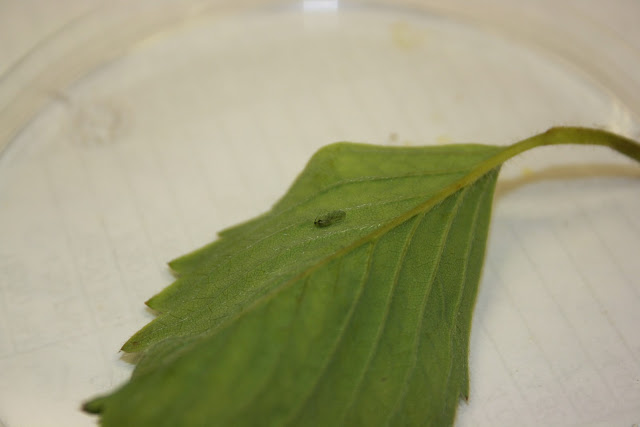 Figure 3. A winged srtawberry aphid shown on the underside of this strawberry leaf. This photo was taken from the blog of Perennia's small fruit specialist, John Lewis, http://www.novascotiastrawberryblog.com/. According to Joe Cooper, the spring aphid flights should now "be over," except for a few "fence jumpers."   Balamore is planning to continue its program of high vigilence for stawberry aphids as well as spraying. The "good news" about SMYEV and SMoV is that,  "systemic insecticides have also proven useful in its control (Compendium of Strawberry Diseases Second Edition, p. 66)."  And, John Lewis has commented, "Controls that have been used so far (May 31) that seem to be working well are the Admire soil drench as well as the foliar application, and Thiodan."
The viral problem has been identified in all the provinces east of Manitoba, including Nova Scotia, Newfoundland, Prince Ed- ward Island, and Ontario. This problem is something we will have to monitor for a long time yet. Although some more southern states may not have a strawberry aphid population, we strongly encourage people to destroy infected beds and not try to over- winter them and pick in 2014.
Preliminary findings indicate that some wild strawberries have one or two of the viruses, but we do not know if it has been there since the last viral outbreak in the early 1950s, or if they became infected last summer. We have found very few (10) aphids in wild plants that we are monitoring and none have wings to travel. Because it takes six hours for the aphid to pass on mild yel– low edge virus, we feel very confident that if a few aphid carriers make it into our fields they will die before passing it on. We will test for viruses again in mid-July to monitor any change in our disease free status but good management should keep us safe.
We will keep you posted. My cell # is 902-893-0744.
Joe Cooper, Balamore Farm