Re-Scheduling My Visit to Canada for Early August (July 12, 2013)
Find this article at:
go.ncsu.edu/readext?231780
Good morning!
I guess I had some bad luck after writing yesterday's update on the trip to Nova Scotia…I opened up my US passport and it had expired on June 26, 2013. I tried everthing short of driving to DC to get it renewed so that I could catch flight to Newark–> Halifax, NC on Sunday. Long story very short, I am not going to be able to catch this trip up, but maybe that's ok. Dr. Schnabel is going up to walk the nurseries of Balamore Farms on Sunday and Monday, and I think we should all be very thankful he is willing to do this! For my part, I am going to re-book my flight up there for the week of Aug 12, and this will be roughly 1 month afer Guido's visit, AND I will visit both Nova Scotia and PEI. It is really better to have site visits in both early July and early August vs. both of us going now.
So, you see, things really do work out for a reason. And, though I am leaving Extension on Aug. 12, I also believe that this is also going to work out for the best. I am planning to focus on a research investigation  that could help reduce rain damage losses. In my Professor Emeritus status, I am able to continue my strawberry research work (Figure 1).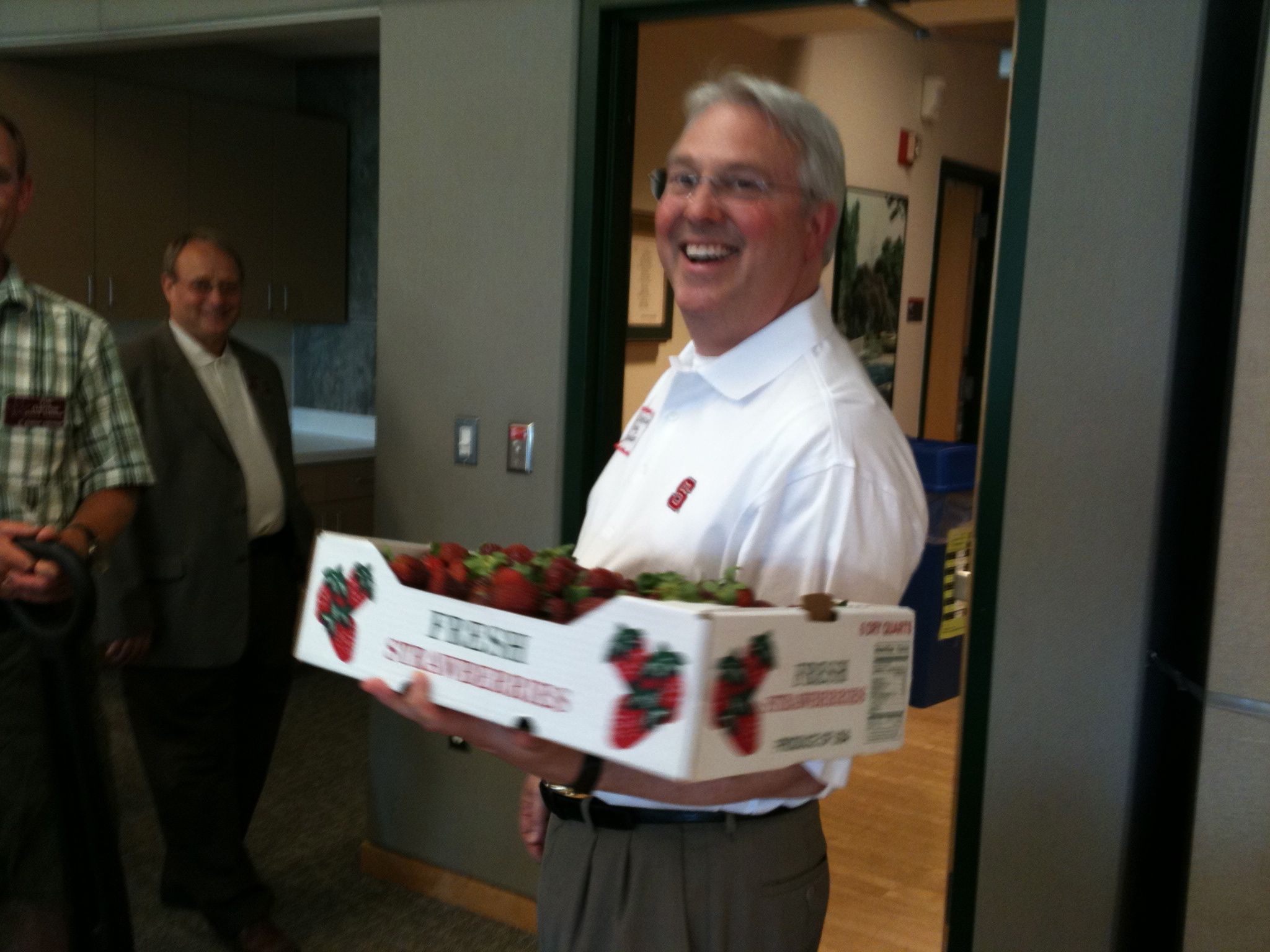 Figure 1. A Chancellor who knows a great product! In Nov. 2010, I was very happy to receive a letter from our new Chancellor conferring my Professor Emeritus status!
Excerpt from my recent Research Project Revision (July 6, 2013):
1. TITLE:    Climate modification strategies in strawberry plasticulture
 2. JUSTIFICATION:
Innovative research and extension programs over the last 30 years have created an opportunity for a virtual sea- change in how fresh, red-ripe strawberries are being grown and locally marketed in North Carolina and throughout the Mid-South today. This region of the country now has a vigorous and viable strawberry industry that is based on an "annual plasticulture" system that can be highly productive and profitable (Poling, 2000; Poling, 2003). The expanding strawberry industry in N.C. is generating nearly 30 million dollars annually in fresh strawberry sales from mainly U-Pick (customer harvest) and Ready-Pick (USDA, 2013). The state's primary U-pick strawberry cultivar, Chandler, can produce 0.54 kg/plant (1.2/plant), or about 20,160 kg/ha (18,000 lb/acre), in an average weather season with its spring harvest period lasting about 4-5 weeks. Assuming farm retail prices of $3.68/kg ($1.67/lb) for U-pick; and $4.40/kg ($2.00/lb) for Ready-Pick, it is possible for NC growers to achieve net returns of about $36,690/ha ($14,850/acre), based on NCSU's most recent strawberry enterprise budget (Sydorovych et al., 2013). Against this background regarding the importance of strawberry production to the North Carolina agricultural economy and individual farmers and communities, it must be acknowledged that strawberries are also a very weather sensitive crop, and without climate modification strategies (e.g. row covers and/or sprinkler irrigation for frost and freeze protection), strawberry plasticulture would be a marginally profitable in North Carolina's climate which is easily the most complex climate in the eastern United States, according to the NC State Climate Office (SCO), based at NC State University (SCO, 2013). In fact, local climate variability is so high in NC that significant trends are difficult to deduce, including those associated with global warming. The primary purpose of this multi-disciplinary research project is to investigate the technical and economic feasibility of several different strategies to mitigate strawberry crop losses to extreme weather events during the critical pre-bloom, bloom and harvest seasons. A strawberry plasticulture crop costing a minimum of $29,640/ha ($12,000/acre) before the harvest season, is exposed to significant weather risks over an eight-month period.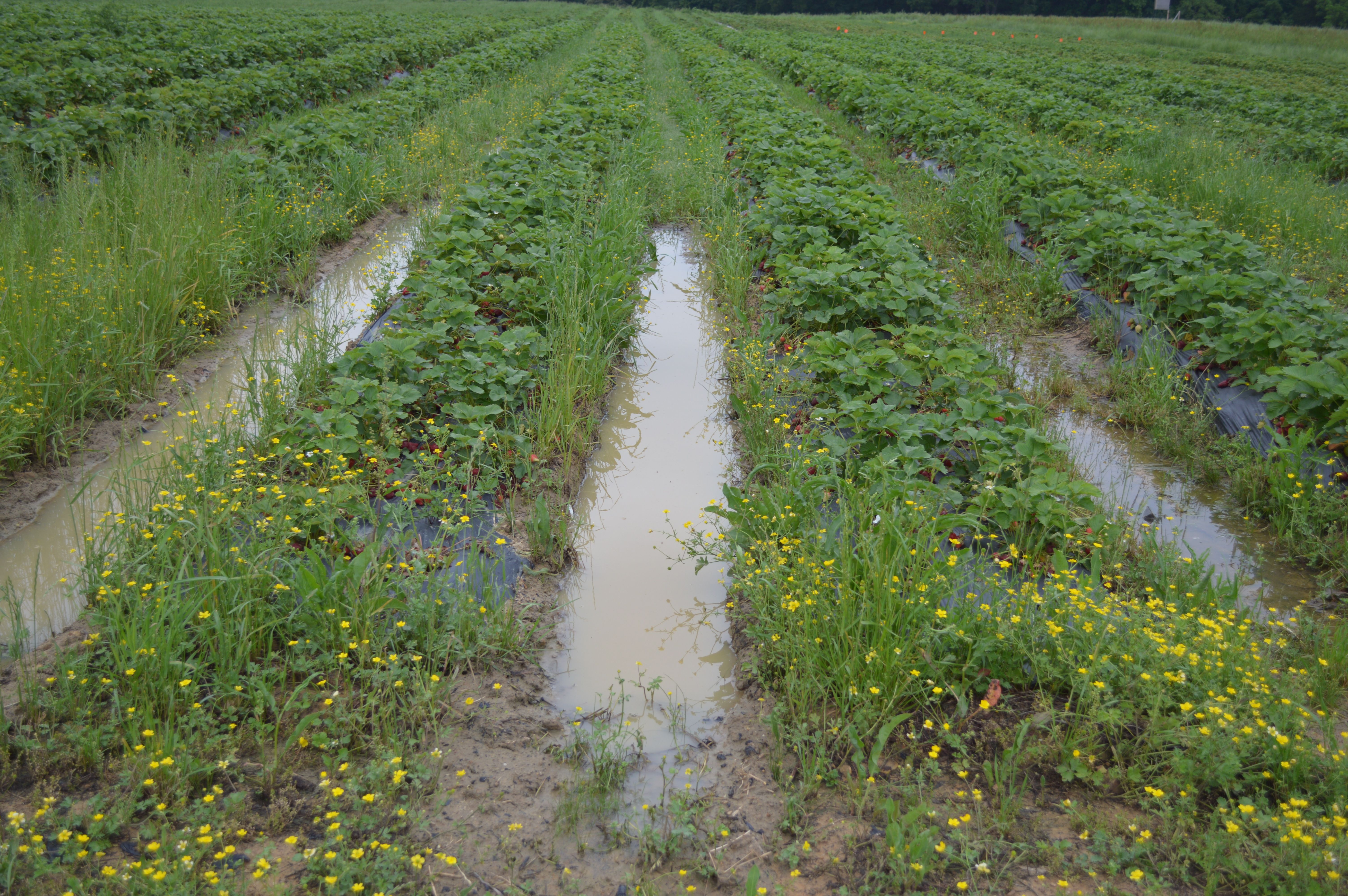 Rainy weather can keep U-Pick customers from visiting farms, and extended wet weather periods in May, especially on important holiday weekends (e.g. Mother's Day, Memorial Day), can lead to very significant reductions in crop economic value. In 2013, it was not uncommon for farms in the Eastern NC and Central Piedmont to record rainfall amounts exceeding 7.6 cm (3 in.) of rain in mid-May – just when Chandler and Camarosa were coming into their peak production. In the Central and Northern Piedmont counties, rains moved in on Saturday, May 18, and did not let up until the following Thursday, May 23 (Poling, 2013a).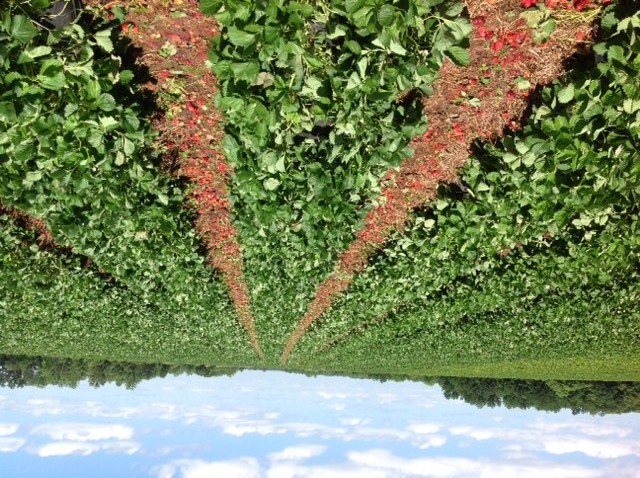 Figure 3. After this producer spent $700/acre to clean this up on May 22, it rained again! I don't know how successful our industry will be in documenting rain-damage losses for the 2013 season, but when you consider that we had at least a 2 lb/plant crop, and many growers only harvested 2/3rds of a pound, it is arguable that a 30 million dollar industry in a normal seaon, produced "at best" a 20 million dollar crop in farmagate value in 2013.
All U-pick operations had to be suspended for a full week, and growers were forced to spend at least $700 per acre for labor to go through the field to remove the rain damaged fruit before the Memorial Weekend, May 24-26 (Poling, 2013b). On top of the rainy weather in May, rains associated with a tropical cyclone, Andrea, on June 7th (McLeod, 2013), prevented strawberry growers from the Central Piedmont to the coast, from being able to harvest any marketable fruit after the first week of June. Preliminary grower reports from the rain-plagued 2013 harvest season indicate yields as low as 0.30 kg/plant or 11,200 kg/ha (0.67 lb/plant, or 10,000 lbs/acre) (Poling, 2013b). With current strawberry plasticulture production and harvest costs of $46,330/ha ($18,749/acre) (Sydorovych et al., 2013), a yield of 0.3 kg/plant is not a breakeven yield level for a farmer charging $3.68/kg ($1.67/lb) for U-pick fruit; and $4.40/kg ($2.00/lb), for Pre-pick.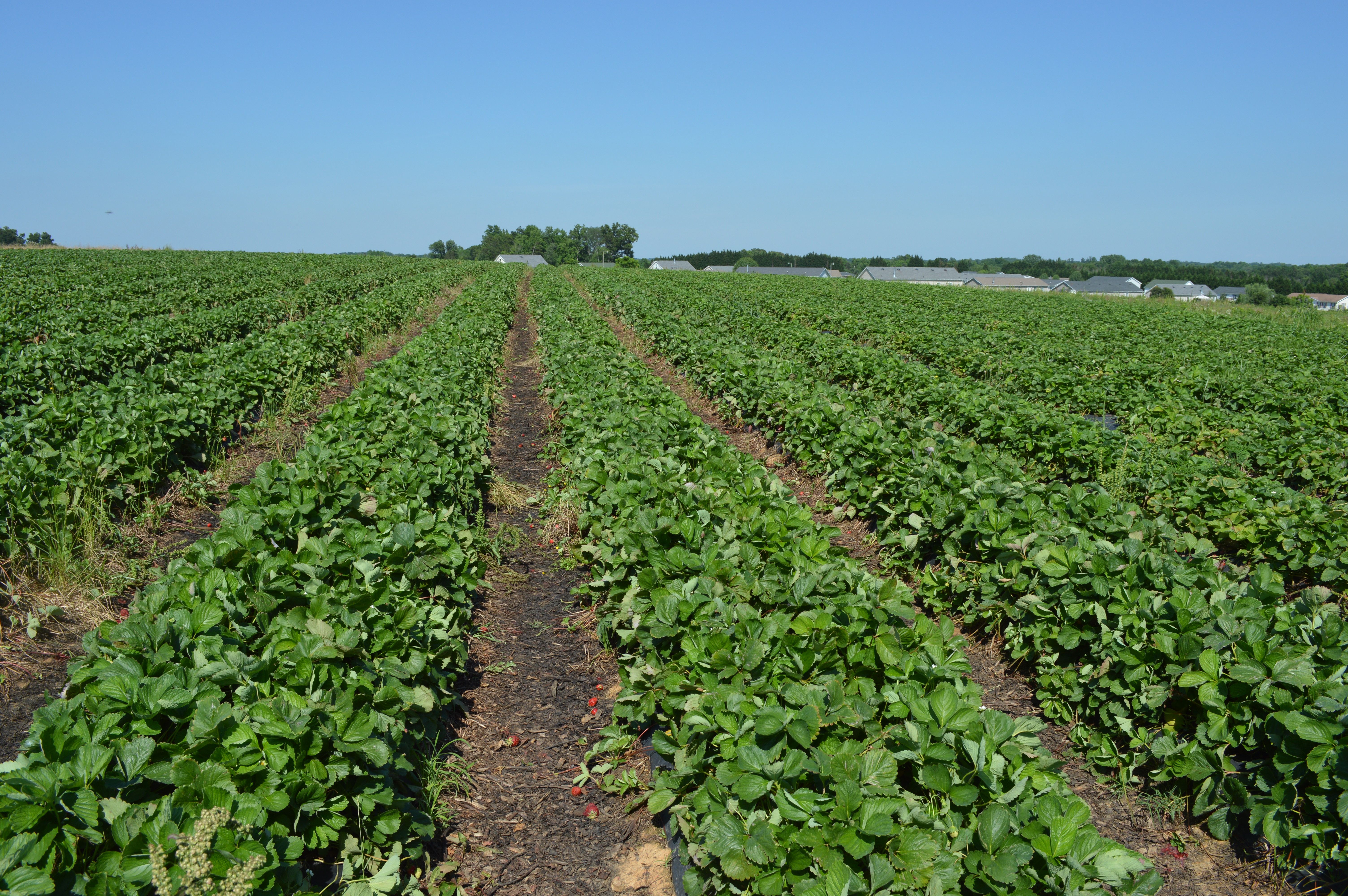 Figure 4. Many producers did not achieve even 1 lb/plant this season. Well, actually they did. Its just that about 1 1/2 lbs of good fruit/plant got tossed in the aisle. This photo taken on June 21 shows how the red river of rain damaged berries in the aisle area simply turned black.
Finding a cost-effective way to mitigate rain-damage in a region of the country where rain events may become a more frequent occurrence during the harvest period represents a considerable research challenge. Several commercial growers in North Carolina have noted that canopy size at harvest time may actually be a very important variable to consider, as both Chandler and Camarosa plants with canopy height of less than 28 cm (11 in) were able to dry out more rapidly during rainy periods due to improved air circulation, and fruit rain-damage was kept to minimum. A risk management strategy that could serve to reduce problems with rain-damage might include the use of alternative plant types that do not concentrate the peak production of Chandler into such a narrow window of time as do plug plants. Of course, there may also be opportunities in the future to identify cultivars and breeding selections that are more resistant to unpredictable rainfall events. But,  it has been the observation of the Project InvestigatorI (me) that direct market customers are remarkably tolerant of  'immediate rain damage' and Chandler flavor retention can be very high even after a rainfall event of more than 2.54 cm (> 1 in.).
<there are more pages more just like this>…but, here is the main "gist" of what I will be doing with this project STARTING THIS AUGUST!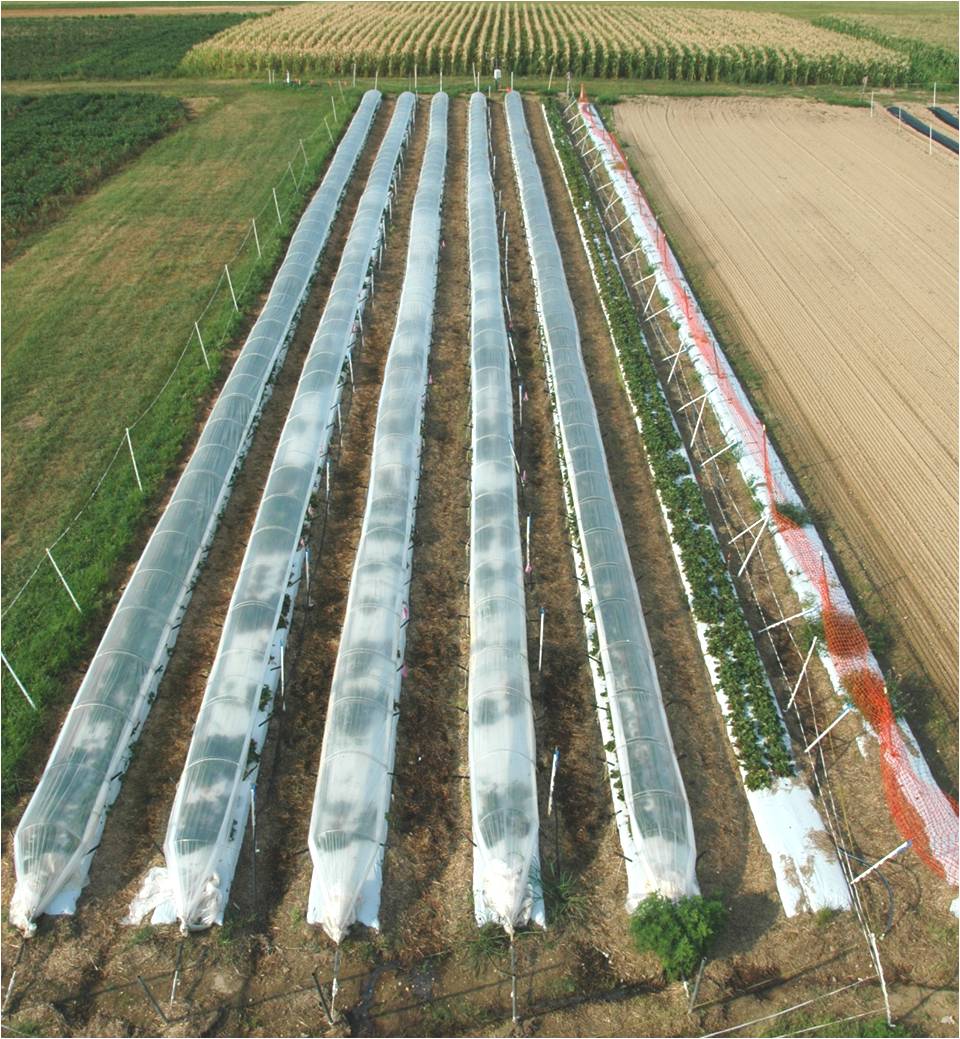 Section 2e. Rain mitigation strategies with low tunnels in harvest stage
The North Carolina Strawberry Association, Inc. has provided NC State University with a modest grant (PINS Proposal 111501), to investigate Strawberry Low Tunnel Research in North Carolina.  High tunnels have been successfully used for protecting red raspberries and blackberries in rainy periods in England (Haygrove, 2013), and for vertical-standing crops like raspberries, blackberries, tomatoes, other vegetables and high value specialty crops like cut flowers, high tunnels have proven to be technically and economically feasible. But, a Haygrove Multi-span high tunnel (polytunnel) has a cost of approximately $74,000/ha ($30,000/acre), or $7.31/sq. m ($0.68/sq.ft.). Perhaps a more affordable near-term option for North Carolina farmers to reduce the vulnerability of their outdoor strawberry plasticulture growing system to serious rain damage during the harvest season and achieve more consistent yields would be to explore the usage of low tunnels? Low tunnels, such as the ones being tested in Eastern U.S. by USDA scientists in Beltsville MD (Lewers, 2102), are reported to cost $1.94 ($0.18/sq. ft.) for reusable supplies and $1.72/sq. m ($0.16/sq. ft) for non-reusable tunnel supplies per annual planting cycle. In addition to having  substantially lower investment costs than high tunnels, it is also more practical for strawberry growers to follow a program of good soil rotational practices, which is not possible with semi-permanent high tunnel structures. Following good soil rotations in strawberry production can help to minimize the potential for soil borne diseases and insects, However, it is difficult to periodically rotate semi-permanent high tunnels. Serious  insect problems can build in non-rotated high tunnels, such as thrips. Although low tunnels may not improve total season yields compared to outdoor strawberry plasticulture production, these structures can provide a cost-effective approach for minimizing rain damage during critical harvest weeks in April, May and June. Low tunnels can help producers keep the use of chemical sprays to a minimum for Botrytis and anthracnose (Lewers, 2013), and during very rainy harvest weeks in May, it may be possible to eliminate one or more insecticide sprays for spotted-wing drosophila (UC-IPM, 2013). Currently, insecticides must be re-applied after each rain during harvest for SWD management. Despite a number of compelling arguments in favor of low tunnel production technology, there has still not been a focused effort in this state or region to evaluate the technical and economic feasibility of low tunnel strawberry production in a research trial.
 Literature cited
Haygrove. 2013. Polytunnels payback in raspberries. http://www.haygrove.co.uk/polytunnels/benefits/payback-numbers/
Lewers, K. 2013. Strawberry production season extension using low tunnels. http://www.ars.usda.gov/Services/docs.htm?docid=23038
 SCO,  2013. Climate change in North Carolina. http://www.nc-climate.ncsu.edu/climate/climate_change