Lunch break discussion for Tuesday, June 4
Well, its now 11:48 am, and I don't see how in the world I am going to complete this advisory in time for your lunch break today, but maybe before you head back out to the field this afternoon we'll have most of this posted?  (depends on the phone calls coming in about que. about what to order for next season…)
In short order, this advisory includes information on the following items:
1. More rains!
2. Chandler soldiers on!  What happened to Camarosa?  And lots of general observations from growers about this season
3. Did you miss the article on Benicia?
———————-
Tuesday, June 4
1. More rainfall last night
Well, I took this picure from my iPhone this morning  from NOAA radar this morning.  My location in N. Raleigh (see the pin needle) got about 1/3rd inch last evening, but downeast I am afraid this system dumped more than an inch!  I spoke to a producer in Faison this morning who got 1 1/2 inches of rain last night.  We are now back in a rainy pattern, I'm afraid!   There is no telling now much fruit has been lost to rains this season?   I even spent a little time yesterday studying different crop insurance programs, and I found out from a colleague "up north" where they have been having blazing temperatures (warmer than us), that there is a Federal Crop Insurance Program for strawberry growers in 5 California counties!  This is what I learned this morning:
"The two programs that could provide future assistance for the cause of loss that you mentioned are the Noninsured Crop Disaster Assistance Program (NAP) administered by the USDA, Farm Service Agency and Adjusted Gross Revenue – Lite (AGR-Lite).  Unfortunately Federal Crop Insurance for strawberries is currently available in only 5 counties in California.
I have enclosed a fact sheet on NAP.  NAP provides coverage on losses greater than 50% to a producer's actual production history at 65% of the average market price for the county in which the producer resides.  NAP is considered "catastrophic" coverage in that a producer has to sustain a 50% loss before a producer receives any benefits.  The main drawback to NAP is that it does not provide a producer the options that an insured crop has under Federal Crop Insurance.  NAP coverage on strawberries would cost a producer $250.
I have also enclosed a fact sheet on AGR-Lite.  AGR-Lite is a revenue based insurance product that uses the producer's adjusted gross revenue (in most cases the producer's Schedule F from their Federal Income Tax returns).  AGR-Lite is not crop specific but looks at the producers actual adjusted gross income from all crops on their farm to determine if an indemnity will be earned by a producer. Because AGR-Lite is a Federal Crop Insurance policy, the producer has options on the level of coverage that they may select along with the price levels.  The cost of AGR-Lite insurance is dependent on the producer's adjusted gross revenue along with the selected coverage levels.
I hope this information is helpful.  Please feel free to contact me with any additional questions.  Tom
Tom Smiarowski
UMass Extension
Agricultural Risk Management Specialist
306 French Hall – 230 Stockbridge Road
Amherst, MA  01003
tsmiarowski@umext.umass.edu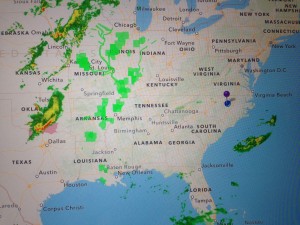 Fig. 1.  NOAA radar map mid-morning (June 4).  Over the last 2 evenings my N Ral. location (piedmont) has had 0.45″… lots more rain fell in Eastern NC last night!
In my area of the piedmont we are going to stay in this shower and storm cycle for the whole rest of the week!
2. Chandler soldiers on!  What happened to Camarosa?
I will let you be the judge of it, but I must tell you that I have been getting a lot of very favorable remarks about the Chandler 2nd crop in 2013, and its incredible rain tolerance.  I know, the prevalent idea is that Camarosa > Chandler for rain tolerance.  But, it's going in reverse this season, and Chandler is now impressing the heck out of me for its overall "toughness" through a very soggy May, and low and behold, its got a great 2nd crop!
Alamance County – 10 minutes ago!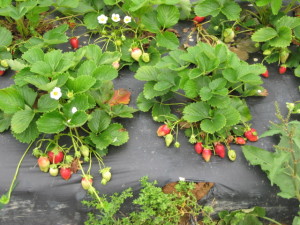 Figure 2.  Photo by Mark Danieley, Agent, Alamance County, and his comment this morning was, "I think we may have another two weeks to pick if the weather doesn't get too hot."
Charlottesville, VA – sent yesterday
Barclay
I am located 20 miles west of Charlottesville, VA at the foot of the Mountain.   We have had a good season so far that peaked Memorial Day weekend
I have never seen anything like this.  My heaviest bloom flush of the year was May 28 to June 1.
These are Chandler berries on healthy plants.  We dripped for 4 hours a day during the heat (88 degrees) last week. It looks like the berries are going to stick.
Will they make it and do you have any suggestions to keep size up?
We also planted about half Camarosa last fall hoping they might have this second bloom but they have very little.  One plant may have 10-15 bloom and the next 20 plants have none
Thanks for keeping us posted
Whitney Critzer
My Quick Reply
Best way to keep up Chandler size and quality is to continue with proactive program of drip irrigations and fertility also needs to be maintained.  I see too many growers stop fertilizing because its June.  I also think the outcome of this Samson suggests to me at Chandler needs to be your main variety in future.  The real problem with Camarosa is with cool seasons at your more northern latitude.  Aggressive row cover strategies can be helpful with with Camarosa, but you really cannot ignore the fact that Camarosa is a warm season variety!  Chandler can handle a cool March and April like a champ!
Easley, SC
Comments from Eric Hunter: "We're putting some thought into what we are going to do next year.  We are very pleased with our later planting of Chandlers…very, very displeased with our earlier plug planting of Chandler (9/29).  The earlier planting is for all intents and
purposes completed for the season.  The later planting (10/7-9) is still producing
relatively well, and we should pick it another week or two.  We are still
getting high quality fruit off of it, even after 2 inches of rain again on
Sunday.  The size has been excellent and the taste is extremely good.  Our
earlier set plants have minimums of 8 branch crowns (and sometime much more).
Our later set plants have 5 crowns or so on them.
Moseley, VA
Aaron Goode called last evening and confirmed that Chandler is your hands down favorite for U-Pick, and especially FOR a rainy season.  He pointed out that U-pick operations ofter don't have their own labor to do a clean-up, and this variety can handle that situation better than Camarosa.  Camarosa does produce a very large canopy and its larger berries that lay on plastic in rainy, drizzly conditions just don't make it.
Damascus, AR
Jim Goodson pointed out to me today that they just had 5 inches of rain out in Arkansas, and still they are seeing some pretty nice fruit on two FL varieties, Radiance and Festival.
Burgaw, NC
I had a call from David Rowe a few weeks ago about problems with Camarosa appearance in the stores, and he wanted to know some varieties to try.  Maybe Benicia?  he liked San Andreas, and is interested in trying Camino RealI took this photo of Camarosa over the Memorial Weekend in a store in Raleigh.  I don't think these rains have helped the situation one bit!
Fig. 3.  Camarosa in a supermarket over Memorial weekend holiday (Raleigh)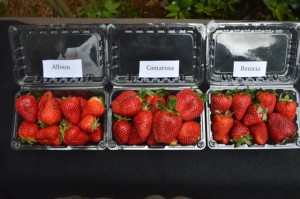 Fig. 4.  Is Benicia a possibility for fresh market shipments?   I have heard good comments about its rain resistance!
China Grove, NC
I don't want to give the impression for a second that Camarosa is not an amazing variety.  In fact, I was visiting the Pattersons in China Grove last Friday afternoon, and I saw these lovely Cams coming along, but overall the Camarosa season is very quickly winding down on their farm, and we were thinking that about 10 more days would do it.  We looked at come crowns as well.  They had a lot of discouragement with Chandler this season – too small in size was the main complaint.  I suggested later planting and no fall or winter row covers, unless there is a severe freeze event.  Covers can also "speed things up" some in a colder season like this one, but it is very interesting to me how many growers are writing glowing things today about their later season Chandlers that had no covering (see next section Pungo).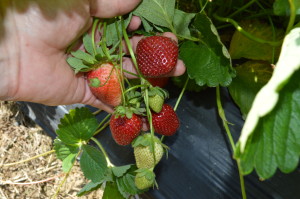 Fig. 4.  Camarosa "2nd crop" in China Grove, NC (photo on May 30)
Pungo, VA
7am, June 4th
S T I L L   L O T S   O F   S T R A W B E R R I E S   T O   P I C K
This is the sixth week of strawberry picking at our Pungo farm and the fifth week at our Chesapeake farm.  While we are now "past the peak," we still have surprisingly good picking at both of our farms.  This is shaping up to be our longest strawberry season in several years.
Picking (of Chandler) is still amazingly good at Pungo, with lots and lots of BIG, pretty, sweet berries.  Conditions are more like early season than late season and the recent warm, sunny weather has made these late-season berries the sweetest of the year.
Hint to our Pungo pickers: There is good picking throughout the field but check out the four rows on the east side of the field, the four rows on the west side of the field, plus the other two rows with irrigation sprinklers.  These rows did not have floating row covers during the winter and are therefore "behind" the rest of the field by about a week, meaning picking in these rows now is still as good as it was in the rest of the field was a week or ten days ago.
Why is picking so good so late in the season?  First, it's been a good year with mostly mild temperatures that allowed our strawberry plants to keep blooming and put on a late crop of fruit.  Second, we have continued to work hard to keep the late fruit coming with frequent irrigation and fertigation ("spoon-feeding" additional fertilizer through the drip irrigation system).  This season has rewarded our continued care and feeding, meaning there are still lots of strawberries for you to pick and enjoy!  And did I say these late berries are the sweetest of the season?
Tom & Anne Baker and Amanda McCann
Brookdale Farm
2060 Vaughan Rd, Virginia Beach, VA  23457
One more item from Alamance County (this morning)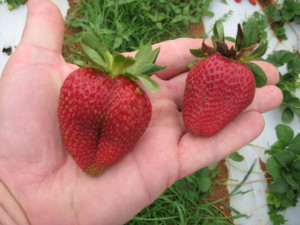 Fig. 5.  Some attractive Albion picked this morning in Alamance County.   The agent, Mark Danieley,  commented, "The plants look pretty good. The flavor and the texture of the fruit is quite different from Chandler, but shouldn't be any problem to sell. The main question is the profit potential of this variety. Having the crop in the field for a year before selling any fruit may be an issue."
Angier, NC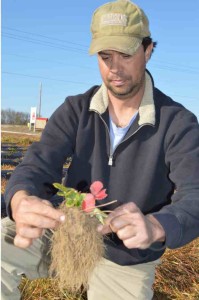 Fig. 6. Virus infected Chandler fresh dug with impressive root system, but not top growth! Photo taken on 2/15/13.
Do you remember Brian Johnson from back in Feb 2013? His crop had plants that were very seriously virus infected, and so we decided to go all out to still try to make a go of it, and he did an exceptional job of drip irrigation and fertigation with his Chandler fresh dugs, and in our conversation yesterday he commented that he harvested 40-50 berries per plant.  None of his customers even mentioned the virus issue.  He had great demand for his fruit all season, and he also supplemented with berries from nearby growers, who were happy to help out!  It seems that our cool season was a real plus for managing the virus infected plants.  In speaking with plant suppliers today I learned that in states further south, like Alabama and Florida, it did not turn out so well for virus infected plants.
3. Did you miss the article on Benicia?
Well, I see its 1:06 pm, and its likely I did not get this out in time for "lunch break" today, but maybe you'll get a chance to see this later today, or tomorrow.  And, in case you missed it, I did a little write up on Benicia this past Sunday:
//strawberries.ces.ncsu.edu/2013/06/another-warm-day-on-tap-1030-am-sunday-june-2nd/
Barclay
–Dr. E. Barclay Poling
Professor Emeritus/Extension Strawberry Specialist
Department of Horticultural Science
Campus Box 7609, 162A Kilgore Hall
NC State University
Raleigh, NC 27695-7609
919-418-9687 (Cell)
919-515-2505 (Fax)
barclay_poling@ncsu.edu
//strawberries.ces.ncsu.edu
Cooperative Extension provides practical education you can trust, to help people, businesses, and communities solve problems, develop skills, and build a better future.
Was the information on this page helpful?
Care to tell us why? Send Explanation
This page can also be accessed from:
go.ncsu.edu/readext?221977