Another Warm Day on Tap (10:30am, Sunday June 2nd)
Good morning!
It is hard to believe, but NYC was 90 yesterday (that never happens until July up there), and in the 90s today in New England! There is still a lot of very severe weather in east-central plains and Mississippi Valley – we've all be watching those horrific tornadoes in Oklahoma City area! In North Carolina, today (Sunday) "should be" our last day of greater heat for the next several days. NC Max and Mins
Temperatures will be moderating this week, and I note the Raleigh area is looking at below normal daily highs of 80-81 for each day of the week through Friday. Monday's forecast (Raleigh) is for a high of 81 F and 80% chance of rain. Potential for showers is greatest on Monday (expecting 0.3 in during day and then another 0.22 in Mon night), and then its hit or miss for the rest of the week.
At Clayton, I noted these temperatures over the last week (Table 1).

Table 1. A high of 88 F was recorded at Clayton yesterday (location of research station), and this was the hottest day of 2013. Over the last 5 we have had slightly above normal high temperatures, and Daily Evaporation reached 0.28″ yesterday – highest of the week!
Temperature forecasts for 3-23 June
Here are the European weeklies that are essentially saying NC is mostly going to be normal in temperatures for next 2 weeks and below average 17-23 June.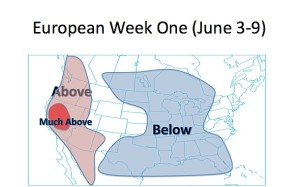 Fig. 1. About average temperatures are expected in NC June 3-9.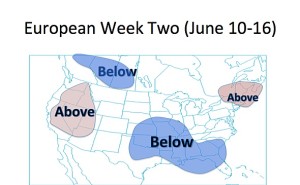 Fig. 2. About average temperatures are expected  June 10-16.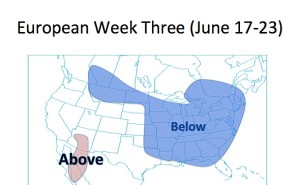 Fig. 3. Below average temperatures are expected across the whole region June 17-23.
Precipitation forecast
A precipitation forecast  below shows slightly above normal precipitation for June 7-11.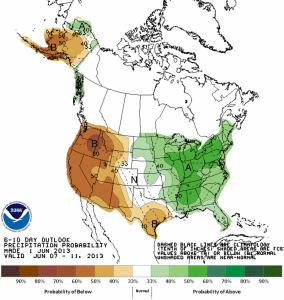 Fig. 4. Precipitation forecast for June 7-11. There is talk of a tropical system developing in the Gulf between the 7th and 9th of June! Where it goes in the southeast is up for debate. So we could be getting a tropical event and some rain out of this if it develops?
Crop Report:  ( a very "fast" season)
The  "main" strawberry season is quickly winding down in Eastern and Central NC, and a large amount of crop was lost to rains that occurred May 18-23 in many areas (Fig. 5), but there is a June crop coming for growers who "bit the bullet" and spent $700+/acre (Fig. 6, 7 and 8)) for picking off rain damaged berries  so that they could be back in business in late May and June.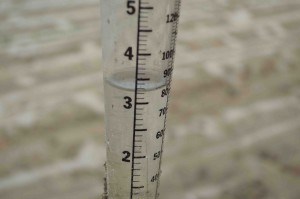 Fig. 5. Rain gauges got mighty full in third week of May!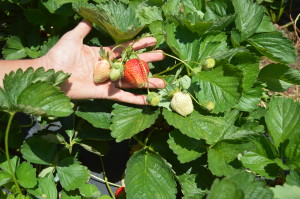 Fig. 6. It's and expensive decision to do a clean up, but what option do you have when you have only been able to pick a very late ripening crop just a few times before the rains? This photo of Chandler plant in Greensboro was taken on May 24th (just before the Memorial Weekend), and shows a white/pink and white berry … these  were ready for harvest this past week. The smaller green berries are getting ready now in early June for pick'n.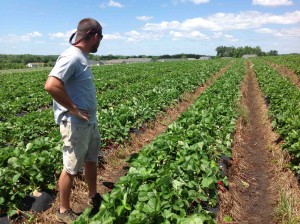 Fig. 7. This field in Greensboro (large Camarosa plants) only had 1 good picking!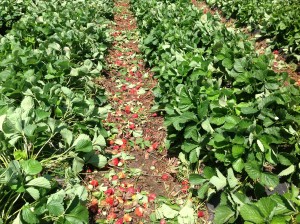 Fig. 8. On this farm the cost was $700/acre for a clean up.
Very challenging season!
For many growers, the 2013 strawberry season may go down as one of their most challenging strawberry seasons in the last several years. It was 2-3 weeks later than last year. Growers who started in mid-April in 2012, for example, never got open until the weekend of May 4-5 in 2013! Typically, volume was sparse the first 7-10 days in May. The very good news was that there were plenty of berries for Mother's Day weekend…which has not been the case in recent years!
You can see its extreme concentration in the photo shown below (Fig. 9). Once the crop came, no one could afford to waste anytime in getting it picked. In the photo shown of Chandler (plug plants) on May 17 (Fig. 9), you can see what a challenging situation it is when you get all this fruit at once in mid-May. (this was a U-pick and the grower did not see as many large berries on this crop, and commented to me about smaller Chandler berries this year…I felt that having a full fledge cold protection program back on March 20-21 was key to preserving those larger berries…they were there).
Unfortunately, this planting (fig 9) had to have a good picking on the weekend of May 18-19 to get caught up, but what can you do when it rains cats and dogs on the what would have been your biggest weekend of the whole year?
For producers who are 100% dependent on U-pick, we did not get very cooperative weather patterns on major weekends in May.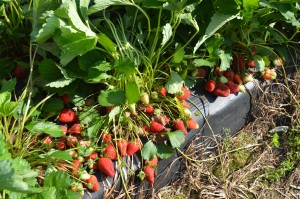 Fig. 9. There was a lot of pressure on Chandler growers this season to get the crop picked!
(cont'd) Unfortunately, rains  coincided with much of the peak picking periods in  Eastern NC and Piedmont NC locations. I am happy to say that in western piedmont areas (e.g. Charlotte, Salisbury), there was a lot less rain-pressure over the period of May 18-May 23. But, in the  Northern Piedmont where it rained almost every day from May 18-May 23, it was a disaster! I submitted an article to the NCSA's June newsletter at the end of May that reviews the many weather challenges growers faced this season with untimely rains. Now that both Chandler and Camarosa crops have dropped off sharply in early June (this period that we are in presently definitely constitutes what Florida and California growers refer to as a "gap"), it makes "practical sense" to wind down field U-pick operations. I have been watching the Albion variety closely for the past 2 season, and it definitely seems to "work differently" in terms of when its best berries are produced, and it is interesting to note how attractive and flavorful this berry can be "right now."  A handful of growers continue to experiment with this California dayneutral to see if it could be an option for the very late season.
Questions from the field late last week:

Que. 1. Why are my berries getting seedy now?
"What causes strawberries to have seeds raised above the outside of the fruit a little this time of the year? It seems like this happens every year toward the end of the season. The fruit is still delicious and pleasing in appearance.
Our strawberry season at Southside Farms in Chocowinity has been one of the best so far. We did have a few days of major cleanup after the rain event but our fields are still producing nice quality fruit with good size and great flavor. Thanks for the updates."
Tracey Harding
Reply:  Hi Tracey
Good to hear from you. I associate this with beds drying down some…any chance that moisture is somewhat limiting … Are shoulders dry?
Grower:  I feel like we are watering all the time. We did however back off some during the rainy time. Thanks.
Que. 2. When is a good time to shutdown a U-pick?
A producer in Georgia wrote this note to Dr. Powell Smith, Clemson, on June 8th last year on the subject of when is it appropriate to shut down a U-pick field? Here is what the grower said:
" I just don't want to beat a dead horse. I want to get off the train before it jumps the track and I just wondered if you had an opinion on this subject?"  Elliot Shuler
Powell wrote back to Elliot:
"Elliott,
                When you look over the field and you no longer feel that it is economical to pick the berries or the heat gets to the quality, pull the plug.  PYO will often last longer than pre-picked, since you have to pay the pickers. When the berry volume goes down so does their picking efficiency (productivity). I am glad that you had a good first season."
Editor's note – I have seen a slightly different take on when to shut down U-Pick vs. Pre-picked…some growers in NC wish to be able to focus on other things in their farming operations, and may decide to end PYO and let their own pickers harvest remaining berries for their farm markets (pre-pick).

It is really important to let the public know the status of your U-pick, so please be sure to inform folks when you plan to shutdown the field for public picking.
Tasks for June

Conditions in June 2013 may favor "crop extension" but keep in mind that marketing strawberries in June "is different" and there is a lot less interest in U-pick during warmer weather. You really must have your own pickers.
To get the most out of your crop in June, be sure to take at least one more plant tissue sample in late Mat/early June, and follow the fertility recommendations given in this report
Don't forget to keep up with SWD weekly spray program in June. Rotate IRAC mode of action groups with each application to minimize resistance risks. Treatments should be re-applied in the event of rain.
Critique your 2013 harvest: week-by-week sales, how you compare with last year and with the competition, what percentage PYO vs. Pre-pick.
Carefully assess the performance of your main strawberry varieties in the 2012-2013 season and decide by early June which varieties you will plant for next year and how many. Keep in mind that Chandler performs very well in rainy conditions, and many growers would say better than Camarosa!
Submit your plant order as soon as possible!
If planning on raising plugs, organize your plug production setup in late June/early July.
Get mist system set up if growing your own tips. Order soil, trays, and fertilizer.
For planting in mid-Sept (Western NC), apply preplant fertilizer in mid August.
There is still time to collect a gray mold (botrytis) sample for Dr. Guido Schnabel's laboratory at Clemson – go to this link: http://ncsu.edu/enterprises/strawberries/2012/03/29/collecting-and-mailing-gray-mold-samples-for-fungicide-resistance-testing/
Clean up stand and coolers.
Remove and recycle plastic if not double cropping.
Get soil pH tested in June. You will want to raise pH to 6.0 to 6.2. This is the best way to elevate fruit calcium
If needed, apply lime in late June/early July for the fall crop, incorporating lime when existing beds are broken down.
Use overhead irrigation to soften soil as needed and subsoil completely.
Make a fumigation plan, set a schedule, and acquire necessary materials. Be sure to allow appropriate plant-back intervals and an additional cushion in case of bad weather.
Attend the Strawberry Pre-plant Meeting for your area (next)
Dates established for 5 NC and VA Pre-plants
We are looking forward to a great Pre-plant Summer Meeting Schedule. Agents are still working out a lot of details, but we established these dates over the past week:
1. Sandhills –  Aug 1  (location TBA, but probably Sandhills Research Station – Paige Burns and Taylor Williams)
2. Central Piedmont – in Alamance County Auditorium with on Aug 5, Mark Danieley
3. State Forestry Building, Charlottesville, Va – Aug 6  (Gail Milteer is organizing)
4. PROPOSED — Kannapolis at Research Campus … WEBINAR on Aug 8
5. Tidewater (Va Beach this year) – Aug 20, Roy Flanagan is lead agent
6. Nash, Wilson, Edgecombe and Franklin – Aug 27 … In Nash County.. Mike Wilder is lead agent
My personal impressions of Benicia?
I sent this very informal note to Debby Wechsler, Exec. Sec'y, NCSA, about the Benicia variety this weekend. She is currently interviewing growers about newer strawberry varieties and this is what I had to say to her about Benicia:
"Debby,
These are reasons I recommend trial with this new variety (Benicia), but PLEASE emphasize this is for TRIAL ONLY.
 1. Earlines – in the very late 2013 season Benicia proved to be very early and could be looked at as a possible Sweet Charlie season variety. However, the flavor is only mild at best, and people who like Sweet Charlie may complain about Benicia not having that much flavor
 2. Pant habit  – one of best plant habits I have ever soon. The plants do not seem to get very large, like Camarosa, and that can be a very good thing for easier and more complete picking, especially in the interior area between the plant rows.
3. Berry shape – very impressive! Some roughness in early season (Fig 10), but it puts both Chandler and Camarosa to shame for berry shape in early season (no splits, and misshapes are minimal). Everyone had rough Camarosa berries in first week of picking this season. Benicia doesn't seem to have any pollination/fruit set issues — based on a a side by side comparison with Camarosa in an Extension On-farm Test in Guilford County this season.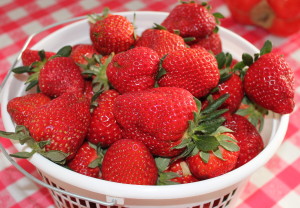 Fig. 10. The first berries of the season at Rudd Farm in Greensboro, NC, were Benicia. This photo was sent to me by the Rudds on April 24th. This particular farm did not really have Chandler and Camarosa berries ready to sell until about the weekend of May 4-5, and even then volume was limited due to very cool April in 2013. You can see some pollination issues in this photo of very early season Benicia, but this is a minor problem compared to first week of Camarosa!
 4. Color – outstanding! If commercial growers are  running into resistance with their store buyers over dark Camarosa berries, this is a good variety to consider in a "small trial"  for this kind of market. But, where flavor counts, I don't think Benicia will compete with either Chandler or Camarosa,  and I have reservations about this new variety for  U-pick and Ready Pick (pre-pick). This is a variety for growers who have special needs, like an extra early berry that looks great and is very easy to pick!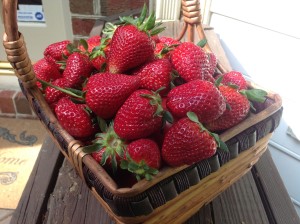 Figure 11. Benicia on May  2, 2013 – photo taken at my house of Benicia that I picked at Rudd Farm (Greensboro) the day before.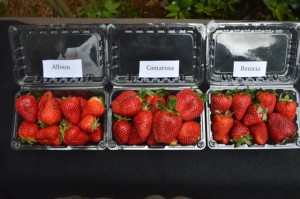 Figure 12. Comparison of Albion (left), Camarosa (middle) and Benicia on May 4th (berries were picked on May 3rd at Rudd Farm).
5. PICKING – it is wonderful to pick! You can fill a clamshell with Benicia berries very rapidly because the fruit is easy to see (not a large bush)… It's a professional pickers DREAM!
6. Flavor – let's face it there is no perfect variety. And this happens to be Benicia's shortcoming. This variety is no threat to direct market favorites Chandler and Camarosa. I would not say its bland or objectionable. It is quite mild and could use some sugar.
7. Rain resistance – outstanding…maybe the best variety out there for being able to take consecutive days of rain, or a single heavy downpour. It has a special skin quality unlike any variety I have seen. It seems to repel rain droplets and it doesn't seem absorb free moisture  on surface of plastic bed into the skin and berry like Albion (one of the worst for this).
Have a great day!
Dr. E. Barclay Poling
Professor Emeritus/Extension Strawberry Specialist
Department of Horticultural Science
Campus Box 7609, 162A Kilgore Hall
NC State University
Raleigh, NC 27695-7609
919-418-9687 (Cell)
919-515-2505 (Fax)
barclay_poling@ncsu.edu
https://strawberries.ces.ncsu.edu
p.s. I received this note from Lee Berry, Ellerbe on Tuesday, May 28th:
"Hit 2.31 lbs of fruit per Camarosa plant today after losing around 5000 pounds of fruit to the rain last week."   Some of you recall that Lee sent this photo May 7th showing new blooms, and at that date he was 1.3 lbs/plant.
p.s.s. We are not sure what is causing this plant collapse on another farm in Sandhills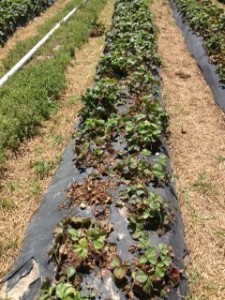 Chandler plants collapsing in a Sandhills planting this week??
Cooperative Extension provides practical education you can trust, to help people, businesses, and communities solve problems, develop skills, and build a better future.