A Surprising Late Season Crop! (June 11, 2013)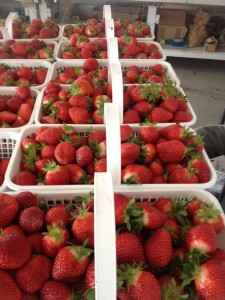 Good afternoon!
After even more showers yesterday (June 10), I was speaking with a grower in the Sandhills about the worth of "continuing on" with harvest operations, as his farm had had  7.2  inches of rain since June 6th! When he called me late yesterday, he informed me that he probably lost at least 3-4,000 lbs/acre to tropical cyclone Andrea  – the storm that arrived in  NC midday last Friday and deposited several inches of rain before it moved further up the East Coast Saturday morning. But, despite all of the rain from last Friday, as well as additional heavy showers over the weekend, he was still going to attempt to do some picking yesterday morning when along came another soaking rain! We talked about the high expense of doing a thorough "clean up" at this late stage, and that did not seem very practical – especially with field temperatures approaching 100 by this Thursday (see Fig 3)! He said he would do some figuring last night, and then let me know today whether or not he would do any more harvesting. Well, the photo you see in the upper left was my answer – it came at 11:45 a.m., and the text message read, "This is the answer to your questions about picking today!"  It just so happened I was in touch with a California nursery producer today about our "saga" with rains in NC this season, and upon seeing this really nice fruit from the Sandhills, she said, "I am glad the NC growers are getting lucky with this latest bout of weather. They are due!  My family was in Florida for my son's HS graduation when Andrea hit. Sure was glad we had an indoor graduation."  (Liz Ponce, Lassen Canyon)
Sadly, there have been a number of farms this season that will be fortunate to make enough to pay back all their expenses, and what is really frustrating is how close they were to doing really well. In looking back on this season that is now over for most growers I would have to say that the lateness of the crop really hurt! The crop was so late for some growers in our piedmont region that it was a struggle to just be open on Mother's Day weekend (May 11-12). A grower near my home in N. Raleigh is "always open" sometime between April 20-26, but he could not open this year until "just before" the Mother's Day weekend. Just about everyone was in the same boat. However, there are a few growers "out there" who managed to be a week or more ahead of everyone else in their area, and I attribute this feat to some very nifty work in freeze protection during both February and March.  That should be a very good topic for discussion at one or more of the Pre-plants scheduled in August. In case you did not catch it earlier, these meetings are scheduled for these locations and dates:
Pre-plant Meeting Schedule (FINAL)
1. Sandhills –  Aug 1  (location TBA, but probably Sandhills Research Station – Paige Burns and Taylor Williams)
2. Central Piedmont – in Alamance County Auditorium with on Aug 5, Mark Danieley
3. State Forestry Building, Charlottesville, Va – Aug 6  (Gail Milteer is organizing)
4. WEBINAR on Aug 8 to focus on PLUGGING (Meeting Location on NCSU CAMPUS)
5. Tidewater (Va Beach this year) – Aug 20, Roy Flanagan is lead agent
6. Nash, Wilson, Edgecombe and Franklin – Aug 27 … In Nash County.. Mike Wilder is lead agent
Whether you agree with my comment about how doing an exceptional job with frost and freeze protection in Feb/Mar 2013 led to an earlier picking, or not, I THINK WE CAN ALL AGREE  this was a very "unique" season. In North Carolina we had about 12% of our acreage that was impacted by new virus complex from Nova Scotia. The growers with these plants definitely had a very trying season, but we did learn a few things about managing plants with SMYEV/SMOV complex in the Mid-South, and I think it is safe to say the outcome with this plant material was at least better than the fate of these plants in Florida — where losses were very extensive. I personally worked very closely with a grower in Angier, NC, who truly rescued some Chandler fresh dugs from what appeared to be a disaster, and ended up picking about 40 berries per plant!
Something that did affect most Chandler plug acreage in NC this season, regardless of plant source, was a very concentrated crop in May. I mean, we're talking about plants producing so much crop all at once that you could send a person to the field, and they could pick maybe 2 plants and fill a quart basket! I know of many U-pick growers had sections of U-pick Chandler fields, or perhaps entire fields, that were hardly touched! These field sections or entire fields went unattended because individual plant yields were so incredibly high! As producer Ashley Porter, Willow Springs (location of the 2011 Strawberry Expo Tour), told me, he had the hardest time getting people to go to the far end of his Chandler U-pick block — they were able to get all they needed on the end of this field closest to the parking area and checkout stand. Another producer in the High Point area shared with me how blessed they were that they did not plant all of their Chandler plug plants at the same date in late September. As it turned out, rainy conditions on Friday Sept 28 (2012), allowed them to only plant a portion of their acreage. Those early set plants Chandler plugs turned out to be very undesirable for picking this spring due to very small berry size (too many blooms). The field that saved them was the one set later in October (before State Fair) near their checkout stand. It never ceases to amaze me just how dangerous an early planting of Chandler plugs can be! As you review your season, I hope you make some notes about how well you were able to keep up with the picking in all of your fields. If you failed to keep up with a particular field section, or perhaps an entire block, you need to take this into careful consideration before committing yourself to possibly making the same mistake next season! The questions I would be asking are:
Can you count on  U-pick customers to be able to handle an extremely concentrated crop (see Fig. 2). I realize your customers love your strawberries, but there are limits to what they can pick. If you failed to strike a balance this season between what was being offered in mid-May vs. what customers could pick, then I strongly advise you to reduce your U-pick Chandler acreage. There is no real guarantee that you won't be right back in a similar "fix" in 2014. In speaking to David Pope, a Knightdale, NC, grower, last Tuesday, he confirmed that when the surge of production came in mid-May, he probably only needed about 1/2 of his acreage to meet customer demand. Ironically, when there was definite customer demand earlier in the season (e.g. the first weekend in May), all of this acreage was necessary!
Logically, the next question has to do with how well you met the demand for your delicious berriess this season? Examine your harvest records to see what volume you produced and sold for each week your U-pick was open from late April throuugh the month of May? Once it starts getting hot around the end of May, that pretty much kills the U-pick, so I would not plan on much U-pick business past Memorial Day, and if you are a "season extender," then you already know that strawberries in June are strictly a Pre-pick type market. Did you come up really short in the early season? If you did, maybe you should investigate some options that would allow you to "get going" earlier. These options include:  1) earlier varieties than Chandler (like Sweet Charlie), 2) med. weight row covers applied in mid-to late winter (e.g. applying covers in Jan and/or Feb can advance harvest by 7-10 days)…I would not risk making row cover applications to Chandler in the late fall, or before January. Remember, we are trying to figure out ways to reduce bloom counts per plant, not increas them! A third very interesting option might include planting of Chandler cut-off plants for a small portion of your Chandler U-pick acreage. That is a pretty new idea for most growers, but the reasons I am recommending some experimentation with this plant type for U-Pick are not much different from the reasons why our largest fresh market growers in NC have gone to cut-offs. Of course, the large commercial shippers are not using Chandler at all (mostly Camarosa and some Camino Real), but the reason they use this plant type has to do with being able to achieve tigher control of plant size and blossom numbers. They don't plant cut-offs until early to mid-October (they are not available any sooner than this from Northern CA), and you never see flower numbers on these plants getting much above say 30-35 blooms total! But, even if you only get 25 nice berries per plant, this still puts the market yield per plant above 1 pound. And, because of radically reduced flower numbers (I saw more fields than I care to admit this season where Chandler had over 100 blossoms/plant), you get much bigger berries! Bigger berries are easier to pick. Some growers tell me that that is all that U-pick people seem to want these days – big berries. Remember, its how many berries that the U-pickers carry out of your field that counts, not how many you were able to produce!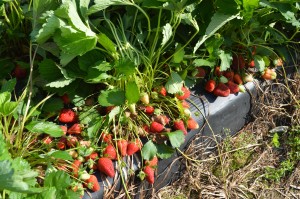 Fig. 2. This photo was taken on May 17th in the Central Piedmont – just before the rains of May 18-19! That's another story…(the rains of May are discussed in the NCSA's June newsletter). The crop was late, but when it came, it was fast and furious. I just don't know if there are enough U-pick picking people in NC to pick a crop that is this concentrated!
Some growers tell me the solution is to cut back Chandler acreage, or elimintate it. In truth, I think cutting back on acreage may be in order, but "what if" the season had been earlier? What if we did not get all those rains in May? What if the crop had not been so darn concentrated? But, "what if" there is a re-occurrence of another season like this in the future?
My philosophy is that we just have to make the most of whatever comes our way! And, learn from it! When I was just about to do an advisory early this morning about how the season was pretty much over, I received a call  from a Chandler grower in the piedmont  who is still making a go of it. I  learned that this producer who is in the Greensboro area had 5 workers who picked for 3 hours yesterday (between rains), and they harvested around 250 quarts, or about 50 quarts each. When you are picking about 17 qts/hr, that is not a record breaking pace, but it is still  affordable to do. Plus,  they are still selling berries at their farm stand along with lots of other farm fresh produce. What was notable about this conversation was how Chandler was still of good quality, despite all the rains from Andrea.
Personally, I have been around this crop for more than 3 decades, and I simply have not seen any season over all those years that was "easy," but I also don't  remember a season with this many "tricks up its sleeve."   Both good and bad tricks! Read on, and you will find a comment in the next paragraph that will surprise you about how strawberry clippers can help your season!
For example, last night, most growers I spoke with were not enouraged about being able to pick today (due to rains), and then at 11 a.m. this morning I get the photo you see in Figure 1. By the way, you should be aware that this particular grower has been picking for 6 weeks (he only grows Camarosa) and he has achieved more than 2.5 lbs/plant. it did not look possible to keep picking. And, then today the same  but, toda it was not only possible to keep picking, and I gather the quality wasn't bad. Another example of just how bizarre this season has been relates to another call I received today from farmer who feared that his Chanlder crop was in great jeopardy when strawberry clippers invaded in April, and did some serious pruning. It turns out, that their invasion was a blessing in disguise because, as he told me, "I could have never managed to have gotten any size on my berries this season if those clippers hadn't come in and did some good thinning."  How often have we heard Dr. Burrack tell us that this crop can sustain some amount of clipper damage without noticing any reduction in marketable yield, and what I heard this grower telling me today was that he was thankful for a clipper invasion, as his Chandler plug plants had way too many blooms all at once. Many years ago I attended a "Soft Fruit" conference in Ashton, England, where a soft fruit advisor actually gave a talk on the benefits of removing blossoms on strawberry plants with an excessive number of flowers!
As Russ Shlagel, a farmer from Maryland said to me the other week,  "This has been a real trying crop with a turn in the road on every straight a way."  And, what I'd like to conclude this advisory by saying, that with each of those turns we learned something new and very important to understand about growing this crop in our part of the world. As a former department head in the Department of Horticultural Science, Dr. Gus DeHertogh, said to me today, "You can learn more in a test season (like this one) about a crop than anyone could ever hope to find out from more formal experiments."
Just as I was about to  end this advisory, I find it interesting that Clyde Gurosik, a South Carolina strawberry grower who has been a real pioneer in extended cropping of Camarosa (something that us researchers are still struggling to understand), and he has kindly sent this note:
"Dr. Poling,
With 98F ambient forecast for Wednesday and 99F forecast for Thursday locally, I hope all know to drip early, as it will work. We've been shelling off 80% to 100% for days as we got 7.5″ of rain in the last week. Maybe most have folded their hand, but we're still in the game!
Good luck and God Bless,
Clyde"
Good luck to all of you, and hope to see you at one of our pre-plants, or at least make plans to tune into the August 8th Webinar. We really do need to try to understand the 2013 season as best we can before we plant this next crop!
p.s. here is the maximum temperature table for the next 7 days from AWIS: NC Table AWIS
Fig. 3. The Fayeteville area will be approaching 100 F this Thursday!
Dr. E. Barclay Poling
Professor Emeritus/Extension Strawberry Specialist
Department of Horticultural Science
Campus Box 7609, 162A Kilgore Hall
NC State University
Raleigh, NC 27695-7609
919-418-9687 (Cell)
919-515-2505 (Fax)
barclay_poling@ncsu.edu
https://strawberries.ces.ncsu.edu
Cooperative Extension provides practical education you can trust, to help people, businesses, and communities solve problems, develop skills, and build a better future.