Comments, Questions, and Observations…(3:00 PM, May 2, 2013)
Find this article at:
go.ncsu.edu/readext?215743
May 2nd Strawberry Topics (3:00 p.m. Thur) – I am in the field today, but wanted to get this additional update posted in the early afternoon today. Barclay Poling, Professor Emeritus
UPDATE
A. Weather – currently cool and cloudy (Wake Co); sunny and mild Friday & Saturday – great picking days; Sunday is a  little more "iffy"… Monday rains likely  (could be some gray mold pressure under these conditions…ideal temperature range for gray mold is 59-77 F and wet, humid conditions)
B. Crop update – A number of East Central NC and Central Piedmont U-picks are now open for picking and  just in time for the May 3-4-5 weekend. I just spoke to a local farmer in Wake who needs to move about 3,000 lbs this weekend. But, he thinks he'll be fine as he is already seeing good traffic today (Thur) and people are loving the berry quality and  flavor! Friday and Saturday will be fantastic for picking!! 
C. Customer comments – outstanding remarks from customers today on berry quality! Imagine if we could just get some sunshine for a while! To find farms that offer pick-your-own and ready picked berries visit:  www.ncstrawberry.com. <Editor's note – in a visit to a Camarosa field in Randolph County late today I was able to "sample" some of the first ripe Camarosa berries in this area of the state, and "WOW" what great flavor!">

Fig. 1. NOTHING BEATS FRESH-PICKED LOCAL BERRIES FOR FLAVOR, FRAGRANCE AND FRESHNESS. As the new NCSA brochure says, Take More Home!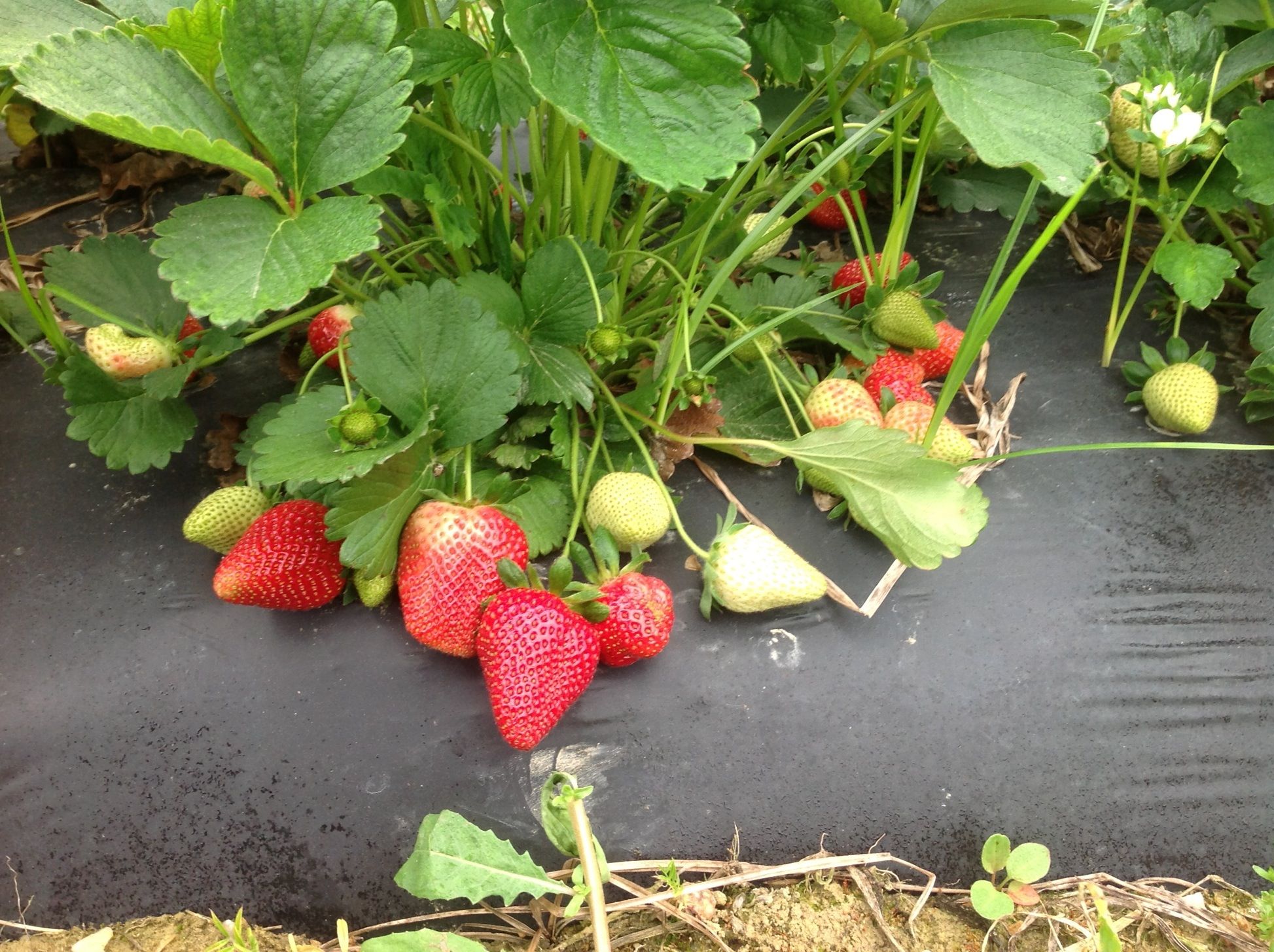 Fig. 2. Camarosa berries just getting ready in Randolph County – May 2, 2013.
Fig. 3. The cloudy, cool conditions we have been having this week are what a colleague of mine in the Department of Horticultural Science at NCSU refers to as a "Dutch Spring."
D. Grower concerns today? –  having the right spray materials on hand in case of mites (Mike Wilder has been scouting crops in Nash County this week, and Mark Danieley has been scouting over in Alamance Co area; NCDA & CS Argonomists have been checking closely for mites on their farm visits this week and last (Figure 1). Hannah Burrack sent out this important advisory yesterday on mites: https://strawberries.ces.ncsu.edu/2013/05/what-to-watch-for-broad-spectrum-insecticides-can-flare-spider-mites/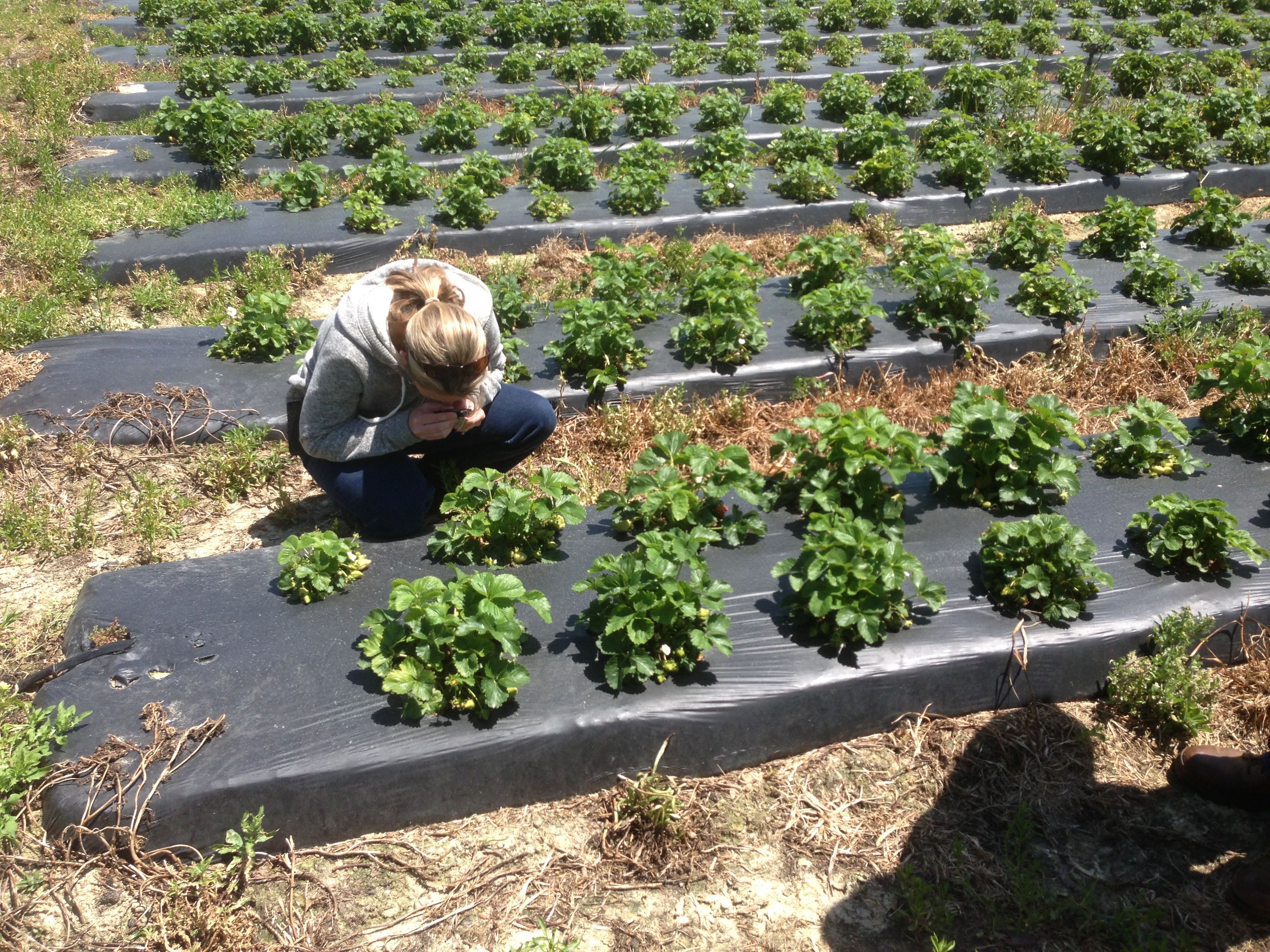 Fig. 4. Agronomist Georgia Love checking for mites at the farm of Fred Greeson last Friday (Julian, NC). Georgia has taken the position that was formerly held by David Dycus, who retired at the end of last year after a very distinguished career as an Agent and Agronomist, and who is now keeping very busy in his new job with a fertilizer company, FCI. I had the pleasure of being able to travel with David last Thursday!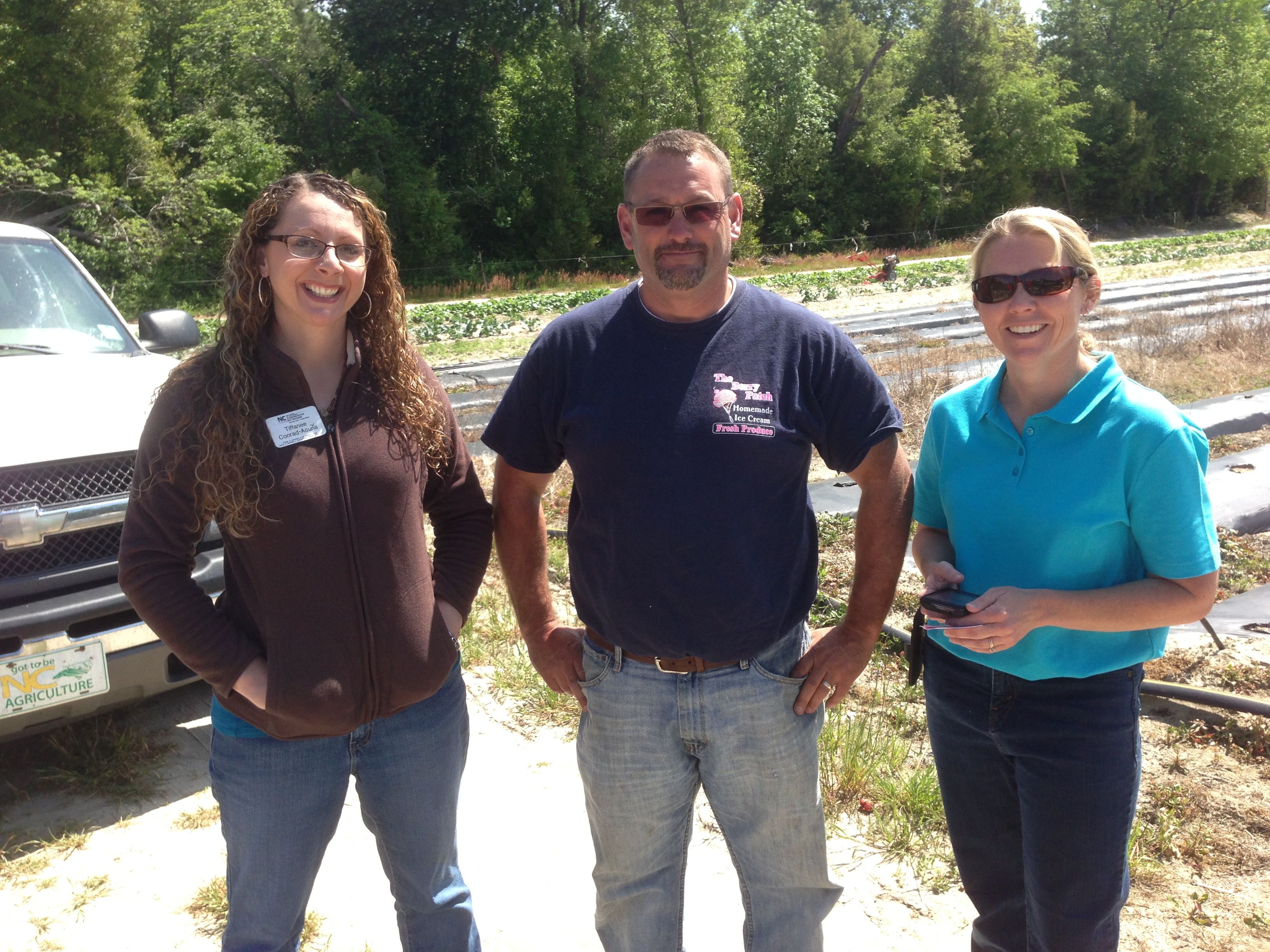 Fig. 5. Good to see some "younger professionals" working to assist our strawberry growers! Tiffanee Conrad-Acuna (left) is an Extension Agent in Agriculture in Richmond County; Lee Berry is the strawberry grower in the middle, and  the new Agronomist, Georgia Love,  on the right (also in Fig. 3).
<Grower concerns cont'd>
Growers are also concerned about keeping up with correct fungicide rotations for gray mold 2013 Straw_FRAC; 
It might be a good idea to make a fungicide application for gray mold just before the wet weather comes in late this weekend…
It was valuable to learn from Dr. Schnabel, Clemson U, that the fungicides Switch and a newer material Fontelis can be a "safe bet" (no problems so far with resistance). HOWEVER, DR. Schnabel added in an email comment to me after reading the 1st version of this advisory that, "It is (very) important to not use these things exclusively. Rotation and mixtures are the key to success. Switch and Fontelis shoudl be used in a rotational program and no more than 2 times per season (and not in a row). While Switch can be used by itself, Fontelis (high risk) should always be used with captan."  
For extreme botrytis pressure, Dr. Schnable shared with me today that: "You have to have continuous wetness for about 24 hours at optimal temp. (59-77 F)"
Dr. Schnabel futher notes:  "While Switch and captan plus fontelis should be used in extreme cases (prior to or just after optim temp and long lasting rain), captan by itself  can be used when conditions are like you described below:"
| | | | | | | |
| --- | --- | --- | --- | --- | --- | --- |
| Weather | Day | Date | High | Low | Ave | GDD |
| rain | Sun | 28-Apr | 70 | 56 | 63 | 13 |
| rain | Mon | 29-Apr | 69 | 56 | 63 | 13 |
| p sunny | Tue | 30-Apr | 75 | 56 | 62.5 | 12.5 |
| p sunny | Wed | 1-May | 69 | 50 | 65.5 | 15.5 |
| p sunny | Thu | 2-May | 66 | 47 | 59.5 | 9.5 |
| p sunny | Fri | 3-May | 68 | 52 | 56.5 | 6.5 |
| p sunny | Sat | 4-May | 76 | 54 | 60 | 10 |
| p sunny | Sun | 5-May | 74 | 59 | 65 | 15 |
| cloudy | Mon | 6-May | 79 | 58 | 66.5 | 16.5 |
| rain | Tue | 7-May | 74 | 58 | 68.5 | 18.5 |
| rain | Wed | 8-May | 71 | 57 | 66 | 16 |
| rain | Thur | 9-May | 80 | 60 | 64 | 14 |
| cloudy | Fri | 10-May | 73 | 61 | 70 | 20 |
| rain | Sat | 11-May | 70 | 59 | 67 | 17 |
| rain | Sun | 12-May | 71 | 63 | 64.5 | 14.5 |
Table 1. Rainy and cloudy condtions were in this forecast by AccuWeather Pro for a location near Raleigh on Sunday April 28th – the worry of growers is the forecast calling for rain on Sat and Sun (May 11-12). Hope to exit this "Dutch Spring" real soon! Dr. Schnabel does not feel this represents an extreme situation, and he mentioned to me yesterday that, "captan by itself  can be used when conditions are like these."
E. Fertility comments from Clayton – just had an email from Rocco Schiavonne a minute ago, and he pointed out this interesting fact:
Barclay,
I  wanted to mention that we are having to increase our fertility this spring. I have added a second shot of boron along with an increase in N and S according to tissue samples. Tissue samples are also calling for Fe as well and I have mixed up some to be applied tomorrow when we irrigate. We have never needed to add iron and suspect this may be due to rapid growth.
Rocco
<Editor's follow-up Friday morning, 5/3/13>
I will be bring a plant tissue sample from last evening (see Fig. 5 below) into NCDA&CS Agronomic Services Division this morning:
Mailing Address: 1040 Mail Service Center, Raleigh NC 27699-1040
Physical Address: 4300 Reedy Creek Road, Raleigh NC 27607-6465
Phone: (919) 733-2655; FAX: (919) 733-2837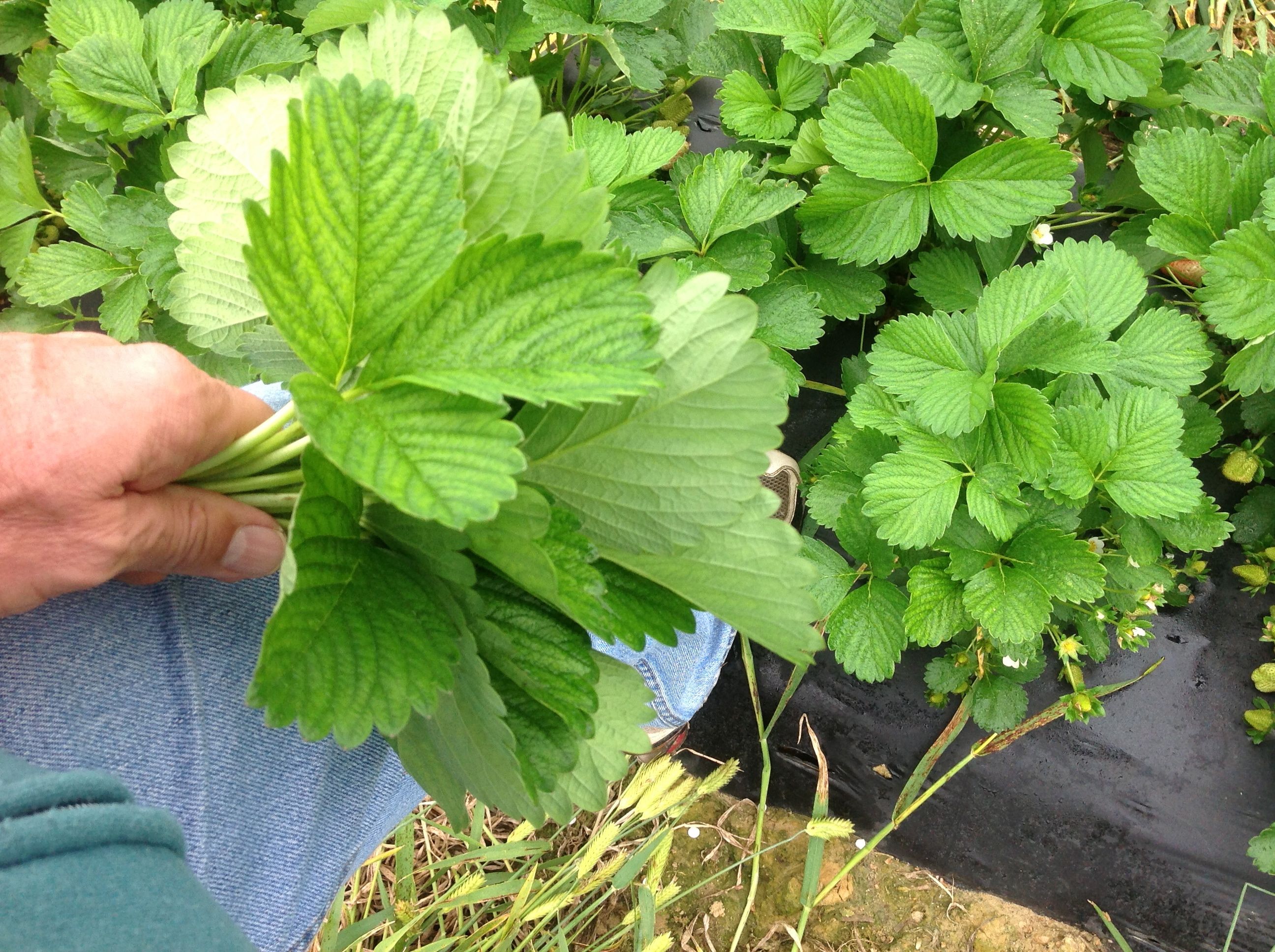 Fig. 6. The concern here is with an iron deficiency – yellowing or chlorosis of young leaf blades si the first, although uncertain, sign of Fe defic. When the deficiency is mild, veins-including veinlets-turn green.
F. After the rains…must be prepared to re-treat for SWD.
And, its also important to do a good job telling SWD larvae apart from other common critters in strawberries https://strawberries.ces.ncsu.edu/2013/04/identifying-insects-in-strawberries/  <Hannah Burrack>
G. Lady Beetles (beneficials) observed in field yesterday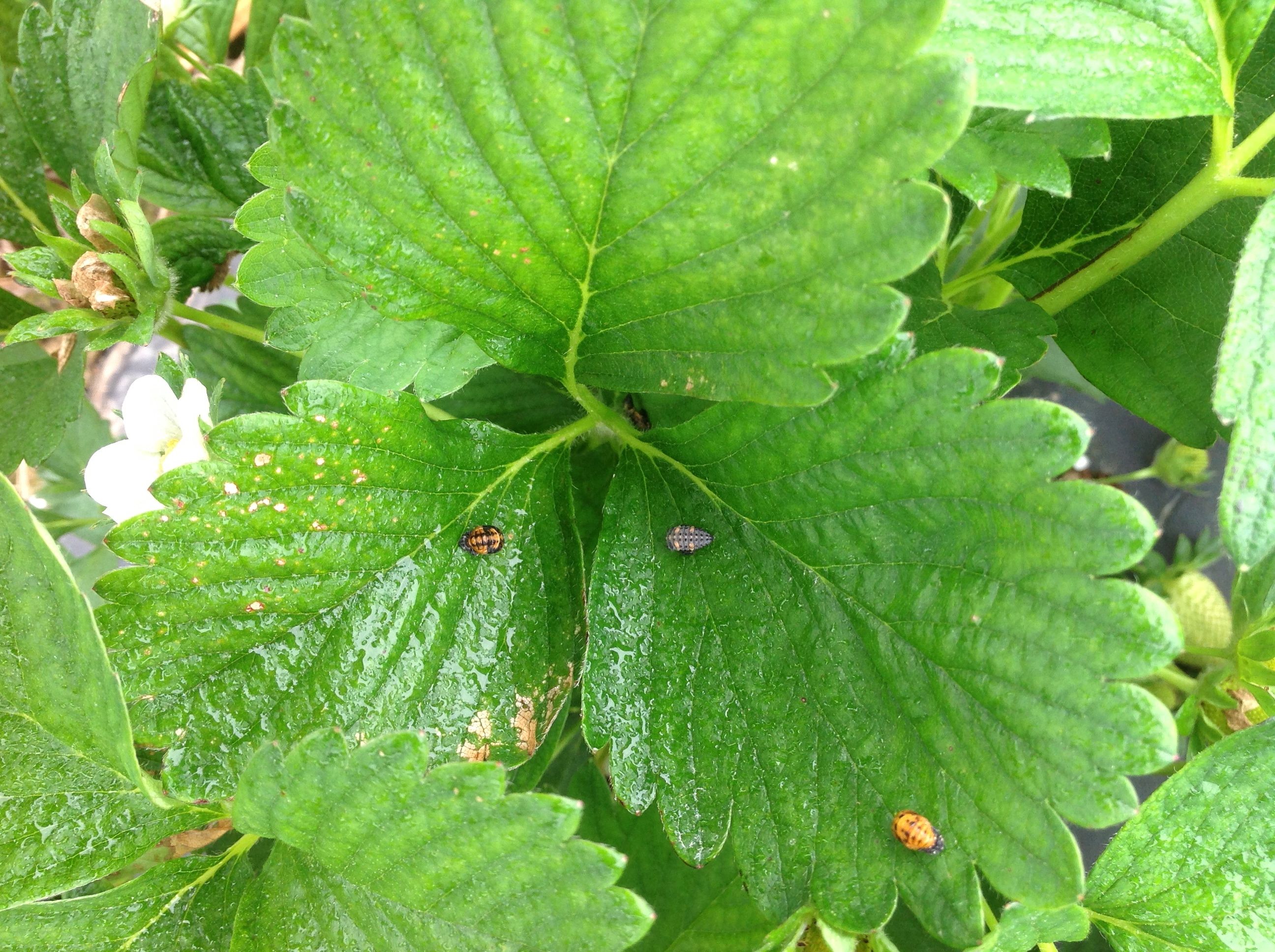 Fig. 7. Pupa and larva of lady beetles can be seen on this Camarosa plant (5/2/13). The tan specks (and splotches) are actually due to a spray burn problem that occurred in this section of the field.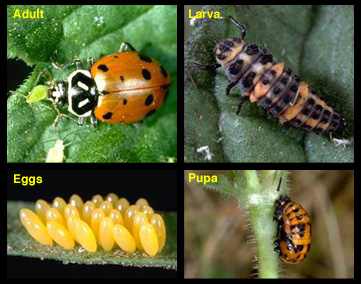 Fig. 8. Life cycle: Source: http://www.ipm.ucdavis.edu/PMG/NE/convergent_lady_beetle.html
H. Growers are starting to see some runners on virus infected plants now…A few minutes ago I received this photo from a grower east of Raleigh who has a planting of Camarosa plugs with virus infection. Some of these plants are now starting to "push runners."  The grower will more than likely "cut runners" and try to keep these plants fruiting for as long as possible.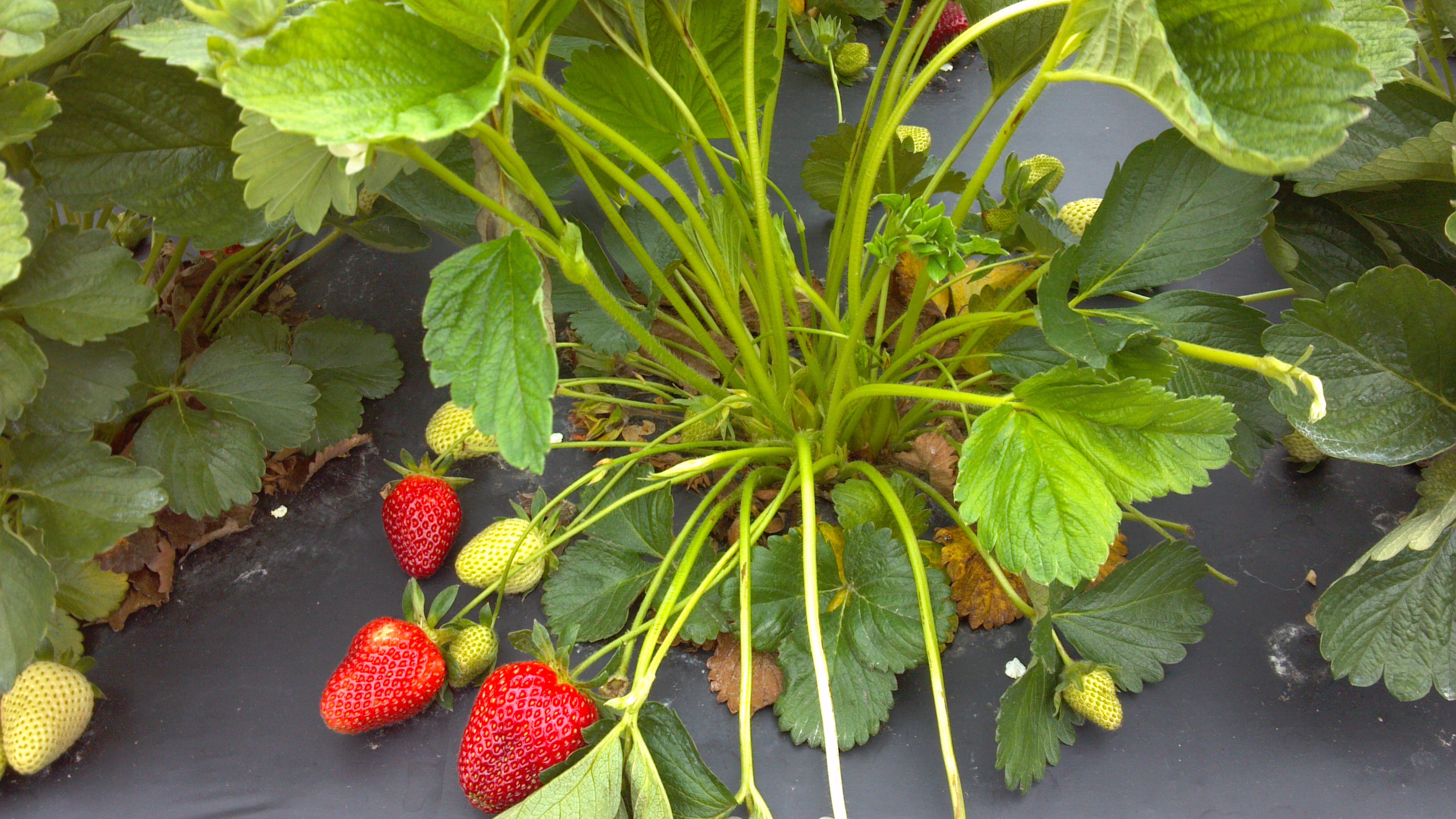 Fig. 9  Some Camarosa plants stunted by virus (and having a light crop load) are now pushing runners (May 2nd). About 2 weeks ago, Russ Shlagel, Shlagel Farms, Waldorf, MD, sent me the photos you see in Figures 5&6.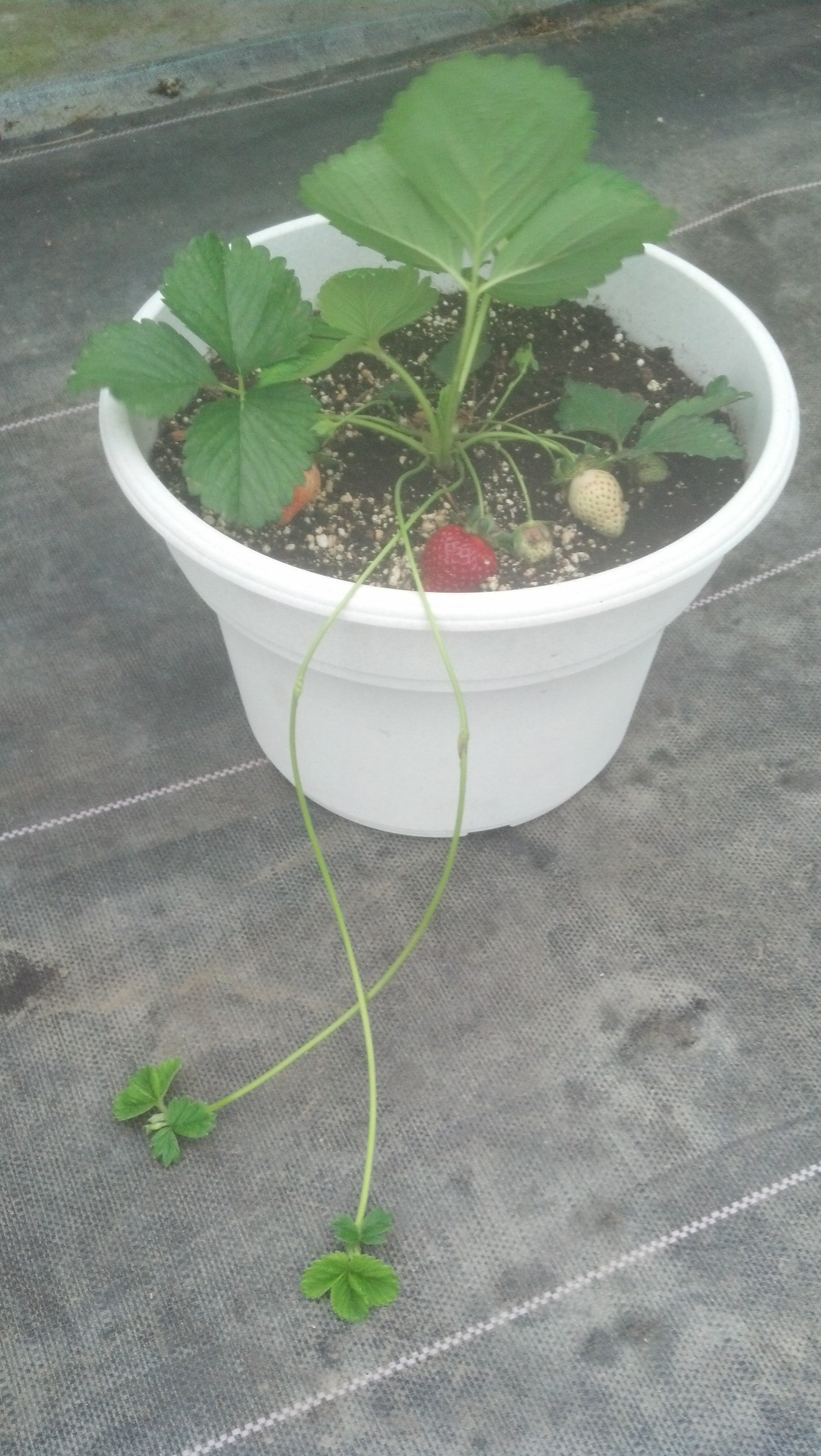 Fig. 10  "This is the small sickly plant moved from field to greenhouse 5 weeks ago.
Notice the runners the small sickly ones in field are showing the start of runners."  RS photo sent April 24th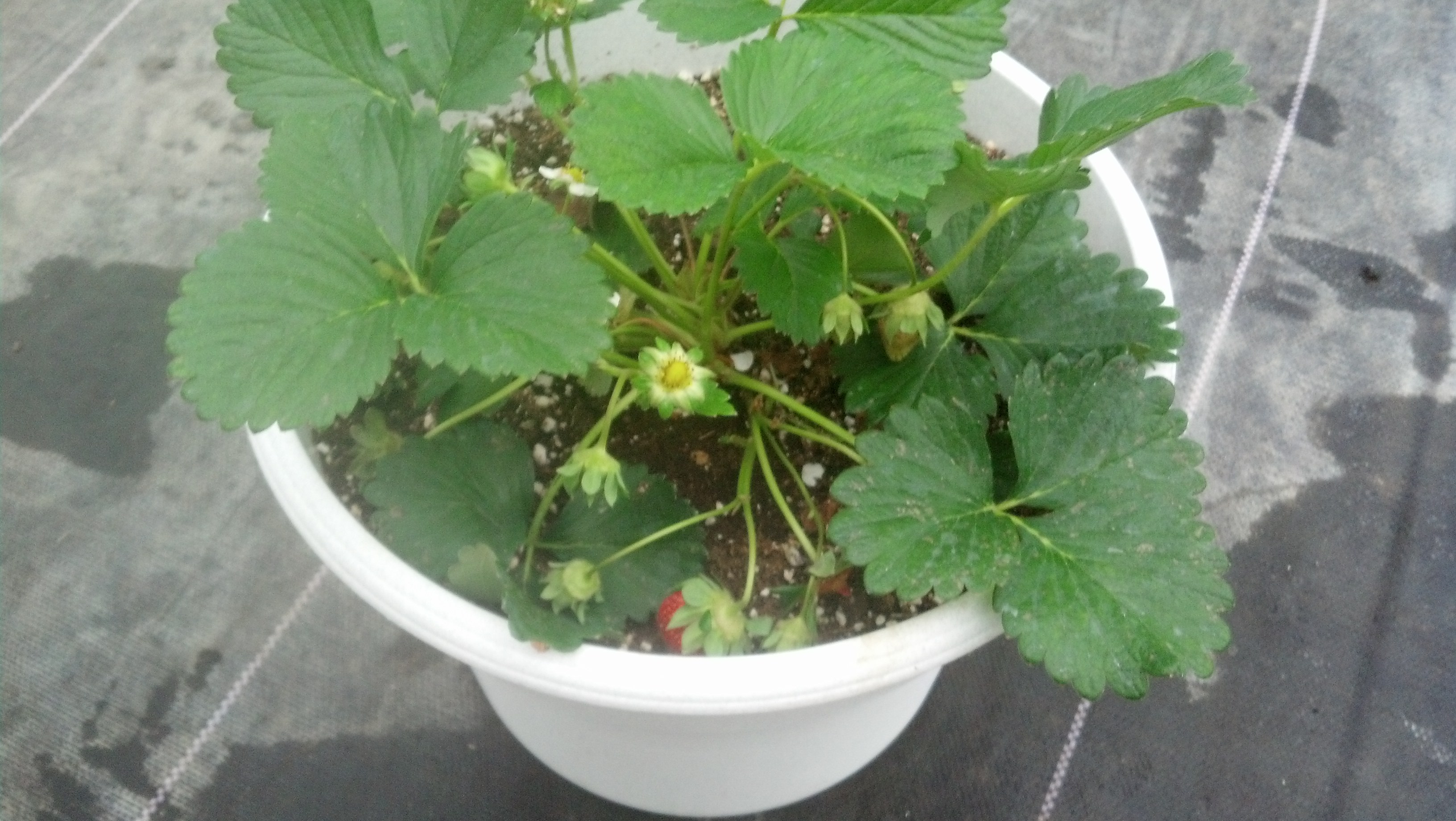 Fig. 11. This plant looked healthy when dug up. RS (4/24/13)
I. Runners on smaller Camarosa plants – these plants from plant  source with no virus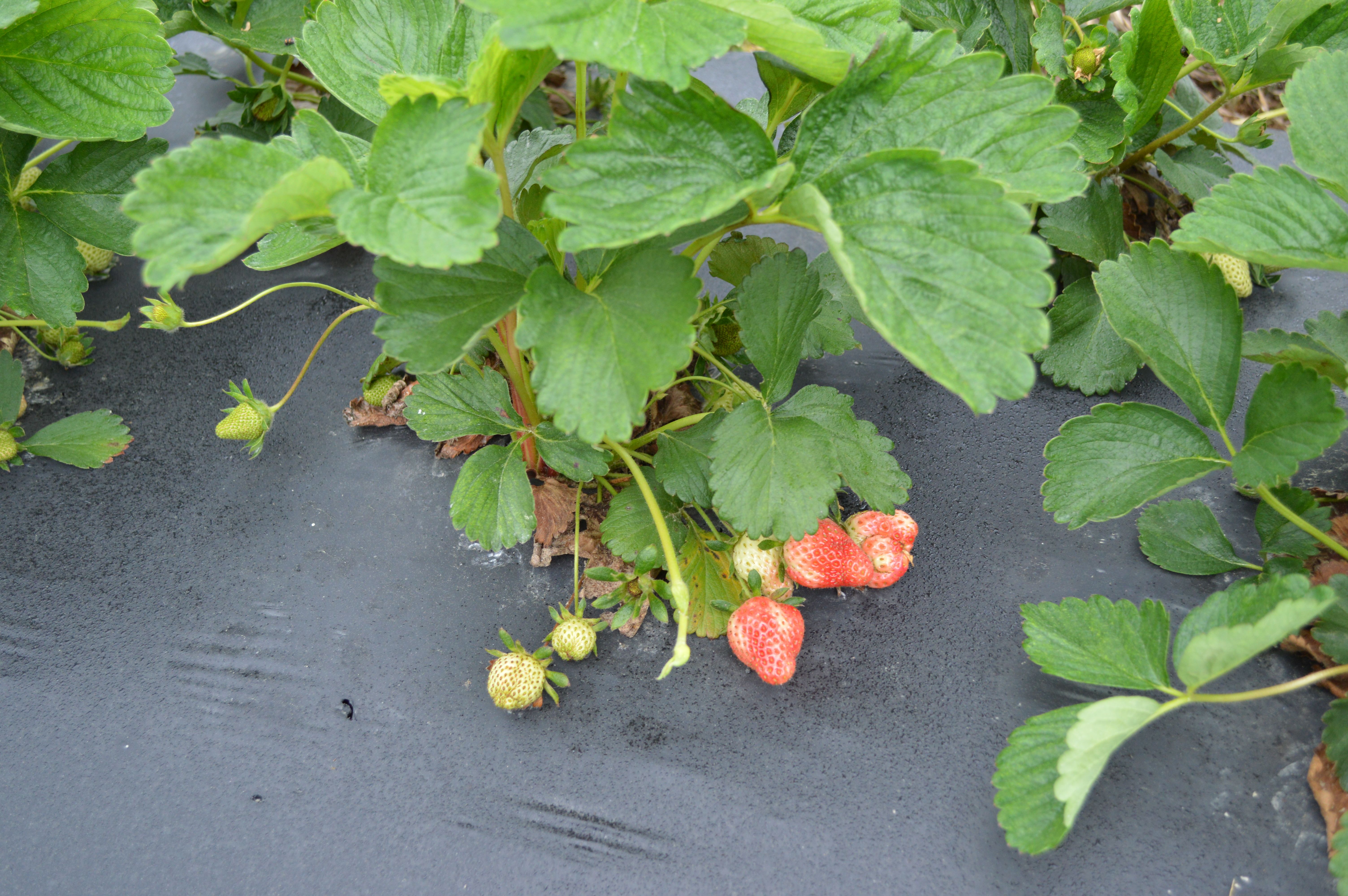 Fig. 12. These smaller Camarosa plants were propagated from what the industry calls "small tips" and although most of the plugs in this "small tip" field were doing very well, a small percentage of the plants looked like this one, and were now runnering (due to very light crop load).
H. Kentucky Plant Pathologist Issues an Alert Today
From: "Ward, Nicole" <nicole.ward@UKY.EDU>
Date: May 2, 2013, 11:27:41 a.m. CDT
To: KY-STRAWBERRY-ALERT@LSV.UKY.EDU
Subject: Strawberry virus alert
Reply-To: KY Strawberry Alerts <KY-STRAWBERRY-ALERT@LSV.UKY.EDU>
Strawberry growers;
By now, many of you have heard that two new strawberry viruses were detected in Kentucky. The viruses (strawberry mottle virus, abbreviated SMoV; and strawberry mild yellow edge virus, abbreviated SMYEV) originated from a plug producer in Nova Scotia. In the aforementioned case, three growers shared a shipment of plants, but only one of the growers has seen symptoms. The other two growers have not.
We encourage you to contact your broker to determine the source of your plants. Those with high risks may need to take some of the precautionary steps outlined below.
Attached is an article describing the two viruses in more detail. Briefly, SMoV and SMYEV are transmitted by aphids. SMYEV infects only strawberry, but SMoV can also infect the weed common lambsquarters. Therefore, we encourage high-risk growers to scout for aphids and to implement a solid weed management program.
Finally, remember that virus diseases cannot be cured. We recommend that symptomatic plants be destroyed to prevent spread to healthy plants. If you determine that your plants originated from the Nova Scotia area, please do not hesitate to contact me for more specific information.
Nicole Ward
University of Kentucky
Department of Plant Pathology
Extension Specialist for Fruit Crops, Ornamentals, and Forestry
859.218.0720 office
859.797.3333 mobile
nicole.ward@uky.edu
Kentucky Grower Response:
"I had 6000 plants from the above mentioned shared source and had mine tested. We are not  seeing any problems in the other 24000 from the PEI source"
Danny Van Meter
I. The best thing about a rainy day?
Earlier this week I wrote about our rainy weather pattern and I was attempting to be more positive about it …. anyway, I got some pretty interesting feedback (like I said, this whole advisory is unedited)
VA Grower Responds…
Barclay,
 
Maybe the BEST thing about a rainy day is…
 
A brief respite from the many, many phone calls we're getting about when this (later-than-in-recent-years) crop will be ready. Consumers aren't likely to pick in the rain, so our phone has been much quieter today.
 
We had about 1.3 inches as of 11 a.m. or so; haven't been back out since. Sure glad we did fungicide + SWD sprays Friday (Pungo) and Saturday (Chesapeake).
 
We got the folks we needed (just a few) to pick the ripe fruit we had (just a little) and clean up the field. They were happy, we were happy, and it forced us to get the "strawberry house" cleaned up and ready to use. Our big question now is when can we let school field trip folks start to pick. For them, we need sufficient ripe fruit so that 200-400 kids and chaperons can all fill their pints and quarts in the time allotted for picking (20 minutes or a little less—picking is just one of four "learning stations" in a 90-minute field trip. By this weekend, we should be rockin' and rollin' for the public (Pungo) and open, if not rollin' hard, in Chesapeake.
 
Tom
Tom & Anne Baker and Amanda McCann
Brookdale Farm
2060 Vaughan Rd, Virginia Beach, VA  23457
2133 Mt. Pleasant Rd., Chesapeake, VA
Phone:  757-721-0558   Fax:  757-721-4988
E-mail:  brookdale.farm@cox.net
Website:  www.brookdale-farm.com
"I had rather be on my farm than be emporer of the world."  – George Washington
MD Strawberry Advisor's Comment on Rainy Days…
Barclay;
 
Rainy days are for sleeping.
Bob Rouse, Agriculturist LLC
< Editor's note:  Bob was also the 2011 The North Carolina Strawberry Association Award for Outstanding Service to The Strawberry Industry>
Bob Rouse
Agriculturalist LLC.
J. Can anything be done about curly dock?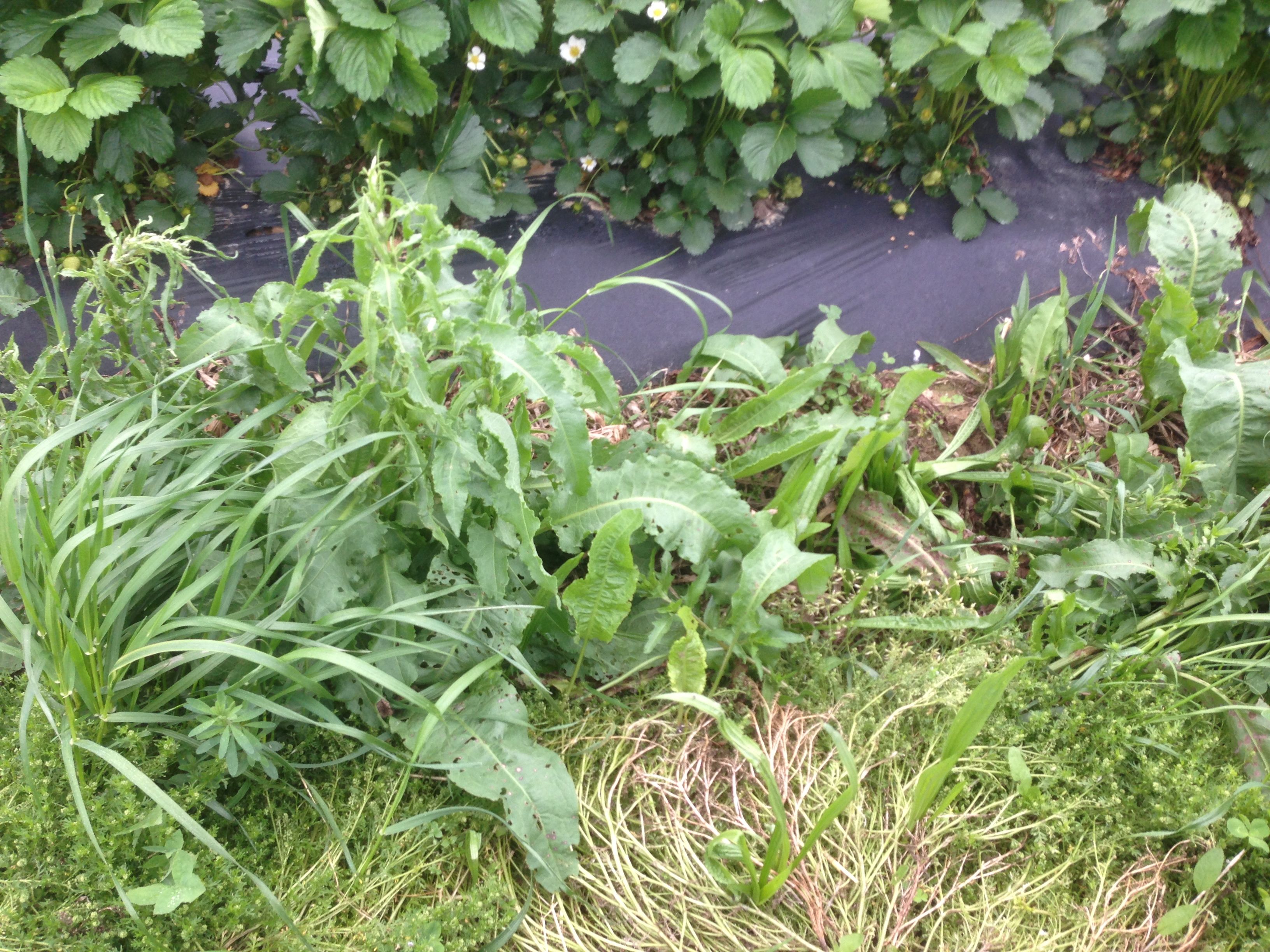 Fig. 13. Curly dock, a perennial broadleaf plant, shown in middle of this photo (standing up about 18″), can be difficult to manage in strawberry middles. It seems that strawberry aisles are a favorite habitat for Rumex crispus.
Grower Question:  "Any ideas on how to control curly doc weed?"
Wayne Mitchem Replies:  "I would expect dock to be very large by now and spot treating with glyphosate is most effective option. However they have to be careful and it has a 14 day PHI which is going to be an issue."
Mr. Wayne E. Mitchem
Researcher and Extension Associate
Contact Information
Department of Horticultural Science
Mountain Horticultural Crops Research & Extension Center
455 Research Drive
Mills River, NC 28759
Office Phone: 704.276.1584
E-mail: wayne_mitchem@ncsu.edu
K. Odd berries!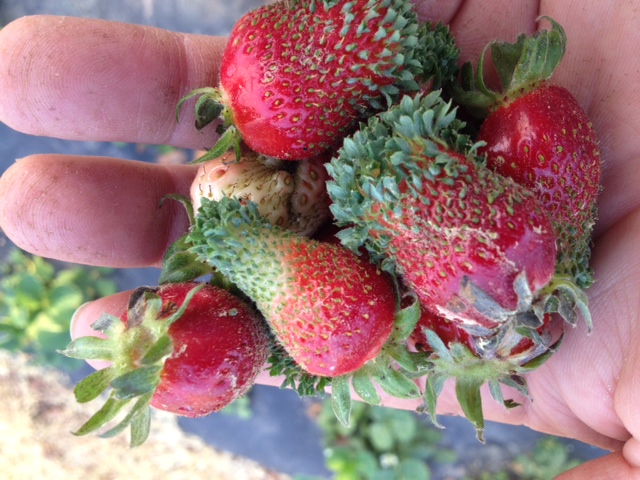 Fig. 14. Photo submitted by Danelle Cutting today – looks like one of the leafhopper vectored diseases caused by Phytoplasmas – will refer this to Dr. Martin at USDA.
Hello Barclay,
I hope you are doing well. These strawberries came from a grower I have and he stated these berries were in a high tunnel, but lost most of them to spider mites. He did say while they had some berries that this incident kept happening where the seeds were starting to sprout. Please look at the photo, can you tell me what might have been going on?
Thanks!
Danelle McKnight Cutting
North Carolina Cooperative Extension – Montgomery County Center
Horticulture Agent, Local Foods Coordinator, and Pesticide Coordinator
203 W. Main St.
Troy, NC 27371
(910) 576-6011
Editor's follow-up on photo in Fig. 13 – note from Bob Martin (4:45 p.m., 5/2/13):
"Barclay,  Good guess would be phytoplasma, if they wish we can test for that. Could also be environmental, I am guessing this is not a common symptom on strawberries in tunnels. Let me know if they would like us to run some tests."
Cheers,
Bob
Bob Martin
Research Leader
Research Plant Pathologist (Virology)
USDA-ARS Horticulture Crops Research Unit
3420 NW Orchard Ave.
Corvallis, OR 97330
Editor's follow-up Sunday, May 5
More follow-up:
Barclay
I have seen symptoms of the "leaves on fruit" you mentioned might be a Phytoplasmas when we have had berries on plants in the greenhouse in winter /early spring. I was juts looking for a picture but I cannot find it. Seemed to happen with one of our breeding selections but not another.
Anyway that might point it to being environmental (low light, day length, etc.) and or genetic.
Pete
Peter Nitzsche
Agricultural and Resource Management Agent
Cooperative Extension of Morris County
P.O. Box 900
Morristown, NJ 07963-0900
Weekend photos of Albion, Camarosa and Benicia (Greensboro, NC, May 4th)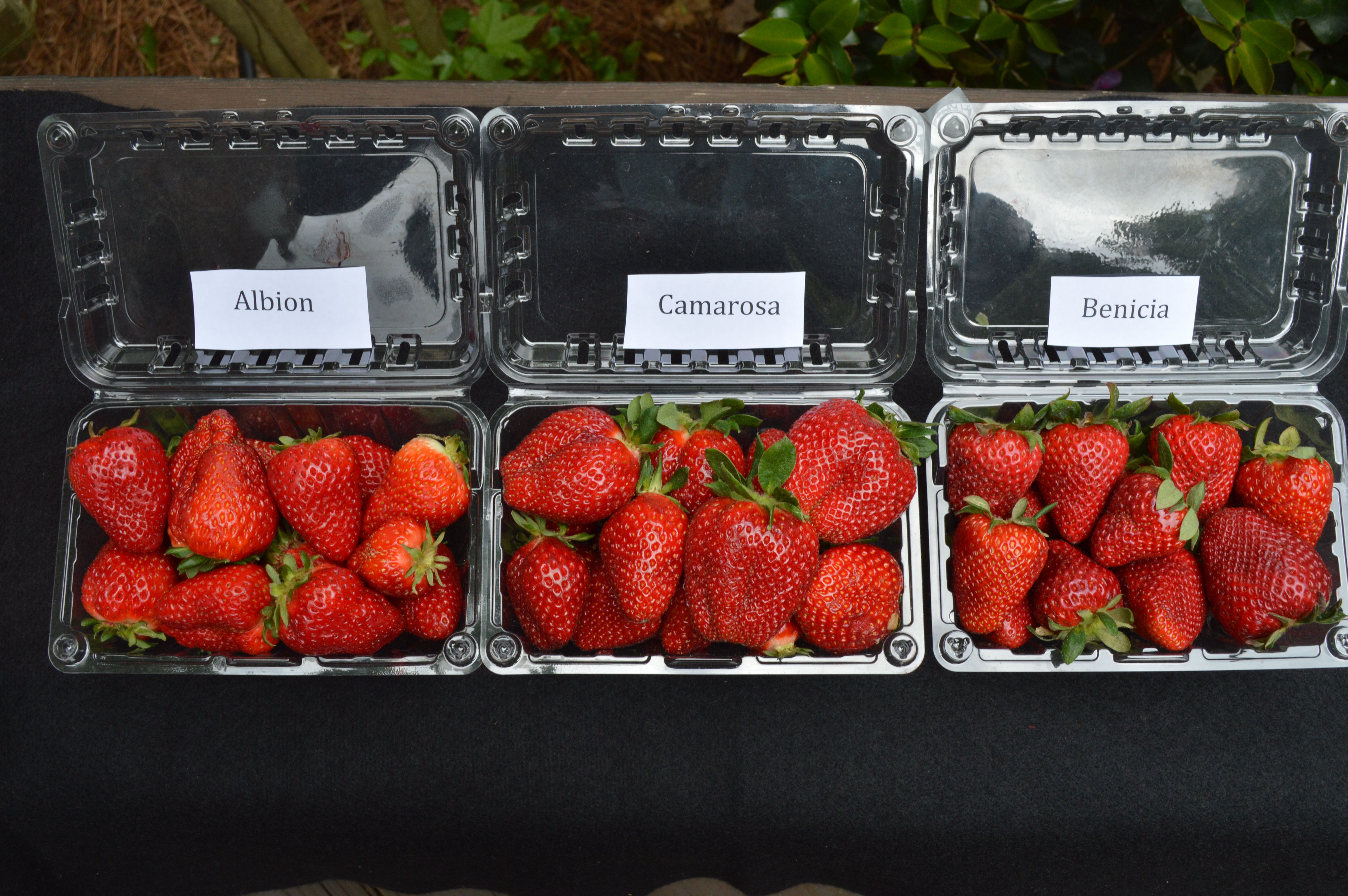 Keep the good comments, observations and questions coming!
Dr. E. Barclay Poling
Professor Emeritus/Extension Strawberry Specialist
Department of Horticultural Science
Campus Box 7609, 162A Kilgore Hall
NC State University
Raleigh, NC 27695-7609
919-418-9687 (Cell)
919-515-2505 (Fax)
barclay_poling@ncsu.edu
https://strawberries.ces.ncsu.edu
Cooperative Extension provides practical education you can trust, to help people, businesses, and communities solve problems, develop skills, and build a better future.