Strawberry Crop Update (May 1, 2013)
Introduction
I mentioned in a berry-mg advisory sent out this Monday (4/29) the benefits of an occasional rainy day. However, we are now definitely looking for sunshine! My area of the state got about 1.5 inches since Sunday, but other areas had some very shocking rainfall accumulations like Lee Berry's farm in Ellerbe (Fig. 1).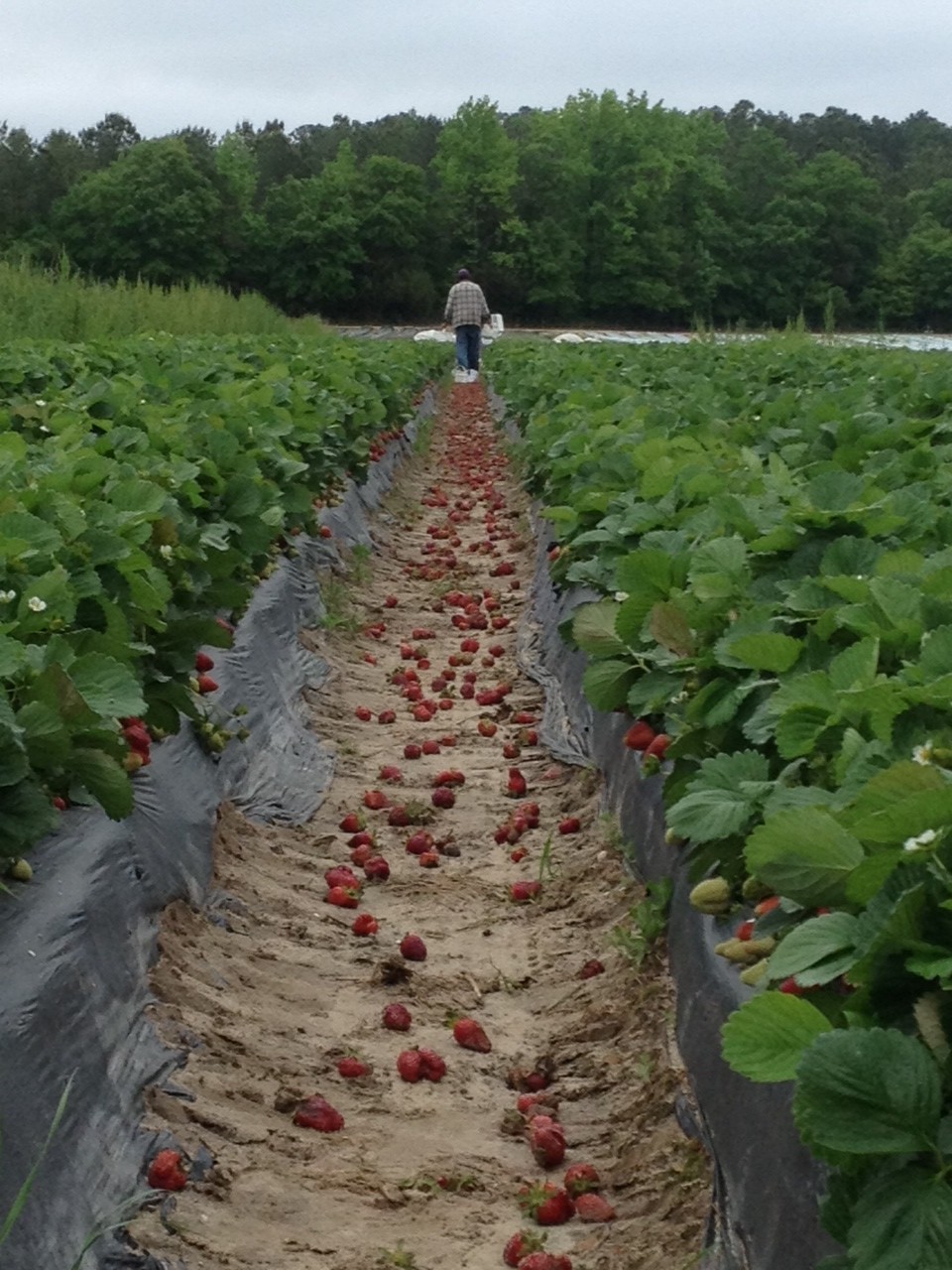 Figure 1. The text message from Lee Berry late yesterday (4/30 was: "4.2 inches of rain is not good!" In this photo you can see that the grower acted quickly to remove the rain damaged berries (tossed in aisle). Rain damaged berries can become quickly infected with gray mold, and this will in turn spread  to newly opened flowers and thus promote more fruit rot (later in the season). Some growers elect to collect the "bad berries" in 5 gallon buckets. 
I was just at Lee's place last Thursday (4/25) and saw a beautiful crop of Camarosa being picked! Despite this temporary setback, you can see some  impressive "green fruit" stage berries that are developing very well. I can also pick out some new blooms in this photo, and I also happen to know from my visit late last week that Lee has some really nice new inflorescences coming up from the crown (in middle of the plant).
What to do with that much rainfall?  I have never seen a situation where any ripe strawberry crop can handle much more than 1 to 1 1/2 inches of rain without serious damage to the red-ripe berries. If this happens, you have to pick off all of the rain damaged fruit, or risk an early season shut down of the plants!
Surprising number of blossoms still (late April and early May)

From my visiting to farms in Sandhills and Piedmont last week, I was able to see more advanced crops in the Sandhills (e.g. Mr. Berry had been picking for 2 weeks as of last Thursday), and other fields, like one in Randolph County (Figure 2), where you can see how Chandler is still very much in a bloom condtion! I will be stopping by this same field tomorrow to see how close these Chandler plants may be to getting ripe (pretty much looks like a Mother's Day weekend crop to me).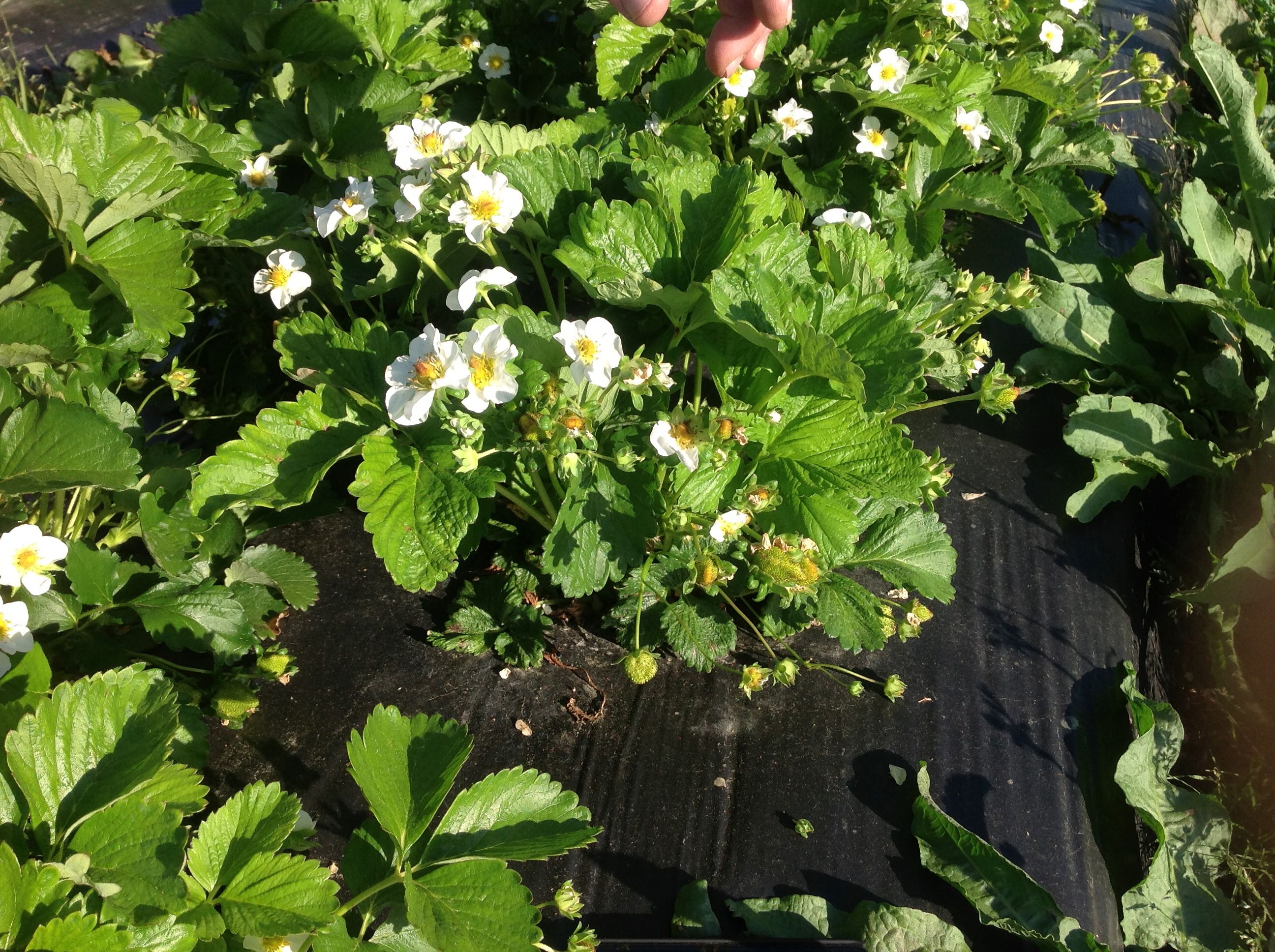 Figure 2. Randolph County strawberry field as of last Thursday (April 25). This same field was picking Chandler berries on April 11, 2012. Who said the crop was behind by just 2 weeks compared to last year. At best, this crop will have some ripe berries just before the Mother's Day weekend, which is May 11-12.
So, is your crop still in pretty heavy bloom? A lot of growers are seeing a good number of blooms on their Chandler plants – even in late April and early May!! I think this really late bloom is great, but it presents issues with making sure that you don't get into a problem with gray mold infection of these new flowers.
Here is what a grower in Easley, South Carolina, wrote to me on April 26 (Friday):
"Just wanted to show you what our bloom situation currently is. This picture was taken today (4/26), but we have pictures taken more than 10 days ago that look exactly like this. We are going to have a huge amount of berries to get picked in a short amount of time. Its a little frightening to look at."
Thanks,
Eric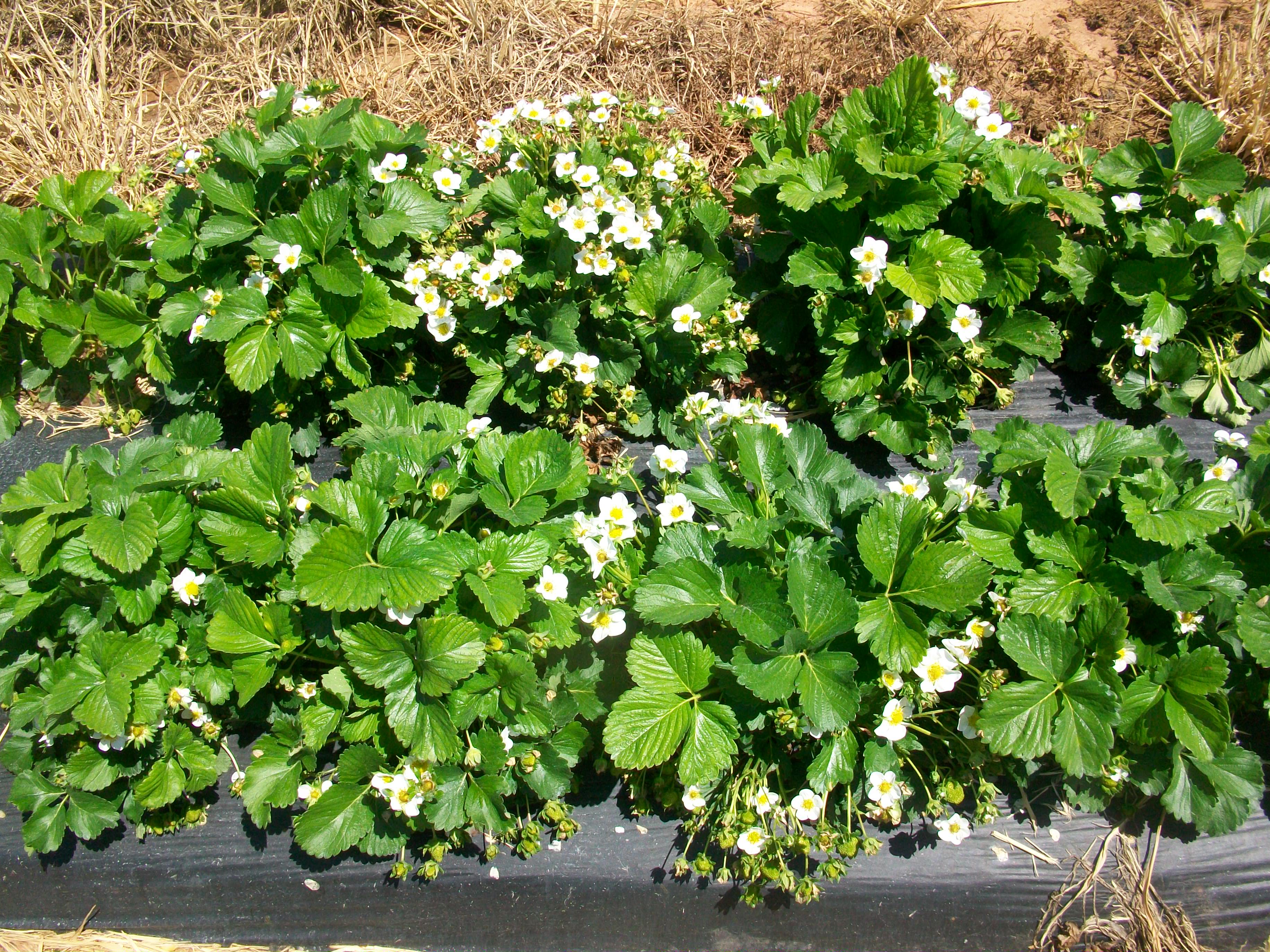 Fig. 3. Chandler is blooming heavily still in Easley, SC (photo sent by Eric Hunter last Friday, April 26). The grower also said, "We are further behind in fruiting than any other time in 16 years. 8 years ago, we began on 4/28, and that was the latest ever at the time. An average start date for us is 4/20. Right now, it looks like we may not be picking until possibly 5/6. Lots of rain, clouds, and cool weather setting in this week won't help."
In contrast to the photos of Chandler crops in Figures 2 & 3, I received this next photo a grower in a location near Rocky Mount on Monday (4/29), and here you can see some ripe Chandlers and about 4-5 new blooms (Figure 4).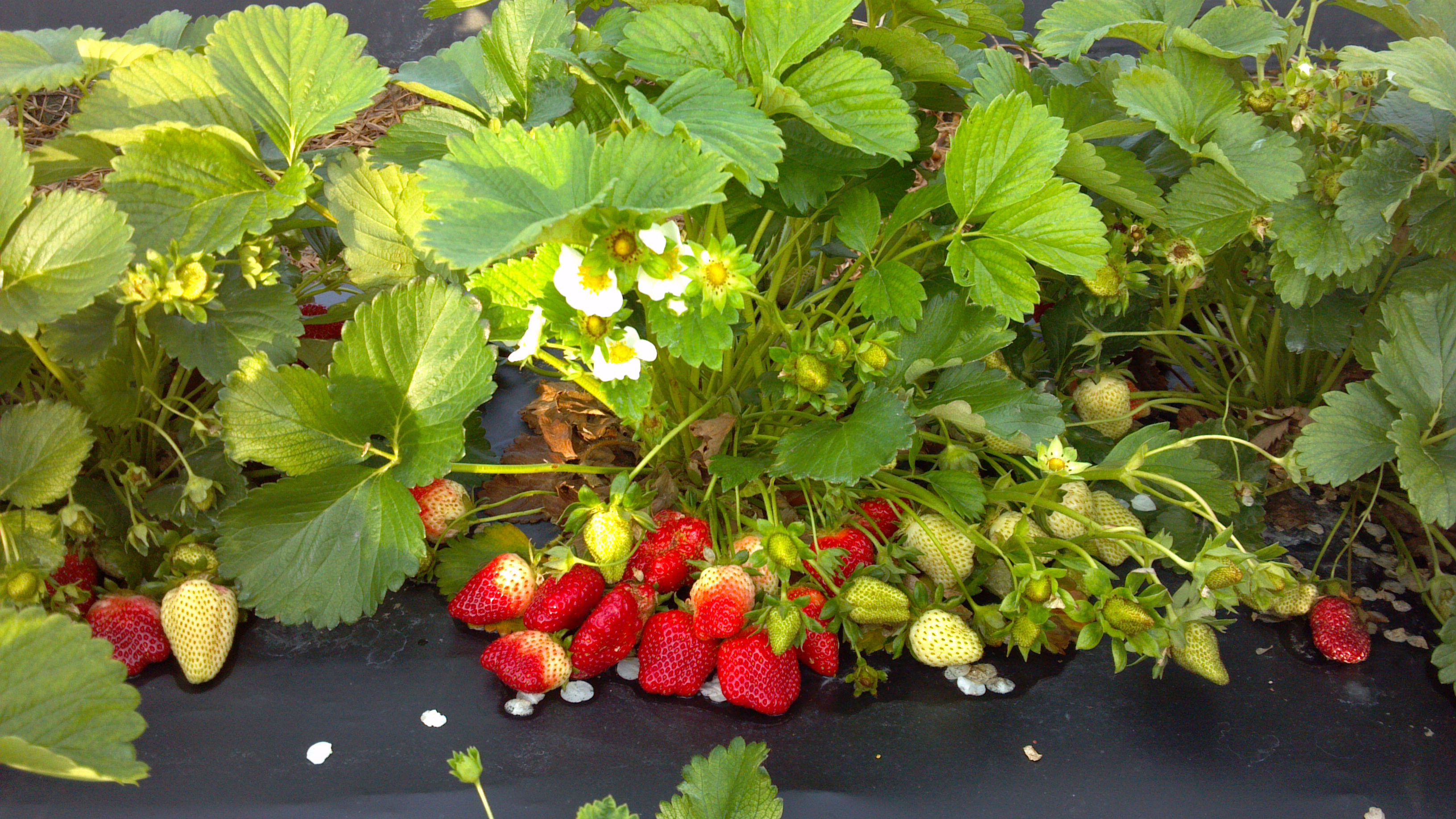 Figure 4. Chandler – photo taken on 4/29 (this week) at a location near Raleigh. This crop is definitely more advanced than Chandler crops shown in  Figs. 2&3,  but there are still several nice open blossoms on these plants that will ripen in the final week of May (about 28-30 days). As you can see, this particular crop is timed nicely for harvest this weekend (May 4-5), and the larger green berries will be ready around the middle of next week, and the smaller green berries will be timed nicely for Mother's Day.
I am writing this advisory from my home office today, and my wife just handed me the USA Today for 05.01.13, and the lead article is, "When rain, rain won't go away," and I am just hoping this is a story mostly about the Northeast (it mentions Chester, VT, a town close to where my wife grew up). In looking at our weather for the mid-South, I see a generally favorable forecast for this upcoming weekend (Figure 5), but I am also wondering about the forecast for the all-important Mother's Day weekend as well as the rest of the month of May?
Fig. 5. This is the Raleigh, NC, 15-day forecast (AccuWeather Pro), and my hope is that we can dodge rains predicted for May 10-11. It would appear that we will have perfect picking weather this weekend (5/4-5/5) and leading into Mother's Day Weekend (5/11-5/12), there should be some really good weather days before Friday (5/10).
Heavy picking in Mid-May 
My impression right now is that we are going to have "a lot of fruit" to pick after Mother's Day weekend as well. Iif you have any cousins or relatives who live in in rain soaked areas of the country, I would recommend inviting them down for a visit. It would be especially nice if you can persuade them to come just after Mother's Day, as we are going to need   every picker we can find the week of May 13th (note the warmer temperatures coming as well). Right now, I would say that May 13-20 will be the peak week for the piedmont in 2013. In regard to the very high volume of berries we are aniticipating in mid-May, I particularly like the theme of a new marketing brochure that was recently printed by the NC Strawberry Association,  Strawberries – Take More Home!  The brochure says, "Bring home an extra quart, bucket or basketful – your're bound to eat some right away, and there's so much you can do with them."  The brochure lists several great recipes, inclduing an award winning recipe for Strawberry Triffle! http://www.ncstrawberry.com/docs/2012StateFarmersMarketStrawberryDessertContestWinners.pdf
Cool wet weather and gray mold  
My own Raleigh weather update this morning from The Weather Channel (Farmer's Forecast), mentioned that we are going to be mostly cloudy in Raleigh (hi 69, lo 55, 20% chance of precipitation) and that the soil is "Very Wet."  But, what the Farmer's Forecast did not mention is just how "botrytis friendly" this weather pattern may  now becoming?
….from the Compendium of Strawberry Diseases, 2nd Edition, p. 30:
"Fruit rot is favored by moderate temperatures (59-77 F) and long periods of high relative humidity or surface wetness during the flowering period…
So, take another look at Fig. 5 (15 day forecast) and note we are fortunate that the near term outlook is for drier weather after today (Wed). That's a real good thing because if it stayed wet for much longer, I would be quite concerned about the potential for gray mold, especially for these crops that are still in such a heavy bloom! 
With botrytis we know that the blossom stage is the most susceptible:
"The incidence of fruit rot is highly correlated with the amount of rainfall 11-30 days prior to the first harvest, which corresponds roughly with the period from the early bloom stage through the green fruit stage."

Compendium of Strawberry Diseases

, 2nd Edition, p. 30
We also know that these forecasts can quite suddenly change. For example, up until yesterday, there was a forecast for fairly nice weather on Mother's Day weekend, but then that changed with this morning's forecast (back to cloudy and rainy). So, I have been watching a lot of "shifts" in the timing of cloudy and possibly wet weather, but what seems to be holding true is a general forecast for conditions this month that could be favorable "at times" for gray mold. From the Compendium of Strawberry Diseases, 2nd Edition, p. 30, it states that:
"…the incidence of infection of flowers by conidia of B. cinerea at 59-77 F increases from near zero to more than 90% as the duration of leaf wetness increases from 6 to 24 h."
Let's not forget that Dr. Knowe's forecast (Sunday) may include several of these 6-24 h wet periods:
(3 May – 5 May) Slightly below average temperatures. Highs in upper 60s to low 70s and lows in the 50s. Clouds and scattered showers will develop late in the period as a slow moving low pressure system approaches the region from the west. Precipitation is expected to be showery in 0.10 – 0.20 range during this period.
(6 May – 8  May)  Slightly below average temperatures. Highs near 70 and lows in 50s. Clouds and showers will dominate the period as the slow moving low pressure system moving into the region affect the area during the entire period. Precipitation is expected to be showery in 0.25 – 0.55 range during this period.
(12 May – 19 May):  Near to slightly below average temperatures. Showery and near average temperatures expected early in the period, with average to slightly above average temperatures late in this period.
(20 May – 27 May):  Near average temperatures. It is expected that overall near average temperatures will prevail during this period.
Best Fungicides for Preharvest and Postharvest gray mold control?
Some of you may have received a very handy excel attachment on Monday (4/29)  that provides excellent guidelines on fungicide resistance management guidelines for the Southeast that was modified by Dr. Schnabel from the Mid-Atlantic Guide ( 2013 Straw_FRAC). Please note from this document that Topsin M, Scala, Pristine, and Elevate have a red x and this indicates that resistance has been widespread on the East Coast for these products.
The good news is that I have been reading  Profile reports that Dolores Ortuno has been sending out to growers this season, and many are coming back with very favorable comments like this one that was sent to an agent and grower in SC on Sunday (4/28):
"With the exception of Topsin M, the rest of fungicides (SWITCH, SCALA, ELEVATE, CAPTEVATE, ROVRAL, PRISTINE, and FONTELIS) should work well in his farm."
However, each farm needs to be tested separately! And, at the very bottom of this advisory I am including instructions for taking a sample and sending to Clemson.
Of course, at this time in the season will be collecting sprores from the fruit with the cotton swab (Figure 6), and you should know that  ROVRAL cannot be used after early bloom!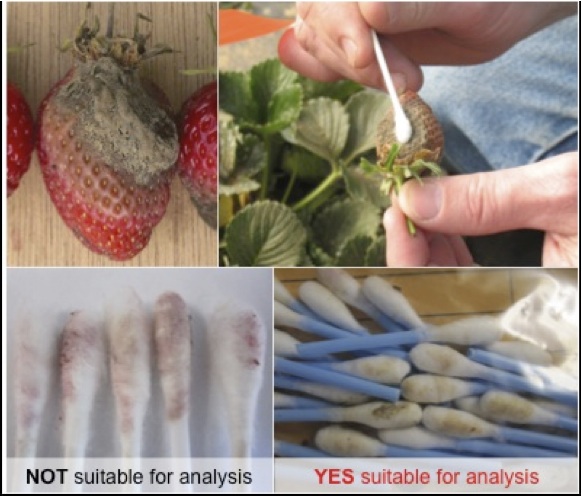 Fig. 6. Use correct technique for collecting spores from the fruit with the cotton swab!
Both Dolores and Guide reviewed the text just below, and Guido wanted to add the point that Switch and Fontelis (penthiopyrad) may still be "a pretty good bet."  He has seen no cross resisitance with these products and Pristine.
"Gray mold caused by the fungus Botrytis cinerea is probably the most economically important disease of strawberry worldwide. Infection of strawberry flowers is caused by spores and results in fruit decay. Fruit infections begin as small, firm, light brown lesions that enlarge quickly and fruit become covered with a gray fuzzy mass of spores followed by a soft rot. Gray mold disease can easily spread during periods of rainy and cool weather, heavy dews, or high relative humidity.
Chemical control of gray mold is essential to prevent fruit decay before and after harvest but resistance in B. cinerea to key fungicides is emerging. Therefore we started an extension program at Clemson University, which provides farm-specific fungicide resistance profiles. In our laboratory, fungicide sensitivity assays are performed that allow the distinction of sensitive from resistant isolates. During the 2011/2012 growing season we collected gray mold from commercial fields in Arkansas, Florida, Georgia, Kansas, Maryland, North Carolina, South Carolina, and Virginia. From each field we collected spores from ten berries (called a sample) and confirmed that the gray mold fungus was resistant to multiple chemical classes. The majority of the samples analyzed contained fungus that was resistant to Topsin M and Pristine. Half of the samples had a significant portion of fungus that was resistant to Scala and Elevate fungicides. Resistance to Rovral and Switch was rare (Figure 7).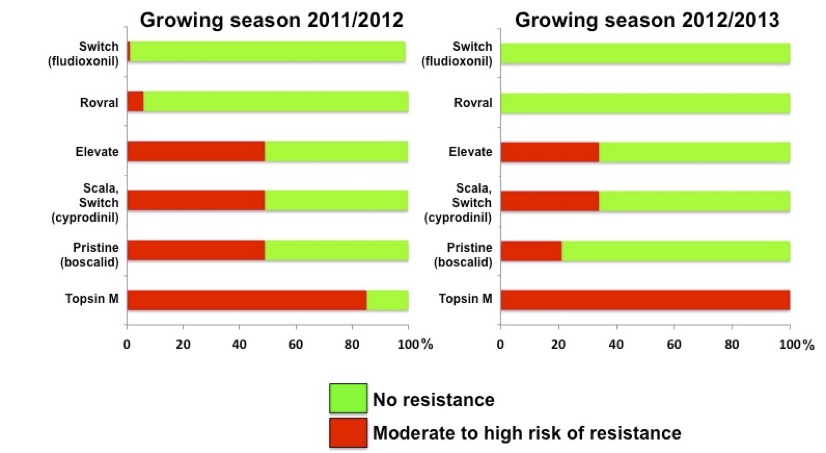 Figure 7. Comparisons between 2011/2012 and 2012/2103
This season we are providing the same service to strawberry growers and so far, we received samples from Georgia, Maryland, North Carolina, South Carolina, and Virginia. Fungicide resistance is still present and virtually all samples are resistant to Topsin M. In contrast to last year, however, resistance to Pristine has not been found that often. Only every 5th sample on average is resistant to Pristine. Rovral and Switch remain to be great options against gray mold disease but remember that Rovral is restricted to one application prior to bloom." (Figure 1).
You only need to send 10 cotton swabs with spores from the fruit to the Clemsons  lab.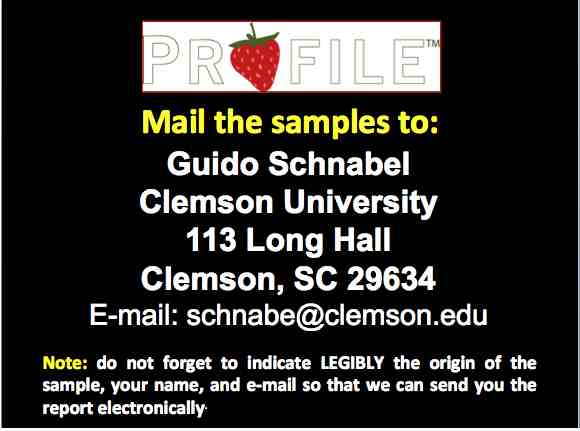 http://ncsu.edu/enterprises/strawberries/2012/03/29/collecting-and-mailing-gray-mold-samples-for-fungicide-resistance-testing/
Final Note:  Please keep checking Dr. Hannah Burrack's blog on questions related to mites, SWD, and questions related to clipper management. There was a mite update posted this afternoon: https://strawberries.ces.ncsu.edu/2013/05/what-to-watch-for-broad-spectrum-insecticides-can-flare-spider-mites/
Let's hope for some better weather tomorrow – it felt like early March today and not the first May! Can you believe it was 80 in Cleveland today? And, Minneapolis is accumulating snow. Very unusual!
This is just in from a SC grower (relates to how to dispose of berries in aisle)
Dr. Poling,
We are experiencing good yields on Camarosa and also have an EXCELLENT continuing bloom evolution. The discard and near IMMEDIATE replanting of all virus affected plants was clearly the way to go. We have learned much! We even have an excellent crop of STRAWBUNIONS!! Those would be Vidalias 100 miles south.
A double run tractor smash has been our most cost effective way to cause prompt dehydration of discarded fruit when a heavy rain related shell off was required. You can make a career out of the 5 gallon bucket brigade. Some of the runs can also serve as the delivery for a good high pressure air blast application of fungicide also. If you get any sun, they'll dehydrate in 4 hours or by the next morning usually. Hope this is helpful.
Sincerely,
Clyde Gurosik
————–
Dr. E. Barclay Poling
919-418-9687 (Cell)
919-515-2505 (Fax)
barclay_poling@ncsu.edu
https://strawberries.ces.ncsu.edu
p.s. In a follow-up to today's advisory I will be sharing more photos of "problems" and issues we encountered on our farm tours last week, including some fields in Alamance Co. with very low bloom counts? And, another situation that is on our radar is shown in Fig 10.
Fig. 9. This was a field visited in Alamance County where "bloom counts" were low, and we were not exactly sure what may have caused this? The field had good deer protection. The field had pre-plant fumigation by a very well known custom fumigator, and plugs were set early enough (PEI source)? We are trying to understand if the freeze in 3rd week of March could have had a detrimental effect on this crop (17 F mininmum). The planting had row cover protection, but no sprinkling on top.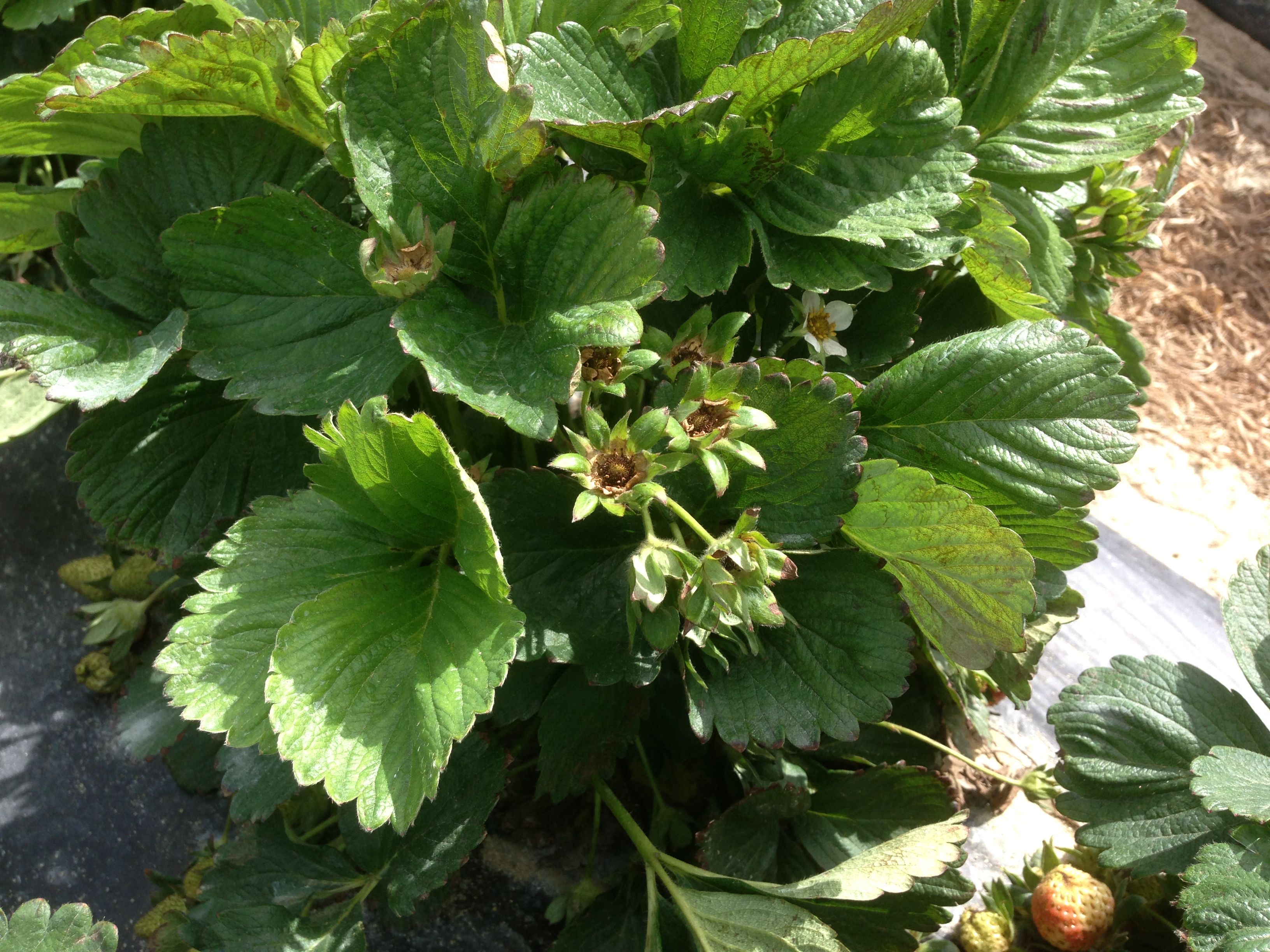 Fig. 10. This was another "tough one" for us to figure out – just about every blossom in the planting had his blighted appearance. Samples from this field in Richmond County were brought back to NCSU PDIC on Friday (4/26), along with soil sample.