Thursday Morning Update…rains Moving in Today!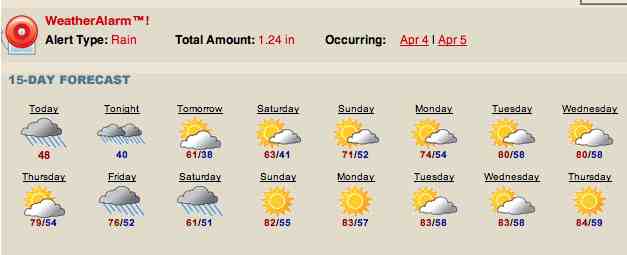 Figure. 1. An example of one of the many products displayed on the AccuWeather Pro site – this is for Raleigh, and shows "visually" where we are headed next with our strawberry weather.
Figure 2. Ellerbe, NC's 15 day forecast as of 8 a.m. this morning (4/4/13). A pretty similar forecast for this location in Sandhills. Lee Berry sent us a photo yesterday of the berries he is now picking!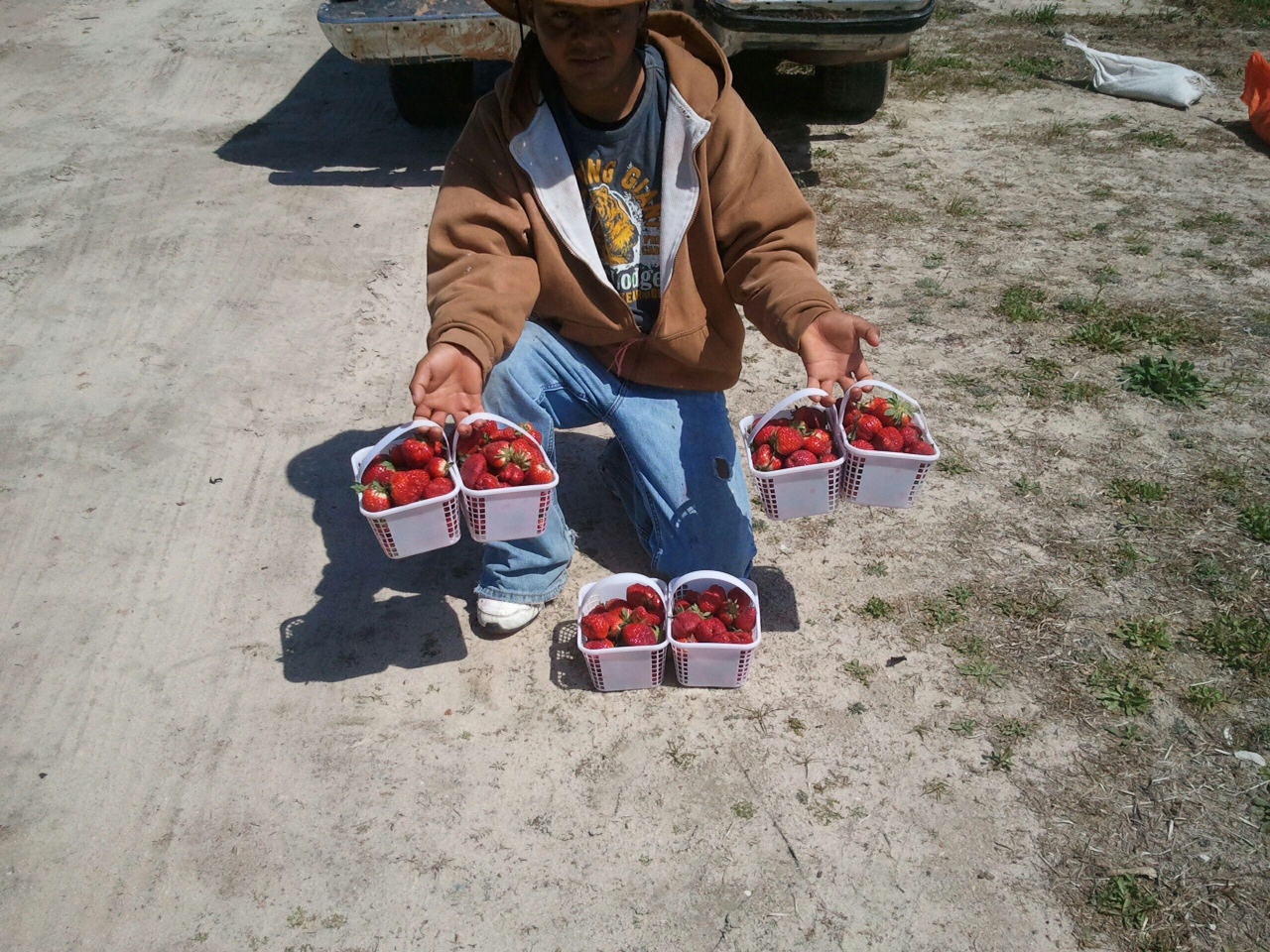 Figure 3. HARVEST IS OFFICIALLY UNDERWAY AT THIS FARM IN SANDHILLS – the grower did "push" the crop with covers, and also did a superb job of cold protection back in Feb when we had one of those upper teen freezes (double covers).
————-
Good morning!…I don't know how many strawberry growers feel that great this morning after 3 nights of frost protection? A good many strawberry farmers may be MIA today!
I rather enjoyed this brief exchange of emails this morning:
Bunn, NC
7:20 a.m. Hey Barclay — SkyBit's forecast was right on . No frost or freeze or pumping — beautiful !
John Vollmer
919-495-2392
Pungo, VA
7:51 a.m. Now go get some sleep, John!
Tom Baker
….fuller report from TOM:
Barclay,
Jack and his friends, Wind, Temp, and Humidity couldn't make up their mind last night. It was a night to throw out the forecasts and look, repeatedly, at the donkey.
After hanging on the "ragged edge" from about 11 p.m. on, we finally turned on the Chesapeake sprinklers about 3:30 a.m. (due to first, small amount of frost observed on strawberry plants + coldest blossom approaching 28.0 F) and Pungo about 4:40 a.m. (due to WB at 32 and slowly moving lower).
About 12:30 a.m., things were looking like "turn on" very soon. Frost in usual places (including pulled-off row covers in fields) but not on strawberry plants. Blossom temps were "safe" and plants had only a little liquid dew on them. But right about midnight:30 high clouds came over and the air temp rose a little (both locations). High, thin clouds soon covered the entire sky however they were thin enough that a few of the brightest stars could be seen at times.
Shortly after 1 a.m., dew points, which had been hovering in the low 30s, started a drop to the low 20s (reaching 20.7 F at Pungo, 20.6 F at Chesapeake). Lowest dew points occurred about 3 a.m.
By 3 a.m., air temps started dropping slowly. Very interestingly, as the dew points dropped, some of the frost started to disappear (must have been sublimation) while simultaneously previously deposited dew was observed to be freezing! (The heaviest frost was observed at 12:30 a.m.)
If temps don't go any lower, we are "safe" to shut down now (7:40 a.m.), but I'm waiting to see temps tick upwards so I know the lows are indeed behind us. Surely that uptick will come soon.
Nights like this make for very little sleep. One neighboring grower said, at 12:30 a.m. (paraphrasing), "I'm turning on now and going to bed. I'm sure I'd have to turn on later anyway."  I said, "you lazy woos" but I'm really thinking he might have been the smarter grower this strange night!
Tom
Tom & Anne Baker and Amanda McCann
Brookdale Farm
2060 Vaughan Road
Virginia Beach, VA  23457-1521
Bailey, NC
8:49 a.m.
Hi Barclay,
Just to report that we have not had to turn on sprinklers so far this entire week!!! We're located between Zebulon and Wilson, just north of Bailey. Winds and clouds moved in during the early morning hours. Last night on the 11 o'clock news, Channel 5 reported that it would be highly unlikely that it would frost or freeze. So what do we do? Set the alarm anyway, get up and check it out for yourself. Oh, well, that's the way it is in March and April. Have a great day. Joey and Linda Bailey
Editor – I won't say too much more about last night's "event" except that I did see many areas had significant OVC (overcast), and temperatures were higher than anticipated in many areas. (see below)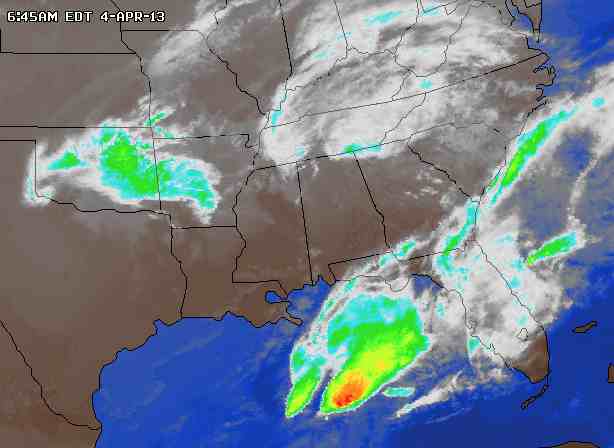 Fig. 3. This was a satellite photo of morning clouds – I am anticipating some "frost reports" out of Northeastern, NC (e.g. Edenton), and up in Chesepeake, VA. Also, I think further inland in VA, there were some really cold spots this morning.
Few areas in NC experieced frost this morning!
We have already heard from Bunn, NC (Vollmer) that he had no frost in his part of Franklin County, and I suspect there was none in Lousiburg as well. We've also heard from the Bailey's in Bailey – no frost!
But, I am expecting a few reports from Tidewater area, and I am also thinking that areas in Northeastern NC near coast, like Edenton, may have had an interesting morning? Perhaps a very promising NCCES agent over in that area, Erin Eure, will check in with us today about what happened in her neck of the woods? Here is what AWIS is saying — Edenton had frost this morning at 4 a.m.

Fig. 4. According to this AWIS hourly for Edenton, there was a (white) frost this morning!
Meanwhile, we are in for some significant changes in strawberry weather:  rains are coming in today (wouldn't you know, I scheduled my first field visit in a week for this aftenoon), and also temperatures are going to go "above normal"  very soon!
RAINS and Botrytis
We all know that a fungicide application during bloom is far more effective than later in the season, and it is also true that botrytis fruit rot is favored by moderate temperatures 59 – 77 (source: p. 30, Compendium of Strawberry Diseases), and "long periods of high relative humidity or surface wetness during the flowering period" (same source). This next statement from the Compendium got my attention:
"The incidence of infection of flowers by conidia of B. cinerea at 15-25 C (59-77 F) increases from near zero to more than 90% as the duration of leaf wetness increases from 6 to 24 hours."
Rains will be moving in today to Raleigh area, and it looks like they will be here at 1 p.m., and then out of here at 1 p.m. tomorrow! Possibly 1.24 to maybe 1.5 inches.
I have just has an email from a grower who thinks he may be better off waiting until after this approximate 24 hr period before making a full bloom stage botrytis control spray. I would tend to agree!
But, I have also asked for "ideas" from our experts on how growers should proceed at this point? It looks like that some areas (e.g. Ellerbe) could have rains that last more than 24 hrs (Fig. 2).
Botrytis control "ain't" what it used to be! Especially with all the resistance issues that have been identified over the last few years with products like Topsin M (you need to completely avoid that one). Choosing the "right products" and the "right rotations" are VIP issues. Did you get a sample sent off to Dr. Schnabel's lab?
You only need to send 20 to 40 dead strawberry blossoms to his lab (http://ncsu.edu/enterprises/strawberries/2012/03/29/collecting-and-mailing-gray-mold-samples-for-fungicide-resistance-testing/)
How this report from Clemson can help you? You will get a report back that will provide your guidance on fungicides you may use, and ones to avoid. Here is a report that I was copied on this morning by Delores Fernandez Ortuno, PhD
"According with the samples you sent, all fungicides registered for gray mold control should work well in your farm. We detected  5 of 10  isolates resistant to Topsin M, that means resistance is emerging to this fungicide, so please don´t overuse it.Plus, you get a very complete PROFILE report
Warmer days!
Please note that warmer days are coming! Lee Berry, you got your wish! On Tue. April 9 & 10 (80 highs in Raleigh; ), and Ellerb will reach 82 F (Figure 2).
As we look at temperatures moving into the low 80s for a string of days starting around April 14 and lasting through the Thursday April 18, this prompted me to think back to Dr. Van Knowe's April 1st forecast for this period in April (below) and hope he is correct! I would rather deal with "cold issues" in strawberries, than extremes in heat! Lest we forget April 1-8, 2010… and mid-April 2002!
Outlook discussion day 15 – 22: (14 Apr – 21 Apr):   Slightly above average temperatures. It is expected that near average temperatures with several periods of showers during this period.
Outlook discussion day 23 – 30:  (22 Apr – 29 Apr):  Above average temperatures. It is expected that near average temperatures continue during this period.
Keep sending those grower reports and have a great day!
Dr. E. Barclay Poling
Professor Emeritus/Extension Strawberry Specialist
Department of Horticultural Science
Campus Box 7609, 162A Kilgore Hall
NC State University
Raleigh, NC 27695-7609
919-418-9687 (Cell)
919-515-2505 (Fax)
barclay_poling@ncsu.edu
http://strawberries.ces.ncsu.edu