3:30 pm "Synopsis" for NC growers (4.2.13)
NC min temp table (check for your minimum temperatures tomorrow morning and Thursday morning)
Interesting fact:
did you know on April 5, 2010 Raleigh, NC, set a record high of 88 F, and that in the first 8 days of 2010 we had a virtual heatwave during early bloom!
…….From Dr. Van Knowe on Monday this week:
Forecast discussion day 9 – 11: (8 Apr – 10 Apr)  Above average temperatures. Highs in mid 60s – low 70s and lows in the mid 40s to low 50s.  A southwest flow will develop behind a warm front that will pass through the region early in the period.  Precipitation amounts are expected to be in 0.20 – 0.40 range during this period.
3:30 pm "Synopsis" for NC growers:
A frost at this stage in the season could be extremely costly.  Unlike the Delaware grower who only has 1-2 blossoms per plant, I suspect your crop is much further along, especially in areas that have had some row covers this winter.  The covers have advanced the crop as much as 10 days.  Some of you are dealing with as many as 10-15 open blossoms today!  As I say a little further down into this update, "The only true predictor of wind (and cloud cover) is YOU! "
You have to simply set your alarm and go see your field tomorrow morning and the next morning (Thur) to VERIFY whether the forecast for your area is on target or not.  As we learned in this morning's debriefing of what happened last night, a grower in Dover, DE, got up at 4am and found eveything to be dead calm when he was suppose to have sustained winds all night and morning!
There are NUMEROUS AREAS IN NC THAT ARE NOT SUPPOSED TO HAVE FROST TOMORROW MORNING, OR THURSDAY, but I would be prepared "just in case" …the weather people can get it wrong.
In this mid-afternoon update, I first talk about our situation at Clayton, where I think there is a chance for frost on Thursday morning (minimum in canopy of 31), but not tomorrow morning (37 min in canopy).  We are banking on cloud cover tonight.  B
But the skies in this part of the state (Raleigh) clear out Wed/Thur night, and that puts me a little on edge. Yes, many areas have relatively high winds for Wed/Thur, but how much meaning can you safely afford to attach to these wind forecasts?
I would definitely have my alarm set to go check the field in the early morning for any area of the state that has minimums of say 32-34, or colder on either Wed or Thur morning (see Figs. 1 & 2).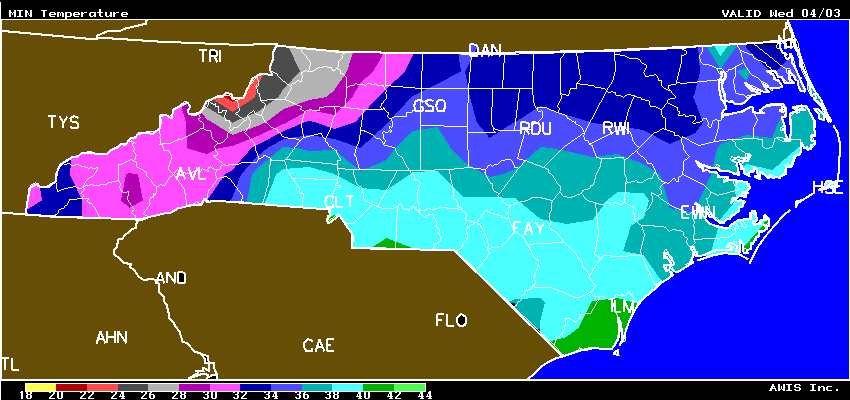 Fig. 1 AWIS Min Temps for Wed morning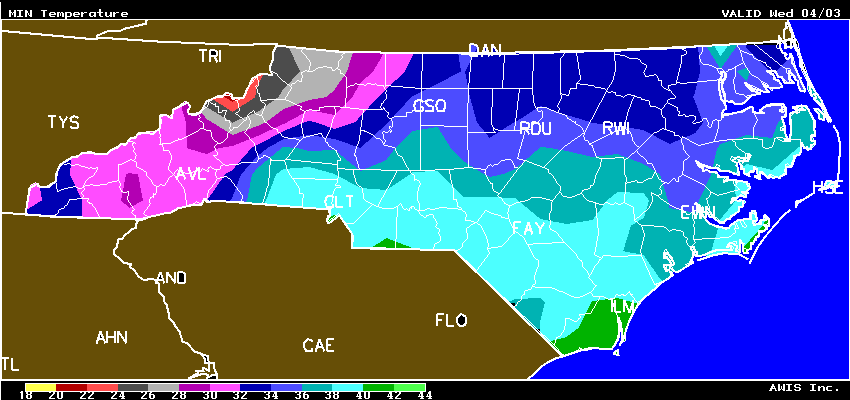 Fig. 2. AWIS Min Temps for Thur morning
This afternoon a number of NC growers will be  re-applying row covers.  I know, with all this great sunshine its hard to put a blanket back on at 3 pm while there is another 4 1/2/ hours of sunshine to go in the day!
But, if you are in an area that is going to have minimums in the range of 32-34, or lower, I am afraid you don't have much choice — unless you can use sprinklers!  This is the time of year when I definitely favor sprinkling!  First, its not that clear that there will be a frost either morning?  But, if all you own are row covers, then there is not much choice.  Things could go "off" with the forecast on either night, and a frost could sneak in and do some damage. If you wait even until say 5 pm to pull, I do not see a real problem with that at this time of year – you still would build up a pretty good heat reservoir from 5-7:30 pm.
The covers do need to come off  Thursday morning before the rains!
For the sprinkling "set":
Take a look at the Greensboro example below.  I am speculating that in this area of the state that there may be a sudden drop in air temperature around 4 am Thur morning (38 to 33).  I would set my alarm for Thursday morning at about 4 am.
Then go to the field to check for
1) winds,
2) cloud cover
3) formation of ice crystals
4) and DEFINITELY TAKE A BLOSSOM TEMPERATURE READING WITH YOUR HANDHELD DIGITAL THERMOMETER.
5) If its around 4am in the morning, and the blossom is already reading 31-32, and you have about 2 hours and 50 minutes to sunrise ((6:49 am), then I would start sprinkling
6) Keep running until the ice is getting real loose around the blossoms and wet bulb is back up to 31-32 F (or, better yet, do a digital thermometer measurement of blossom temperatures – take maybe 1/2 dozen readings in coldest area of field and when they are safely reading 32-33 it is fine to shut down)
Strategy for tonight:
Check your minimum temperatures for tomorrow morning and Thursday morning.  Here is the latest AWIS minimum temperature table that includes many NC towns and cities from the coast to the mountains.
If you have Skybit, check it closely.  That provides site-specific information for your farm on minimum canopy temperatures – these forecasts are generally very reliable for telling you just how cold it might get in the canopy area.
I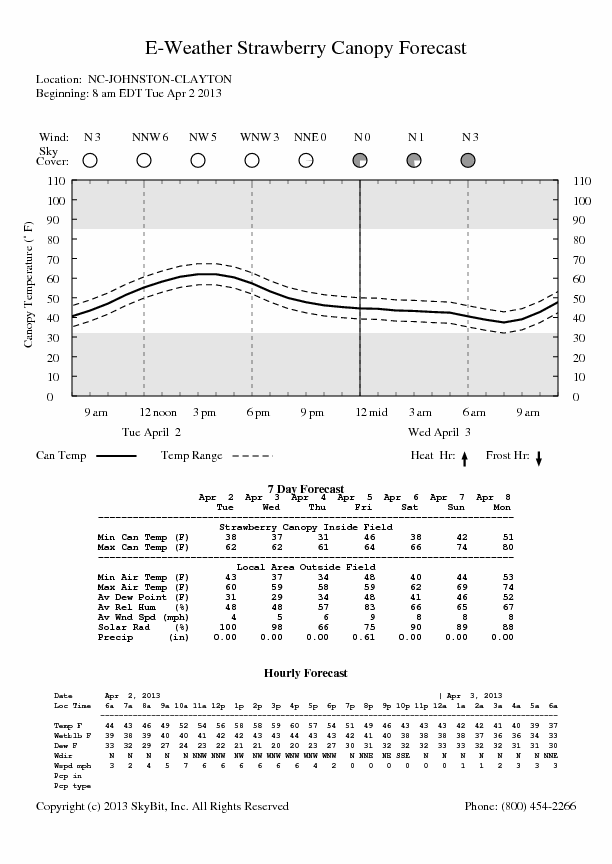 For Clayton, I don't think we have any worry about frost tomorrow morning (MINIMUM IN CANOPY OF 37).  We also expect cloud cover tomorrow morning.  Sorry this next table looks a little smudged (Raleigh-Durham), but what it says is that Raleigh area will have a minimum tomorrow morning of 35 and cloud cover (blue highlight on OVC).  AWIS is not forecasting any FROST in Raleigh Durham area. But, I am going to go out on a limb a little and say that the next morning (Thur), with the temperature about 2 F colder (33 F), and with CLR for clear skies, I think a frost is very likely on that morning.  Because Dewpoints are relatively low on Thur night, I would suggest not waiting around to see "ice crystals" forming, and I would start sprinkling at about 4:30 am (wet bulb should be around 31).   There may be some winds on Thursday morning to deal with, but not enough to cause any issues for sprinkling.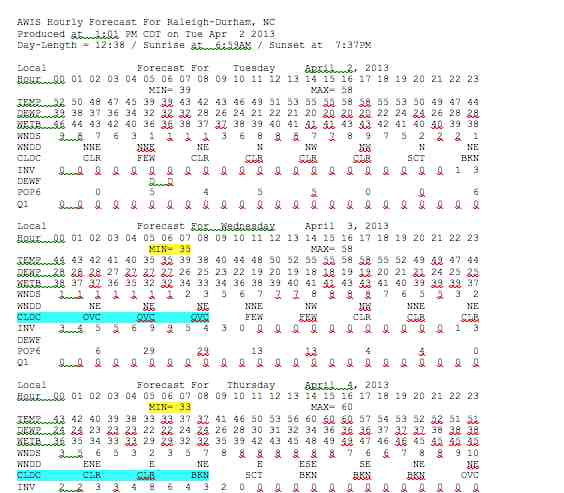 Central Piedmont Area – Greensboro example
AWIS is saying about 34 min for Greensboro tomorrow morning.  AWIS is also showing CLOUD cover tonight, and if that is true you should be ok. But, if it clears up and those winds drop down, your area could be  PRIME for FROST.  In reality, I think the night to me concerned about is Wed/Thur. Note that winds are supposed to be up (in range of 3-8 mph from midnight until 8 am).  After last night, I am feeling a little hesitant to put too much stock in these wind forecasts.  The only trur predictor of wind is YOU!  You have to simply set your alarm and go see the field and do some "verification" of the forecast made for your area and farm.  I would anticipate that it would be well to be in the field in Greensboro area (assuming you are using sprinkling) at about 4 am Thursday (right about the time the temp may drop from 38 to 33).  Sometimes you will also detect a sudden shift in wind direction, and some veteran growers pay close attention to winds shifts, as they are sometimes also associated with a change that could lead to frost (appreciation to Clyde Gurosik, SC, for that great tip). Greensboro could see a significant frost situation before sunrise if the winds "quit" on Thursday morning.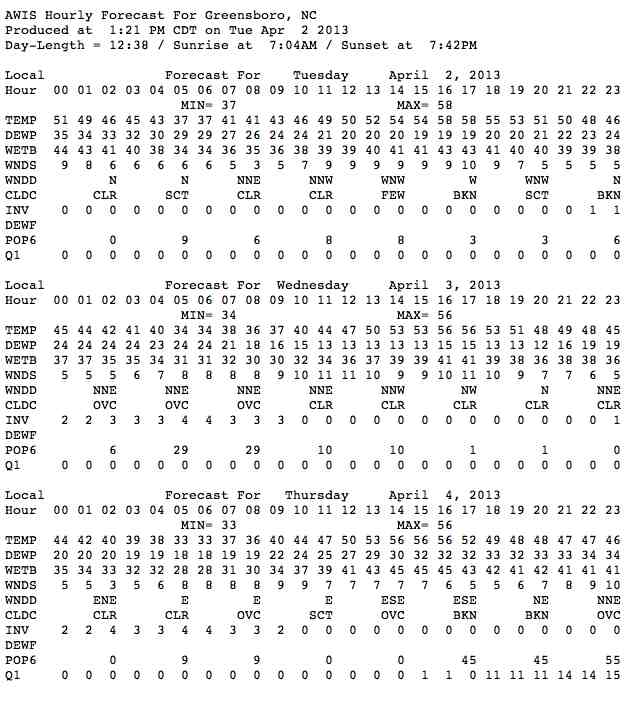 Charlotte area
This area looks quite safe with minimums of 39 F both mornings.  Overcast tomorrow morning and pretty brisk winds Thur night.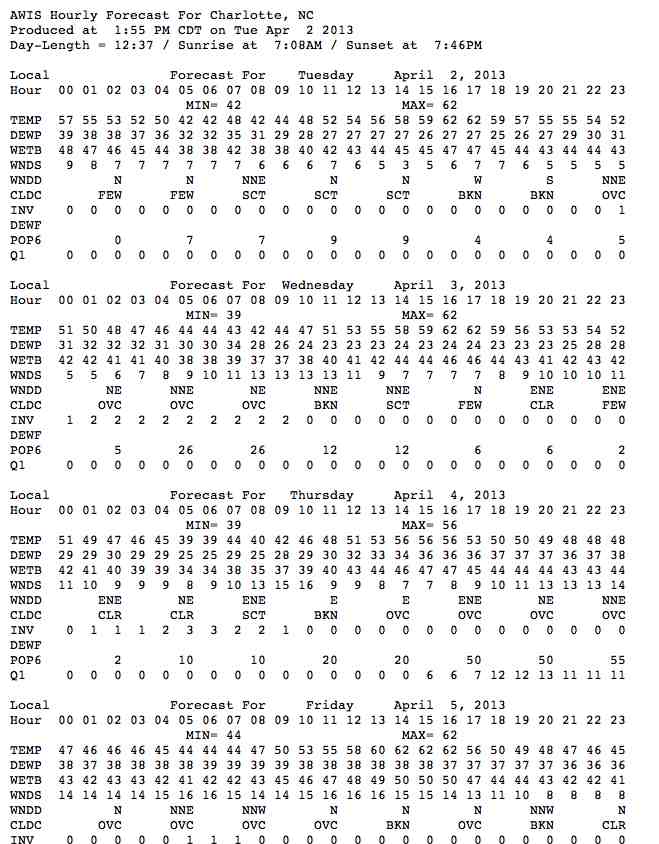 AT THIS TIME THE ONLY FROST LOCATION I CAN IDENTIFY AROUND THE STATE OF NC IS ANDREWS:Andrews frost at 5am
REMEMBER:  THOSE WHO SNOOZE LOSE
p.s. We will let you know how it turns out at Clayton…And, we'll see if Skybit does a good job of forecasting 31 in the canopy on Thur morning, and 34 outside (AWIS is saying 33 min for Thur in Raleigh).
Dr. E. Barclay Poling
Professor Emeritus/Extension Strawberry Specialist
Department of Horticultural Science
Campus Box 7609, 162A Kilgore Hall
NC State University
Raleigh, NC 27695-7609
919-418-9687 (Cell)
919-515-2505 (Fax)
barclay_poling@ncsu.edu
//strawberries.ces.ncsu.edu
Was the information on this page helpful?
Care to tell us why? Send Explanation