Here we go again (sprinkling for frost)…but, wait? (6:45 AM, 4.3.13)
FROST TONIGHT FOR MANY NC LOCATIONS – HERE ARE TEMP MINIMUMS FOR THURSDAY MORNING IN NORTH CAROLINA: NC Min Table for Thur morning 4 am
Minimum Temp Map for NC on Thursday morning (issued 5 am, 4/3/13)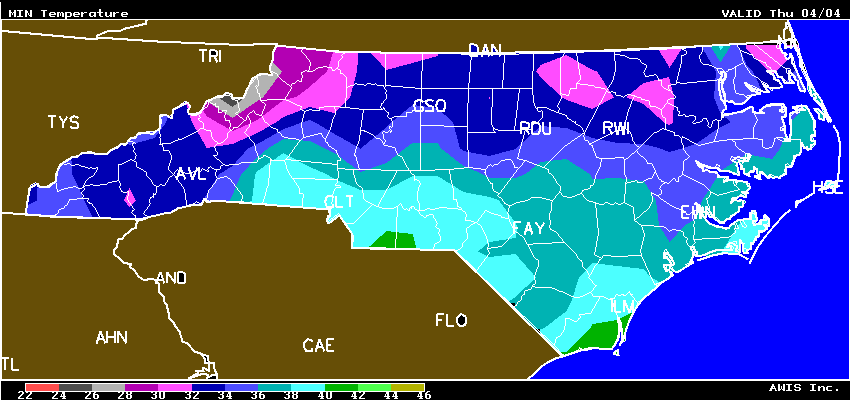 Early morning reports from around the region:
As of this hour (6:30 am) I have 3 grower reports.  But, first, let's see what the temperature, cloud cover and wind conditions were like at 5 am?
Airport Minimums at 5am –
NC Locations: Asheville (42 M/Cloudy); Charlotte (50 Cloudy); Elizabeth City (44 Cloudy); New Bern (49 M/Cloudy); Fayetteville (49 Cloudy); Goldsboro (47Cloudy); Greensboro (40 Clear); Rocky Mount (43 Cloudy); Kinston (46 P/Cloudy); Winston Salem (39 Clear)
VA Locations: Charlottesville (28 Clear 1 mph); Culpeper (28 Clear 1 mph); Frericksburg (29 Clear 1 mph); Norfolk (47 M/Cloudy 12 mph)
DE Location: Dover (33 M/Clear 5 mph)
MD Locations: Ft Meade (25 M/Clear 1 mph); Salisbury (29 Clear 1 mph)
It looks to me that a benefical cloud cover moved in to many areas at 4:45 am: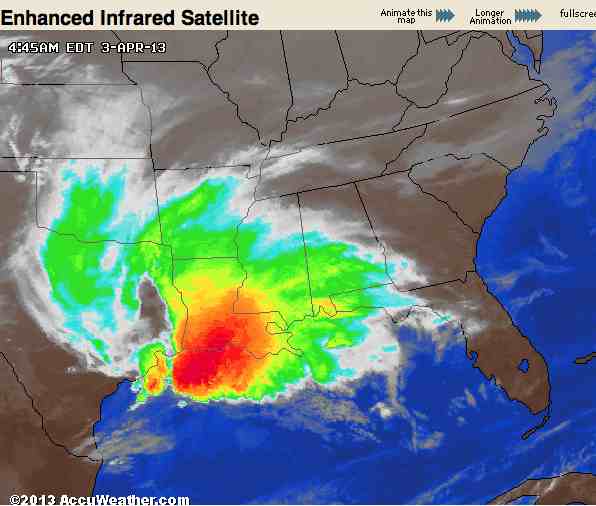 Bunn, NC (1 am)
Hey Barclay — started pump at 1 am . The best part of this — there is no wait and see !  Just crank up and go back to the house for a while !   jv
John Vollmer
919-495-2392
john@vollmerfarm.com
Smithfield, NC (5am)
I downloaded the AWIS hourly for Smithfield and saw "F" for FROST at 5 am this morning. It is interesting how they were OVC at 5 am and then transitioned to BKN cloud cover, and in that change (reduced cloud cover), FROST conditions became favorable.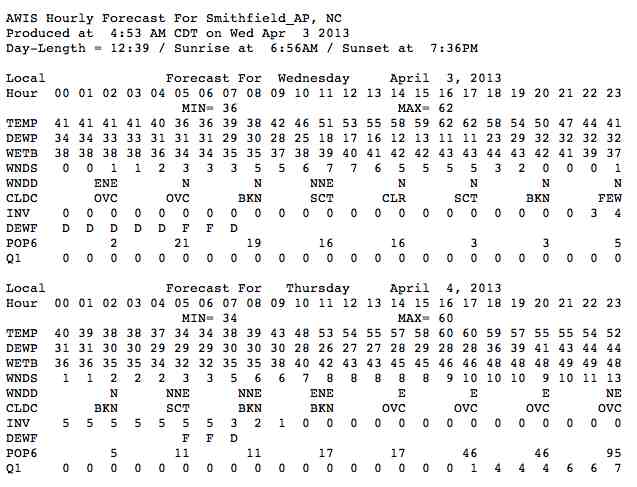 Meanwhile, just over in Goldsboro…No frost!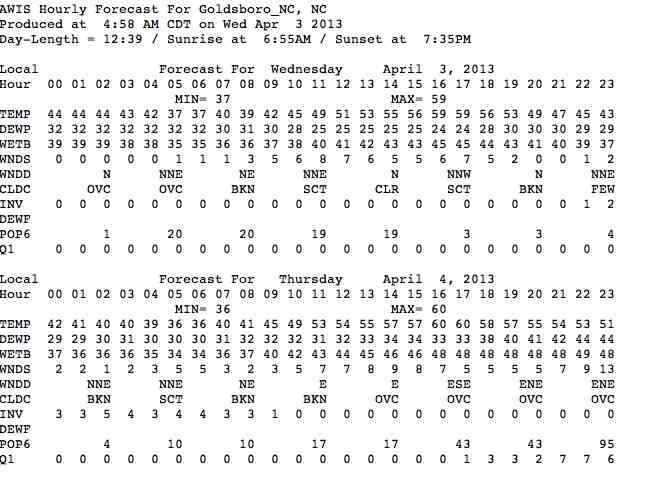 Chesepeake, VA
<Editor's note:  I sent out an advisory to VA growers yesterday, and this was the Chesepeake, VA, forecast: 2 am FROST (4/3)>
Here are conditions in Chesepeake as of this morning as reported by AWIS; AccuWeather Pro, and a farmer who has 2 locations (one in Chesepeake and the other in VA Beach)
** Chesepeaker AWIS 5:03 CDT (Central Daylight Time)**
This next table shows that FROST began an hour earlier that was forecasted last evening at 6 pm – that is really not too bad (to be off by an hour). Whenever I advise someone on FROST hour, it is ALWAYS important to be checking the field YOURSELF ahead of this forecast hour (at least 1 hour or more).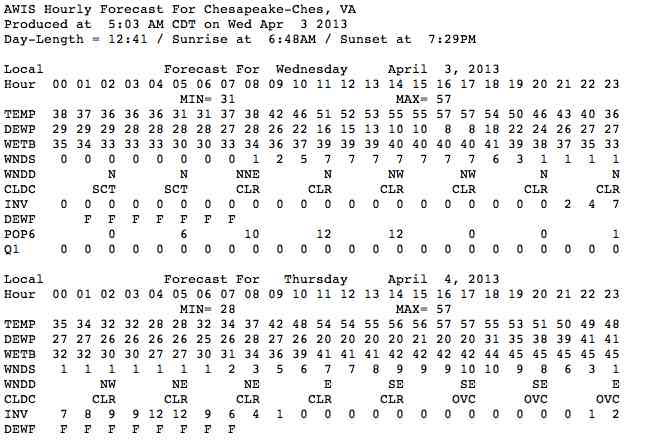 **Chesepeake ACCUWEATHER PRO**
Just below is the 3:04 AM product of AccuWeather Pro for Chesepeake, VA,  that nicely shows cloud cover details.
( I wonder if we'll be getting some interesting reports today about how clouds came in at 2 am and then departed by 6 am?  ….It has been a really tricky season for frost!  As you may recall yesterday a grower from DE had a forecast of sustained winds all night, and then everything went calm at 4 am…luckily he was in the field checking things out at this hour – otherwise he would have slept through a frost that could have been fairly serious!  See the story at bottom about DE grower to see how he prepared for last night. )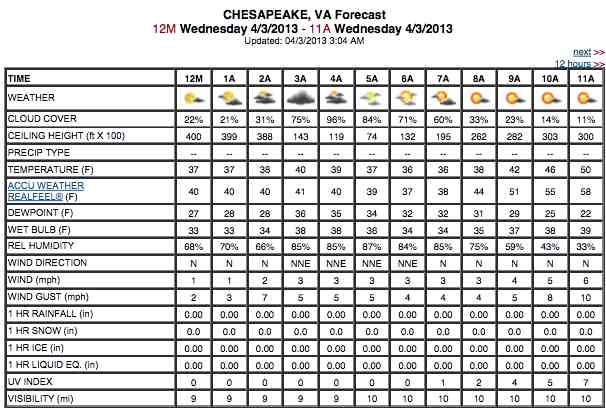 **Tom Baker – Chesepeake and VA Beach** ( 1:33 am)
Barclay,
 Turned on Pungo farm sprinklers due to frost on vehicle roofs, layflat beside field, clover at edge of field, and rolled-up row covers in the field.  Air temp was 40 or 41 at that time; wind mostly calm.   Left immediately for Chesapeake and turned on there due to frost on rolled-up row covers in the field, and clover and layflat just outside field.  Car thermometer said 38 I think.  We had stuck blossoms but dead wind brought the frost long before critical temps would have been reached.
Please try to find a good e-mail address for Mr. Jack Frost and add him to your advisory e-mail list.  It would be a big help if he got on the same schedules that you send out to us growers!  But no!  Jack has to be different.  He's nothing if he's not a dang independent cuss!
Tom
<Editor's note: the email was sent at 1:33 am from Pungo (VA Beach).  This would confirm that the forecast I sent out yesterday (4/2) that this area would potentially have frost at 2 am was off a little bit.  Unfortunately, there is no AWIS hourly forecast for VA Beach and Pungo, so it is not really possible to make a forecast for the location where this grower has his home base.  I will be interested to see his report from the Pungo farm?>
Wyoming, DE (5:30 am)
<Editor's note – at 5 am I sent Bobby Fifer (strawberry grower who provided reports yesterday to this website about weather forecast problems with wind speeds, etc), and I asked Bobby if they were able to get row covers on before sunset…you may recall he had to run sprinklers last night because of an unexpected frost at 4 am…the covers were soaked…I was not sure if they could dry down enough to be unfurled…now we know>
Yes, got them on in the wind late afternoon and they were 90% dry.  It's not the prettiest cover job but at least they are on.  All good this morning.  Around 28-29 air temp, 2-3mph wind, and clear.  Blossom temps under the cover are above 32.  Doesn't look like we will need to start any water.  Just for info, there is a very light dew in the rye field, can't figure out why it hasn't frozen?
<Editor's note – I will need to get back to you Bobby…its 6:30 and time to send this early morning update out>
Grower Note From yesterday afternoon –
I decided to put my covers back on today.  Looks as if the next 2 nights maybe hit or miss.  Overhead is setup and ready, but I decided covers was the easiest since plants are still small.  I plan to take off Thursday morning.  The picture makes me very jealous.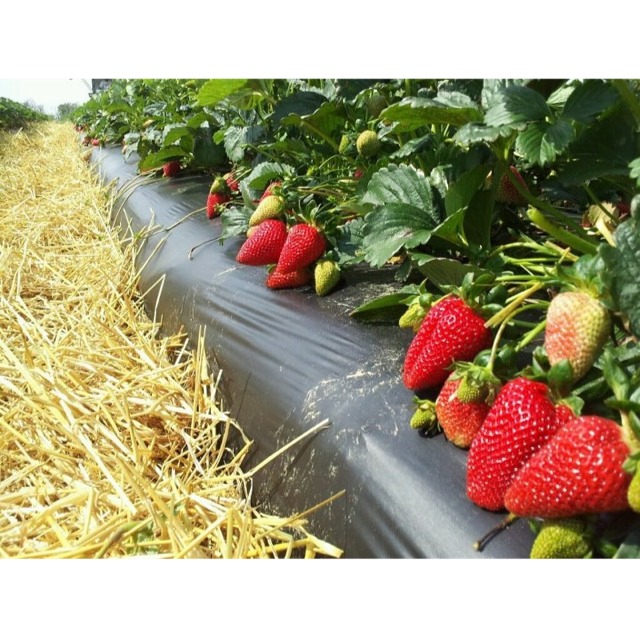 I am beginning to wonder if we will ever get there.  The sweet charlie's are really growing.
Beth
Whitakers
27891
Belated answer on whether you can have a fog & frost event together?
Original Email from KY Grower (3/29):
Barclay,
I couldn't believe the temperature this morning when I woke up!  We uncovered yesterday to spray and I went to bed without a question in my mind that we were safe. You can see from my Skybit update yesterday afternoon, that the low was expected to be around 40 (ALL LOCAL STATIONS WERE CALLING FOR THIS ALSO)  I checked my digital thermometer right beside my coffe pot, and we were at 32!!!
 
Ice was on the windshields, grass, and STRAWBERRY PLANTS.  The dew point was 31, but fog was everywhere.  When I checked my open blooms, the lowest temp I recorded was 33.2.
 
Without any frost being present, and the excessive moisture in the air, am I to assume the good Lord provided a natural overhead sprinkling with the fog????
Added comments: 
My daughter was on the road Fri evening around 10 pm and she made a comment about the heavy fog.  It was also very heavy at 5am.  I would assume we had a heavy frost all night long.
The ice on the plants was more like frozen droplets instead of a white frost.   
RESPONSE OF DR. GLENN VAN KNOWE (HE DOES OUR LONG RANGE FORECASTS)
I think you can have frost occurring with fog.  Under the right conditions, fog can be composed of supercooled water droplets and  form a type of frost well below freezing.  We tend to have this type of situation  here in Upstate NY in the fall a lot.  So I think it would be very dependent on the micro climate of a given location as to the prevalence of its occurrence.   But yes I think  fog and frost  could occur at he same time.
GLENN
———
More updates (4/3)
RALEIGH RDU 39 F at 6:51 AM
N. Raleigh – pretty good cloud cover at 7:20 am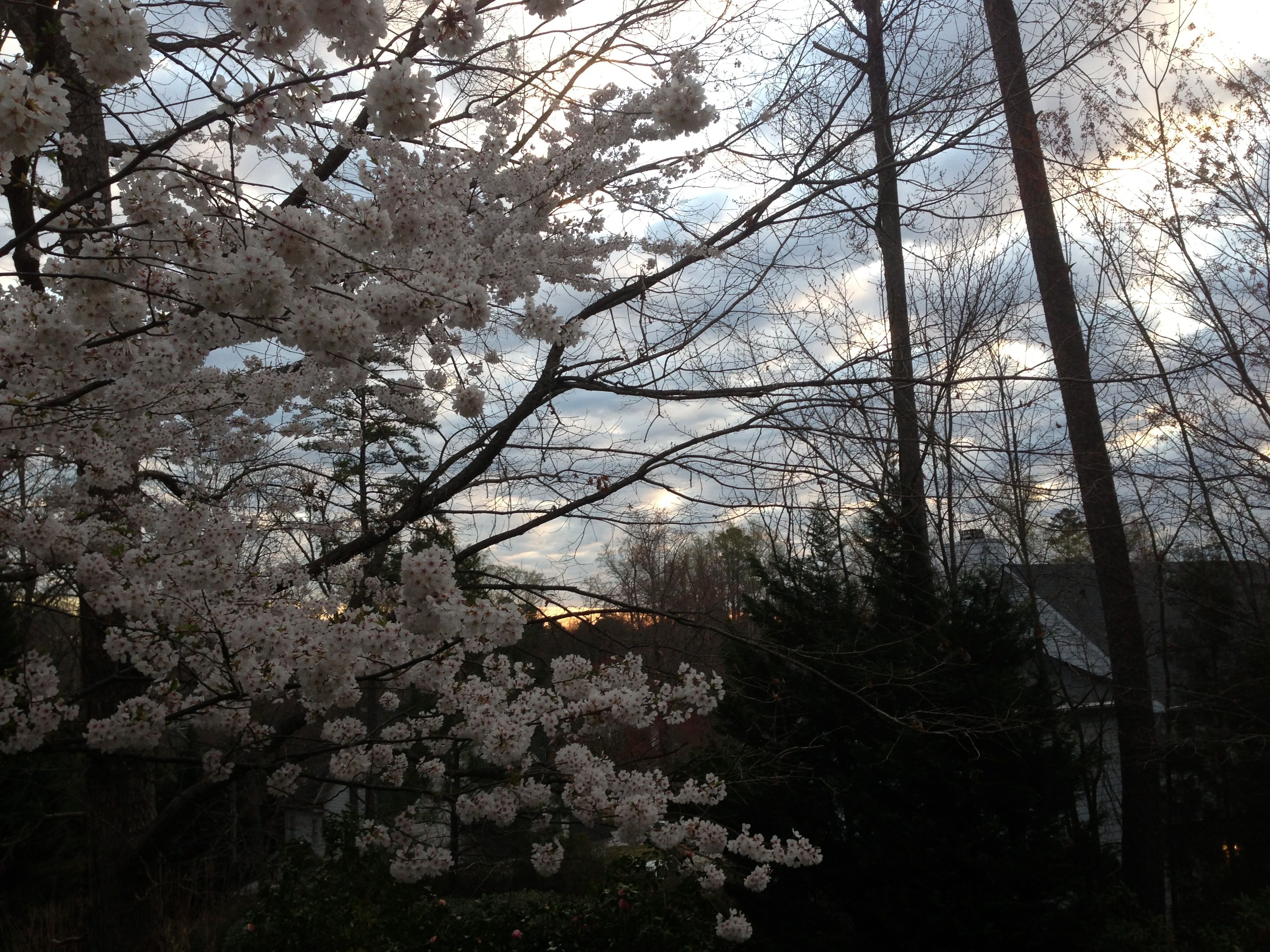 While we wait for a few more updates, I just realized that it was almost a week ago today that we had quite a gathering of folks from all over North America to discuss Plant Health Issues at the NCSU University Club, 3/27/13.  In the photo below is John Lewis, who works for an organization called Perennia in Nova Scotia.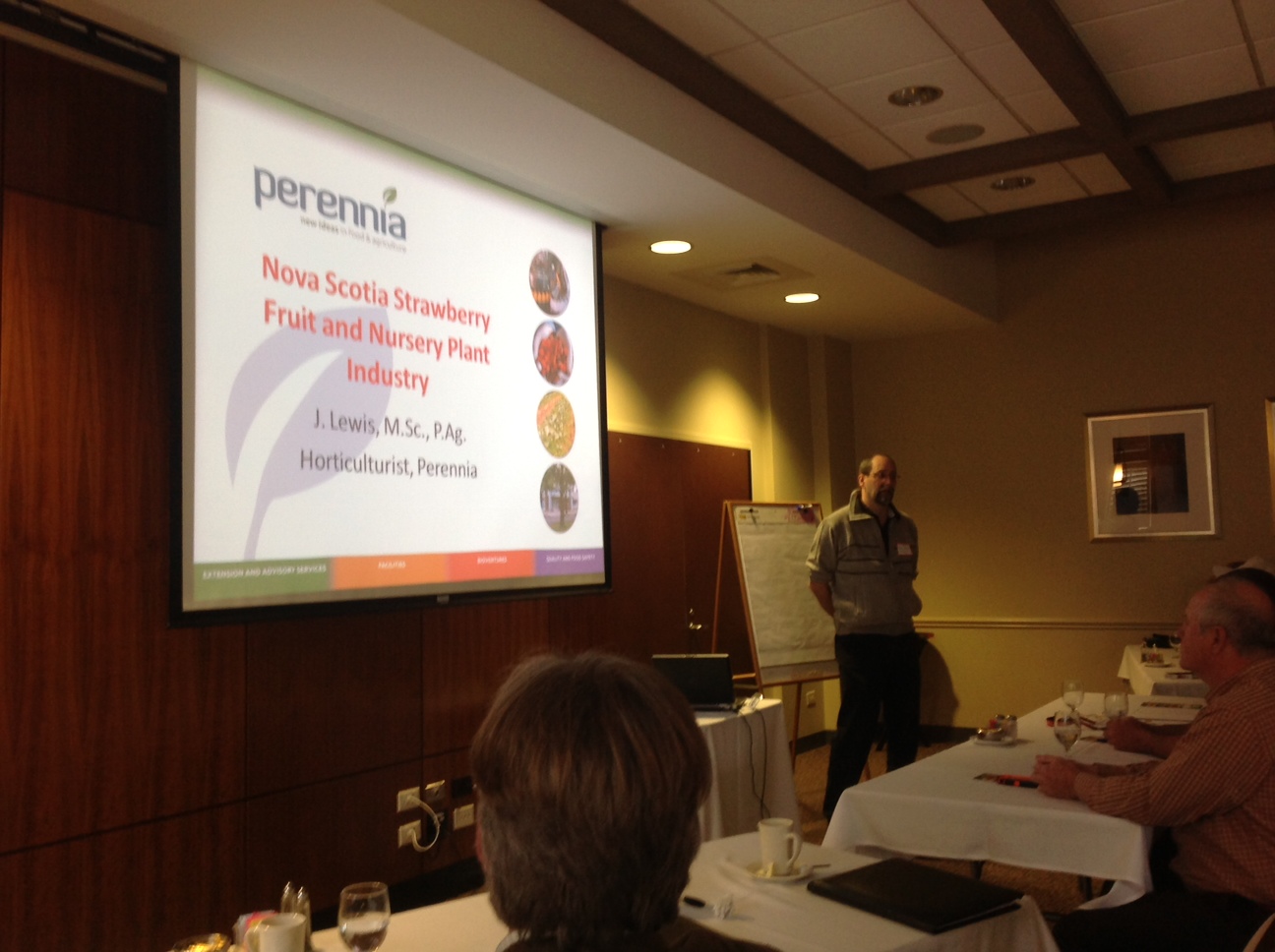 Mr. Lewis reported that last summer a complex of two viruses were discovered on several farms in the province and susceptible varieties showed symptoms of leaf yellowing, stunting, leaf distortion and in fruiting fields yield and berry size reduction. Even more concerning, early fall testing confirmed that newly planted fields were also infected.  John pointed out that Nova Scotia has not had problems with strawberry viruses in recent history and the suddenness of its appearance and level of damage in such a short time is a real concern. At the meeting in Raleigh were representatives of the Florida industry, including John Beuttenmuller, Executive Director, Florida Foundation Seed.  According to the Florida people present at the meeting, the losses on some farms to this virus were very extensive, and Florida growers are eager to hear what the Nova Scotia nursery growers and their advisors (like John Lewis) are planning to do to prevent this from ever happening again!

—————————————-
Looking forward to hearing your report on last night's cold protection.
Thanks!
————–
Dr. E. Barclay Poling
Professor Emeritus/Extension Strawberry Specialist
Department of Horticultural Science
Campus Box 7609, 162A Kilgore Hall
NC State University
Raleigh, NC 27695-7609
919-418-9687 (Cell)
919-515-2505 (Fax)
barclay_poling@ncsu.edu
//strawberries.ces.ncsu.edu
Was the information on this page helpful?
Care to tell us why? Send Explanation