All Those Nice Flower Parts – GONE!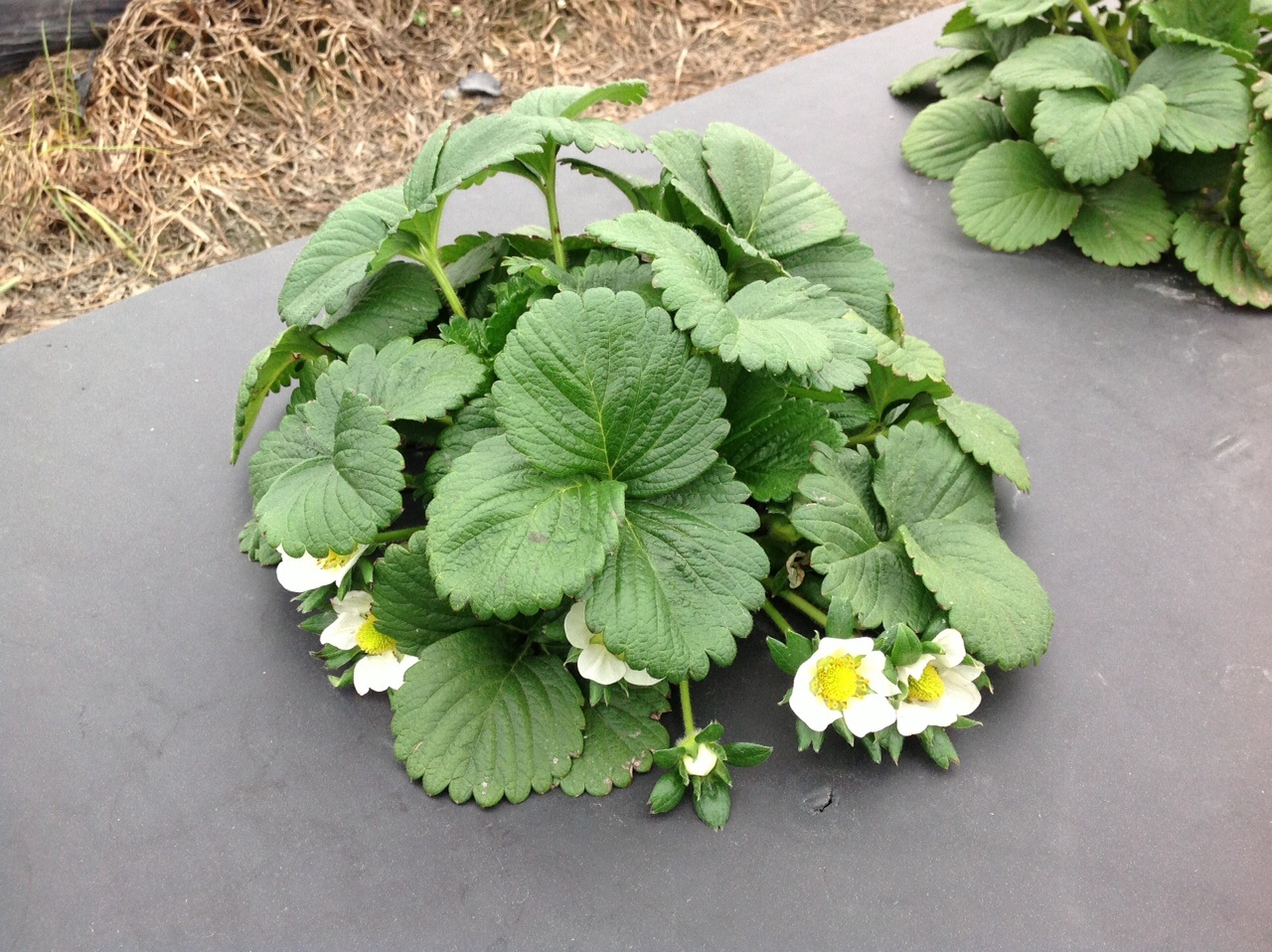 Figure 1. Bascially, all the flower parts you see in the photo above will be killed tonight if serious protective measures are not taken at this location in Eastern NC (this photo was taken in Faison, NC, on 3/18).  In locations like Faison (e.g. Kenansville), they will be seeing a minimum of 24 before sunrise at 7:13 am. At that hour winds will be around 2 mph, dew point 17 (very low) and wet bulb will still be only 24 at that hour. The wet bulb will not reach 31 until 10 am Fri in Kenansville (safe for shutting down). Sprinkling would have to begin at no later that 9 pm in Kenenansville (when wet bulb drops to 31). With irrigation running from 9 pm to 10 am, that is 13 hours of continuos sprinkling. About 1/2 of NC strawberry farmers do not have row covers (according to an industry source I spoke with yesterday), so sprinkling is all they have to go with! It will be crucial for all growers using sprinking during this black frost event to know when the wet bulb will hit 31 F tonight, and also important not to cut off until the 31 wet bulb is reached in late morning tomorrow (I do mean late).
Fig. 1 a. This is a nice close up of the popcorn bloom next to open blosom (center right). Closer to the crown you can see some nice "fat" tight buds. ALL OF THESE PARTS COULD BE GONE TOMORROW MORNING IF PROTECTIVE MEASURES ARE NOT TAKEN. Tight buds like you see in this picture might "hang on" down to 25 F, but I doubt they will make it if it gets colder than 25 F. All of popcorns and opens will perish at around 27-28. I have observed that popcorns and open blossoms are equally susceptible. What is interesting about tonight is that fact that NO ONE will see "ice crystals" or white frost tomorrow because this is a very tricky BLACK FROST night. And, if you are using water to protect, you must start up the sprinkling well before you even come close to approaching the blossom critical temperature of 28 F. If you waited until startting irrigation tomorrow morning when the air temperature is at 28 (see Kenansville hourly:   Kenansville NC          ), at say 4am, the wet bulb will be down at 25 F and you would kill everything instantly with water.  YOU MUST START SPRINKLING BEFORE THE WET BULB GETS BELOW 31 F.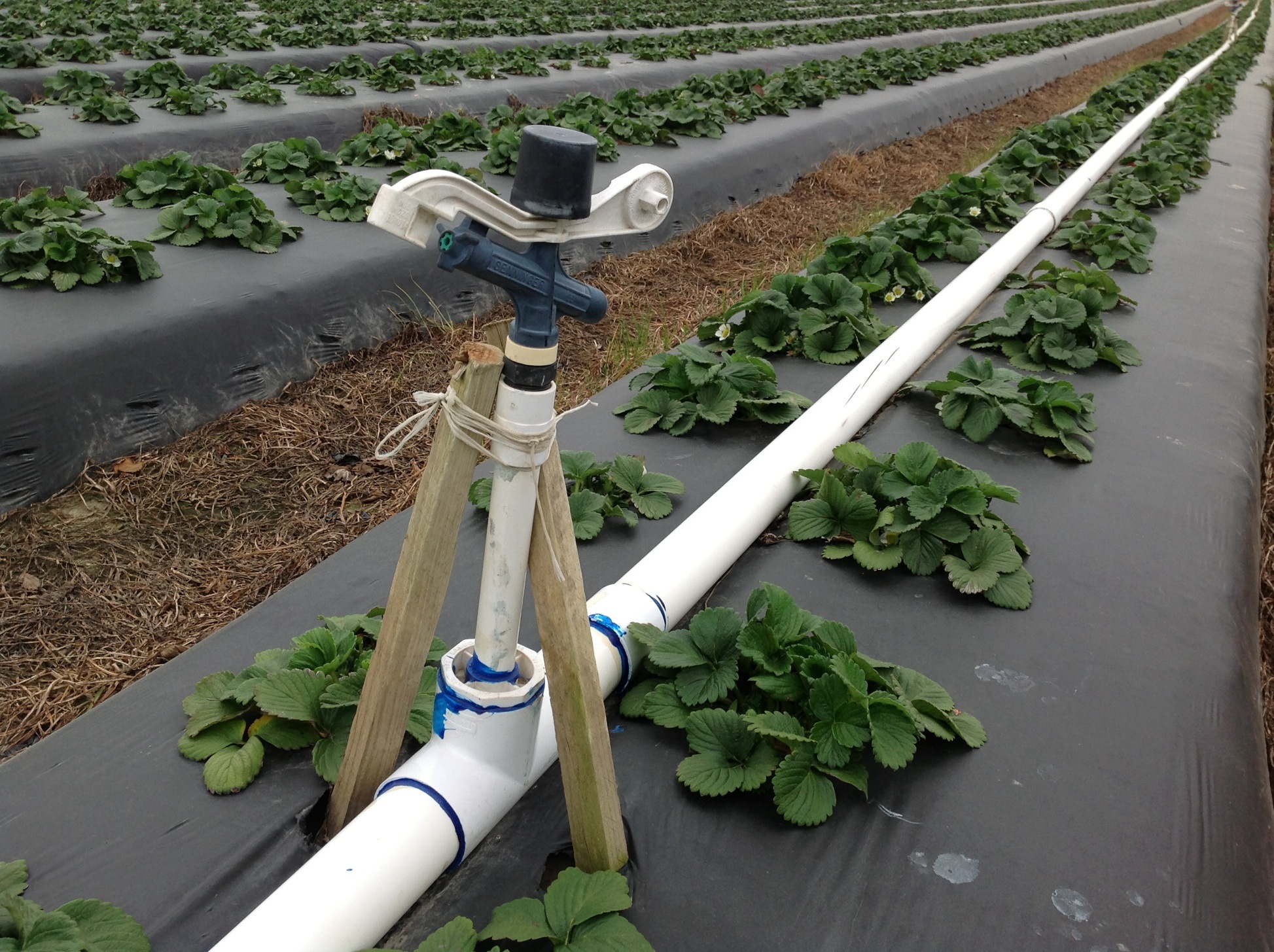 Figure 2. Sprinkling can work in a black frost event (which this is – subfreezing temps and winds < 5 mph). If winds are between 5-10 mph and subfreezing that is called frost/freeze. A freeze is when winds > 10 mph and subfreezing temps. Essentially, you cannot use sprinkling for any windborne freeze, and most sprinking systems are not that reliable once you get above 7 mph. So, our "hope" tonight for the sprinkling crowd is that those winds do subside after sunset (they will be brisk all day today). We are hoping to see winds drop below 5 mph by about 8 pm tonight in Kenansville, NC. That will make sprinkling much safer! The reason you are starting so early is because of very very dry air! You can ruin a strawberry crop by starting up sprinkling after the wet bulb has gone below 31 F. Kenansville NC
Here are the minimum temps from AWIS for NC cities and towns: NC table
Figure 3. NC Minimumums are somewhat colder for tomorrow than what we thought might be the case yesterday (for FRI).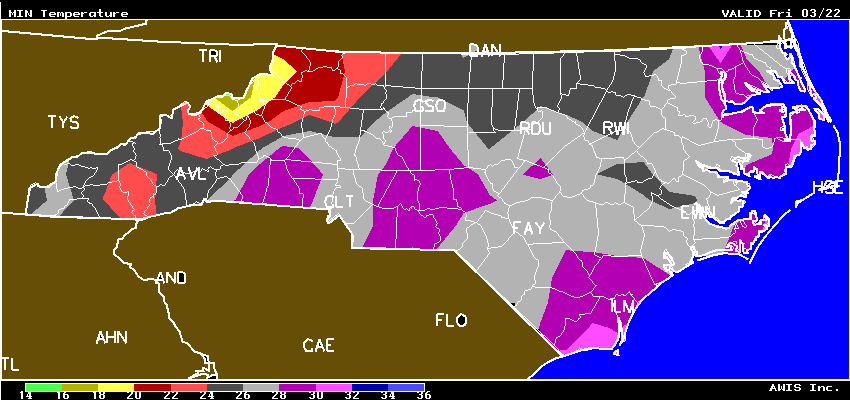 Figure. 4. Forecast from yesterday for FRI – notice the dark gray areas are more widespread on Fig. 3 – this explains my sincere concern that this could be a very dangerous event tonight.

Figure 5. I extracted this visual 15 day forecast for Ellerbee, NC (Sandhills), and they are heading down to possible 21? That is pretty serious when you consider that growers like Lee Berry had a lot of blooms back on 3/11 when I saw him in Raleigh for NCSA meeting of Board. He has already gone ahead and applied double covers – that should do the trick even with 20 F minimum tonight. And, Lee gets to sleep!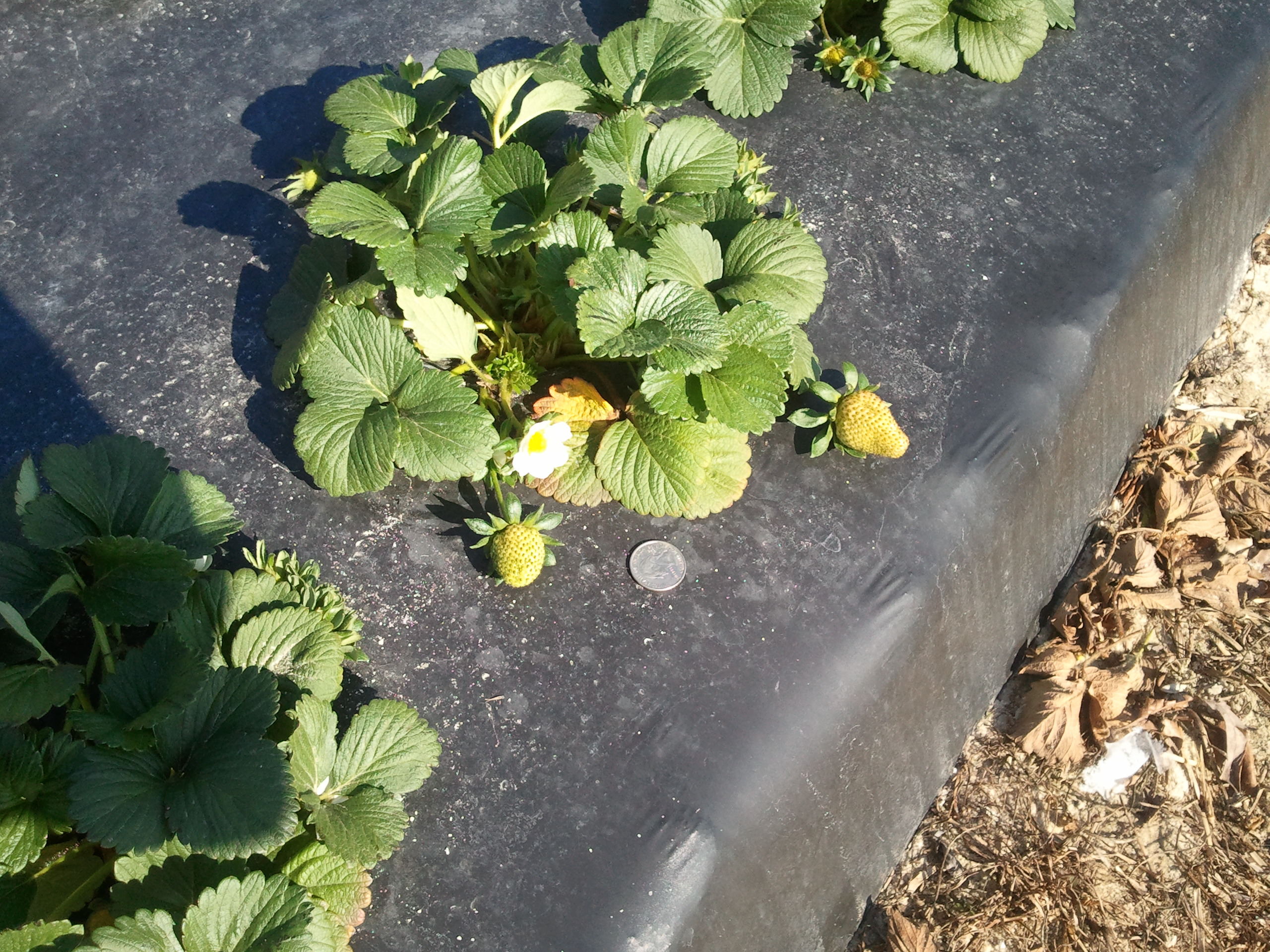 Figure 6. Lee Berry's photos from his Sandhills farm on 3/11. As of yesterday when he called me, he had an average of 15-16 new blossoms and 15+ thumb size fruit per plant (about 30 reproductive parts per plant). He is past 50% bloom. We talked about wisdom of not leaving covers on for too many days at this time of year (when in full bloom), and he frankly asked me how long could a cover stay on without problems with pollination and fruit shape issues? I said that I had seen a grower leave covers on continuously during peak bloom for 5 straight days, and I felt this really caused a lot of misshappen berries later in season. He talked about leaving on for 2 days and then off for a day, and then back on. I said it would be better to open alll the plants up each day for both pollination reasons. I can't say how all these cold nights ahead in March and early April will affect this year's crop (see Fig. 7), but I feel sure that having covers on each night will help. Its the leaving them on in the day where I have very serious reservations at this time of year (once you are in bloom).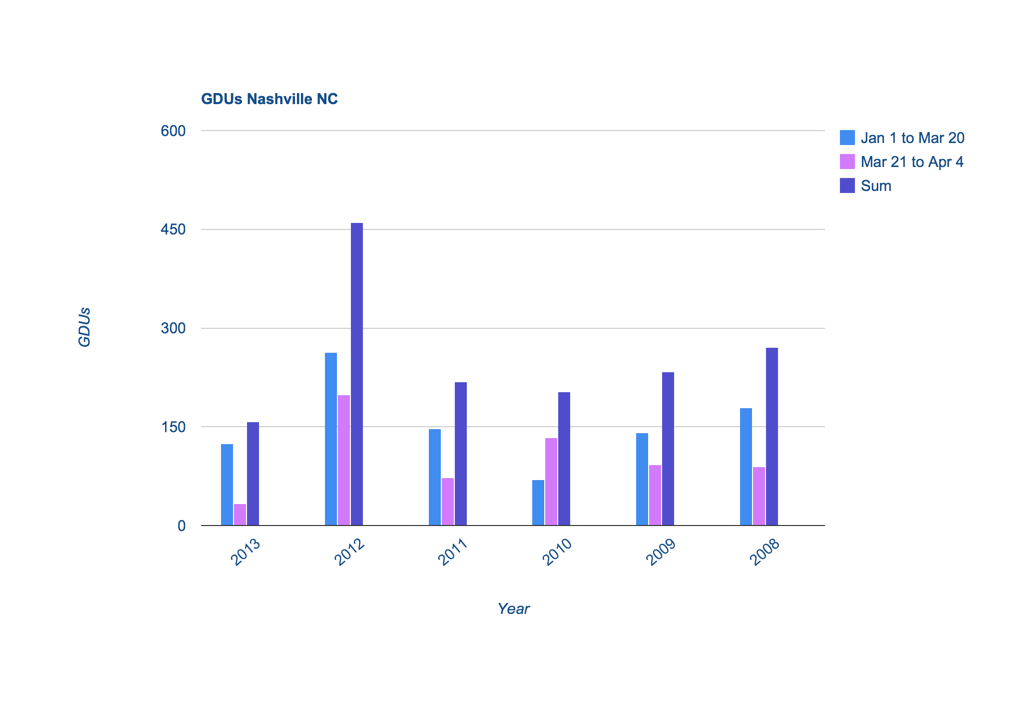 Fig. 7. Earlier this morning I updated my Nashville, NC, GDU model, and very little has changed since the forecast I did two days ago. It would appear that 2013 is now significantly behind 2012 in GDUs, and if the 15 day forecast of AccuWeather Pro for this locaiton in North Central NC holds true over the next 15 days, we will only accumulate a total of 33 units from 3/21-4/4. From Jan 1 – Mar 20 this location had only 125 units. The projected GDU total for Jan 1 – Apr 4 is only 158 (the lowest in the last several years). Last year this location was picking some fruit by early April, and was harvesting a significant amount of fruit by the Easter weekend in 2012 (4/7-4/8).  On Sunday this week, we determined that the crop of Camarosa at this location was about 15% bloom (compared to about 60% bloom on 3/19/12).
Clayton Report: (we are banking on row cover protection, but an extra blanket would be nice insurance for growers)

At the time of this writing on Thursday, 3/21 (9:44 am), dew points are already "crashing" and at Clayton Central Crops this morning our dew points went from 29 F at 6 am to 28 F at 7 am to 26 at 8am and by 3 pm we are down to 10 degree dew point. At 7 pm tonight, we will be at around 43 F outside the canopy (2 m) and the dew point will be 11 F, and winds will be kicking pretty hard still with average winds of 11 mph and gusting to 18 mph. What is also quite interesting is that when the air temp is 43 at 7 pm our wet bulb will already be down to 30 F. That would mean that "if" we were going to irrigate on top (we are not), then that would be our start up hour for sprinkling. During the night the winds will drop all the way down to 2 mph, and this will then be technically a black frost (sub-freezing, and winds below 5 mph). We are currently covered at Clayton (wanted to avoid trying to do this in high winds today). We have a 1.2 oz. Our SkyBit is now showing a minimum in canopy of 22. We may lose a few of our open blossoms, but we really did not even have 1 open blossom per plant when we checked on Tue (3/19)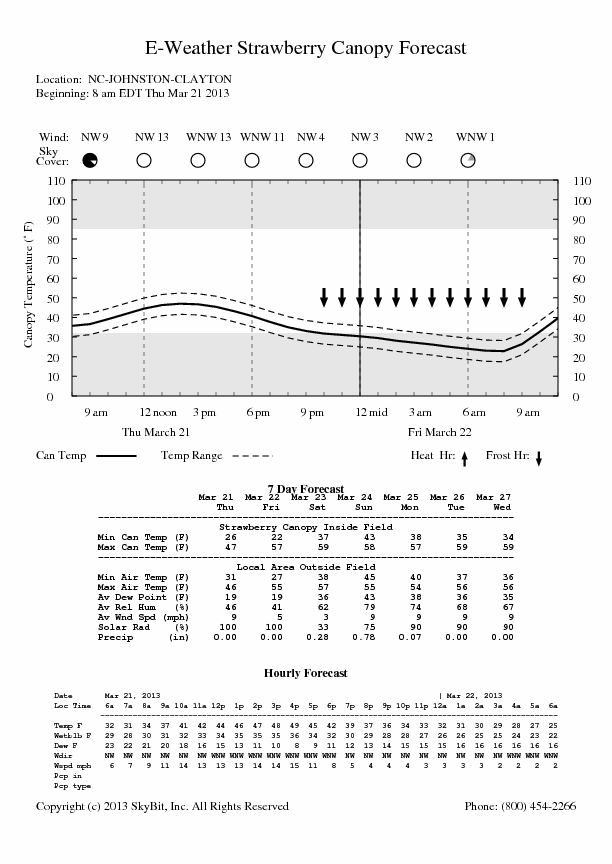 IN SUMMARY, ROW COVERS ARE THE WAY TO GO WITH THIS COLD EVENT! I sent out an extra early alert to encourage growers to get them on before the winds become too much today! Of course, if you don't have covers, then you must use sprinklers.
A black frost is very protectable with sprinkler irrigation alone, but you better be on your game as far as knowing when exactly the wet bulb will hit 30-31 F, and that will be around sunset tonight at Clayton (about an hour earlier than down in Kenansville and Goldsboro area). So, that means starting up sprinkling just after sunset for the irrigation crowd and then running continuously into Friday morning until that wet bulb gets up to 31 F. In case you missed it, this is how to calcuate wet bulb for start up and shut down if you do not have access to hourly weather data for your farm that has wet bulb information (e.g. SkyBit provides a wet bulb in their bottom table).
Example of calculation of wet bulb from yesterday: Thur March 21 wet bulb is 32 at 2100 (9 pm) – start irrigation up (at this same hour air temp is 38 F (wet bulb is 6 F colder). You can calculate the wet bulb if you know the air temp and dewpoint by what many forecasters use to determine the wet-bulb temperature, and its called the "1/3 rule". The technique is to first find the dewpoint depression (temperature minus dewpoint). Then take this number and divide by 3. Subtract this number from the temperature. You now have an approximation for the wet-bulb temperature. Here is an example: suppose the temperature is 38 degrees Fahrenheit with a dewpoint of 19 degrees Fahrenheit. The dewpoint depres
sion is 38 – 19 = 19. Now divide 19 by 3 = 6.33. Now subtract 6.33 from the original temperature of 38. 38 – 6.3 = 31.7.
For those of you who think you need to sprinkle on top of covers because the covers may not offer enough protection, then be sure to start running water before blossom temperatures beneath the covers drop below 32-33 F (to be safe). Of course, you absolutley need a digital thermometer with thermocouple to monitor the bloom temps (go to this location on our Extension website if you don't know anything about this:  https://strawberries.ces.ncsu.edu/2009/12/mauris-sed-leo-aliquam-aliquam/
Good luck tonight!
Barclay
p.s. I thought this was a really interesting discussion with a VA Grower from early this morning:
Good evening Mr. Strawberry Doc.
I know your extremely busy and if you don't have time to respond specifically to this e-mail that's fine. I'll just watch your updates. I'm quite concerned as well about tomorrow night. A scattering of blooms on some of the Chandler here (just south of Lynchburg) and several blooms on the few Camarosa's we have and of course the Sweet Charlie have some blooms. I'd like to save them if I can. I've been almost totally covered this spring and I think that's pushed things a bit. My skybit is calling for a canopy low of 21 with dew points in the mid teens. I'm covered with a 1.2 ounce cover. Would running drip at all help in a situation like tomorrow night? I didn't know if it would change dew points and interfere with any supercooling or cause frost issues under the covers? I think I can double cover some of my earlier varieties.
And I'm hearing some talk about possible snow this weekend or a cold rain. I'm not worried of course by the snow itself but by the melting process wetting the row covers. If a row cover is wet and freezes and is partially covered with snow will it provide some protection to say 30? Most times I'm assuming when you have wet row covers you'll have cloudy conditions and maybe not extremely cold temperatures.
Thanks for all you updates and posts to the portal. I truly enjoy reading them and learning more about this fascinating thing called growing strawberries!
REPLY:
IDEA FOR DRIP UNDER COVERS: You probably recall my mentioning this possibility last year when I was working for myself (before I returned to NCSU 8/13), and this relates to a conversation with a FL grower who has pioneered this approach down in Plant City. He called me again this year on 2/14/13, and told me he had done this procedure again. He mentioned that he started dripping when it got to 28 F outside and he told me it elevated the temperature to 34 F – he said you could see steam rising off the covers in the morning! This is the 2nd year he has used this novel approach, and even if it provided you with an extra 2 degrees F, it could be worth doing. I realize this has never been tested in our region, so you would be the first. If this approach works, then it would be an excellent alternative to having to run water on top to make ice blanket, etc.
I don't think there is much chance of lines freezing up. But, I would have the crop wrapped up today (and it is), and let the sun really warm things up! That heat will carry into the night and is our heat reservoir, which may run out? I looked at the forecast on AccuWeather and AWIS for your area and they are mentioning it could be close to a record night of cold – the record of 19 set in 1965. I think your SkyBit is probably correct – 21 F.
Do you have a digital thermometer – with thermocouple inserted in blooms tonight it would be great to see what this dripping under the cover can do!
I am attaching your area's AccuWeather Pro hourly so you can see the rate of temperature drop tonight and in the morning.
I am not concerned about snow or precipitation following this event. The thing to focus on is tonight! Thanks for your bringing this idea up to our group.
Dr. E. Barclay Poling
Professor Emeritus/Extension Strawberry Specialist
Department of Horticultural Science
Campus Box 7609, 162A Kilgore Hall
NC State University
Raleigh, NC 27695-7609
919-418-9687 (Cell)
919-515-2505 (Fax)
barclay_poling@ncsu.edu
https://strawberries.ces.ncsu.edu
Was the information on this page helpful?
This page can also be accessed from:
go.ncsu.edu/readext?206812