Critical Temperatures for Emerged Buds Can Be Lower, It Really Depends! (2.15.13)
Find this article at:
go.ncsu.edu/readext?201786
Dear Growers, Agents and Others,
Earlier today I shared the following table regarding "critical temperatures" of strawberry buds and blossoms.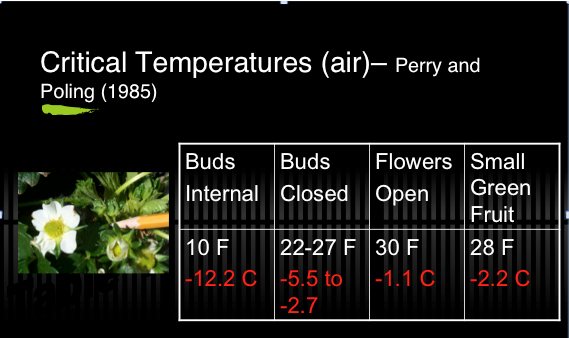 But,  this is really a bit more of a complex subject that this first table would have you think. During a freeze on 2/12/12 with very low dew points, I learned from a grower in Easley, SC, that he had about ½ of the emerged Chandler buds survive a freeze of 9 F  at about this time in the season. Underneath his cover it was closer to 12-13 F – where he had crop covers out. The fact that about ½ of the emerged buds survived, like the ones shown just above the pencil in the photo, is pretty exciting information! Up until this episode in Feb 2012, I had always said that around 18 F would be the coldest an emerged flower bud could possibly handle. Also, on  2/12/12 we had dew points near "0" or even negative! This weekend  we will have DPs in he teens in NC, and so it is possible that we will see the emerged flower buds survive to temperatures lower than 22 F due to a process called super-cooling. You need low humidity in the air to see this phenomenon occur, and we will be having both lower humidity with this cold event, and the rate of cooling will be gradual enough that I can forsee the potential for some nice super-cooling to occur.
Nonetheless, to play safe, it would be best to stick with around 24-25 F as the critical temperature for the newly emerged buds at this New Leaf Growth Stage. I will look forward to some reports from the field next week following this freeze.
Finally, I wish to leave you with an excellent photograph of newly emerged flower buds (just below). The larger buds in the photo are more susceptible to cold than the smaller buds just emerging from the crown.
One last point for this advisory (as I am going to be very late for a field visit), is that some areas of the state may be getting rain on Saturday afternoon (e.g. Edenton). In this scenario with a low of 19 F on Monday morning, the grower needs to decide to apply the covers while it is dry tomorrow morning (Sat), or wait until Sunday morning to apply covers? If they are applied Sat. morning they will definitely get soaked in Edenton during the afternoon and evening (they may even get a dusting of snow). I know that some growers would rather not apply the covers,  and then have them get wet! But there is a pretty good risk that by waiting to apply the covers on Sunday morning — it will be way too windy! There may be fierce winds associated with this cold front coming in on Sunday.
In this case,  I would  apply the covers on Saturday. I don't like the risk of not being able to apply them on Sunday. Yes, they will get wet Saturday night, but there will be a good opportunity for the covers to also dry again during the sunny and windy conditions on Sunday during the day.
I also checked carefully the low temperature situation on Saturday night in Edenton before committing to this particular strategy. I checked to make sure that the covers "wouldn't get rained on, and then freeze to the plants."  But, I don't see that happening here. The minimum at around 5-6 a.m. Sunday is only around 27. If it was 22 F, then I would be very worried about the covers being frozen to the plants.
There is one more option – doing nothing! The final option is no cover at all. This may not be the worst idea in the world if it only gets to say 19 F on Monday morning. I believe the plants will come through 19 F without much problem because of this nice super-cooling phenomenon that I have already talked about this advisory.
One final point:  1) we never recommend sprinkling at this time of year by itself – that would be an absolute DISASTER IN WINDBORNE FREEZE. The only time we would possibly consider sprinkling would be if the grower can do the sprinkling in conjunction with a row cover. But, I don't recommend even that procedure — it is not necessary! If you can apply a cover and get the air temperature beneath the cover up to say 24-25, then you will have had a total success in protecting all of your emerged buds; both the large and small emerged buds will come through if you can maintain that temperature beneath the covers! Good luck!