Grower Question on Row Covers in Winter (1/31/13)
Question from Midwest (13:36, 31-Jan-13)
Hi Dr. Poling,
I live in south central Illinois and this is our first season of growing strawberries on plasticulture. I am really trying hard to understand the timing of putting row covers on these berries during the winter months before they blossom. I realize that there are a lot of different opinions on this. I understand that I need to be watching the temperatures very closely. We are having so much fluctuation in temperatures and I am just wondering when the covers really need to be on. I have heard people say that the spikes in temperatures are not what is critical but when the temperature stays down below 18 or so for a period of time or when I see that it is going to be down in these temps for several days. Or, on the other end of the thermometer, when the temps are going to be warmer for a period of time. How does wind chill factor into all of this? What if the temperature is in the 20's at night and then spikes down to 8 and then back up to the 20's with day time temperatures in the 30's to 40's? There is so much to try to understand without killing my plants. I have about 1/2 acre so it is not overwhelming, but putting covers on and off has not been an easy feat and I want to make sure that we are not moving them more than is needful and in the process damaging the plants.
Any advice you could give me on this would be VERY helpful.
Thank you for your time.
Sincerely,
April Rhiner
McConauchies
My "Quick" Reply (14:24, 31-Jan)
Look for evidence of new leaf growth such as in attached photos as evidence that dormancy has been broken – if you do not see these new leaves, that is very good thing. We don't like to see this growth until late Feb/early March in Raleigh, NC (piedmont). Your job during winter is to keep the crop dormant. In your area, it is possible to apply covers in late fall and leave in place until maybe early March, but with global weirding, this is not a great idea with all the fluctuations we are seeing in winter temps, even in your area.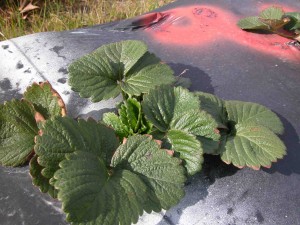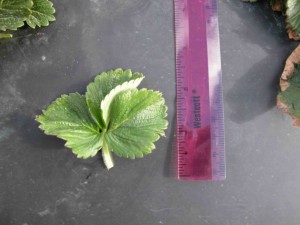 In NC we  are worried about losing plant hardiness in winter, and so the row covers "come off" on warm days in Jan or Feb. We don't pull them off for a single day or two of warming, but with several consecutive days of warm temperatures and covers, you can see Chandler start to break dormancy (new leaves from crown). Thus, we take covers off during the winter in much of NC, or never put them on (like last winter – no need). What the covers do do in your region (Midwest) is keep the plants from being exposed to desiccation injury from cold winds – that's good! That is why I still like the recipe approach of applying in late fall and leaving until late winter in colder areas like NC Mountains. But, when temps break to the high side (mid 60s and 70s) and then stay there for several days, plants may break winter dormancy. Thus, we pull the covers aside in these unusually mild periods (like this week we went to 80 in Raleigh, and I can assure you that our growers did not wish to have a cover on this week! BUT, we need to be very careful at this time of year to get the covers back on quickly if there is a big freeze event coming. With Chandler plants in dormant condition, they can handle temperatures all the way down to mid-teens with no injury to the crowns. You will lose any emerged flower buds at around 18 F – that's ok though because we don't want a crop the 1st of March in NC! We try not to start picking until the very end of March at the earliest, and most of our piedmont should not be picking until mid-April. A good rule is to remember its 30-40 days from bloom to fruit (longer in cold periods). Thus, we don't wish to force bloom any earlier than the 1st week in March – for you it might be the 1st week in April. Leaving the covers in place during weeks of unusually warm temps puts you on a very fast track (forcing), and I don't think you wish to have your crop in bloom a month earlier? If temperatures will suddenly be plunging into single digits again, the covers ABSOLUTELY need to be on. In this time of Global Weirding, I suggest an approach of keeping the covers off during winter as long as minimum temps are not threatening and the crop is in a good hardy state. Once it de-hardens, then you are dealing with plant injury issues at higher temperatures. A truly hardy Chandler in mid-winter can go to 5 F without damage, but not if it has de-hardened. Hope that helps?
Barclay